DAVE'S DAIRY - 20/9/2021 - PREVIEW OF EPISODE 4 - SERIES 49
WILLIE JONES HEADLINES NU COUNTRY TV
Louisiana singer-songwriter Willie Jones headlines Nu Country TV on Saturday September 25 at 9.30 pm on Channel 31/Digital 44.
Texans Randall King and the late Waylon Jennings return to Behind Bars on the show hosted by our multi-talented lockdown host-producer-editor Laith Graham.
Tim Montana takes us to his home state on the program repeated Wednesday at 11.30 pm.
Oklahoma star Blake Shelton, the Pistol Annies and Kiama singer-songwriter Benn Gunn boomerang this week.
Nu Country TV is a highlight of C 31 streaming list on Digital 44.
Further info - https://www.c31.org.au/
WILLIE JONES SNAKE TRICKS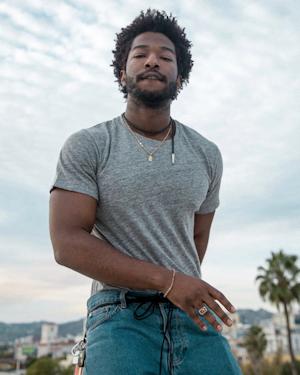 Louisiana singer-songwriter Willie Jones created a new game - snakes and boats - on his Nu Country debut.
Willie proved his passengers were safer on board his speeding vessel than in the drink in his new zydeco rodeo video.
Jones, 27, took his charismatic crew on a videogenic trip through the deep south with singalong sequencing in Down By The Riverside from his debut album Right Now.
Willie hails from Shreveport in Louisiana and now hangs his hat in Nashville.
His album follows a spate of singles after appearing on the X-Factor at 17 in 2012 and other TV shows.
Further info - https://www.williejonesmusic.com/
RANDALL KING RECORD HIGH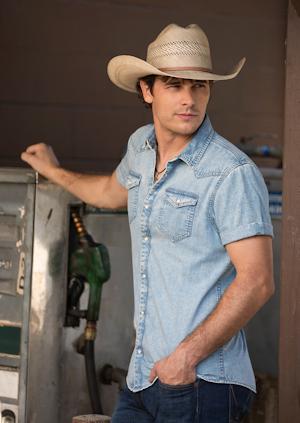 West Texan cattle rancher and singer-songwriter Randall King hails from aptly named town Hereford - reputed beef capital of the world and way out west of Amarillo.
Randall, now 35, led his band and two steppers on the dance floor and bar tops in his new video filmed at Cahoots Dancehall & Honkytonk in Lebanon, Tennessee.
Record High is on his fourth album Hey Cowgirl.
King also honoured his late sister Leanna who died early last year in a previous video from his EP Leanna .
Randall now lives in Lubbock and featured his mum and dad in a trip back in time in his Around Forever video - also on Leanna.
He also depicted a mother and daughter emotive reunion in Hey-Moon and featured on Nu Country in videos for Taking It As It Comes, Hey Cowgirl, She's Gone, Taking Me A Heartbreak, Old Dirt Road and Another Bullet .
Further info - https://www.randallkingmusic.com
TIM MONTANA LONG SHOTS
Tim Montana takes in and outside his secluded shack in the hills of his home state Montana.
The father of four, now aged 37, made the most of that clean mountain air near his Butte shack.
Stronger Than You is on his fourth album Long Shots.
He reached back to his childhood with plentiful fishing and fun in his previous River Town video.
Montana explored hot bikes, cars and music in his nitro circus when he visited a car crematorium in his Do It Fast video on his EP Cars On Blocks.
Tim was raised in a trailer without power in the Montana mountains.
His second album was Tim Montana & the Shred Necks .
Further info - https://www.timmontana.com/
BLAKE SHELTON AND PISTOL ANNIES
Oklahoma star and TV show host Blake Shelton is joined by the Pistol Annies on a feisty flashback to a rural romp with pick-up trucks and wildlife.
Blake, now aged 45, performed Boys Round Here - originally on his 2013 album Based On A True Story.
The Pistol Annies include his former singing spouse - Texan troubadour Miranda Lambert.
The Pistol Annies trio released three albums between their solo discs.
Shelton wed his third wife - fellow singer Gwen Stefani - on July 3.
Blake and Gwen also performed their Nobody But You video on Nu Country from his 14th album Fully Loaded - God's Country , released on December 13.
Shelton also plans to open his Ole Red diner-and music venue at Nashville airport in 2022.
The $4.5 million project is scheduled for C Terminal and will be the largest single operation with 190 seats, concert-quality acoustics and largest stage in the airport.
Ole Red will join four existing sibling venues in Orlando , Florida , Tishomingo , Oklahoma , Nashville and Gatlinburg , Tennessee
CLICK HERE for a Blake feature in The Diary on June 11, 2018.
BENN GUNN HONOURS HEROES
Dubbo born and latter day Kiama singer-songwriter Benn Gunn honoured historic heroes in his Nu Country return.
Ben salutes brave men and women - ANZACS and Diggers on the Kokoda trail, fire fighters and other front-line workers in his Born And Bred video.
It reached #15 on local charts from his fourth album that follows his 2018 disc Only In Australia.
Benn has won multiple awards and played major festivals including Gympie Muster, Tamworth and Boyup Brook in Western Australia .
His chart singles include We Can Be Mates, I Got The Boat, Luckiest Man Alive and #1 hit Girls Like Guys With Trucks.
In 2019 Gunn also released his State of Origin song We're from New South Wales and re-released his Queensland State of Origin anthem, I'm a Queenslander with donations for communities affected by Cyclone Debbie.
Benn won the 2014 MO Award for Slim Dusty Country Act of the Year and in 2016 released Heavensville and video with spectacular scenery from his coastal town Kiama.
Gunn's debut 2011 album Keep on Driving featured singles I Like Girls That Drink Beer , Every Minute I Wait and Rawsonville Road.
Further info - https://benngunn.com/home
WAYLON TOO DUMB FOR NEW YORK CITY
Late outlaw king Waylon Jennings proves why he was too dumb for New York City in his Nu Country return.
Waylon proved his sense of humour in his live video for the title track of his 1992 album Too Dumb For New York City.
Too Dumb For New York City is one of many Waylon albums you can win by becoming a Nu Country TV member or renewing your membership.
WIN WAYLON, GEORGE JONES AND HIGHWAYMEN
George Jones, Waylon, Merle Haggard and Willie Nelson were among country historian Barbara Dowling's favourite Texans.
You can win Waylon, Highwaymen , Merle and George Jones discs donated by Barbara who died at 77 in December by becoming a Nu Country TV member or renewing your membership.
She co-hosted Long In The Saddle in our Nu Country FM era and was pioneer Australian and Victorian country music awards judge.
Barbara was admired for rising above losing her sight as a young woman and her country passion with annual trips to Waylon's birthplace in Littlefield, West Texas.
Waylon died at 64 on February 13, 2002, and is survived by singing spouse Jessi, now 78, and son Shooter, 42.
WIN KEITH URBAN CDS ALSO
We have expatriate Australasian superstar Keith Urban's chart topping 12th album The Speed Of Now - Part 1.
Also BR5-49 CD Big Backyard Beat Show and Billy Ray Cyrus's historic 1992 album Some Gave All that features Achy Breaky Heart.
Join Watling & Bates as members and win their 13 track CD Small Town Tales.
We have other CDS by major artists you can win by becoming a Nu Country TV member or renewing your membership.
They include Brad Paisley, Carrie Underwood, Eric Church, Kip Moore and late larrikin legend A.P. Johnson.
CLICK HERE for our Membership Page for details.