DAVE'S DIARY - 22/11/2021 - PREVIEW OF EPISODE 13 - SERIES 49
CARRIE UNDERWOOD HEADLINES NU COUNTRY TV
Oklahoma singer-songwriter Carrie Underwood and Georgian star Jason Aldean headline Nu Country TV Series #49 finale on Saturday November 27 at 9.30 pm.
Tennessean Dustin Lynch and latter day Texan Taylor Rae return to the show hosted by our multi-talented lockdown host-producer-editor Laith Graham.
Grammy winning Missouri bluegrass star Rhonda Vincent and her band The Rage perform live in Behind Bars on the program repeated Wednesday at 11.30 pm.
Eltham singer-songwriter Jason McDaniel debuts on a show that features Sydney singing actor Andy Penkow.
Nu Country TV is a highlight of C 31 streaming list on Digital 44.
Further info - https://www.c31.org.au/
CARRIE AND JASON MACON LOVE
Georgian singer-songwriter-actor Jason Aldean and seven time Grammy winning Oklahoma oriole Carrie Underwood performed to an empty concert hall in the pandemic.
But the bright lights were a signal to the end of lockdown on their duet on If I Didn't Love You that is on Jason's 10 th album Macon.
"We were pretty close to finishing up this album, but this song came in and we knew we had to record it," Aldean, now 44, revealed.
"I went ahead and put my vocals down while we asked Carrie in the meantime. Luckily, she loved the song and it was kind of like a rocket from there. She did her thing like only Carrie can and I don't know how, but she made it sound even better than what we expected. It's a really special song to start this album."
Carrie, aged 38, is an Okie from Muscogee and has released ten albums - her latest is her gospel album My Savior.
Jason and Carrie both toured here before lockdown.
Aldean is married to singer Brittany Kerr and Carrie wed former Nashville Predators hockey star Mike Fisher in 2010.
Carrie appeared in movies including Soul Surfer, wrote a book Find Your Path in 2020 and founded her fitness clothing line CALIA by Carrie in 2015.
CLICK HERE for an Aldean story in The Diary on February 27, 2017.
CLICK HERE for an Aldean interview in The Diary on March 30, 2015.
CLICK HERE for a Carrie story in The Diary on October 29, 2018.
DUSTIN LYNCH RETURNS HOME TO TULLAHOMA
Tennessean Dustin Lynch returns home to Tullahoma with maternal dreams as he boomerangs to our show.
Lynch, now 36, played the 13 th CMC Rocks Queensland in Ipswich in 2020 before the pandemic
Momma's House is on his fourth album Tullahoma - also name of his hometown.
The concept album was produced by his longtime collaborator Zach Crowell.
"Every song on Tullahoma , there's a reason it's there," Lynch revealed.
"A lot of that points back to the people who raised me and growing up with a lifestyle where I could go outside and have fun, explore and try new things in the great outdoors. It's kind of about being that kid and learning all those things. That's my story, but I think we all can relate to the kid who's discovering, the kid who's figuring out love for the first time, all that good stuff. In a weird way, I feel like I'm just getting started. I feel like we're just approaching the launching pad, and I feel like we have songs that will take us to the next level."
Lauren Alaina duets with Lynch on the album featuring writers Rhett Akins, Dallas Davidson, Crowell, Florida Georgia Line's Brian Kelley, Old Dominion's Matt Ramsey and late producer/songwriter Busbee.
Lynch moved from Tullahoma to Nashville in 2003 where he studied Biology and Chemistry at Lipscomb University .
Further info - https://www.dustinlynchmusic.com/
TAYLOR RAE FIXER UPPER IN TENNESSEE
Santa Cruz born Taylor Rae now lives in Austin , Texas , and returns to the show with a video filmed in Tennessee .
Rae, now 27, filmed Fixer Upper at the 1823 Nunnelly farm in Centerville, Tennessee, and Hickman County courthouse on the square.
"Fixer Upper is my first official music video shoot," Taylor revealed of the clip featuring her acoustic band.
"Working with Will Gawley the director on the ideas for this video was effortless because we had almost identical visions. It was all about finding the location that could best serve the song. The Nunnelly house is an embodiment of all the emotions the song portrays - it's melancholy, nostalgic, haunting and beautifully dark. I decided to film barefoot - which was a bit unsettling as there were tons of unidentifiable objects, both natural and unnatural, everywhere on the ground. Luckily, I came out unscathed but either way it would have been worth it!"
It's on her debut album Mad Twenties.
Further info - https://www.taylorraemusic.com/
RHONDA VINCENT AND THE RAGE LIVE BEHIND BARS
Grammy winner Rhonda Vincent and her quintet The Rage return live to Behind Bars in Kentucky Troubadour Concert Series at Cardome, Georgetown , Kentucky on June 3, 2021
They performed What Ain't To Be Just Might Happen from her new album Music Is What I See.
The Missouri minstrel, now 59, has released more than 30 albums - they include some with family band the Sally Mountain Show.
Her husband Herb and brother Darrin play in her bands and their daughters and husbands are also in bluegrass combos.
CLICK HERE for a Rhonda Vincent feature from the Diary on April 20, 2004.
CLICK HERE for a Vincent CD review on September 25, 2006.
JASON MCDANIEL LIVES THE HONKY TONK LIFE
Eltham country singer-songwriter Jason McDaniel debuts this week with the title track of his second album Honky Tonk Life.
Jason and his band raise hell and the audience's glasses in their riveting live show in the Neon Horse honky-tonk in Stanhope in north-east Victoria.
Jay Seeney directed the video for Jason, now 50, who wrote all 13 songs on the album.
Jason also released Pier Pressure Breakdown - first single on the album.
It details the journey of a truck driver working hard all day and weekends and then taking a sicky and going fishing.
Jason recorded his first solo album Man In The Black Hat in 1995 before he joined the band Montana .
Further info - https://www.jasonmcdaniel.com.au/
ANDY PENKOW DREAMS OF SUCCESS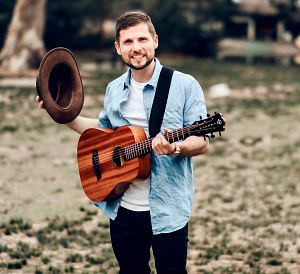 Sydney born singer-actor Andy Penkow sang of his dreams on his return to our show with Before I Go - the title track of his fourth album.
Andy headed to the coast, rivers and backroads with his guitar and books in hand as he acted out his ambitions.
"I want them to sing along, anywhere, any age, no matter what music they like or what their dreams are, this song is for all the dreamers out there," Penkow revealed of his song and video.
It has worked for the former child prodigy who was raised on the NSW south coast, began writing songs at 12 before he sang in the SBS choir and won acting roles.
Andy was born in Sydney and raised on the NSW south coast before joining the SBS choir and appearing in Mel Gibson 2000 TV movie Three Stooges.
He also appeared on our show with Wildflowers and Drowning In The Whiskey.
Penkow studied music at JMC Academy, Sydney, and completed an advanced diploma of popular music and performance while lead singer for Inter-fear, the Thompson Gunners covers band, and Ionia and Mundy Bluze .
Andy appeared in Deck Dog's movie 2005, Deadly Woman series 11 (2017) and Sunday night (2017).
Further info - www.andypenkow.com
WIN WAYLON, GEORGE JONES AND HIGHWAYMEN
George Jones, Waylon Jennings, Merle Haggard and Willie Nelson were among country historian Barbara Dowling's favourite Texans.
You can win Waylon, Highwaymen , Merle and George discs donated by Barbara who died at 77 in December by becoming a Nu Country TV member or renewing your membership.
She co-hosted Long In The Saddle in our Nu Country FM era and was pioneer Australian and Victorian country music awards judge.
Barbara was admired for rising above losing her sight as a young woman and her country passion with annual trips to Waylon's birthplace in Littlefield, West Texas .
Waylon died at 64 on February 13, 2002, and is survived by singing spouse Jessi, now 78, and son Shooter, 42.
WIN KEITH URBAN CDS ALSO
We have expatriate Australasian superstar Keith Urban's chart topping 12th album The Speed Of Now - Part 1.
Also BR5-49 CD Big Backyard Beat Show and Billy Ray Cyrus's historic 1992 album Some Gave All that features Achy Breaky Heart.
Join Watling & Bates as members and win their 13 track CD Small Town Tales.
We have other CDS by major artists you can win by becoming a Nu Country TV member or renewing your membership.
They include Brad Paisley, Carrie Underwood, Eric Church, Kip Moore and late larrikin legend A.P. Johnson.
CLICK HERE for our Membership Page for details.