DAVE'S DIARY - 14 JUNE 2021 - PREVIEW OF EPISODE 4 - SERIES 48
CHRIS STAPLETON HEADLINES NU COUNTRY TV
Kentucky coalminer's son Chris Stapleton headlines Nu Country TV in a double shot on Wednesday June 23 at 11.30 pm on Channel 31/Digital 44.
Stapleton performs an original song from his fourth solo album Starting Over and returns with singing spouse Morgane in singing comedian-actor Leslie Jordan's debut on a gospel song.
Expatriate Australian Jamie O'Neal and Kansas singer Martina McBride return to the show repeated Wednesday at 11.30 pm.
Singing Texan crime novelist Kinky Friedman boomerangs to the program edited by multi-talented lockdown producer Laith Graham.
Ferny Creek singer-songwriter Brendan McMahon and Newcastle truck driver's daughter Natalie Henry also revisit the show.
Nu Country TV is a highlight of C 31 streaming list on Digital 44.
Further info - https://www.c31.org.au/
LESLIE JORDAN EXPLORES GOSPEL
Tennessee born singing actor Leslie Jordan had good reason to explore gospel on his Nu Country debut with Kentucky coal miner's son Chris Stapleton and his singing spouse Morgane.
Jordan , now 66, was Baptised 14 times in his youth when he was a member of the Chattanooga Boys Choir.
"Every time the preacher would say, 'Come forward, sinners!' I'd say 'Oooh, I was out in the woods with that boy, I better go forward.'"
Leslie's twin sisters Jana and Janet, who are 22 months younger, watched from the wings as he wet his whistle and cranium.
Jordan's acting career includes Will & Grace, Call Me Kat, Ski Patrol, Southern Baptist Sissies, Hollywood to Dollywood, Ugly Better, Sordid Lives and The United States vs. Billie Holiday.
This time Jordan and the Stapleton duo perform the video for Farther Along - a highlight of his new album Company's Coming.
The disc also features fellow Tennessean singing actor Dolly Parton and Arkansas traveller and nouveau outlaw Ashley McBryde.
Stapleton, now 43, boomeranged live to Behind Bars with his Shameless video from fourth solo album Starting Over that topped charts on debut and followed several albums with bluegrass band The Steel Drivers.
Chris also appeared recently on Nu Country with Texan Miranda Lambert on Maggie's Song and the album title track video with his producer Dave Cobb.
The album featured 11 original songs by Stapleton and was released on November 13
CLICK HERE for a feature on Chris's debut solo album Traveller in the Diary on December 21, 2015.
Further info - https://thelesliejordan.com/
JAMIE O'NEAL AND MARTINA MCBRIDE FLY WITH ANGELS
Expatriate Australian singing actor Jamie O'Neal opens the show with Kansas born fellow singer-songwriter and actor Martina McBride who toured here in the nineties.
Martina, 54, appeared in TV shows including Baywatch and has released 15 albums.
O'Neal, 53, and sister Samantha sang in The Murphy Family band in Sydney in the seventies before chasing her music dreams to Nashville .
Jamie became a major star before her six-year recording hiatus from 2014 after breaking with her hit There Is No Arizona.
O'Neal and McBride perform the When I Think About Angels video from Jamie's fourth album Sometimes.
Jamie's husband Rodney Good and co-writer Hannah Bethel guested on previous video Wreck Me on Nu Country on February 13.
She wrote the steamy single with Hannah and Rachael Lynae .
The album, released in October of 2020, also features her daughter Aliyah and fellow stars Sara Evans and Laura Alaina.
Further info - https://www.jamieoneal.com/
KINKY FRIEDMAN ENJOYS ANOTHER RESURRECTION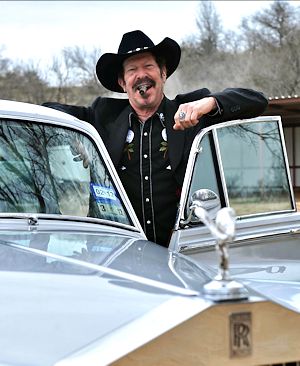 Singing Texan crime novelist and frequent Australian tourist Kinky Friedman returns live to Behind Bars on a nostalgic trip through his back pages.
The Kinkster, now 76, hit the lost highway that led to his Echo Hill ranch near Medina in Texas .
Kinky led viewers on a journey to his rustic ranch and way beyond in his video for his new single The Bridge That Won't Burn from his Larry Campbell produced 18 th album Resurrection.
The album features 11 new original songs and guest appearance by fellow Texan singing actor Willie Nelson, now 88.
The Kinkster wrote Road-Kill - one of his 27 crime novels - about murders on and near Willie's famed bus Honeysuckle Rose.
Kinky recently appeared on Nu Country with his I Love You When It Rains video, also filmed at Echo Hill where he has written many of his 30 books and novels.
The Kinkster was joined by his Texas Jewboys band and fellow Texan Billy Joe Shaver on several of his headline grabbing tours.
CLICK HERE for a Kinky Friedman interview in The Diary on May 18, 2011.
CLICK HERE for a Kinky CD review in The Diary on November 30, 2015.
FERNY CREEK SINGER BRENDAN MCMAHON MATERNAL MEMORY
Ferny Creek singer-songwriter Brendan McMahon closes our show with his maternal homage.
The son of a former stock and station agent proves he has deep rural roots in his evocative video for new single Mother.
McMahon, 57 and a proud father, included the song on his fourth solo album In The Moment.
Brendan grew up at Kapunda near famed Barossa Valley - his previous video I Am was inspired by his childhood wanderlust.
His dad judged cattle, sheep and swine - not wine - in his job as stock and station agent.
Brendan followed his music east to Rowville - not Nashville - where he wrote songs about a steer named Morris and an echidna who remains nameless.
CLICK HERE for an interview with Brendan in The Diary on December 9, 2019.
TRUCKIE'S DAUGHTER FINDS WEED, WINE AND WOMEN
Newcastle truck driver's daughter Natalie Henry arises from her throne in her show return.
The maternal mother trucker grew up on country music in the cabin of her dad's prime mover as a child of the eighties.
But her recording career did not take off until she was 34.
She cut previous album Cold Love as the Wayward Henrys with husband Brock - son of a country cop.
This week she performs a vibrant video for Weed, Wine and Women from debut solo album Apple & Pride.
She previously appeared on Nu Country with a message about children trumping the pain of motherhood and divorce in her Water Over Wine video.
It was produced by Tom Blake from Gravity Films and shot in Newcastle with live performances at The Quill and Compass.
Henry promoted her music on her previous Woman Enough tour with fellow Novocastrian Catherine Britt and Lyn Bowtell.
Her debut single If We Said Goodbye was produced by Bill Chambers and held a powerful message, that "you can raise your babies equally as well apart."
Natalie was the product of a broken home, with numerous stepbrothers, sisters and mothers.
Further info - https://www.nataliehenry.com.au/
WIN WAYLON, GEORGE JONES AND HIGHWAYMEN
George Jones, Waylon Jennings and Willie Nelson were among country historian Barbara Dowling's favourite Texans.
You can win Waylon Jennings, Highwaymen , Merle Haggard and George Jones discs donated by Barbara who died at 77 in December by becoming a Nu Country TV member or renewing your membership.
She co-hosted Long In The Saddle in our Nu Country FM era and was pioneer Australian and Victorian country music awards judge.
Barbara was admired for rising above losing her sight as a young woman and her country passion with annual trips to Waylon's birthplace in Littlefield, West Texas.
Waylon died at 64 on February 13, 2002, and is survived by singing spouse Jessi, now 77, and son Shooter, 41.
WIN KEITH URBAN CDS ALSO
We have expatriate Australasian superstar Keith Urban's chart topping 12th album The Speed Of Now - Part 1.
Also BR5-49 CD Big Backyard Beat Show and Billy Ray Cyrus's historic 1992 album Some Gave All that features his Achy Breaky Heart hit.
Join Watling & Bates as members and win their 13 track CD Small Town Tales.
We have other CDS by major artists you can win by becoming a Nu Country TV member or renewing your membership.
They include Brad Paisley, Carrie Underwood, Eric Church, Kip Moore and late larrikin legend A.P. Johnson.
CLICK HERE for our Membership Page for details.