DAVE'S DIARY - 31 MAY 2021 - PREVIEW OF EPISODE 2 - SERIES 48
CHRIS STAPLETON AND MIRANDA LAMBERT HEADLINE NU COUNTRY TV
Kentucky coal-miner's son Chris Stapleton and Texan Miranda Lambert headline Nu Country TV on Saturday June 5 at 9.30 pm on Channel 31/Digital 44.
Californian Jon Pardi and Florida born Chase Rice return to the show repeated Wednesday at 11.30 pm with a drinking songs double shot.
Late Texan legend George Jones revisits Behind Bars on the program edited by multi-talented lockdown producer Laith Graham.
Berwick Golden Guitarist Andrew Swift and former Weddings, Parties Anything co-founder Michael Thomas and his Roving Commission boomerang this week.
Nu Country TV is a highlight of C 31 streaming list on Digital 44.
Further info - https://www.c31.org.au/
CHRIS AND MIRANDA CANINE TRIBUTE
Chris Stapleton and Miranda Lambert share more than just chart topping albums and Grammys in their pedigree.
They also exude passion for their favourite canines in their live duet at the 56 th Academy Of Country Music Awards at famed Bluebird Café in Nashville.
Chris, now 43, and Miranda, 37, performed a tribute to Stapleton's pet pooch who died after 16 years at the Stapleton home.
Maggie's Song is on Stapleton's fourth album Starting Over that topped charts on debut.
Chris and singing spouse Morgane share their home with five children including twins.
Producer Dave Cobb guested on previous video Starting Over - title track of his album that featured 11 Chris original songs and released on November 13
Miranda, pet pal and co-founder of the Pistol Annies , is renowned for rescuing and raising dogs at her Mutt Nation Foundation.
Lambert celebrated her 37th birthday on November 10 with her second husband Brendan McLoughlin - a New York city cop.
She wed Brendan on January 26, 2019 in Davidson County, Tennessee.
It was Lambert's second wedding after her four-year marriage to Blake Shelton from 2011 to 2015
Lambert and frequent Texas co-writers Jack Ingram and Jon Randall new 15 track disc - the Marfa Tapes, was released on May 7.
Miranda cancelled her debut Australian tour with Brothers Osborne at Rod Laver Arena and 13th CMC Rocks Queensland festival in Ipswich in 2019.
CLICK HERE for an exclusive Miranda interview in The Diary on November 11, 2019.
CLICK HERE for a feature on Chris's debut solo album Traveller in the Diary on December 21, 2015.
JON PARDI LIVING ON TEQUILA TIME
Californian singer-songwriter Jon Pardi returns with wry word play on his version of a tequila sunrise
Pardi, now 36, acted out the video for Tequila A Little Time on a Flora Bama beach.
It seems to have worked - he later proposed to wife Summer Duncan on stage at the famed Ryman in Nashville.
It was fitting he emulated Stapleton and Lambert by featuring Summer and their pet canine in his Tequila a Little Time video from his third album Heartache Medication.
Jon played the historic Melbourne Forum when he toured here in 2019 with Brett Eldredge.
Brett, 34, hails from Paris , Illinois , and appeared on Nu Country with his rescue dog dinner date Edgar in his Love Someone video.
Further info - http://www.jonpardi.com/welcome.html
CHASE RICE DRINKING BEER AND TALKING GOD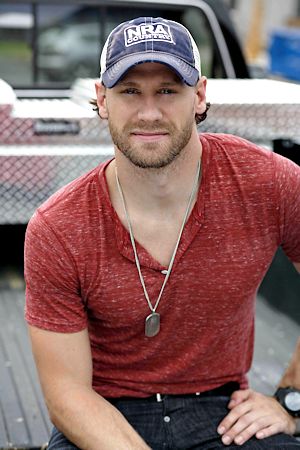 Florida born Chase Rice follows Pardi with more wry word play in his new video filmed in an old tobacco barn on his Nashville farm.
Rice, now 35, is joined by Florida Georgia Line pals Tyler Hubbard and Brian Kelley.
Chase wrote Drinking Beer, Talking God, Amen before the pandemic.
The song is a sequel of sorts to previous hit Jesus And Jack Daniels and on his fifth album.
Rice and Kelley enjoyed historic song-writing sessions that launched their careers and prompted Rice's debut 2016 Australian tour.
The two Florida born stars penned Florida Georgia Line breakthrough hit Cruise and three songs on Rice's third album Ignite The Night , released here on February 26, 2016.
CLICK HERE for our Rice interview in The Diary on March 7, 2016.
ANDREW SWIFT HEAD FULL OF HONEY
Berwick singer-songwriter and dual Golden Guitarist Andrew Swift returns as he follows Geelong born truckie Adam Harvey into the Gateway Hotel in Corio on Saturday June 12.
Swift, who toils at J V Marine in Seaford during the week, is joined by a vast cast on his joyous new video.
Head Full Of Honey is on his third album The Art Of Letting Go .
Swift previously appeared on Nu Country with his videos for Ball & Chain and
King Of The Sky - inspired by the death of his pilot uncle in a plane crash.
He won his two 2019 Tamworth Golden Guitars in best new talent and alt country album.
Swift took breaks from his caravan repair day job for previous videos Fire & Ice, Reckless Desires and Runaway Train .
He also conducts caravan park tours with Kiewa Valley born singer-songwriter Gretta Ziller.
Further info - https://www.andrewswift.com.au/
MICHAEL THOMAS AND ROVING COMMISSION ON A MISSION
Former Weddings, Parties Anything singer-songwriter Michael Thomas returns with his latest band Roving Commission.
They perform live on the mean streets of Beer Can Hill - locale of our burnt-out Nu Country FM studio that went to God on June 26, 2000.
Gippsland born and former Geelong student Thomas cleans cannons that guard his Merri Creek tavern in his return.
Thomas also had special strolling comedian and actor guest Brian Nankervis in a cameo.
The multi-media SBS RocKwiz show co-host ABC radio show Friday Revue joint MC did not stop to share St Kilda football club stories with Thomas.
Nankervis, a former Wesley College primary teacher, is also a successful script writer and charity concert benefactor.
Keeping All The Cannons Clean is on Thomas's second lockdown album City 's Calling Me.
CLICK HERE for a Thomas feature in the Diary on June 3, 2012.
GEORGE JONES SHOES QUESTION
Late Texan legend George Jones returns with one of his classic hits on that lost highway.
Who's Gonna Fill Their Shoes was title track of Jones 45th album back in 1985.
The video, directed by Marc Ball, takes place at a roadside petrol station, where the owner shares with Jones his extensive collection of albums and memorabilia from classic country music artists.
It was George's first music video.
Sadly, the song was prophetic - George died at 81 on April 25, 2013.
You can win his CDS by visiting our web page.
Become Nu Country TV members or renew your membership.
CLICK HERE for a George Jones feature in The Diary on February 25, 2006.
WIN WAYLON, GEORGE JONES AND HIGHWAYMEN
George Jones, Waylon Jennings and Willie were among country historian Barbara Dowling's favourite Texans.
You can win Waylon, Highwaymen , Merle Haggard and Jones discs donated by Barbara who died at 77 in December by becoming a Nu Country TV member or renewing your membership.
She co-hosted Long In The Saddle in our Nu Country FM era and was pioneer Australian and Victorian country music awards judge.
Barbara was admired for rising above losing her sight as a young woman and her country music passion with regular trips to Waylon's birthplace in Littlefield, West Texas.
Waylon died at 64 on February 13, 2002, and is survived by singing spouse Jessi, now 77, and son Shooter, 41.
WIN KEITH URBAN CDS ALSO
We have expatriate Australasian superstar Keith Urban's chart topping 12th album The Speed Of Now - Part 1.
Also BR5-49 CD Big Backyard Beat Show and Billy Ray Cyrus's historic 1992 album Some Gave All that features his Achy Breaky Heart hit.
Join Watling & Bates as members and win their 13 track CD Small Town Tales.
We have other CDS by major artists you can win by becoming a Nu Country TV member or renewing your membership.
They include Brad Paisley, Carrie Underwood, Eric Church, Kip Moore and late larrikin legend A.P. Johnson.
CLICK HERE for our Membership Page for details.