DAVE;S DIARY - 16/8/2021 - PREVIEW OF EPISODE 12 - SERIES 48
CHARLIE WORSHAM HEADLINES NU COUNTRY TV
Mississippi minstrel Charlie Worsham headlines Nu Country TV on Saturday August 21 at 9.30 pm on Channel 31/Digital 44.
Kentuckian Dillon Carmichael returns to the show hosted by expat Californian Mid-Pacific Bob Olson and repeated Wednesday at 11.30 pm.
John Hiatt, Jerry Douglas Band and New Zealand singer-songwriter Caroline Jones front in Behind Bars on our program filmed and edited by our multi-talented editor, cameraman and lockdown producer-host Laith Graham.
NSW singer-songwriter Christie Lamb and Southbound also appear.
Nu Country TV is a highlight of C 31 streaming list on Digital 44.
Further info - https://www.c31.org.au/
CHARLIE IN DRINKING DOUBLE SHOT
Charlie Worsham was almost sober on his show return in the first of our drinking double shot videos.
Charlie's new single Half Drunk is on his third album out this year.
The Mississippi minstrel, 35, played Melbourne Forum and Way Out West fest at Waltzing Matilda Centre in Winton, Queensland, on his 2018 tour with Georgian Kip Moore and South Carolina born Lee Brice.
Charlie acted in TV show Bones in his multi-media career that included stints with Old Crow Medicine Show.
Worsham graced Nu Country with his Believe In Love and Fist Through This Town videos.
Charlie emerged as mandolinist-singer in embryonic band King Billy who cut an EP in 2010.
CLICK HERE for our interview with Charlie in The Diary on July 16, 2018.
DILLON CARMICHAEL SIPS HOT BEER
Kentuckian Dillon Carmichael returns with our second Double Shot drinking video.
Hot Beer is title track of his EP, released in May, that follows 2018 album Hell On An Angel.
Dillon has deep country genes - uncles Eddie and John Michael Montgomery are major stars and his mum Becky fronted Montgomery Family band.
Carmichael, now 25, blazed his trail as a security guard on the Grand Ole Opry while writing songs as a teenager after being offered a contract at 17.
"My boss said to me, 'one of the good things about doing security at the Opry is you can stand in the circle and no one will say anything about it because you're security,'" Dillon revealed.
"I told him, 'You know, man, there's something in me that just won't let me do that right now.' I wanted to be introduced and be playing music in that circle. So I avoided it for a year and a half and finally that debut night I stepped into it for the first time and there was a certain energy I never felt before. It's just overwhelming. I'll think about that when I take my last breath."
Dave Cobb produced his 2018 debut album Hell On An Angel that included It's Simple and That's What Hank Would Do .
It features legendary pedal steel guitarist Robby Turner whose parents played in Hank Williams' backing band and collaborated with Travis Tritt, Chris Stapleton and late Waylon Jennings.
Further info - https://www.dilloncarmichael.com/
CAROLINE JONES FROM NEW YORK TO NEW ZEALAND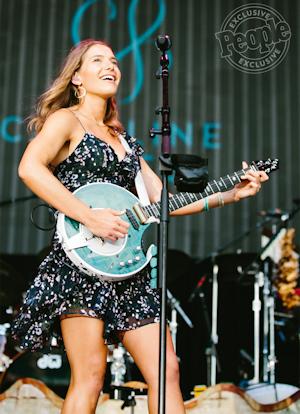 New Zealand singer-songwriter and Sirius XM radio host Caroline Jones debuts with her video filmed in a New Zealand bar during lockdown.
Jones was discovered in Florida by singer-songwriter-sailor Jimmy Buffett after heading south from New York City.
Caroline was born in New York to her American father and Australian mother from Sydney.
Jones moved to New Zealand with an America's Cup sailor before the pandemic but made the most of isolation by writing songs and recording.
Come In But Don't Make Yourself Comfortable is on her sixth album which she co-produced and played all instruments.
She recruited Kiwis for her video featuring retro line dancing.
"This video is a barn burner!" Caroline revealed.
"It is our largest video production to date, and as my fans will see, it's very different from all of my previous music videos. It was a challenge to find a country and western bar in New Zealand but we did it. Working with an all-New Zealander cast was especially refreshing as they were all very joyful, pure and genuine people. I believe that energy comes across in the dancing and throughout the video too."
It follows recent album Bare Feet and six track EP Chasing Me produced with Ric Wake that features five of her originals on Social Family Records.
Sixth track Gulf Coast Girl was written by Jimmy Buffett and Mac McAnally and features Buffett, McAnally, Kenny Chesney and Lukas Nelson.
From 2017-2019 she toured with Buffett, The Eagles , Zac Brown Band and One Republic , Tim McGraw, Faith Hill, Kip Moore, Vince Gill, and Kenny Chesney.
In 2017 Caroline toured with Zac Brown Band and joined Buffett, Chesney and Toby Keith at the Trying to Reason hurricane relief benefit.
It led to a live duet with Buffett, charity single and partnership with his Mailboat Records .
Further info - https://carolinejones.com/
JOHN HIATT AND JERRY DOUGLAS BAND
Frequent Australian tourist and nine time Grammy nominee John Hiatt returns with Jerry Douglas's bluegrass band.
The Indiana born singer-songwriter, now 68, toured here many times before the pandemic.
His Mississippi Phone Booth song and video are on his Leftover Feelings CD recorded with Jerry Douglas Band and released on May 21.
They follow Hiatt's 23rd album The Eclipse Sessions in 2018 and Jerry Douglas Band 2017 album, What If, nominated for a Grammy for Best Contemporary Instrumental Album.
Hiatt and Douglas released Hiatt penned Long Black Electric Cadillac with a video filmed on Natchez Trace Parkway Bridge on a 40-degree day in Tennessee.
It followed their All The Lilacs In Ohio video filmed in famed RCA Studio B in Nashville during the album recording.
CLICK HERE for a Hiatt CD feature in The Diary on January 14, 2019.
CHRISTIE LAMB FROM SHEEP COUNTRY TO NASHVILLE
Christie Lamb headed to Nashville after being raised at Kirkham in Macarthur sheep country near Campbelltown south of Sydney.
Golden Guitarist Christie, now 28, wed Jonathan English - son of late star Jon English.
They met on a 2012 tour but delayed their wedding during the pandemic.
"Kiss About It is a fun, catchy up tempo about how you and your partner can get through the tough times with just a simple kiss," Christie explained.
"I think after the year we've all had people will have spent much more time together than usual. For any couple there are bound to be moments along the way when you don't always agree. Kiss About It is exactly as the title says, focusing on the good times, kissing and making up with your partner."
She filmed Kiss About It with director-producer Wayne Tunks for her fourth album.
"The clip was shot at a house party in Sydney 's CBD with a cool retro vibe, which was really different from any of my previous clips," Christie revealed.
"After full lockdowns and restrictions beginning to ease, it was a lot of fun to film and have a social night with other people again."
Christie and Johnathan recently married at Gledswood Homestead in south-west Sydney after rescheduling the big day twice due to COVID-19.
"Jonathan proposed in December 2018 and our original plans were to marry in April 2020 with all my family from the UK present," Christie revealed.
"We had about 10 of them booked to arrive in Australia at the end of March 2020. About a week before my family were due to fly into Australia the world was hit with COVID-19. After rescheduling twice we had to make the hard decision to go ahead with the wedding a year later with no family on my side apart from my parents and brother as we still have no idea when international borders will reopen."
Christie appeared on Nu Country with Flamethrower after she graduated from Campbelltown high school and studied music at western Sydney University.
She emulated fellow Sydney singer Melinda Schneider and flew to Nashville and joined North Carolina moonshiner's son Skip Black to compose debut album All She Wrote.
It was a decade after Schneider wrote hits with Florida moonshiner's daughter and Aussie 2013 tourist Elizabeth Cook.
Christie played singing sailor Jimmy Buffett's famed Margaritaville bar on Lower Broadway with Geelong born Adam Harvey and expat Australian duo O'Shea.
CLICK HERE for a Christie Lamb CD review in The Diary on June 9, 2014.
SOUTHBOUND LIQUIDITY SHOW FINALE
Sydney quartet Southbound, fronted by Missy Lancaster and Rachael Fahim close our show with panache.
They ignite fourth single This Is Us that follows Find Our Way cut with Shannon Noll , Drink and Get Drunk On Me.
Singer-track co-writer Rachael says This Is Us makes her "want to go out with her friends and make some memories. After all, after what we've all been through in the past 12 months, we've got a lot of making up to do!"
Co-writer Missy says the song "reminds me of those times when you are out with your friends, feeling confident, fearless and truly in the moment."
Lead guitarist Andrea Krakovska says it "reminds me of the holidays!"
Bassist-vocalist Sarah Bernardo has a mischievous take.
"This Is Us reminds me of when I would tell my parents I was going to a sleepover, but we were really just getting drunk in a field somewhere with all our mates. Sorry mom."
Southbound release debut album in September and play Gold Coast Groundwater festival from November 12-14.
Further info - https://www.facebook.com/southboundofficial
WIN WAYLON, GEORGE JONES AND HIGHWAYMEN
George Jones, Waylon Jennings and Willie Nelson were among country historian Barbara Dowling's favourite Texans.
You can win Waylon Jennings, Highwaymen , Merle Haggard and George Jones discs donated by Barbara who died at 77 in December by becoming a Nu Country TV member or renewing your membership.
She co-hosted Long In The Saddle in our Nu Country FM era and was pioneer Australian and Victorian country music awards judge.
Barbara was admired for rising above losing her sight as a young woman and her country passion with annual trips to Waylon's birthplace in Littlefield, West Texas .
Waylon died at 64 on February 13, 2002, and is survived by singing spouse Jessi, now 78, and son Shooter, 42.
WIN KEITH URBAN CDS ALSO
We have expatriate Australasian superstar Keith Urban's chart topping 12th album The Speed Of Now - Part 1.
Also BR5-49 CD Big Backyard Beat Show and Billy Ray Cyrus's historic 1992 album Some Gave All that features his Achy Breaky Heart hit.
Join Watling & Bates as members and win their 13 track CD Small Town Tales.
We have other CDS by major artists you can win by becoming a Nu Country TV member or renewing your membership.
They include Brad Paisley, Carrie Underwood, Eric Church, Kip Moore and late larrikin legend A.P. Johnson.
CLICK HERE for our Membership Page for details.