DAVE'S DAIRY - 19 /4/2021 - PREVIEW OF EPISODE 9 - SERIES 47
BRETT ELDREDGE HEADLINES NU COUNTRY TV
Illinois born singer-songwriter Brett Eldredge headlines Nu Country TV Saturday April 24 at 9.30 pm on Channel 31/Digital 44.
Californian Matt Koerner debuts with his grand paternal paean on the show repeated Wednesday at 11.30 pm.
Floridian Zach Williams and Oklahoma band Flatland Revival perform a Biblical double shot in Behind Bars on our program edited by multi-talented lockdown producer Laith Graham.
Teenage Shellharbour singer-songwriter Kora Naughton and Hunter Valley refugee Rhianna Fibbins appear as we celebrate Waylon Jennings legacy with one of his major hits with The Highwaymen .
Nu Country TV is a highlight of C 31 streaming list on Digital 44.
Further info - https://www.c31.org.au/
A GOOD DAY FOR PARIS BORN BRETT
We have happy tidings this week from a singer-songwriter born in Paris.
Brett Eldredge hails from Paris, Illinois, not the French capital city.
Brett, 34, thanks health workers, first responders, farmers and loyal fans who triumphed and even married in quarantine in his vibrant video for new single Good Day from his fifth album Sunday Drive .
Brett played the historic Forum in Melbourne with Californian Jon Pardi in 2019.
He appeared on Nu Country with Gabrielle and his Sunday Drive title track and his rescue dog dinner date Edgar in Love Someone.
His Long Way video was shot outside Nashville and featured him driving reality TV star Sadie Robertson of Duck Dynasty in a Chevrolet Impala.
Brett locked up younger brother Brice in his Drunk On Your Love video when he performed as cop and singer trying to woo the same girl in a night on the town.
He has strong bluegrass links - cousin Terry plays with the Grascals who perform with singing actress Dolly Parton.
Brett debuted on Nu Country in 2011 with a war song dating back to 1943.
Eldredge took viewers inside a nursing home in Raymond - poignant tale of an employee mistaken by a patient with Alzheimer's for her deceased son who was killed at war.
CLICK HERE for our interview with Brett in The Diary on July 20, 2020.
MATT KOERNER GRAND PATERNAL PAEAN
Californian Matt Koerner proves his family are true survivors in his biographical debut.
Matt beat cancer after moving to Nashville and honoured soldiers who fought for their country.
Koerner's grandfather CJ went to World War 11 at the age of 18 and lived to tell the tale to Matt.
Matt graphically depicted how C.J. survived German battles in his evocative Stayed Alive In 45 video on his new EP The Race.
"When I was a kid I would ask him about his experience in WWII but he never wanted to talk about it," Matt revealed.
"I didn't understand why, because I was so young, so I kept asking him. One day he sat me down at his dinner table and talked to me for three hours about his experience in WWII. That is a day I will never forget. This song is about a particular story he told me that day. He was 18 years old when he was sent over to southern Germany to fight. He and 30 men in his company were running along a riverside, and they were being chased by a German Battalion that outnumbered them. They came to a fork in the river and on the right-hand side a bridge crossed over the river. Grandpa's sergeant stopped the 30 men and picked five of them to stay back at the bridge. Their mission was to slow down the German Battalion and give the rest of his company a chance to get to safety. My grandfather was one of those chosen five soldiers to stay back at the bridge. He made it through, and at the end of this song you'll find out how."
Koerner illustrated his clip with personal memories.
"The idea behind the music video was to incorporate as many veterans and heroes as I could," Koerner revealed.
"I made a post asking people to send me photos of loved ones and veterans in their lives, so I could honor them by including them in my video. To my surprise, I was flooded with amazing content, and I showcased as many heroes as I could possibly fit."
Further info - https://www.mattkoernermusic.com/
ZACH WILLIAMS GOOD SAMARITAN
Florida born Zach Williams vividly depicts his role as Good Samaritan in the first of our Biblical double shots in Behind Bars .
Zach, 40, helped less fortunate folks on the lost highway as he stopped to pick up homeless passengers who join his band on board his bus.
They were all rewarded with food, cash and trips to the Baptist balladeer's tent revival show.
Little Less Like Me (little more like Jesus) is on Zach's fourth album Rescue Story.
Zach debuted on Nu Country with Dolly Parton with There Was Jesus - also on Rescue Story .
He returned with oft recorded 1865 spiritual Go Tell It On The Mountain at Fame Studios in Muscle Shoals, Alabama.
Williams was born in Pensacola , Florida , grew up in Jonesboro , Arkansas , and fronted The Reformation and Brothers of Grace bands for a decade before going solo in 2016.
Zach released first solo single Chain Breaker in 2016 - it was also title track of his five song EP and 2017 album.
He led worship at the Refuge Campus Of Central Baptist Church in Jonesboro from 2014-2017.
Further info - https://www.zachwilliamsmusic.com/
FLATLAND REVIVAL RESURRECT A BIBLE BELT KID
Oklahoma band Flatland Revival debut on Behind Bars on a trip that began at Stroud on Route 66 .
Singer Casey Edgar left home with a bible in his back pocket and his photo in a lover's locket.
This time he left the Church of Christ in Leiper's Fork near Nashville and sang of how he was Baptised by Hank Williams and Jack Daniels but saved by Jesus.
Bible Belt Kid is the title track of the Flatland Revival's debut EP.
"Nashville is a very inspiring place to live," Edgar revealed of the story he told in his video that embraces honkytonks and churches.
"It has a way of pushing artists to their full potential. And the hard work reflects the heritage of Country Music."
Further info - https://www.flatlandrevival.com/
KORA NAUGHTON LAP AROUND THE SUN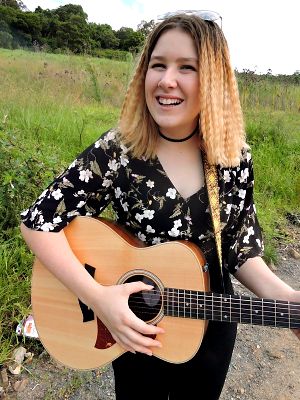 Teenage Shellharbour singer-songwriter Kora Naughton dines with family and friends on her return.
Kora, 19, began writing stories at primary school in note-books in Albion Park west of Shellharbour in Illawarra.
In 2015 doctors told Kora a serious spinal cord condition meant she would have to stop her passion of cheerleading - a sport she loved since she was seven years old.
The condition resulted in two surgeries in 12 months so she turned to music.
Kora taught herself to play guitar, write songs and sing and evoke her emotions through music.
She debuted on Nu Country at 17 when she explored a double murder and suicide mystery in her Ravenswood Lane video from her first album Ride Or Die .
In January 2017 she busked at Tamworth Country Music Festival for ten days before performing with Tania Kernaghan, Amber Lawrence and Bill Chambers.
She performed her Speechless video on Nu Country last year and returns this week with her Lap Around The Sun from her second album Nineteen.
Further info - https://www.koranaughton.com.au/
RHIANNA FIBBINS HEADS SOUTH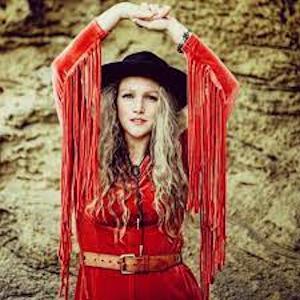 Former Hunter Valley singer-songwriter Rhianna Fibbins debuts in a cinematic trip from new home Wallington to Point Lonsdale, Barwon Heads, Queenscliff and beyond.
Rhianna and sister Layla began singing around campfires, horses and river swims in the Hunter before they formed Sideshow Brides on arrival in Melbourne.
They opened shows for Leah Flanagan, Tex Perkins, Americana country queen Elizabeth Cook and sang as a trio with Tim Rogers.
She edited, filmed and produced her Little Whispers video replete with sand, surf, salt and floral imagery in scenic locales in Wadawurrung country on the Bellarine Peninsula south of Geelong.
"I wrote this song about a certain kind of heartbreak from many moons ago," Rhianna revealed of the tune on her new EP From The Valley Looking Out.
She hired Old Crow Medicine Show fiddler Chance McCoy for recording of her song on an EP that features Roll River and Diamonds and Coal.
It was recorded live in Two Bright Lakes studio in Point Lonsdale with producer Nick Huggins, drummer Matt Earl, double bassist Steve Temple and pedal steel guitarist Jy- Perry Banks.
Further info - https://www.rhiannafibbins.com/
WIN WAYLON, GEORGE JONES AND HIGHWAYMEN
Late Texan outlaw Waylon Jennings and the Highwaymen close our show with the late Arlo Guthrie penned City Of New Orleans .
The song is on one of many Waylon, Johnny Cash, Highwaymen and George Jones albums you can win by becoming a Nu Country TV member or renewing your membership.
They are among albums donated by country historian Barbara Dowling who died at 77 on December 11, 2020.
She co-hosted Long In The Saddle in our Nu Country FM era.
The pioneer Australian and Victorian country music awards judge was admired for rising above losing her sight as a young woman and pursuing country music passion with regular trips to Waylon's birthplace in Littlefield, West Texas .
Waylon died at 64 on February 13, 2002 and is survived by singing spouse Jessi, now 77, and son Shooter, 41.
WIN KEITH URBAN CDS ALSO
We have expatriate Australasian superstar Keith Urban's chart topping 12th album The Speed Of Now - Part 1.
Also BR5-49 CD Big Backyard Beat Show and Billy Ray Cyrus's historic 1992 album Some Gave All that features his Achy Breaky Heart hit.
Join Watling & Bates as members and win their 13 track CD Small Town Tales
We have other CDS by major artists you can win by becoming a Nu Country TV member or renewing your membership.
They include Brad Paisley, Carrie Underwood, Eric Church, Kip Moore and late larrikin legend A.P. Johnson.
CLICK HERE for our Membership Page for details.