DAVE'S DIARY - 5 APRIL 2021 - PREVIEW OF EPISODE 7 - SERIES 47
BELLAMY BROTHERS AND JOHN ANDERSON HEADLINE NU COUNTRY TV
Floridian Bellamy Brothers and John Anderson headline Nu Country TV Saturday April 10 at 9.30 pm on Channel 31/Digital 44.
Knoxville born Rodney Atkins returns to the show repeated Wednesday at 11.30 pm.
Mississippi minstrel Jameson Rodgers joins North Carolina nouveau outlaw star Luke Combs and Texan Charley Crockett in Behind Bars on our program edited by our multi-talented lockdown producer Laith Graham.
Blue Mountains born belle Imogen Clark, Kasey Chambers and Paul Field OAM return as we celebrate the late Waylon Jennings legacy with one of his major hits.
Nu Country TV is a highlight of C 31 streaming list on Digital 44.
Further info - https://www.c31.org.au/
FLORIDIANS HONOUR LATE LEGENDS
Florida singer-songwriter-farmers the Bellamy Brothers and John Anderson honour late heroes on their return.
They reckon radio often forgets true country fans so they praise a vast cast of legends in Nashville and Bakersfield.
Their pick-ups and guitars were weapons in their evocative video.
Howard Bellamy, 74, and Dave, 70, toured here many times and made more than 50 albums since 1968.
Anderson, now 66, cut his 23rd album Years last year.
No Country Music For Old Men premiered in July 2020 on Bellamy Brothers EP Bucket List before release as single on January 29 and video on February 4.
Their song praises country legends who died in 2020.
David Bellamy wrote the song on March 20 - the day Kenny Rogers died.
Bellamy, who co-hosted 3RRR-FM show High In The Saddle on one of his Australian tours, says when he was writing the song he could hear Anderson singing it.
The brothers appeared on Nu Country TV with videos diverse as two versions of Old Hippie, Boobs, If You Ever Leave, Get Into Reggae Cowgirl and Country Rap.
They were raised on music on their southern Florida family citrus farm and dairy fields and last toured here in October 2014.
Anderson , also born in Florida , has sadly never toured here.
CLICK HERE for Bellamy Brothers Palms at Crown Casino review in our Concert section on October 18, 2014.
CLICK HERE for a John Anderson feature in The Diary on December 18, 2012.
RODNEY ATKINS A LITTLE GOOD NEWS
Knoxville born Rodney Atkins prefers good news on TV so he enlisted his sons and thanked nurses, medics and health workers for support in the pandemic on his new video.
His revamp of 1983 Anne Murray hit A Little Good News is on his sixth album out this year.
"As a kid, I remember loving this song," Atkins revealed.
"I actually remember thinking it sounded tough. In March of 2020, the world started getting more and more bizarre. This song began to haunt me with conviction. I couldn't stop thinking about it. I just really wanted folks to hear it say that this world has gone crazy before and we got through it and we will get through it again. I decided to start recording it on my own at home. I kept working and working on it until we all felt really great about it. This song means so much to me that it was definitely worth all of the work to get it right. My biggest hope for this song is that it can really lift some folks up and remind us that it's all going to be okay."
Atkins appeared on Nu Country with Biblical messages in Thank God For You - also a tribute to his second wife - fellow singer Rose Falcon.
That video starred Rodney's son Elijah who plays a younger version of Rodney who meets and falls in love with a young girl as the video fast forwards to present day Rodney and Rose.
CLICK HERE for an Atkins review in the Diary on August 9, 2010.
RODGERS AND COMBS ON A BEER DELIVERY RUN
Mississippi minstrel Jameson Rodgers takes Luke Combs on a beer delivery run in Behind Bars.
Rodgers, 34, was major support artist on prolific award winner-chart topper Luke's Beer Never Broke My Heart tour before the pandemic.
Cold Beer Calling My Name follows the Batesville born singer's 2019 Top 5 hit Some Girls and is on the second album by Rodgers who moved to Nashville in 2010.
Rodgers co-wrote Florida Georgia Line's Top 10 single Talk You Out of It, Chris Lane #1 hit I Don't Know About You , Camouflage Hat on Jason Aldean's recent album 9 and title track of Luke Bryan's latest album Born Here Live Here Die Here.
Combs broke many sales records with his first two albums that were re-released as Deluxe albums.
Luke played St Kilda Palais on March 13, 2019, with Arkansas traveller Ashley McBryde.
CLICK HERE for Combs What You See Is What You Get CD feature in The Diary on November 25, 2019.
Further Rodgers info - https://www.jamesonrodgers.com/
CHARLEY CROCKETT LENDS A HAND AND VOICE TO JAMES
Texan troubadour Charley Crockett honours late hero and friend James Hand on his Behind Bars return.
Charley, 37 and descendant of Davy Crockett, promised to record Hand's songs but Hand died at 68 on June 8, 2020, before he could honour his promise.
"If you listen to his writing style and the portraits he painted in his music, or that plaintive one of a kind voice he had then you know he was without equal in our time," revealed Crockett who planned to take Hand on the road as opening act in 2020, before the pandemic derailed live music.
Charley, who has toured Australia several times, visited Desert Inn and Navajo County Fairgrounds in his Hand homage video Lessons In Depression
It was originally on Hand's 2012 album Mighty Lonesome Man and reprised on Charley's ninth album 10 For Slim - Charley Crockett Sings James Hand, out on February 26 on Charley's Son of Davy label and Thirty Tigers.
Hand's music career didn't start until he was 47 but became a legend of Texas honkytonks and beyond.
"Willie Nelson called him the real deal and I'm telling you right now it's a fact that there wasn't a more authentic character in country music during James' lifetime," Crockett explained.
Charley and his two siblings were raised in a Texas trailer park by their mum and fronted Nu Country with his Fool Somebody Else and Run Horse Run videos.
Further info - http://www.charleycrockett.com/
KASEY CHAMBERS AND PAUL FIELD CELEBRATE VALENTINE'S DAY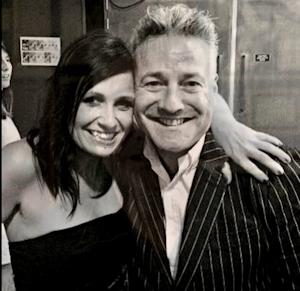 Country music queen Kasey Chambers joins singer-songwriter Paul Field, OAM, on his Nu Country debut .
Field, now 59 and known for his work with the Wiggles who feature his brother Anthony, also performed with him in the Field Brothers and Cockroaches.
Field and Kasey toured Africa together before the pandemic and filmed their Valentine's Day video in Nashville where Paul also wrote songs.
"In the midst of the pandemic, I was lucky enough to still be able to make music with some friends," Field revealed.
"At the start of 2020 I recorded the vocals to Valentine's Day , written by my mate Sean Sennett. While in Nashville , I shot a film clip of the song with all the characters and colour of Music City . I was really happy with it but I had always thought that the song would make a great duet. And so I asked Kasey to sing with me on the song. She said yes and added her unique take on the song, kicking it to another level. In her classic self-deprecating way, she sent me a note explaining her thought process to her performance on the track and added at the end, "I hope I didn't f…it up". I remember playing the duet to some of my kids and asked what they thought. My daughter laughed and put it best, "It's so good dad! I wonder if you could perhaps lose your vocals and just keep Kasey's?" I think that meant she liked it!"
Valentine's Day is on his ABC solo album Love Songs for Lonely People.
Click here for a Kasey interview in The Diary on May 7, 2018.
IMOGEN CLARK TRIES TO FORGET LONDON
Blue Mountains born belle and latter day Sydney singer-songwriter Imogen Clark returns with a vivid video where she proves handy with a bat in her hands.
Luckily, it was phone boxes and buses not male admirer and co-star Dan Young she hit for six in Forget About London.
Clark wrote it with Melbourne singer-songwriter-producer Eilish Gilligan who also performs backing vocals on the track
"In the middle of 2019, I went through a really tough breakup and was stranded in London for the aftermath", Imogen revealed.
"I got swept up by this guy, I was on the rebound and found myself falling for him but in the end he led me on and left me heartbroken. I came back to Australia thinking the change of scenery would help me get over it but I couldn't escape the now tainted memories of this romance."
Imogen, now 25, included Forgot About London on her third album Bastards.
She appeared on Nu Country with videos for Drawing Hearts, Collide, You'll Only Break My Heart, Take Me For A Ride and Your Anything At All.
Imogen toured Australia in 2019 with Americana star Jim Lauderdale.
Click Here for our Imogen-Jim review in our concert section on October 13, 2019.
Further info - https://www.imogenclark.com.au/
WIN WAYLON, GEORGE JONES AND HIGHWAYMEN
Late Texan outlaw Waylon Jennings closes our show with historic hit Out Of Jail By Now.
The song is on one of many Waylon, Johnny Cash, Highwaymen and George Jones albums you can win by becoming a Nu Country TV member or renewing your membership.
They are among albums donated by country historian Barbara Dowling who died at 77 on December 11, 2020.
She co-hosted Long In The Saddle in our Nu Country FM era.
The pioneer Australian and Victorian country music awards judge was admired for rising above losing her sight as a young woman and pursuing country music passion with regular trips to Waylon's birthplace in Littlefield, West Texas .
Waylon died at 64 on February 13, 2002 and is survived by singing spouse Jessi, now 77, and son Shooter, 41.
WIN KEITH URBAN CDS ALSO
We have expatriate Australasian superstar Keith Urban's chart topping 12th album The Speed Of Now - Part 1.
Also BR5-49 CD Big Backyard Beat Show and Billy Ray Cyrus's historic 1992 album Some Gave All that features his Achy Breaky Heart hit.
Join Watling & Bates as members and win their 13 track CD Small Town Tales.
We have other CDS by major artists you can win by becoming a Nu Country TV member or renewing your membership.
They include Brad Paisley, Carrie Underwood, Eric Church, Kip Moore and late larrikin legend A.P. Johnson.
CLICK HERE for our Membership Page for details.