DAVE'S DIARY - 22/2/2021 - PREVIEW OF EPISODE 1 - SERIES 47
DEVIN DAWSON HEADLINES NU COUNTRY TV SERIES PREMIERE
California born singer-songwriter Devin Dawson headlines the Nu Country TV Series #47 premiere Saturday February 27 at 9.30 pm on Channel 31/Digital 44.
Georgian Thomas Rhett also returns to the show hosted by Mid-Pacific Bob Olson and repeated Wednesday 10.30 pm and Thursday 4.30 am.
Adelaide born singer-songwriter Melody Moko and Blue Mountains belle Cass Hopetoun revisit our program filmed and edited by our multi-talented lockdown producer Laith Graham.
Alabama born TV troubadour Riley Green and Arkansas raised singer-actor Sean Harrison also appear.
We also celebrate the legacy of Waylon Jennings and the Highwaymen with their historic hit Are You Sure Hank Done It This Way ?
Nu Country TV is a highlight of C 31 streaming list on Digital 44.
Further info - https://www.c31.org.au/
DAWSON DRIVES RANGE ROVER
Devin Dawson had to choose between two young women in his latest video.
His perfect 10 wanted a designer home and luxury and the other opted for his old pick-up truck and canine.
Dawson chose the latter in Range Rover from new EP Pink Slip that follows his debut album Dark Horse.
Devin wrote Range Rover with Ben Rector and Mark Trussell.
"The idea for Range Rover came out of conversation in the room when we were starting up," revealed Dawson, who turned 32 on January 30.
"One of my other co-writers on that song, Mark Trussell was talking about him having a Top 20 finally and being able to get paid. He was like, 'I have to get my wife a car.' I said, 'What does she want?' He said, 'I think she wants a Range Rover .' She's not the stereotypical, trophy wife kind of a girl looking for the Range Rover . She's a very sweet, wholesome, amazing woman - not that every single person that drives a Range Rover is like that, but there's that stereotypical thing. We were like, 'Is there a song there? Can we write that? How do we do that?' We were really obsessed with the challenge of conquering that idea in the right way. And we did it, it's just so crazy and fun and different and cheeky and heavy and choppy."
Devin toured here in 2019 with Brandy Clark and Canadians Lindsay Ell and Tenille Townes.
CLICK HERE for a Devin interview in The Diary on April 8, 2019.
THOMAS RHETT FARM RETURN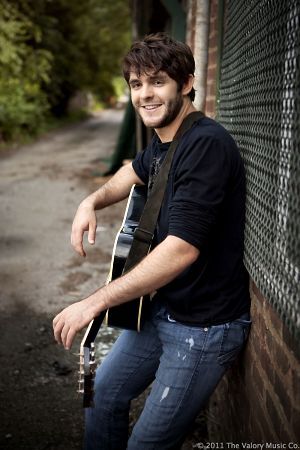 Georgian singer-songwriter Thomas Rhett heads back to his family farm as he recalls favourite songs.
Rhett, 30 and son of hit writer Rhett Akins, answers rhetorical questions in What's Your Country Song from his fifth album.
Akins toured here with Tennessee preacher's son Morgan Wallen and Florida Georgia Line in 2019.
He showcased wife Lauren and their first two daughters Ada James and Willa Gray in previous videos What God Gave Her and Life Changes - title track of his third album.
A third daughter, Lennon Love Akins, was born on February 10, 2020.
Thomas joined dad Rhett in seventh No 1 hit Star Of The Show video on his deluxe version of second album Tangled Up .
CLICK HERE for our review of Rhett's Rod Laver Arena show in our Concert section on March 20, 2019.
Further info - http://www.thomasrhett.com/home
MELODY MOKO HONOURS HANK
Adelaide born singer-songwriter and 2021 best new talent Tamworth Golden Guitarist Melody Moko returns this week.
Melody, 32, moved to NSW central coast and Queensland to follow her music dreams.
The mother of three also toured the U.S. with Novocastrian song writing partner Catherine Britt who collaborated on previous single Last Cigarette.
And, like Britt, she name-checked mentor Hank Williams after a visit to the Hank Williams museum in Montgomery, Alabama.
Like Hank Would is on her second album Two Kids And A Radio produced by her husband Michael Muchow.
Muchow and Britt produced her debut album The Wreckage that followed her EP Walk That Wire.
"Spinning records on my dad's record player and dancing around the living room made me the artist I am today," said Melody who was named after a Rolling Stones song .
She grew up in an Adelaide house with over 7,000 records and went on the road with her dad in his car with guitar and old cassette tapes and played festivals.
Melody's U.S. tours included concerts at famed Bluebird Café and Tootsie's Orchid lounge venues in Nashville and Continental Club in Austin , Texas .
Moko wrote another single Secondhand Heart on The Wreckage .
"I don't shy away from writing how I feel and I wrote this just after the birth of my first son and before I married my husband, as adults we all come with a lot of baggage and it's that baggage that makes us who we are," Moko explained.
Further info - https://www.melodymoko.com/
CASS HOPETOUN TRUMPS FORTUNE TELLER
Blue Mountains belle Cass Hopetoun proved dancing and singing trump crystal balls in her return on her Fortune Teller video on her Compass Brothers debut album.
Video director Bruce Dawson also produced her Shots and Typical Bride clips.
Shots was released in March and reached top 5 on Australian country charts.
Cass performed live on Casey Donovan's drive-in concert on Seven network show Sunrise and on the news during lockdown.
She depicted how to avoid the fate of fellow Blue Mountains belles in her Typical Bride video.
Further info - http://www.casshopetoun.com.au/
SEAN HARRISON HALFWAY FROM NASHVILLE
Singer-songwriter actor Sean Harrison debuts with the title track of debut album Halfway From Nashville.
Sean returned to hometown Fayetteville in Arkansas to film his video of a down-and-out songwriter who turns to country icons for answers to his bedraggled life.
Harrison struggles to start a lawn mower to beat back the jungle his yard became - a subtle nod to a life out of control.
As the mower fires, the work is done in fits and starts.
Halfway through the chore he pauses to look through photographs of kinder days.
The pain of the past seems overwhelming but is then lightened with the inevitable arrival of a friend with a bottle in a brown paper sack.
Another tragedy in the making or the start of another great song.
Interspersed with outdoor footage are studio scenes showing Sean singing and laughing at the antics in the control room, offering his true self as a counterpoint to the denuded character he plays.
"The production company had to twist my arm to get me to play this role," Sean revealed.
"But they promised it would be fun and it was a blast. For a sad sack of a song it was an engaging process. And they told me they'd make me look handsome."
Sean's previous acting included the role of a truck-stop porn shop stalker in Season 3 of HBO's True Detective .
Sean's late dad William was a novelist and screen writer famed for his movie Rollerball.
Further info - https://www.seanharrisonsongs.com/
RILEY GREEN TRUCKS AND DOGS
Alabama TV star, turkey and deer hunter and singer-songwriter Riley Green returns with his ode to trucks.
And, like Devin Dawson, he finds a woman who likes dogs and trucks.
Riley, aged 32, found a blonde to share his pick-up and canine in If It Wasn't For Trucks.
His good Samaritan picked him up in her pick-up.
If It Wasn't For Trucks is on his third album Different Around Here that follows four EPS and many TV shows.
Green cut a batch of EPS including Outlaws Like Us that featured Bury Me In Dixie - not the tiny town north of Terang on our Shipwreck Coast .
Green is known for hunting deer and turkeys for supper on his hunting shows on Dirt Road TV after being a castaway on Redneck Island .
Riley also fishes in Ohatchee River , Orange Beach , Alabama , hunts turkey at his primitive camp in Arkansas and deer at his Back 40 Bash property.
Green was born into songwriting and performing, spending days and nights with grandfather, Bufford Green.
"My Paw-Paw opened a music hall in 2003, where he'd always say music goes from The Bar Room to The Pulpit and Back each Friday Night," Green revealed.
"My Granddaddy Buford taught me a love for old traditional country, bluegrass, and southern gospel music."
Further info - https://www.rileygreenmusic.com/
WAYLON JENNINGS AND HIGHWAYMEN
Late outlaw country star Waylon Jennings and The Highwaymen return with their historic hit Are You Sure Hank Done It This Way from one of their discs you can win by joining Nu Country TV or renewing your membership.
They are among albums by Waylon, Willie, George Jones, Merle Haggard and Highwaymen donated by country historian Barbara Dowling who died at 77 on December 11, 2020.
She co-hosted Long In The Saddle in our Nu Country FM era.
The pioneer Australian and Victorian country music awards judge was admired for rising above losing her sight as a young woman and pursuing country music passion with regular trips to Waylon's birthplace in Littlefield, West Texas .
Waylon died at 64 on February 13, 2002 and is survived by singing spouse Jessi, now 77, and son Shooter, 41.
WIN KEITH URBAN CDS ALSO
We have expatriate Australasian superstar Keith Urban's chart topping 12th album The Speed Of Now - Part 1.
Also BR5-49 CD Big Backyard Beat Show and Billy Ray Cyrus's historic 1992 album Some Gave All that features his Achy Breaky Heart hit.
Join Watling & Bates as members and win their 13 track CD Small Town Tales.
We have other CDS by major artists you can win by becoming a Nu Country TV member or renewing your membership.
They include Brad Paisley, Carrie Underwood, Eric Church, Kip Moore and late larrikin legend A.P. Johnson.
CLICK HERE for our Membership Page for details.