DAVE'S DIARY - 3 MAY 2021 - PREVIEW OF EPISODE 11 - SERIES 47
TIM MCGRAW HEADLINES NU COUNTRY TV
Celebrated actor-singer Tim McGraw and Tyler Hubbard headline Nu Country TV Saturday May 8 at 9.30 pm on Channel 31/Digital 44.
Another Tim - Montana - from Butte , Montana , returns to the show repeated Wednesday at 11.30 pm.
Iowa born Hailey Whitters debuts with a double shot in Behind Bars on our program edited by multi-talented lockdown producer Laith Graham.
Perth born singer-songwriter Anita Spring and Shellharbour teenager Kora Naughton return as we celebrate Waylon Jennings legacy with one of his major hits with the Highwaymen.
Nu Country TV is a highlight of C 31 streaming list on Digital 44.
Further info - https://www.c31.org.au/
TIM AND TYLER UNDIVIDED
Tim McGraw joins Florida Georgia Line co-founder Tyler Hubbard on their return with a powerful survival message in their Undivided video.
They urge peers and fans to stick together in our tough times.
McGraw, who turned 54 on May day, is a true survivor.
On his third Australian tour with singing spouse Faith Hill he was given football kicking lessons on the Rod Laver Arena stage by former St Kilda captain Nick Riewoldt.
They both booted footballs into the audience.
Hubbard toured here with Florida Georgia Line in 2019 before lockdown with Morgan Wallen and Thomas Rhett but did not kick footballs into their Rod Laver Arena concert audiences.
The McGraw-Hubbard duet is on the Deluxe version of Tim's 16th album Here On Earth.
CLICK HERE for a McGraw interview in The Diary on April 29, 2019.
CLICK HERE for Florida Georgia Line interview in The Diary on March 18, 2019.
TIM MONTANA NITRO CIRCUS
Tim Montana returns with an action packed video in his hometown of Butte, Montana, and Nashville.
Tim, 37 and father of four, explores hot bikes, cars and music in his nitro circus.
Do It Fast is on Tim's new EP Cars On Blocks that follows three albums.
There is no sign of actor Charlie Sheen and Butte sniper Rob O'Neill who were in his previous videos including Hillbilly Rich and Mostly Stoned .
O'Neill, 43, was the Navy Seal sniper who shot terrorist boss Osama bin Laden in Pakistan on May 1, 2011.
Tim was raised in a trailer without power in the Montana mountains.
His second album was Tim Montana & the Shred Necks .
Further info - https://www.timmontana.com/
HAILEY WHITTERS FROM SHUEYVILLE TO NASHVILLE
Iowa born Hailey Whitters proves she has done the hard yards in her double shot debut in Behind Bars.
She left Shueyville and worked bars and clubs to support singing and songwriting on her arrival in Nashville.
Hailey, 31, wrote hits for artists diverse as Alan Jackson, Little Big Town and Chris Stapleton.
Her video for 10 Year Town - penned with Grammy winner Brandy Clark -graphically depicted her music city journey
She also reflected female survivors in Janice At The Hotel Bar that she wrote with Lori McKenna - a mother of five.
Hailey also penned Happy People and How to Break a Heart with Lori and Hillary Lindsey.
Trisha Yearwood duets with Whitters on How Far Can It Go, Jordan Davis joins Hailey on The Ride and Brent Cobb guests on Glad To Be Here .
All songs are on her second album Living The Dream that follows her 2015 debut Black Sheep.
Further info - https://haileywhitters.com/
ANITA SPRING DRIVES MIDNIGHT TRAIN
Perth born Gold Coast singer-songwriter Anita Spring delivers strong messages as she explores dangers of city life in her Nu Country debut.
Anita debuted in her mum's band when she was aged two in Sydney suburb Newtown.
She graduated to musical theatre and sang on TV shows including Sunrise , Hey Hey, It's Saturday, Good Morning Australia and The Midday Show.
Spring expanded her catalogue on trips to Nashville and Atlanta in 2017 and 2018.
Her video for Midnight Train - title track of her new album - follows domestic violence video This Ain't Pretty and Still A Child.
" Midnight Train is about the current state of our world and deciding to escape the scariness of it all by, choosing to have an optimistic outlook," Anita revealed.
The video was produced by Apollo Films Brisbane and directed by Anita.
"It's a video that explores the dangers of city life and the decision to start fresh again in the country," Anita explained.
"It's a metaphor for the craziness of our current world and choosing a much less crazy existence by not listening to external noise. I believe the world in which we live is riddled by power struggles. Everyone wants to be top, not matter who they hurt. It's teaching our children such tough lessons and not the best lessons. "Logical common sense must rule and that's exactly what Midnight Train is all about. Packing up your baggage and leaving it out in the rain to deteriorate, moving on and not looking back, a no-nonsense approach to life. I've been feeling lately that we're all in a parallel existence. We need to find a way to back to reality and to that place we all were before 2020, I'm hoping all the craziness will come to end in 2021 and we'll all find our happy place once more."
Further info - https://www.anitaspring.com/
KORA NAUGHTON HEART BREAK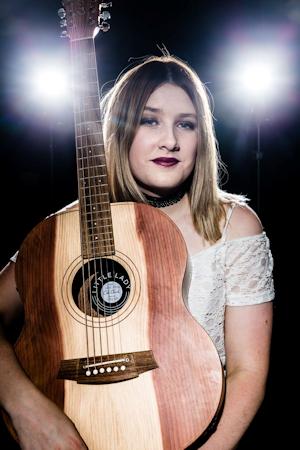 Shellharbour singer-songwriter Kora Naughton returns with an assertive video.
Kora, 19, proves singing in bars is preferable to waiting for the phone to ring as she believes in taking risks on love.
My Heart To Break is on her second album Nineteen .
Kora began writing stories at primary school in note-books in Albion Park west of Shellharbour in Illawarra.
In 2015 doctors told Kora a serious spinal cord condition meant she would have to stop her passion of cheerleading - a sport she loved since she was seven years old.
She had two surgeries in a year so she turned to music.
Kora taught herself guitar, wrote songs, sang and evoked her emotions through music.
She debuted on Nu Country at 17 with a double murder and suicide mystery in her Ravenswood Lane video from her first album Ride Or Die.
In 2017 she busked at Tamworth Country Music Festival for ten days before live gigs with Tania Kernaghan, Amber Lawrence and Bill Chambers.
Kora also performed her Speechless and Lap Around The Sun videos on Nu Country.
Further info - https://www.koranaughton.com.au/
WAYLON AND HIGHWAYMEN HAIL THE KING
The late Waylon Jennings and The Highwaymen regret The King Is Gone as they close the show.
The song is on one of many Waylon, Johnny Cash, Highwaymen and George Jones albums you can win by becoming a Nu Country TV member or renewing your membership.
They are among albums donated by country historian Barbara Dowling who died at 77 on December 11, 2020.
She co-hosted Long In The Saddle in our Nu Country FM era.
The pioneer Australian and Victorian country music awards judge was admired for rising above losing her sight as a young woman and pursuing country music passion with regular trips to Waylon's birthplace in Littlefield, West Texas.
Waylon died at 64 on February 13, 2002 and is survived by singing spouse Jessi, now 77, and son Shooter, 41.
WIN KEITH URBAN CDS ALSO
We have expatriate Australasian superstar Keith Urban's chart topping 12th album The Speed Of Now - Part 1.
Also BR5-49 CD Big Backyard Beat Show and Billy Ray Cyrus's historic 1992 album Some Gave All that features his Achy Breaky Heart hit.
Join Watling & Bates as members and win their 13 track CD Small Town Tales.
We have other CDS by major artists you can win by becoming a Nu Country TV member or renewing your membership.
They include Brad Paisley, Carrie Underwood, Eric Church, Kip Moore and late larrikin legend A.P. Johnson.
CLICK HERE for our Membership Page for details.