DAVE'S DIARY - 7/12/2020 - PREVIEW OF EPISODE 3 - SERIES 46
BROTHERS OSBORNE HEADLINE NU COUNTRY TV
Maryland exports Brothers Osborne headline Nu Country TV on Saturday December 12 at 9.30 pm on Channel 31/Digital 44.
Texan Pentecostal preacher's son John Rich and West Texas rancher Randall King return to the show repeated Wednesday at 10.30 pm.
CMA Entertainer of The Year winner Eric Church appears in Behind Bars on the program filmed and edited by our multi-talented lockdown host Laith Graham.
California band Runaway June and Echuca born singer-songwriter Gareth Leach also return.
Nu Country TV is a highlight of C 31 streaming list on Digital 44.
Further info - https://www.c31.org.au/
MORE SKELETONS FROM BROTHERS OSBORNE
Brothers Osborne made most of isolation during the pandemic after cancellation of their March tour with Texan Miranda Lambert that included Rod Laver Arena and CMC Rocks Queensland festival.
They wrote and recorded new songs for fourth album Skeletons, out next year.
The duo mix with sinners and drinkers in vivid video I'm Not For Everyone.
Brothers John, 35, and T.J. 32, left Maryland for Nashville as songwriters and won 2017 CMA best vocal duo.
They hitched horses and chased familiar suspects in armed robberies in humorous previous video It Ain't My Fault from 2016 album Pawn Shop.
The duo showcased videos at a legalized marijuana plantation at Terrapin station, Colorado , including A Couple of Wrongs Making It Alright and Weed, Whiskey & Willie.
They performed alternate versions of songs from second album Port Saint Joe recorded in Bellamy Brothers home state Florida and released on April 20, 2018.
The duo also filmed 21 Summer, Shoot Me Straight and Pushing Up Daisies.
They toured the U.S. with Arizona born singer-songwriter-pilot Dierks Bentley after appearing at Joshua Tree on his Burning Man video from his 11th album The Mountain.
CLICK HERE for a Brothers Osborne CD feature in The Diary on July 22, 2019.
CHURCH WITH A HELL OF A VIEW
North Carolina outlaw and 2020 CMA Awards Entertainer of The Year Eric Church also thrived in isolation.
He wrote and road tested songs in home studio videos for his 10th album.
This week he debuts Hell Of A View, replete with scenic vistas, that he performed live on the 54th CMA Awards show.
Church, 43, and fellow North Carolina outlaw protégé Luke Combs won a triple shot of major CMA Awards in Nashville on November 11.
He headlined our Series #46 premiere with a lockdown Bad Mother Trucker video featuring singer Joanna Cotten.
Eric celebrated his first Entertainer of the Year award with an emotional speech that praised peers for survival during lockdown.
"This year, at least for me, has been about loss," Church said while accepting his trophy.
"Loss of life, loss of playing shows, loss of freedom, loss of kids being in school. And you know what the win is? The win is we all were here tonight, together as country music - in person, live, not on zoom and I believe this, I really believe this. It's gonna be music that brings us out of this. That is the one thing that's gonna save the entire world. Politicians are about division - music is about unity."
His Stick That in Your Country Song video fronted Nu Country before iso videos Never Break Heart, Bad Mother Trucker and Does To Me with Combs during lockdown.
Combs thanked wife Nicole as he accepted his album and male vocalist of year awards.
CLICK HERE for a Church feature in The Diary on December 10, 2018.
RANDALL KING HIGH ABOVE HIS WEST TEXAS RANCH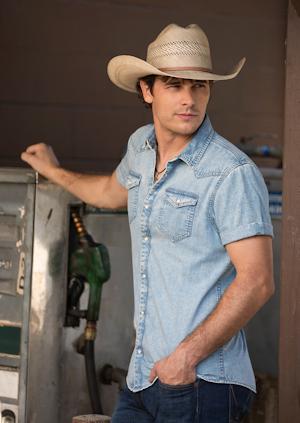 West Texan Randall King mixed music and harvesting high above his fourth generation family ranch way out west of Amarillo on his Nu Country return.
The Hereford hay hauler performed Taking It As It Comes from his self-titled, self-produced third album.
King, who now calls Lubbock home, name-checked fellow Texan star George Strait in previous Nu Country video Hey Cowgirl.
He also performed She's Gone , Taking Me A Heartbreak, Old Dirt Road and Another Bullet.
King was raised on soulful, classic country Keith Whitley, George Strait and Alan Jackson - neo-traditional country artists.
"There's a lot of people that want country music to come back around and there's a lot of people that will say you have to sell out and play radio hits to make it," says King who studied sound engineering in college.
Further info - https://www.randallkingmusic.com/
JOHN RICH WANTS TO SHUT UP ABOUT POLITICS
Texas Pentecostal preacher's son John Rich enlisted The Five for his timely Shut Up About Politics video that follows three solo albums and two EPS.
The singer climbs aboard the Redneck Riviera bus in his satiric song.
Rich, 46, also fronted Nu Country with The Good Lord And The Man live at Larry's Diner in Nashville from third solo album Son Of A Preacher Man.
Big & Rich played Billboard club, Melbourne, with Chris Young on their 2015 tour.
We showcased their pandemic video Stay Home that followed six albums for the band formed in 1998 after Rich, former Lone Star singer, and Big Kenny Alphin broke through as songwriters.
Singing actor, Rhodes Scholar and former Army pilot Kris Kristofferson had a cameo in their evocative video of Vietnam War song 8th Of November.
They also guested with California from their sixth album Did It For The Party.
Singing actor Tim McGraw also played a bartender in their video Loving Lately - written by Big Kenny, Rich and Tim who has toured here twice - for fifth album Gravity.
CLICK HERE for a Big & Rich CD feature in The Diary on August 29, 2007.
CLICK HERE for our Big & Rich live Billboard review with Chris Young in our concerts section on March 11, 2015.
RUNAWAY JUNE BLUE ROSES
Californian trio Runaway June recall a rich era as they return to their childhood.
Co-founder Jennifer Wayne is a grand-daughter of movie star John Wayne - the Duke.
New singer-fiddler Natalie Stovall replaced Hannah Mulholland and joined them in their We Were Rich video on debut album Blue Roses.
"Even before I was a member of Runaway June , this was my favorite song," Stovall revealed.
"Even when it hadn't become official yet that I was in the band, I was hoping We Were Rich would be their next single."
They previously appeared on Nu Country with busking and puppy love in Buy My Own Drinks - also on Blue Roses.
The title track was inspired by the car crash death of singer Naomi Cooke's brother Billy.
Runaway June released new disc When I Think About Christmas on October 16.
The five-track EP feature three Christmas classics and Runaway June originals Christmas on the Radio and the title track.
CLICK HERE for a Runaway June feature in The Diary on August 19, 2019.
GARETH LEACH MOVIE FLASHBACKS
Echuca born singer Gareth Leach used western movie flashbacks to illustrate his Nu Country return.
He praised Willie Nelson and Waylon Jennings as he armed his guitar Trigger for music battles.
Leach, 35, paid tribute to Nelson, 87, by naming his guitar Trigger after Shotgun Willie's historic instrument.
" Trigger is a song about the pursuit of every country musician's side-kick and partner-in-crime and storytelling - their guitar," Leach revealed.
"Follow this old Western cinematic tale featuring a train robbery, cowboys, and a classic shoot-out. As we were drastically limited in how we could approach making this video due to Melbourne's Covid-19 restrictions, I decided to play dress up in my finest of cowboy attire, asked my wife Jade to shoot my vocal part in our shed to accompany the wonderful public domain footage I had cut together from the 1908 silent film The Bank Robbery . Essentially, we just wanted to make a clip that complimented the outlaw vibe and add an exciting visual narrative to enhance the story of the song, which I think we did."
Trigger - an old-time shuffle that pays tribute to the way of the outlaw - is title track of Gareth's self-produced third album.
He fronted Nu Country with videos For Better Or Worse, Turn Back Jimmy Creek and Death & Taxes , filmed at Echuca railway station and Murray River dock where the Emmylou paddle steamer sails from.
Further info - https://www.garethleach.com/
HOW TO KEEP NU COUNTRY ON AIR
We need your support in Nu Country TV's 46th series with Australian record companies and major artists teaming to ensure our survival.
We have expatriate Australasian superstar Keith Urban's chart topping 12 th album The Speed Of Now - Part 1.
Also vintage BR5-49 CD Big Backyard Beat Show and Billy Ray Cyrus's historic 1992 album Some Gave All that features his Achy Breaky Heart hit.
You can join Watling & Bates as members and win their 13 track CD Small Town Tales.
We also have other CDS by major artists you can win by becoming a Nu Country TV member or renewing your membership.
They include Brad Paisley, Carrie Underwood, Eric Church and late larrikin legend A.P. Johnson.
CLICK HERE for our Membership Page for details.