DAVE'S DIARY - 31/8/2020 - PREVIEW OF EPISODE 2 - SERIES 45
JIMMY BUFFETT HEADLINES NU COUNTRY TV
Floridian singer-sailor-songwriter and pilot Jimmy Buffett headlines Nu Country TV this Saturday September 5 at 9.30 pm on Channel 31/Digital 44.
North Carolina singer-songwriter Eric Church also returns to the show repeated on Wednesday 10.30 pm.
Nu Country TV co-producer, camera man and editor Laith Graham also adds humour in his hosting debut with Octogenarian Ray Stevens streaking across his home studio and way beyond.
South Carolina stone country singer Josh Turner and Snowy Mountains minstrel Fanny Lumsden boomerang to the program featuring the debut of Mornington Peninsula duo group Leadbetter Swayn.
Nu Country TV is a highlight of C 31 streaming list on Digital 44.
Further info - https://www.c31.org.au/
JOYOUS JIMMY LIVE CELEBRATION
Jimmy Buffett shows how he kept his merry mates occupied during isolation.
Buffett, now 73, landed on his feet with his Coral Reefer Band who joined him from a safe distance.
Jimmy visited his pioneering ancestors on Norfolk Island during six Australian tours but not this year as he promotes his Down At The La De Dah video and his 30th album Life On The Flip Side.
Buffett revealed his video of the song penned by Paul Brady was inspired by Lin Manuel Miranda who made a You Tube video of a birthday greeting to a little girl.
"So we took Paul Brady from Dublin , the girls in California , band in Nashville , me in Malibu , and it looks really great," Buffett revealed.
"We used our video director Stan Kallem who does all of our roadwork. He's a pretty talented guy but also knows us and has been around us enough to know how to do us in particular. We took basically what we do at shows, which is try to treat people to a little more than just the songs. We take them on a bit of a vacation. I think he did a brilliant job. I tested it on people from 15 to 75 and it worked."
The multi-millionaire actor-movie producer collaborated with Brady on song and video.
"When I met Paul Brady last year, when he opened our shows in London and Dublin , he had come highly recommended by my friend Mark Knopfler" Jimmy recalled.
"And he was spot on. So, getting to know him was a pleasure. He's one of those guys you meet and you feel like you've known him for 40 years. Then he sent me the first draft of the song and I just loved it! It had a little bit of everything, and I said, 'Well, I'd like to write a different verse that I'd like to finish this with. I've done co-writing with a lot of people like that and they call it Buffettizing. Somebody will send me a song and I'll say, "I like that, but So that was the process by which La De Dah came out, and we wrote it together."
Buffett promotes Down At the La De Dah and Life On The Flip Side as he plans post pandemic live gigs without dramas suffered on tour here.
On January 26, 2011, Jimmy was rushed to hospital after falling off stage in an encore at a Sydney Hordern Pavilion concert.
Luckily, leading trauma surgeon Dr. Gordian Fulde - head of St Vincent's Hospital trauma unit and a Buffett fan - was near the stage.
Dr Fulde turned Buffett on his side so he could breathe and administered first aid before arranging transport to St Vincent 's .
Buffett has written four best-selling books Tales from Margaritaville, Where Is Joe Merchant, A Pirate Looks at Fifty and A Salty Piece of Land and two children's books with daughter Savannah Jane.
Jimmy created Margaritaville Cafe and Cheeseburger in Paradise restaurant chains and Margaritaville Records.
He also wrote the soundtrack, co-produced and acted in 2006 film Hoot, directed by Wil Shriner and based on a Carl Hiaasen book.
Among his music credits are themes for 1993 CBS TV series Johnny Bago, Turning Around for 1985 film Summer Rental starring John Candy, I Don't Know (Spicoli's Theme ) for Fast Times at Ridgemont High, Hello, Texas for 1980 John Travolta film Urban Cowboy and If I Have To Eat Someone (It Might As Well Be You ) for animated film Fern Gully.
Buffett's acting cameos include Repo Man, Hook, Cobb, Hoot , Congo and From the Earth to the Moon.
Jimmy also appeared in Rancho Deluxe (for which he wrote the music) and FM.
In 1997 he collaborated with novelist Herman Wouk on a musical based on Wouk's 1965 novel Don't Stop the Carnival.
Buffett appeared in several episodes of Hawaii Five-0 including one as helicopter pilot Frank Bama - a character from his novel Where Is Joe Merchant?
Jimmy also made cameos in 2015 film Jurassic World where he clutched two margaritas while dinosaurs were set loose in the park.
Further info - https://www.margaritaville.com/
ERIC CHURCH SOCIAL COMMENT FROM THE PULPIT
North Carolina singer-songwriter delivers vitriolic social comment on the decay of American society in latest video Stick That in Your Country Song - a powerful anthem for front line workers in lockdown
His lyrics tell of a once great country riddled with corruption, poverty and racism.
"Take me on up to Detroit city/ jails are full, the factories empty/ mommas crying, young boys dying/ under that red, white and blue still flying."
Church, now 43, preached to his large parish from safety of home on his previous video Never Break Heart.
Eric is a mentor for fellow North Carolina star Luke Combs and protegee of veteran Texan outlaw Ray Wyle Hubbard who joined him on his ninth album Desperate Man .
Ray Wylie, now 73, co-wrote the title track and was in a Church video.
Church and wife Katherine created The Chief Cares Fund non-profit organization that helps underprivileged families in Tennessee and North Carolina.
It helps orphans in Nepal receive clothing, proper bedding and schooling and has delivered Bibles to Haiti and helps fund Humane Society no-kill animal shelters.
Church is an avid advocate for cannabis use in Smoke a Little Smoke, The Joint and I'm Getting Stoned.
Stick That In Your Country Song is on Church's ninth album out later this year.
CLICK HERE for a Church feature in The Diary on December 10, 2018.
JOSH TURNER COUNTRY STATE OF MIND
South Carolina singer-songwriter Josh Turner once again proves he is a stone country artist on his live return to Behind Bars.
Josh, now 42, performs Country State Of Mind - title track of his eighth album that was released on August 21.
The singer made the most of his impromptu stage in the back of his pick-up truck on his farm.
CLICK HERE for a Turner CD review from the Diary on December 11, 2007.
RAY STEVENS STREAKS FOR SHOPPERS
Octogenarian Georgian singer-songwriter-author and comedian Ray Stevens bared more of his not so hidden talents when he opened our show for Laith.
That was before he ended up Behind Bars in his supermarket shopping with a difference.
There was no pandemic purchase of toilet paper, nappies, flour, pasta or even a fall from grace or a camel on St Kilda beach like one of his frequent Australian tours.
Ray, now 81, fell from the camel while promoting a previous hit Ahab The Arab.
This time the dual Grammy winner resurrected The Streak from his 1974 album Boogity, Boogity.
Stevens also appeared on our show with Grandpa Voted Democrat - saga of a long deceased dude whose vote was lodged long after he went to his grave.
We also featured equally topical video Quarantined - the tale of avoiding church because of his isolation.
Stevens has released more than 100 albums in his recording career that began in 1957.
His satiric hits include Osama, Yo' Mama, Sitting Up With The Dead, The Streaker, The Mississippi Squirrel Revival, Shriners Convention and Ahab The Arab.
Further info - https://raystevens.com/
FANNY LUMSDEN FIERCE AND PROUD
Snowy Mountains minstrel Fanny Lumsden honours women who came before her in wars and on our farms on her Nu Country TV return.
Fanny, now 34, graphically illustrated feats of her female ancestors who gave up their careers for their country in their altruism.
She honoured the historic Women's Land Army who drove tractors and trucks, rode horses and mustered and fed sheep and cattle while catering for troops and families during and after the two world wars.
Fanny and musician husband Dan Freeman filmed her Fierce video, replete with ancestral photos, in Tooma Valley for her third album Fallow.
The rustic rural locale was also perfect backdrop for previous video These Days.
She recorded Fallow with producer Matt Fell and Dan, in a small stone hut in the Tooma River valley - a few hundred metres from her home.
"We used this bathroom that's built out of a cast iron tank as an echo chamber," Fanny revealed.
They launched Fallow while raising funds for Tooma - victim of the Megafire.
Fanny, her band and crew donated their time and proceeds to Tooma Community Bushfire Recovery Fund.
Lumsden cancelled her national small town halls tour because of another disaster - the pandemic.
But Fanny and her family are now safe in the high country.
Further info - http://www.fannylumsden.net/
LEADBETTER SWAYN RIDE HIGH IN A ONE HORSE TOWN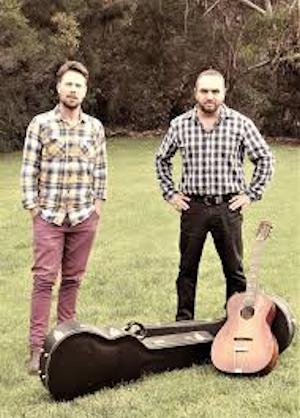 Mornington Peninsula duo Leadbetter Swayn perform latest video One Horse Town live at Iron Bark station at Kilsyth in the Dandenong Ranges.
The song is on Leadbetter Swayn album Time And Life.
Gavin Leadbetter and Rye music teacher Chris Swayn also play with local bands The Distance , who feature latter day solo artist Mitch Dean, and the Warrains.
"Gavin Leadbetter of The Distance approached me about getting involved in an album Time and Life as a contributing lyricist," Barry Swayn, now 73, revealed.
"I was eager having written with Christopher (my son) for ages. One Horse Town was a Swayn and Swayn composition that Gavin brought guitars to."
The band's Hanging Heavy video was also filmed at Iron Bark Station.
"It is a private property that has working horses, an array of western type out buildings and a collection of wagons, coaches and carts, Swayn explained.
"Ruckus filmed their last clip there. It was mainly shot in the saloon. I gathered up family and friends, dressed them up and pointed them in the right direction, the blooper reel is bigger than the finished product."
HOW TO KEEP NU COUNTRY ON AIR
We need your support in Nu Country TV's 45th series with Australian record companies and major artists teaming to ensure our survival.
We have the vintage BR5-49 CD Big Backyard Beat Show and other classics including Billy Ray Cyrus's historic 1992 album Some Gave All that features his Achy Breaky Heart hit.
You can join Watling & Bates as members and win their 13 track CD Small Town Tales and Kip Moore's third album Slowheart .
We also have other CDS by major artists you can win by becoming a Nu Country TV member or renewing your membership.
They include Brad Paisley, Carrie Underwood, Gary Allan, Eric Church and late larrikin legend A.P. Johnson.
CLICK HERE for our Membership Page for details.