DAVE'S DIARY - 20/10/2014 - PREVIEW OF EPISODE 8 - SERIES 24
LYN, LEE ANN AND NIKKI HEADLINE NU COUNTRY TV
Hunter Valley singer-songwriter Lyn Bowtell, Texan Lee Ann Womack and Out For The Weekend festival guest Nikki Lane share billing on Nu Country TV Thursday October 23 at 10.30 p m on Channel 31, Digital 44.
Texan troubadour Billy Joe Shaver also returns to the show repeated Monday 5.30 am and Thursday 2.30 am and filmed and edited by Laith Graham.
Fellow Texan Deryl Dodd debuts on a program featuring the return of Oklahoma raised singer Jon Wolfe.
Nu Country TV is a highlight of the C 31 streaming list on Digital 44.
Just follow this link on your computer or mobile phone - http://www.c31.org.au/program/view/program/nu-country-tv
LYN BOWTELL UNVEILS HEART OF SORROW
Maitland minstrel Lyn Bowtell debuts as a solo artist with the video for the evocative title track of her fourth album Heart Of Sorrow.

Lynn , 37, is well qualified to sing of sorrow - she has boomeranged from divorce.

So has her producer Shane Nicholson - former singing spouse of Kasey Chambers.

Her new album features a duet with Flood singer Kevin Bennett on How Long.

Bowtell is a 2013 APRA Song of The Year finalist, two-time Golden Guitarist, MO Award and Starmaker winner.

She featured live on the show in 2004 with Golden Guitar winning trio Bella at the 15th Bunyip Country Music Festival.

Lynn, Karen O'Shea and Kate Ballantyne showed creativity by writing eight of the 12 songs on Gravity and were interviewed and filmed by Nu Country TV host Heather Rutherford.
They also performed video for their single About A Girl from debut album Gravity on independent label Ocean Road .
CLICK HERE for a review of Lyn's new album in The Diary.
NIKKI LANE – RIGHT TIME
South Carolina born singer-songwriter Nikki Lane won acclaim with Ryan Bingham, Justin Townes Earle, Harry Hookey at Seaworks in Williamstown on October 18.
This week she debuts on Behind Bars on Nu Country with her video for Right Time from second album All Or Nothing.
Lane played Shotgun Willie Nelson's Heartbreaker Banquet in March at his western town Luck near Austin and toured with Whigs in April and Old 97's in May.
"My songs always paint a pretty clear picture of what's been going on in my life, so this is one moody record," Lane revealed.
"There's lots of talk of misbehaving and moving on."
On her follow-up to 2011's Walk of Shame , Lane sings about one-night stands and shady ex-boyfriends.
Lane teamed with producer Dan Auerbach in Nashville at her pop-up vintage clothing stall High Class Hillbilly , and said that working with the Black Keys front-man was challenging.
"During the first round of recordings, I was in an awkward mood every night I left the studio," she says.
"It was hard for me to trust that Dan was right when he said I should move a verse around or add an extra chorus. He pushed to find the right feel for each track one by one, and a few months later, I found myself with a damn good record."
They recorded the album at Auerbach's Easy Eye Sound - the Nashville studio famous for its wide array of vintage gear and creative use of space (two of the studio's bathrooms also double as echo chambers for recording).
Auerbach also duets with Lane on Love's on Fire.
Last year Auerbach and Lane teamed for a cover of Porter Wagoner and Dolly Parton's hit Just Someone I Used to Know at a tribute concert for Nashville legend Cowboy Jack Clement who toured here with Johnny Cash in the eighties.
Further info - http://www.nikkilane.com
LEE ANN WOMACK LAST CALL
Texan troubadour Lee Ann Womack recently released her first album in nearly seven years The Way I'm Livin' on roots label Sugar Hill.

We honour Grammy winner Womack, now 48, with a flashback to her video for Last Call from aptly titled seventh album Call Me Crazy in 2008.

It featured a duet with George Strait titled Everything But Quits and re-recording of Strait's hit version of Jim Lauderdale song The King of Broken Hearts that appeared on the Pure Country soundtrack.

Another song The Bees features vocals from Keith Urban.

Womack, daughter of a small town Texan DJ, won a Grammy with Willie Nelson for their 2002 duet, Mendocino County Line.
In October 2010 during her solo recording hiatus Womack sang Liars Lie on the soundtrack of Tim McGraw-Gwyneth Paltrow movie Country Strong .
Lee Ann played a sheriff - Chief Deputy Claire Wades in a small East Texas town in the movie Noble Things .
The six time CMA Award winner's new album is produced by husband Frank Liddell and features songs by Chris Knight, Mindy Smith, Buddy Miller, Mando Saenz, Hayes Carll, Neil Young, Bruce Robison and late Roger Miller.
Womack chose roots covers including Carll's tune Chances Are that we featured on Nu Country TV .
It's a far cry from her arrival at Belmont University in Nashville where she met and wed singer-songwriter Jason Sellers in 1990.
They divorced in 1996 - five years after they had a daughter Aubrie Lee.
Womack gave birth to her second daughter, Annalise Liddell, in January 1999 after marrying Liddell.
CLICK HERE for a feature on Lee Ann from the Diary on March 28, 2005.
JON WOLFE HONKY TONK CALLS
Jon Wolfe returns with his video for The Only Time You Call from his second album It All Happened in A Honky Tonk - his 2010 sequel to 2005 debut disc Almost Gone.

Wolfe gave up his career as a British Petroleum commodities trader to be a professional singer in Houston in 2003.

"I was rooming with Hayes Carll for a while and I definitely had the bug to sing and try to write songs," Wolfe revealed.

He graduated to country as a teenager when his stepfather played bass in the house band at Oklahoma 's Grand Lake Opry.

Also in the house band was a friend from a nearby rival high school - Joe Don Rooney, now a member of Rascal Flatts.
Wolfe lives in Austin - same city former roommate Carll now calls home.
Further info - www.jonwolfecountry.com/
DERYL WRITES LOVE LETTERS AND SONGS
Texan troubadour Deryl Dodd scored lavish exposure on Nu Country FM in our radio era.

The Pentecostal raised singer, now 50, debuts on our TV show with the video for Love Letters from eighth album Random As I Am.

Dodd signed to Columbia in 1996 and released two albums before a debilitating bout of viral encephalitis at 33 put his career on hiatus.

The grandson of two Pentecostal preachers from tiny Texan town Comanche, spent six months in bed and three years out of the saddle, in recovery.

But he recovered from encephalitis and divorce in 2000 and toured with Tim McGraw and Faith Hill and released Pearl Snaps in 2002.

Later, he recorded Live at Billy Bob's Texas , before switching to Dualtone in 2004 to release Stronger Proof (2004) and Full Circle (2006).
In 2009 Dodd released Together Again - originally a hit for Buck Owens - as title track of his album that featured Death, Taxes and Texas .
Dodd charted nine singles on Billboard - A Bitter End , peaked at #26.
Deryl song Message In The Bottle is one of few covers on Better Place To Be - fourth album by expat Texan Doug Bruce who now calls Heathcote home.
CLICK HERE for a Dodd review in The Diary.
BILLY JOE SHAVER THE GIT GO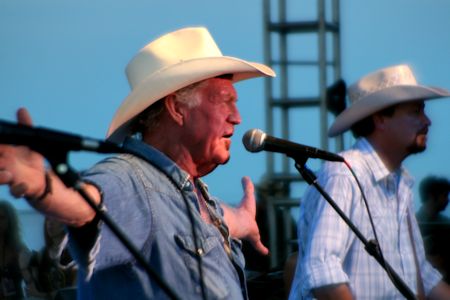 Photo by Carol Taylor
Billy Joe Shaver returns to Behind Bars with his live version of The Git Go at Billy Bob's in Cowtown.
Jamey Johnson also joined Willie Nelson on that song on Willie's 69 th album Band Of Brothers .
Billy Joe liked it so nice he recorded it twice.
It's on his album Long In The Tooth released in August to celebrate his 75 th birthday.
He opened for Waylon, Willie and The Highwaymen , cut a live album at the Corner Hotel , Richmond , and performed a special after midnight birthday show for this diarist at Paul Madigan's long defunct Druids' lodge on the mean streets of Brunswick on previous Australian tours.
Long in the Tooth , produced by Ray Kennedy and Gary Nicholson, on the Lightning Rod label, features Hard to Be an Outlaw - a duet with Willie - that also appears on Band Of Brothers and The Git Go .
CLICK HERE for a Billy Joe feature in the Diary on April 11, 2007.
HOW TO KEEP NU COUNTRY ON AIR
We need your support as we celebrate the 24th series of Nu Country TV.
Australian record companies and artists have joined forces to ensure our survival.
We have new CDS by major artists you can win by becoming a Nu Country TV member or renewing your membership.
They include singing actors Willie Nelson and Tim McGraw, Voice judge Blake Shelton, Ashley Monroe, Brad Paisley, Gary Allan, Toby Keith, Dierks Bentley, Eric Church, Carrie Underwood, Chris Young, Charley Pride, Slim Dusty, Kacey Jones, Rosanne Cash and more.
We also have the latest John Denver all-star tribute album and DVDS by Lady Antebellum.
CLICK HERE for our Membership Page for full details.