DAVE'S DIARY - 13/2/13 - PREVIEW OF EPISODE 10 - SERIES 19
TOURISTS HEADLINE NU COUNTRY TV
Nashville stars Rascal Flatts headlines Nu Country TV this Saturday - February 16 - on C 31 on the eve of its debut at St Kilda Palais on Friday March 15.

The band performs on the show hosted by Mid Pacific Bob Olson on C 31 at 10.30 pm.

Another Melbourne March tourist Zac Brown guests with Joey & Rory on the program repeated on Monday at 2.30 pm and midnight.

Olson dons his chef's hat in his Beer Can Hill delta home for a brand new recipe filmed by Elias Allanby in the deepest heat.

Bob also adds a chilling weather report by U.S. band Big House on a program edited by Blaize Warden.

Mornington Peninsula singer Lachlan Bryan returns to the show with his latest video and Camden chanteuse Stephanie Jansen performs her eulogy to her favourite footwear.
RASCAL FLATTS CLEAR BANJO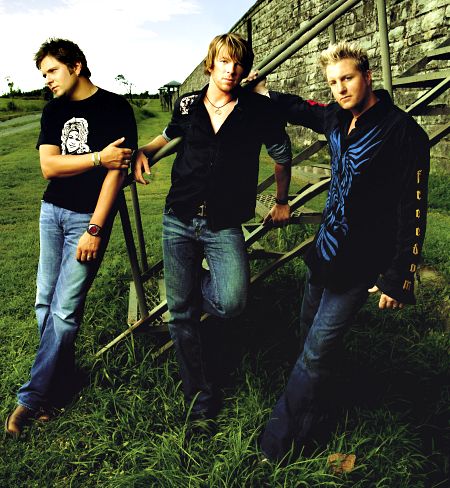 Chart topping trio Rascal Flatts displays a sharp sense of humour and justice in its video for recent hit Banjo from eighth album Changed.

The band clears the humble instrument in courts and lecture halls and the court of public opinion in a vivid video.

Unlike the myopic suppression choked Australian court system all names were released as the video characters travelled in buses to the bench for the verdict.

It's a welcome sense of humour and justice for the band who broke the mould on 2006 album Me And My Gang.

They included Marcel-Tony Mullins song Backwards that parodied the cliché of what happens when country songs are played backwards.

The band appeared with Miley Cyrus in the Hannah Montana movie on Backwards and Bless This Broken Road.

They also appeared on top rating TV series CSI - set in the Nevada gambling nirvana.

The plot for the episode Unshockable on March 4, 2010, involved a band member injured onstage and other members as suspects.

Fellow country star Taylor Swift's acting debut was also on CSI - as a murdered teen.

Rascal Flatts moved to Big Machine Records - also home of Swift - after Disney closed its previous label, Lyric Street Records.

Rascal Flatts partners Jay DeMarcus, Gary LeVox and Joe Don Rooney were with the label for more than a decade.

Oklahoma born Rooney is husband of 2005 Playmate of Year Tiffany Fallon whom he wed in Cabo San Lucas, Mexico in April of 2006.

Florida born Fallon - Miss Georgia of 2001 - played a femme fatale in Oklahoma star Toby Keith's video Who's Your Daddy?

Rascal Flatts and The Band Perry perform St Kilda Palais on Friday March 15 on the eve of headlining roles at CMC Rocks The Hunter at the Hope Estate from March 16-18.

Further info - http://www.rascalflatts.com
ZAC BROWN DINES OUT WITH JOEY & RORY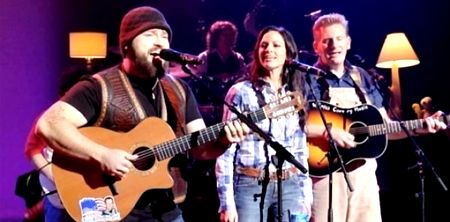 Lyrical duo Joey & Rory perform in the video for their social comment tune This Song's For You.

The song praises the workers - not the fat cat bosses - and features a live concert cameo by Zac Brown who plays Melbourne Myer Music Bowl on Monday March 25.

Joey & Rory recruited vast variety of trades and professional wage slaves to shoot home their message in the Darren Doane dissected clip.

They also parodied commercial radio for ignoring roots country music on the song from 2010 Album Number Two - predecessor of their third album His & Hers.

Joey & Rory help run Marcy Joe's Café near Pottsville south of Nashville when not on the road.

Former Marine Rory Lee Feek and Joey Martin scored a deal after finishing third in 2008 TV show Can You Duet?

Rory, a prolific writer, is son of a country singing railroad man from Atchison, Kansas,
Feek, 48, has written hits for Blake Shelton, Collin Raye, Clay Walker, Kenny Chesney, Randy Travis, Reba McEntire, Terri Clark, Lorrie Morgan, Jimmy Wayne and the late Waylon Jennings and Buck Owen.

Rory and Novocastrian Catherine Britt both recorded their co-write Sweet Emmylou.

Joey, third of five children of a guitar slinging Vietnam veteran Jack and gospel singing farm girl June, grew up in Alexandria, Indiana, cut an ill-fated solo CD for Sony in 2001.

In 2005 she cut a solo CD Strong Enough To Cry, released in 2008 on Rory's Giantslayer label.

Their debut duets album The Life Of A Song featured satiric tune Play The Song and Cheater, Cheater.

They have won two Academy Of Country Music Awards for new vocal duo in 2010 and best duo in 2011.

Zac Brown and his band, who also play the inaugural Deni Blues & Roots Festival on its down under debut, also have eat & greets before their concerts.

They do their own catering for fans.

CLICK HERE for a Joey & Rory feature in the Diary on August 30, 2009.
CLICK HERE for a Zac Brown Band feature in the Diary on November 2, 2011.
BIG HOUSE COLD OUTSIDE IN BEER CAN HILL DELTA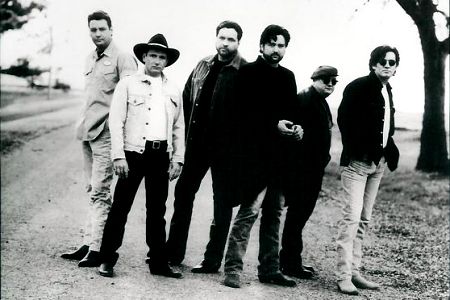 Mid Pacific Bob Olson and cameraman Elias Allanby worked under extreme conditions at the Olson Beer Can Hill delta home in Northcote to film their summer recipe.

The temperature was 37 degrees and a house renovation crew also toiled next door in the blazing heat.

So, with typical dry humour expat Californian athlete and academic Bob chose ribs slow roasted in the wood fired oven and grilled over the BBQ as his delicious dish.

And, to illustrate the Behind Bars and Barbecues segment, he picked Californian band Big House's video for Cold Outside as his musical accompaniment.

The Bakersfield band, formed in 1995, is a perfect foil.

It comprised Byrom brothers - vocalist-guitarist Monty and drummer Tanner - guitarists David Neauhauser and Chuck Seaton, harmonica player Sonny California and bassist Ron Mitchell.

The sextet released two albums - Big House (1997) and Travellin' Kind (1998) - before losing all members except Monty Byrom and Neauhauser who recruited new drummer Benny Rappa and bassist Steve Vines.

They released their third album Woodstock Nation in 2000 for Dead Reckoning Records - owned by frequent Australian tourists Kevin Welch and Kieran Kane.

The band split but reunited for concerts at the late Buck Owens famed Bakersfield bar Crystal Palace - fourth album Never Ending Train was released in 2008.

CLICK HERE for Big House CD reviews in the Diary.
LACHLAN BRYAN
Former Wildes singer Lachlan Bryan returns to the show with the video for his song Lily from his debut solo CD Shadow Of The Gun.

The black lilies lead Bryan's character to his doom in his darkened bedroom in the music clip.

Bryan was raised on the Mornington Peninsula - south of the big smoke in Melbourne.

Rod McCormack produced Bryan's album at his Music Cellar studio on the NSW Central Coast.

It features a duet with Kasey Chambers, lap steel by her dad - Poppa Bill - and Novocastrian Catherine Britt and Kaylah Anne on backing vocals.

CLICK HERE for a Bryan CD review in the Diary on February 19, 2012.
STEPHANIE JANSEN
Camden singer Stephanie Jansen debuts on the show with the Rusty Gates Films video for her song Shoes.

The singer graduated in philosophy from Wollongong University and wrote Shoes with prolific Sydney singer-songwriter Allan Caswell.

The 2012 Star Maker finalist took her favourite pair of shoes from her home in Camden last year and travelled to Bundaberg on a radio promo tour before the floods.

Stephanie, 22 and former trombonist in her school band, also wrote The Life You Made with Caswell.

It appears on the 2012 Southern Stars finalist's debut EP Risky.
The new clip was shot on Camden Airport's runway at sunset.

Stephanie also spent four weeks in Nashville in spring.

She co-wrote 17 tracks - some will appear on her debut album produced by Grammy-nominated former Saltbush pedal steel guitarist - Nashville-based Aussie Mark Moffatt who worked with expat Australasian superstar Keith Urban, Deana Carter and O'Shea.

The songstress plans to return to Nashville in March to record the album due for release later in 2013.

On her first trip to Music City she wrote with fellow Australian Rick Price and Heather Field - co-writers of Rick's 1992 hit Heaven Knows.

She also worked with acclaimed singer-songwriter Jerry Salley and performed at famed Bluebird Café.

"I'm so humbled by the talented people I've been lucky enough to work with," Jansen said.

"I've written 17 new songs and probably put on as many kilos, played at the Bluebird Cafe, made some beautiful new friends and been truly inspired."

Further info - www.stephaniejansen.com.au
LADY ANTEBELLUM DVD PRIZES
We have copies of the hot new DVD by recent Grammy Award winners and Australian tourists Lady Antebellum for new members and renewing members of Nu Country.

The 18-track Own The Night World Tour DVD has five bonus songs with exclusive version of Black Water featuring Darius Rucker and Thompson Square.

There's also intimate backstage footage of the band, road crew and fans on a tour that included two concerts at the famed St Kilda Palais.

The 124-minute DVD features the band performing its many hits live in Little Rock, Arkansas, and documentary footage of band members and song sources.

Click Here for our membership page for details of all prizes.