DAVE'S DIARY - 6 JUNE 2011 - PREVIEW OF EPISODE 1 - SERIES 16
COUNTRY STRONG ON NU COUNTRY TV
We celebrate the premiere of Series #16 of Nu Country TV this Saturday - June 11 - with a chart topping video from a new movie starring singing actor Tim McGraw and Gwyneth Paltrow.

Sara Evans performs her #1 hit A Little Bit Stronger - a highlight of the soundtrack of Country Strong.

Sapphire Coast student Anneliese Staubli hosts the show that debuts on Saturday at 10.30 pm and is repeated at a time to be confirmed.

Anneliese features NSW singers Amber Lawrence, Melissa Barjic, Israel Cannan and expatriate Kiwi Steven Jaymes.

U.S. stars Rascal Flatts also return for the premiere - edited by Latrobe University student Tom Swinburn - with their latest video clip.

Swinburn has made several short films, winning two film competitions (Best Film and Best Screenplay) and studied film in Ithaca College, New York for a semester.

Tom also co-directed, edited and shot The Truth Behind a Kiss for C 31 late last year as part of Angie Black's Get Real Documentary series.
SARA EVANS STRONGER
Twice wed singer Missouri born star Evans, 40, didn't have to look far for inspiration to portray her character in the video for aptly titled hit A Little Bit Stronger.

The mother of three boomeranged from a bitter divorce after her 13-year marriage to businessman-turned-politician Craig Schelske.

Evans wed former University of Alabama quarterback Jay Barker in 2008 and moved to Birmingham.

Barker hosts a radio sports show in Birmingham and also appears on the ESPN cable TV network.

Evans relaunched her career after a self-imposed five-year hiatus with her hit and seventh album, Stronger.

Lady Antebellum singer Hillary Scott penned A Little Bit Stronger with Luke Laird and Hillary Lindsey.
It's a highlight of the Country Strong soundtrack - the movie is already out on DVD in Australia.

Evans also landed a tune in the Joaquin Phoenix-Janeane Garofalo-Vince Vaughn movie Clay Pigeons.

She released a Greatest Hits in 2007 but Stronger is her first new studio album since platinum-selling Real Fine Place in 2005.

In October 2006 Evans gained new fans as a contestant on Dancing With the Stars.

The series huge popularity magnified media interest when she announced she was leaving the show.

Evans' profile increased further after the media gained court documents featuring Evans and Schelske personal allegations against one another.

Despite adverse publicity surrounding the divorce Evans has no regrets about being a contestant on the TV series.

She enlisted Nathan Chapman to help her produce four tracks and veteran producer Tony Brown for other songs on Stronger.

CLICK HERE for an exclusive interview with Evans in the Diary on July 18, 2007.
RASCAL FLATTS - VEGAS VICTIMS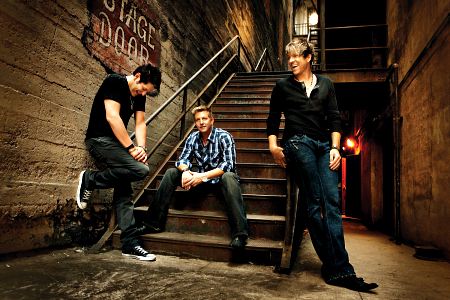 Was it art imitating life or vice versa?

Chart topping band Rascal Flatts performed in a Las Vegas locale for recent hit video Why Wait from eighth album Nothing Like This.

Rascal Flatts also appeared on top rating TV series CSI - also set in the Nevada gambling nirvana.

The plot for the episode Unshockable on March 4, 2010, involved a band member being injured onstage and the other members as suspects.

Fellow country star Taylor Swift's acting debut was also on CSI - as a murdered teen.

The band appeared with Miley Cyrus in the Hannah Montana movie on two songs Backwards and Bless This Broken Road.

Rascal Flatts moved to Big Machine Records - also home of Swift - after Disney closed its previous label, Lyric Street Records.

Rascal Flatts partners Jay DeMarcus, Gary LeVox and Joe Don Rooney were with the label for more than a decade.

The band has sold more than 22 million albums and 25 million digital downloads after high profile tours and 11 #1 hits.

Rascal Flatts has been CMA vocal group of the year six times, ACM top vocal group seven times and earned $60 million in just one year - 2008.

Rascal Flatts began 13 years ago when DeMarcus and Rooney toured as Chely Wright's sidemen.

Ohio born DeMarcus and cousin LeVox also had their own band.

One night in Nashville Rooney went to hear DeMarcus and LeVox play.

When their guitarist didn't show up Rooney sat in and joined the band.

Oscar-winning actor Jamie Foxx sang with the trio on She Goes All The Way on a previous album Still Feels Good.

Oklahoma born Rooney is husband of 2005 Playmate of Year Tiffany Fallon whom he wed in Cabo San Lucas, Mexico in April of 2006.

Florida born Fallon - Miss Georgia of 2001 - played a femme fatale in Oklahoma star Toby Keith's video Who's Your Daddy?

Further info - http://www.rascalflatts.com/
AMBER LAWRENCE - PATERNAL SOLACE IN SONG
Former Qantas accountant Amber Lawrence returns to the show with the video for recent single Always Kiss Me Goodnight.

Amber wrote the song about her late father who died from leukaemia.

"When my Dad was in hospital we spent a lot of time pacing the corridors of the Prince of Wales Hospital," Amber revealed when she released her second album When It All Comes Down shortly after he died.

"But it's Always Kiss Me Goodnight that still makes me emotional - it's a song about fathers and daughters and how important that good night kiss is. Especially when I said goodnight for the last time in September 2008."
Lawrence, 26, also wrote the album's evocative title track during her grieving period.

She has devoted energies to working for the Leukaemia Foundation and performed a series of Light the Night fundraisers and memorial days in Sydney, Newcastle and Canberra.

Rod McCormack produced the album featuring all Lawrence originals including Out Of My Life - a song she wrote with partner Aaron Pye.

Further info - www.amberlawrence.com
STEVEN JAYMES BACK TO MEXICO
Expatriate Kiwi singer Steven Jaymes returns with the video for Going Back To Mexico from his fifth album Things Get Better.

Jaymes enjoyed Corona - the Mexican beer of choice - mariachi music and a Margarita on the beach.

The multi-instrumentalist lives in Brisbane but writes about his travels to Spain, Japan, Mexico, Cuba and way beyond.

The son of a rural builder and shearer started his career as a drummer in the family band in New Zealand.

That was in an era when he also toiled as a barn and fence builder and tractor driver.

Although Jaymes is on the road most of the year he has a faithful black dog at home named Levon.

It's not clear if he is named after The Band drummer Levon Helm who also played Loretta Lynn's dad in Coalminer's Daughter and Confederate General John Bell Hood in James Lee Burke movie In The Electric Mist.
More info - www.stevenjaymes.com
MELISSA BAJRIC DARKEST HOURS
Melissa Bajric, 27, returns with her single When The Darkest Hours Pass.

Melissa was raised in a small village in the Hunter Valley vineyard belt. "Ross Wood always seems to be able to find the perfect location to film our clips and the house where we filmed When the Darkest Hours Pass was another of these," Melissa told Nu Country.

"It was an empty house on the Central Coast of NSW, only used for short stays. The people in the clip were actors Ross picked especially for this song and they did such an amazing job. I wasn't there when the actors were filmed and saw their work for the first time when Ross sent me the finished clip. The actors made the sad story of the song so real."

The song is off a new album produced by Lindsay Butler.

Further info - www.melissabajric.com
ISRAEL CANNAN TRAVELOGUE
NSW Central Coast singing actor Israel Cannan features a collage of landmarks in his wanderlust-fuelled video for One Fine Day.

It's from his debut album Walk on Poet's Corner Records - sequel to his EP All Things Change recorded when he was 18.

Cannan also appeared in local TV shows Home And Away in 2005 and All Saints in 2007.

Israel sang the theme song for Home And Away for the first three months of 2007 and appeared in 2008 coming of age surfing movie Newcastle.
He left his home in February last year and travelled around Australia in his van, singing for his supper.
The bucolic busker ventured overseas and played venues diverse as the Viper Room and Hotel Cafe in LA.

Cannan also slept on the floor of his brother-in-law's recording studio in London before creating a studio at his Central Coast home.

He recently performed in London and Ireland on his latest search and destroy mission.

Further info - www.israelcannanmusic.com
JACKSON AND LAMBERT PRIZES FOR TOURS
There's great news for fans of Georgian born superstar Alan Jackson and quadruple CMA Award winning Texan star Miranda Lambert.

We have the duo's latest CDS as prizes for viewers who renew Nu Country TV memberships or become members.

Sony-BMG promotions chief Emma Smith also gave us Miranda's new DVD - Revolution: Live By Candlelight.

Alan's 34 Number Ones features his biggest hits including his duet with Zac Brown Band - As She's Walking Away.

The bonus tracks also include his cut of the late June Carter Cash-Merle Kilgore written Johnny Cash hit Ring Of Fire and rare track Look At Me.

Emma also donated the newly wed Miranda's huge selling 4th CD Revolution.

And as a bonus there is Miranda's new DVD featuring rare acoustic performances of six songs White Liar, The House That Built Me, Love Song, Heart Like Mine, Love Is Looking At You and Rolling Stones country classic Dead Flowers.

Jackson played Rod Laver Arena on Friday March 4 before headlining CMC Rocks The Hunter on March 5 and 6.
WIN KEITH URBAN CDS ALSO
Expatriate Australasian superstar Keith Urban returned for a triumphant tour with chart-topping mates Lady Antebellum in April.

And Keith's long time record company EMI-Capitol has great news for Nu Country TV viewers.

Promotions ace Bianca O'Neill donated autographed copies of his huge selling ninth album Get Closer.

She has also donated new compilation The Very Best Of Slim Dusty and CMAA Winners - 2011.

All you have to do to win Jackson, Lambert, Urban and Dusty CDS or the Lambert DVD is become a member of Nu Country or renew membership.

It costs just $20.

Please send a cheque or money order made out to Nu Country Music to us at P O Box 625 - Northcote - 3070.

We also now have electronic banking for membership payment and renewal.

But email us first at music@nucountry.com.au as stocks are limited.

Other prizes on offer include -
Taylor Swift - 2ND CD Fearless.
Tim McGraw Southern Voice Tour CD with 11-bonus video clips.
Dierks Bentley - Feel The Fire.
Felicity - Landing Lights
Slim Dusty Sittin' On 80 Boxed Set
The Very Best Of Slim Dusty
Steve Forde - Guns & Guitars
Catherine Britt - Little Wildflowers.
Mike Brady - Country To Country.
CMAA Winners 2011 and other compilation CDS.