DAVE'S DIARY - 16/8/11 - PREVIEW OF EPISODE 11 - SERIES 16
TEXAN TRIO REIGN ON NU COUNTRY
Texan honky tonker Dale Watson and Kentucky born fellow singing actor Dwight Yoakam headline Nu Country TV this Saturday - August 20 - on C 31 at 10.30 p.m.

Fellow Texans Miranda Lambert and Lee Ann Womack also return to the show to strut their stuff.

Jim Lauderdale, who had a cameo in recent Country Strong movie, takes a starring role in the show edited by Ashley Hall.

And Old Crow Medicine Show, who have toured here twice, return to the program repeated Friday at 5.30 a.m.
DALE WATSON TAKES TIGER BY THE TAIL
Thrice wed Texan Dale Watson turned trauma into gold after his sixth Australian tour in April.
He emulated late hero Buck Owens and took a tiger by the tail.

The singer wrote and recorded a new song, replete with a popular video, after Tiger Airways lost a box of his CDs and also charged him excess cargo fees.

Watson, angered by Tiger tardiness repaying him, posted his song Tiger Airways - We Don't Careways, on Youtube.

It was an immediate Internet hit.

The loss was a big winner for Watson, 47, as he won exposure peers would kill for.

Dale scored massive international publicity and boomeranged when he was interviewed and performed his song on the Nine Network Sunday breakfast show.

And the song had a happy ending.
The Singapore Airlines-backed carrier never found Watson's discs but belatedly repaid him $2000 wholesale cost of the 120 CDs and the $500 excess baggage charge for the lost cargo.

Its delay of several cheques was blamed on ash clouds and the airlines grounding.

Sadly we don't have that video so we reprise Hollywood Hillbilly from his 13th album From The Cradle To The Grave.

Video director Johnny Knoxville was cast as body snatcher Phil Kaufman in Gram Parsons movie Grand Theft Parsons.

CLICK HERE for a Watson feature from the Diary on February 21, 2007.
DWIGHT DRIVES JAYNE MANSFIELD CAR
Dwight Yoakam returns to Nu Country with his video for classic Close Up The Honky Tonks.

It was on his 2007 Buck Owens tribute disc Dwight Sings Buck.

Dwight, an in demand actor with 28 roles in his CV, is making new Billy Bob Thornton movie Jayne Mansfield's Car in Georgia.

They were also in 1996 movie Sling Blade that won Billy Bob an Oscar for best screenplay.

"Billy wrote a new screenplay titled Jayne Mansfield's Car," Dwight, 54, revealed recently.

"It stars myself, Billy Bob, and Dennis Quaid as three brothers in 1969, who are ex World War II vets wrestling with their own families and lives on a large cattle ranch in western Alabama."
Dwight, joined in the new movie by octogenarian Oscar winner Robert Duvall, has long combined movies with music and is cast in the remake of The Lone Ranger.

"I'm hoping to record this summer or fall for something that's out next year," he reports.

"I'm writing a lot."

Dwight worked with Billy Bob in front of cameras and behind console on memorable songs.

They sang backing vocals on Warren Zevon's final album, The Wind, in 2003, before the singer-songwriter died from cancer.

"Warren did a lot of recording at Billy Bob Thornton's home studio," Dwight recalls. "We were there one night and Billy said, 'You've got to listen to this.' It was after everybody had left, and he pulled up Knockin' on Heaven's Door. It was Warren doing it, and Billy Bob said, 'That tears you up.'"

Dwight appeared in The Newton Boys and Provinces Of Night - an indie movie about a twisted family shot in North Carolina.

It also features Kris Kristofferson, Val Kilmer and Hillary Duff.

Yoakam and Kristofferson recently appeared in The Last Rites of Ransom Pride - written by outlaw Texan country singer Ray Wylie Hubbard.

Yoakam was also cast with fellow singing actor Tim McGraw in Four Holidays and Dirty Girl.

He is also in Favourite Recipes of Kentucky Celebrities with Billy Ray and Miley Cyrus, and Naomi and Ashley Judd.

CLICK HERE for a Dwight interview in the Diary on July 26, 2005.

JIM LAUDERDALE MEETS JESUS IN A BAR
Dual Grammy Award winner Jim Lauderdale - son of a Presbyterian minister - returns with the video for his song I Met Jesus In A Bar.

The prolific artist has a cameo as a band member in new Tim McGraw-Gwyneth Paltrow movie Country Strong.

He wrote the Jesus song with Leslie Satcher, born in Paris, Texas, after the death of his dad - in 2004.

It was from Country Super Hits Vol 1 - one of two albums he released in 2006.

Texans George Strait, Lee Ann Womack, Kelly Willis, Dixie Chicks, Jon Randall, Mark Chesnut and Bruce Robison have all cut his songs.

So have artists diverse as Kentuckian Patty Loveless, Joy Lynn White, Gary Allan, Nitty Gritty Dirt Band and Australians Melinda Schneider and Felicity.

The singer released 18th album Honey Songs in 2008 and landed two songs, including the title track on Strait's huge selling 38th album Twang.

He has also written with such disparate talents as the late Harlan Howard, Robert Hunter, Frank Dycus and Melba Montgomery.

Jim wrote King of Broken Hearts in 1991 about the impact of George Jones and Gram Parsons.

"King of Broken Hearts just popped up for me," Lauderdale said.
"I was reading a Gram Parsons biography by Syd Griffin. In the book, Pamela Des Barres was talking about how Gram had a party and he put on George Jones for people who hadn't heard of him. When I read it, I got goose bumps and this melody came. I was living in California and went out to Cap Rock where Gram used to hang out and was cremated. And the song came to me. A lot of times, a melody will come at the spur of the moment. I'll think of a phrase and the melody will come right then."
Lauderdale performed at the inaugural CMC Rocks The Snowy festival at Thredbo in 2008.

He made his Australian debut tour in 2002 with Kim Richey, Canadians Fred Eaglesmith and Jason McCoy and expat Tasmanian Audrey Auld.

CLICK HERE for an interview in the Diary on December 14, 2006, with Lauderdale about how he wrote I Met Jesus In A Bar.

LEE ANN WOMACK - TWO HUSBANDS AGO
Texan singing actress Lee Ann Womack - one of Jim's song clients - returns with the video for her song 20 Years And Two Husbands Ago.

Fellow Texan Waylon Payne plays a waiter in the video for the twice-wed singer.

Waylon - son of late singer Sammy Smith & Jody Payne - played Jerry Lee Lewis in Cash movie Walk The Line.

Lee Ann's song is from her seventh album There's More Where That Came From.

Payne also wrote Solitary Thinking on her eighth album Call Me Crazy, released in 2009.

Lee Ann recently played a sheriff - Chief Deputy Claire Wades in a small East Texas town in the movie Noble Things.
The Jacksonville born singer, 45 and mother of two, is the former singing spouse of singer-songwriter Jason Sellers.

She is wed to producer Frank Liddell and cut duets with fellow Texan George Strait on Everything But Quits and 2005 CMA award-winning tune Good News Bad News.

Womack, daughter of a small town Texan DJ, won a Grammy with Willie Nelson for their 2002 duet, Mendocino County Line.

She also cut a duet with Alan Jackson on Vern Gosdin tribute Til The End on his 18th album Freight Train.

CLICK HERE for a feature on Lee Ann from the Diary on March 28, 2005.
OLD CROW MEDICINE SHOW
Roots country band Old Crow Medicine Show return to Nu Country with a video of their historic song Wagon Wheel.

The band indulges in a little carnival knowledge in the video.

Old Crow Medicine Show, formed in 1998, has toured here twice.

It debuted at the 2009 CMC Rocks The Snowy festival at Thredbo to promote sixth album Tennessee Pusher on Nettwerk Records.

Producer Don Was took the string quartet west to California to record with cameos by veteran drummer Jim Keltner and organist Benmont Tench.

The band, suffering illness, cancelled September shows at Austin City Limits festival and historic Cain's Ballroom in Tulsa, Oklahoma, and Billy Bob's in Fort Worth.

CLICK HERE for Old Crow Medicine Show CD review from The Diary on January 21, 2009.
CLICK HERE for Anne Sydenham's Forum concert review on March 13, 2009.
MIRANDA LAMBERT - NO WHITE LIAR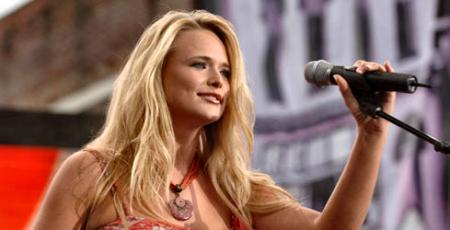 Art didn't imitate life for Texan star Miranda Lambert when she wed Oklahoma star Blake Shelton in May.

Well, not like in the video clip for the marital mayhem of her song White Liar that we reprise on Nu Country this week.

The cheating spouse is sprung at the ceremony and hell breaks loose - it's one of five #1 hits from Lambert's fourth album Revolution.

Lambert cancelled her 2011 Australian tour with Georgian superstar Alan Jackson because of respiratory problems.

Miranda, 27, releases fifth solo album Four The Record on November 1 - she debuted a new single this month and has been performing Baggage Claim in concert.

Four The Record is being touted as Lambert's fourth album but she also released an indie disc before being signed by Sony.

The daughter of a former Dallas undercover narcotics cop-private eye, recently toured the U.S. with The Pistol Annies - featuring fellow singer-songwriters Angaleena Presley and Ashley Monroe.

In May the trio released the title track of debut album Hell On Heels - out on August 23.

East Tennessee born Monroe - a prolific writer with tunes written with and recorded by Catherine Britt - is a descendant of the Carter Family.

Kentuckian Presley - who writes for the publishing company of expats Barry and Jewel Coburn - has had songs recorded by Australian artists Jasmine Rae and Kirsty Lee Akers.

Click Here for a Miranda Lambert feature in the Diary on May 5, 2007
Click Here for a Miranda Lambert CD review in the Diary on January 11, 2010.
JACKSON AND LAMBERT PRIZES FOR TOURS
There's great news for fans of Georgian born superstar Alan Jackson and quadruple CMA Award winning Texan star Miranda Lambert.

We have the duo's latest CDS as prizes for viewers who renew Nu Country TV memberships or become members.

Sony-BMG promotions chief Emma Smith also gave us Miranda's new DVD - Revolution: Live By Candlelight.

Alan's 34 Number Ones features his biggest hits including his duet with Zac Brown Band - As She's Walking Away.

The bonus tracks also include his cut of the late June Carter Cash-Merle Kilgore written Johnny Cash hit Ring Of Fire and rare track Look At Me.

Emma also donated the newly wed Miranda's huge selling 4th CD Revolution.

And as a bonus there is Miranda's new DVD featuring rare acoustic performances of six songs White Liar, The House That Built Me, Love Song, Heart Like Mine, Love Is Looking At You and Rolling Stones country classic Dead Flowers.

Jackson played Rod Laver Arena on Friday March 4 before headlining CMC Rocks The Hunter on March 5 and 6.
WIN KEITH URBAN CDS ALSO
Expatriate Australasian superstar Keith Urban returned for a triumphant tour with chart-topping mates Lady Antebellum in April.

And Keith's long time record company EMI-Capitol has great news for Nu Country TV viewers.

Promotions ace Bianca O'Neill donated autographed copies of his huge selling ninth album Get Closer.

She has also donated new compilation The Very Best Of Slim Dusty and CMAA Winners - 2011.

All you have to do to win Jackson, Lambert, Urban and Dusty CDS or the Lambert DVD is become a member of Nu Country or renew membership.

It costs just $20.

Please send a cheque or money order made out to Nu Country Music to us at P O Box 625 - Northcote - 3070.

We also now have electronic banking for membership payment and renewal.

But email us first at music@nucountry.com.au as stocks are limited.

Other prizes on offer include -
Taylor Swift - 2ND CD Fearless.
Tim McGraw Southern Voice Tour CD with 11-bonus video clips.
Dierks Bentley - Feel The Fire.
Felicity - Landing Lights
Slim Dusty Sittin' On 80 Boxed Set
The Very Best Of Slim Dusty
Steve Forde - Guns & Guitars
Catherine Britt - Little Wildflowers.
Mike Brady - Country To Country.
CMAA Winners 2011 and other compilation CDS.