DAVE'S DIARY - 25/1/11 - PREVIEW OF EPISODE 8 - SERIES 15
LOVE IN THE TIME OF FLOODS
The ravages of Mother Nature are seasonal staples for many Australian songwriters.

The late Slim Dusty wrote When The Rain Tumbles Down In July when seasons were more predictable.

Lee Kernaghan also used a weather metaphor when he wrote Love In The Time Of Drought - a video we feature this week - Saturday January 29 at 9.30 p m on C 31.

Clelia Adams, marooned by the northern NSW floods, debuts with a song penned by Shipwreck Coast singer-songwriter Shane Howard.

West Virginian guitarist Brad Paisley, keen to tour here, and Oklahoma star Toby Keith return with a pair of alcohol-fuelled parodies.

Latter day Texan Jewel, not to be mistaken with our New England reared childhood Hollywood starlet-country singer Jewel Blanch, also debuts on a show repeated on Tuesday at 4.30 p m.

Georgian singing actor Travis Tritt performs a classic hit from his vault and Sydney band Simply Bushed preview their role at Bunyip country festival on Sunday February 27.
LEE KERNAGHAN TO RESCUE
It was no surprise that former Australian of the year Lee Kernaghan, Troy Cassar-Daley and Kasey Chambers were among the first artists out of the chute to donate their talent to flood relief concerts.
Corryong born Kernaghan, 46 and father of two, was raised on bush tours with his dad Ray and singing siblings Tania, Fiona and drummer brother Greg.

Grafton raised Cassar-Daley may have left his Clarence River roots many moons ago but his family's Queensland farm was flooded this month.

He and singing spouse - 4KQ breakfast DJ Laurel Edwards - lost a swag of priceless photos and other treasures on the ground floor of their home near the Wivenhoe Dam.
Troy cancelled all but one of his Tamworth gigs as he and Laurel cleaned their home and surrounding farmland.

And Chambers, reared near Millicent, South Australia, and outback, sang for her supper in regional cities and towns with her family's Dead Ringer Band before her solo success.

With supreme irony we feature Lee's video this week for recent hit Love In The Time Of Drought.

Kernaghan based the song - a highlight of his 9th album Planet Country - on Love In The Time Of Cholera by author Gabriel Garcia Marquez.

The singer has since re-released Planet Country as a deluxe double CD with bonus disc Bringing The Music Home.

And with sweet serendipity the final track on that disc is Shane Howard song Talk Of The Town.

CLICK HERE for a Lee Kernaghan feature in the Diary on November 10, 2009.

CLELIA ADAMS ALSO TALK OF THE TOWN
This week we feature a different version of Howard's song by a flood victim - also a journalist on pioneer Melbourne rock magazine Go Set.

Clelia Adams recorded Talk Of The Town in a porch picking session at her home in Mullumbimby in 2008 for her album Wildflowers.

The same house, where the video was filmed for this week's show, was under water on the eve of Adams pilgrimage to Tamworth - her home in the seventies.

The Italian born singer formed a trio Skarlett with Kate McCarthy and Jacqui Glynn before her country rock band New England Rangers.

Adams stayed in the Peel River city, occasionally flooded during the festival, for 25 years and raised two children before her Mullumbimby move in 2000.
And, yes, Adams did share the pages of Go Set with latter day TV icon Molly Meldrum when the magazine was based in Charnwood Crescent, St Kilda, in the sixties.

The office was also HQ of seminal rock band The Wild Cherries fronted by latter day country singer Danny Robinson of Hit & Run fame.

Adams decamped from Go Set and worked in product and marketing for WEA Records before following her dreams to London and Canada in the seventies.

Johnny Farnham also recorded Talk Of The Town and helped pay for Howard's studio The Shed at Killarney west of Warrnambool on the belatedly flooded Shipwreck Coast.

Further info - www.cleliaadams.com

TOBY KEITH TRAILER TRASH TRIP
Oklahoma singing actor Toby Keith returns this week with his humorous video for recent hit Trailerhood from his 16th album Bullets In The Gun.

The singer, who also has his own record label and a string of restaurants, employs a vast cast in his white trash pastiche.

It depicts how southern saddletramps deal with tornadoes and cyclones in trailer camps - suck on a six-pack while the storm disrobes snuff queens.

Keith's video depicts havoc for Texas Hold Em players, pink flamingoes, beauty queens and other good old gals.

One of those is Playboy model and Cyber Girl Nikki Ryann who bared almost all in the two-day video shoot at a trailer park in Nashville.
Ryann wore out a brace of white blouses and red and black lace bras in her car wash scene.

"When you walked into the wardrobe mobile home, there were just so many blouses and so many bras," Ryann revealed.

She provided her own jean shorts so every time they'd get wet during the tornado scene she had to put them back in the dryer.

But being topless during that last scene was only unnerving because all the trailer park's residents were glued to the action.

"I was more self-conscious about that than I was about Toby or anyone else watching my scenes," she said.

Keith Toby hired Shotgun Willie Nelson, not topless, for latest movie Beer For My Horses - the duo had a #1 hit with the title track.

Keith's 2003 album Shock'n Y'all featured Weed With Willie - successor of sorts to Dead Livers 1981 hit I'd Love To Have A Joint With Willie.

That album also featured social comment tunes American Soldier and The Taliban Song.

Keith produced this album and previous disc Big Dog Daddy - successor to Lari White produced 2006 classic White Trash With Money.

He played singer Bo Price in his first movie Broken Bridges with Kelly Preston, Lindsey Haun, Willie, Burt Reynolds, Tess Harper and Anna Maria Horsford.

CLICK HERE for a Toby Keith feature in the Diary.
TRAVIS TRITT COUNTRY CLUB
Georgian singer Travis Tritt carried on the fine tradition of outlaws like Hank Williams Jr and the late Waylon Jennings when he hit the scene in 1989.
The former gospel choir boy quit his job as an air conditioner and heating repair man to play the honky tonks and broke with barn burners Put Some Drive In Your Country and Country Club.

Tritt, now 48, emulated Keith, Gretchen Wilson and Texan Clint Black by setting up his own indie label last year.

First release on the label with the working title of Post Oak Publishing is his follow-up to 2007 CD The Storm that he produced with American Idol judge Randy Jackson.

He has filed a $10 million lawsuit against his label, Category 5 that also featured Sammy Kershaw - one of Lorrie Morgan's six husbands - and George Jones among clients.
"I became an accidental actor because of success in the music industry," says Tritt who debuted with Kenny Rogers in Rio Diablo after his video Anymore ignited widespread exposure.
Cameos continued in Dill Scallion, Gremlins 2, Outlaw Justice, Sgt Bilko, Fire Down Below, Blues Brothers and The Cowboy Way with his voice in Disney's animated bluegrass musical, My Peoples.

His latest role is in 2001 Maniacs?

"I get to play a gas station attendant who is a foreteller of doom," Tritt revealed. "In most horror films there is at least one character who says: "Don't go down to Crystal Lake"

We resurrect his video for his Catesby Jones-Dennis Lord breakthrough hit Country Club in our vintage vault section this week.

Click Here for an historic Tritt CD review in the Diary.
BRAD PAISLEY - ALCOHOL HUMOUR
West Virginia born guitarist and singer-songwriter Brad Paisley returns with a concert video for Alcohol - his humorous take on evils of booze.

It's product placement akin to the biggest budget Hollyweird movies with a vast array of tequila, whiskey, vodka and beer brands.

A surprise video guest is ex-Hootie & The Blowfish singer Darius Rucker at Lake Travis in Austin, Texas, at the Aquapalooza festival.

Paisley's version of Alcohol is from Hits Alive - a double album with studio versions of his hits on one side and live recordings on the other.

Fittingly Brad was rushed to a Charleston, South Carolina hospital after falling from the stage on March 6 last year while closing a concert with Alcohol.
"I hit hard," Paisley, 38, said, "and I mean freaking hard."

When Paisley decided on a water theme for his 2010 tour he had new special effects on stage, outdoor water park for fans, and a fundraising campaign for safe drinking water.

Ironically just three weeks before his H2O World Tour started he lost priceless guitars and touring equipment in the Nashville floods in May.

That tour is being reprised in 2011 as the H2O Frozen Over Tour - he plans to make Australia part of that trek.

But it won't be with expatriate Australasian superstar Keith Urban with whom he had the hit Start A Band.

Urban's local touring partners are label mates Lady Antebellum.

Brad song Water was his 13th consecutive #1 hit - making him second country artist with most consecutive number one hit songs after Sonny James.

Paisley received help from actress wife Kimberly Williams-Paisley when he writing Water.

Brad also wrote a book, The Diary of a Player, about musical heroes and influences.

His collaborator is Rolling Stone contributing editor David Wild - it's set for May release.

Click Here for a Paisley CD review in the Diary on December 15, 2008.
JEWEL TEN
Latter-day Texan Jewel performs pugilistic hit Ten off aptly titled 12th album Sweet And Wild.

The singer, real name Jewel Kilcher, has boomeranged after an incident charged couple of years.

A knife-wielding bandit was charged with stalking her on September 21, 2009 at the 2,200-acre Stephenville ranch she shares with retired rodeo champion husband Ty Murray.

Michael Kozelka, 50, was found at the ranch on September 14 and warned not to return.

The next day he was discovered at the main ranch house with a knife and charged with felony stalking.

Alaska born Jewel, now 36, also quit Dancing With The Stars because of her debilitating knee injuries - fractured tibia in both legs.
A bus carrying Jewel's band crashed into a ditch after a show in Virginia Beach Sunday August 31, 2008, when the driver passed out.

Jewel was on tour with Paisley, Chuck Wicks and fellow Dancing With The Stars diva Julianne Hough.

Her career began as a struggling, homeless coffeehouse performer before she landed a major label deal in 1994.

Debut 1995 album Pieces of You, propelled by radio smashes Who Will Save Your Soul and You Were Meant For Me became one of the biggest debuts of all time, selling 12 million copies.

But after meeting John Rich of Big & Rich she branched out into country with the album Perfectly Clear.

The singer, now pregnant, cast husband Ty in the video for her song I Do.

Further info - http://www.jeweljk.com/
SIMPLY BUSHED FOUND AGAIN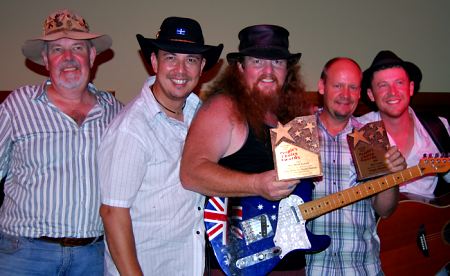 Sydney saddletramps Simply Bushed provide a snippet of their video for Great Australian Love Song on the eve of their appearance at the Bunyip country festival on Sunday February 27.

They perform on the oval where former Geelong ruckman and latter day Sydney Swans star Shane Mumford strutted his stuff as a teenager.

Simply Bushed share billing with Hunter Valley vamp Kirsty Lee Akers and 2010 Starmaker winner Luke Austen who replaced The Robertson Brothers at the 11th hour.

Burly bon vivant-lead guitarist Paul Grierson fronts the band and shares vocals with Chris Rieger (acoustic rhythm guitar and banjo), and Steve Stuut on drums.

Simply Bushed, celebrating 20 years in the saddle, launched new album Look At The Time at Tamworth in January this year.

Ted Mulry Gang refugee and long time studio ace Herm Kovac produced the disc featuring 12 new original songs written by Chris and Paul.

The first single is equally humorous Surly Shirley.

Further info - www.simplybushed.com.au
JACKSON AND LAMBERT PRIZES FOR TOURS
There's great news for fans of Georgian born superstar Alan Jackson and quadruple CMA Award winning Texan star Miranda Lambert.

We have the March tourists latest CDS as prizes for viewers who renew Nu Country TV memberships or become members.

Sony-BMG promotions chief Emma Smith has also given us Miranda's new DVD - Revolution: Live By Candlelight.

Alan's 34 Number Ones features his biggest hits including his duet with Zac Brown Band - As She's Walking Away.

The bonus tracks also include his version of the late June Carter Cash-Merle Kilgore written Johnny Cash hit Ring Of Fire and the rare track Look At Me.

Emma also donated Miranda's huge selling 4th CD Revolution.

And as a bonus there is Miranda's brand new DVD featuring rare acoustic performances of six songs White Liar, The House That Built Me, Love Song, Heart Like Mine, Love Is Looking At You and Rolling Stones country classic Dead Flowers.

Jackson and Lambert perform their hits at Rod Laver Arena on Friday March 4 before headlining CMC Rocks The Hunter on March 5 and 6.
WIN KEITH URBAN CDS ALSO
Expatriate Australasian superstar Keith Urban returns for a triumphant tour with chart-topping mates Lady Antebellum in April.

And Keith's long time record company EMI-Capitol has great news for Nu Country TV viewers.

Promotions ace Bianca O'Neill has donated autographed copies of his huge selling ninth album Get Closer to You.

All you have to do to win the Jackson, Lambert and Urban CDS of the Lambert DVD is become a member of Nu Country TV or renew your membership.

It costs just $20.

Please send a cheque or money order made out to Nu Country Music to us at P O Box 625 - Northcote - 3070.

We also now have electronic banking for membership payment and renewal.

But email us first at music@nucountry.com.au as stocks are limited.
Other prizes on offer include -
Taylor Swift - 2ND CD Fearless.
Tim McGraw Southern Voice Tour CD with 11-bonus video clips.
Dierks Bentley - Feel The Fire.
Felicity - Landing Lights
Slim Dusty Sittin' On 80 Boxed Set
The Very Best Of Slim Dusty
Steve Forde - Guns & Guitars
Catherine Britt - Little Wildflowers.
Mike Brady - Country To Country.
CMAA Winners 2011 and other compilation CDS.