DAVE'S DIARY - 13/12/10 - PREVIEW OF EPISODE 2 - SERIES 15
SUPERSTARS URBAN AND SWIFT HEADLINERS
Expatriate Australasian superstar Keith Urban headlines Nu Country TV this Saturday - December 18 - at 9.30 p m on C 31.

Teenage student host Anneliese Staubli hosts the show featuring an older woman - Taylor Swift - who turned 21 on December 13.

Tyler Dean performs his tribute song to Swift who toured here twice and thrice wed Californian surfing cowboy and frequent Aussie tourist Gary Allan also returns.

Other guests this week are former rodeo rider Steve Forde - support act for Allan - and award winning Gippsland band Jetty Road.

The show is repeated Monday - 3.30 a.m., Tuesday 4.30 pm and Wednesday - midnight.

It's also accessible online on the C 31 web page.
URBAN MOVES FROM OPRAH HOUSE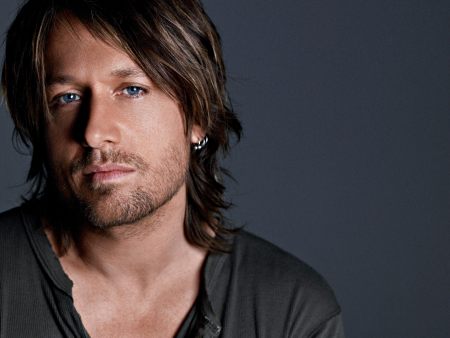 Keith Urban has taken time off from raising money for flood victims and entertaining the blue rinse octopi at the Grand Old Sydney Opry to return to Nu Country.

Urban performs in the video for new single Put You In A Song from 9th album Get Closer.

Keith wrote the song with fellow hotshot expat guitarist Jedd Hughes - guitarist of choice for Rodney Crowell, Patty Loveless and Jack Ingram - and rare co-writer with Texan Guy Clark.

The third writer on the song is Sarah Buxton - Hughes partner in new duo
Buxton Hughes - and writer of the Urban hit Stupid Boy.

Buxton Hughes performs at CMC Rocks The Hunter in March with Alan Jackson, Texans Ingram and Miranda Lambert, Joe Nichols, Canadians Emerson Drive and Dean Brody and Kasey Chambers.

Also on the bill is dual Nu Country TV host Troy Cassar-Daley who had cameos on Urban gigs in the U.S. in 2010 while touring with fellow expat Tommy Emmanuel.

Urban, now 43, reached #5 in Business Review Weekly list of Australia's top 10 richest entertainers with earnings this year of $20 million.

Wife Nicole Kidman is at #10 with $9.6 million giving them combined annual earnings just shy of $30 million.

It's a far cry from when Urban busked on the streets of Tamworth at 12 and played in a school band with Rusty and Sherry Rich at Caboolture.

Oh, and Urban's first Melbourne gig at the Prince Patrick, Collingwood to 14 people.

The singer's karma soared with altruistic support of bushfire and flood victims - here and overseas - and preservation of Nashville Songwriter Hall Of Fame.

Urban, who mixed busking with TV roles to promote his new disc, plans a return Australian tour late in 2011.

Click here for a CD Review in the Diary
TAYLOR SWIFT RETURN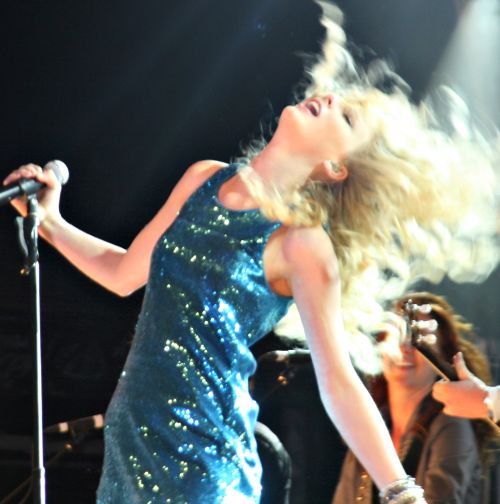 Photo by Carol Taylor
Two-time Australian tourist Taylor Swift celebrated her 21st birthday this week with further domination of country and pop charts.

The singer sold 1.047 million copies of third album Speak Now in its first week with a massive publicity campaign.

Swift's affluent parents helped bankroll her once indie label Big Machine before her sales enabled it to sign other major artists.

The singer's movie and TV roles have created more songs and fuelled a merchandising machine that helped save her genre from digital demise.

It even led to syndicated stories in the Australian media and synchronized sneering from rock writers.

Swift performs the video for Mine - another teen love tune - on this week's show.

The singer learned her writing craft from former collaborator and Music City tunesmith Liz Rose.

CLICK HERE for a CD review in the Diary.
TYLER DEAN KEEN FOR TAYLOR
Swift's breakthrough hit used a Tim McGraw metaphor to nail radio and McGraw primed the sales pump with his song Kristofferson.

Let's not be distracted by a raft of songs about Willie & Waylon, Hank and Lefty.

Suffice to say it's no surprise that the Tyler Dean eulogy to Swift was his calling card.

Tennessee teenager Dean performs in the video for his song Taylor Swift on this week's show.

The Hendersonville artist's song Taylor Swift was not his first single but maybe his most memorable.

His previous releases were Built for Blue Jeans and Somebody Who Would Die For You - also cut by Tracy Lawrence's on his album The Rock.
Further info - http://www.ilike.com/artist/Tyler+Dean
GARY ALLAN GETS OFF ON THE PAIN
Frequent Australian tourist Gary Allan has bounced back from a brace of tragedies including the suicide of his third wife Angela.

The 42 year-old father of six has long used his songs as therapy.

Allan performs in the video for the title track of his eighth album Get Off On The Pain.

The video, a collage of concert and rodeo footage, enables Allan to prove why he is a master of the gritty gulches of his genre.

Allan's band may no longer feature Wylie & The Wild West Show pedal steel guitarist Mike Fried and guitar wizard Jake Kelly but proves a hot combo.

So are the tattoos on the singer's biceps as he plans another Australian tour.
CLICK HERE for an Allan CD review from the Diary on August 16, 2010.
STEVE FORDE - FROM RODEO TO RADIO AND TV
Former Grenfell rodeo rider and latter day singer Steve Forde has been Allan's touring partner on his Australian tours.

Forde commutes between his farm and a house he bought on the lake at Hendersonville - the Nashville suburb that Tyler Dean calls home.

The singer performs at CMC Rocks The Hunter on March 5 and 6 and also shares hosting duties with U.S. cable TV icon Storme Warren.

Forde performs the video for the title track of his sixth album Hurricane on Nu Country TV.

He filmed it in the inner Sydney suburb of Redfern with a model or two.

CLICK HERE for a Forde feature from the Diary.

JETTY ROAD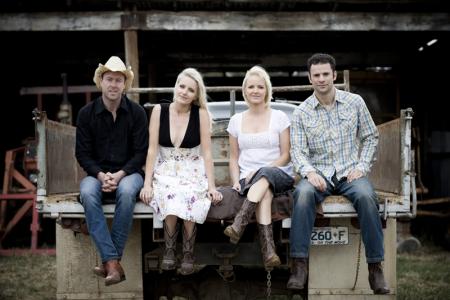 Gippsland reared band Jetty Road followed the lead of many peers with a hefty overseas touring schedule this year.

The Golden Guitar winning band performed in Europe and Canada during our winter and spring.

They recorded their 4th album in Vancouver with producer Paul Shatto at the end of their Canadian tour.

Among the co-writers on the new disc are Jason McCoy, who first toured here in 2002, and fellow Canadian star George Canyon.

The quartet features twin sisters Lee and Paula Bowman from Nungurner on the banks of the picturesque Gippsland Lakes.

The boys in the band are multi-instrumentalists Julian Sammut and Simon Ross.
Jetty Road performs in the video for their song Road To Nowhere - final track on third album Life At A Million Miles.
CLICK HERE for a CD review in the Diary.
WIN DIERKS BENTLEY CD

EMI Records provided Nu Country with Arizona born Dierks Bentley's fifth chart topping CD Feel The Fire.

Bentley won an enthusiastic following on his debut Australian tour in May, 2009, with superstars Brooks & Dunn.

Dierks, 33, has scored seven #1 hits since leaving Phoenix for Nashville as a teenager.

He recently released a bluegrass album Up On The Ridge after including the genre on albums dating back to indie debut Danglin' Rope.

Win Feel The Fire by becoming a member of Nu Country or renewing membership.

It only costs $20 including postage.

Please email us first at music@nucountry.com.au

We will then send you the CD on receipt of your cheque or money order made out to Nu Country Music.
WIN SLIM DUSTY CLASSIC BOX SET
We have more good news for viewers - EMI Records has given us an invaluable collectors' item - a brace of the 4 Box sets by late Australian country legend Slim Dusty.

Sittin' On 80 features a lost, classic track discovered by Slim's widow Joy McKean.

Joy found Give Me Room from a 1997 recording at their home studio Columbia Lane.

It was written by one of Slim's favourite writers John Dohling - outback station hand and good mate who passed away in November last year.

Sadly he never heard the final version of Slim's recording of his classic trucking song.

It has now been released as a single and included on Sittin' On 80.

Slim's legendary Travelling Country Band played on the song that has been digitally re-mastered by Australia's mastering guru Don Bartley.

To win Slim's 4 CD Box set just become a member of Nu Country TV or renew your membership.

It only costs $20, including postage.

Please email us first at music@nucountry.com.au

We will then send you the CD on receipt of your cheque or money order made out to Nu Country Music.

TAYLOR SWIFT FEARLESS CD OFFER
Universal Music has donated copies of teen sensation Taylor Swift's huge selling second album Fearless to Nu Country TV.

Viewers who become members or renew their membership for just $20 can win the Fearless CD.

Swift, 21, played capacity audiences on her maiden Australian tour in March, 2009, and returned here this year with award winning new band Gloriana.

Please email us at music@nucountry.com.au with your pledge.

Don't send membership cheques until you have been confirmed as the winner.
WIN FELICITY CD
Multiple Golden Guitarist winner Felicity Urquhart returned to Nu Country TV as hosts during Series #12.

You can win autographed copies of Felicity's sixth album Landing Lights, available here in shops on Shock.

All you have to do is become a member of Nu Country TV or renew membership.

It only costs $20 including postage.

Please email us first at music@nucountry.com.au and let us know which CD you would like.

We will then send you the CD on receipt of your cheque or money order made out to Nu Country Music.
BEST OF COUNTRY MUSIC CHANNEL 2010 TWIN PACK
EMI Music has donated a twin CD-DVD pack of The Best Of The Country Music Channel 2010.

The 40 hot hits on each of the twin packs is offered to the first member to renew for $20 or new member to pledge.

Artists include Hunter international artists Miranda Lambert, Joe Nichols, Troy Cassar-Daley, Emerson Drive, The McClymonts, Steve Forde, Liam Brew and more.

Please email us first at music@nucountry.com.au

WIN CATHERINE BRITT CDS
MIKE BRADY TOO
We have Catherine Britt's third CD Little Wildflower for viewers who wish to become members or renew membership.

Catherine, Adam Brand and Mike Brady were among artists who donated their talent to the Whittlesea Bushfire benefit on Saturday April 4.

Brady donated autographed copies of his Country To Country CD to viewers who become members or current members who renew their membership.

Mike was VIP guest host of Nu Country TV during our eighth series.

So for your $20 membership you can win Mike's CD Country To Country or Catherine Britt's Little Wildflower CD.
WIN STEVE FORDE CDS
We also have other CDS for viewers who email us and pledge $20 membership at music@nucountry.com.au

We also have Steve Forde's fifth album Guns & Guitars.