DAVE'S DIARY - 21/6/10 - PREVIEW OF EPISODE 3 - SERIES 14
SOUTHERN SWEETHEARTS HEADLINE NU COUNTRY TV
Texan fireball Miranda Lambert and her Oklahoma fiancé Blake Shelton headline Nu Country TV this Saturday June 26 at 10 p m on C 31.

But if the couple chooses Australia for a belated honeymoon there will be no bridal waltz performed by former singing motel owner Ian Muir who closes the show.

The former Goulburn Valley singer and mine host at the Parkville Motel has moved north to Queensland.

Muir closes the show featuring Queensland balladeer James Blundell and Brisbane singer Steven Jaymes.

Latter day Johlander Stephanie Brownlee and Georgian Billy Currington also perform on Nu Country, repeated Wednesday at 1 am and 3.30 pm.

The show, hosted by Mid Pacific Bob Olson, is also accessed at the C 31 web page.
MIRANDA BURNS CHEATING WITH KEROSENE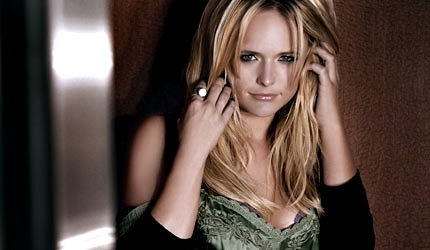 Miranda Lambert, daughter of a former Dallas undercover narcotics cop, returns to Nu Country with the incendiary video for her breakthrough hit Kerosene.

Miranda, 26, ignited a cheating couple in Kerosene - just like Martina McBride did in Gretchen Peters song Independence Day.

Lambert debuted in 2005 at #1 with Kerosene - title track of her second album Kerosene.

She was the sixth female country artist to do so - others were Wynonna, LeAnn Rimes, Gretchen Wilson, Carrie Underwood and Jewell.

Lambert also won three ACM awards in April with the video for another cheating song White Liar and fourth album Revolution.

That disc included Fred Eaglesmith song Time To Get A Gun and Sin For A Sin - third album Crazy Ex-Girlfriend also propelled fiery Gunpowder & Lead onto charts.

None of this should be surprising - her dad Rick changed career to private detective while playing guitar and songwriting for therapy.

Rick and Miranda's mum Bev now operate a thriving Lambert shrine and store, replete with her own line of jewellery, wine and other treasures, in their hometown Lindale - population 2,500.

Lambert's Australian tour plans were delayed by the huge success of her new album.

She headlines a Roadside Bars & Pink Guitars tour after raising $91,000 for abandoned canines at a Cause For Paws fundraiser in Tyler, Texas.

CLICK HERE for a Lambert feature in the Diary on May 5, 2007.
BLAKE SHELTON HILLBILLY BONE
Miranda's Oklahoma-born fiancé Shelton returns with his video for 2008 hit She Wouldn't Be Gone.
It's on Blake's fourth album - aptly titled Starting Fires.

Shelton has since recorded two EP CDS.

The latest All About Tonight, with new video, is out on August 10.

Blake scored a major hit duet in February on first EP Hillbilly Bone with thrice wed Louisiana born singing actor Trace Adkins.

Blake may have surprised peers with the success of Hillbilly Bone - first in a trilogy.

But he caused a bigger shock recently for Lambert.

Lambert, owner of two dogs Delilah and Delta, was out in the woods near her Tishomingo, Oklahoma, ranch when Shelton, 33, proposed.
Miranda, who bought a ranch next door to Shelton's, says she was totally surprised - not only by the proposal but also by the diamond and platinum engagement ring he picked out.

Shelton is also indebted to another songwriter for his first break.
The late Mae Boren Axton - mother of singing actor Hoyt and writer of Elvis hit Heartbreak Hotel - discovered Shelton on tour in his home state.

She invited him to Nashville where he worked on her house and wrote songs before being produced by veteran hit writer Bobby Braddock.

Braddock penned George Jones hit He Stopped Loving Her Today and former singing spouse Tammy Wynette classic D-I-V-O-R-C-E.

Further info - www.blakeshelton.com
BILLY CURRINGTON CRAZY
Georgian Billy Currington performs the video for People Are Crazy - a song written by Shelton's mentor Braddock.

The video celebrates the hedonistic theme of the first #1 hit from Billy's third album Little Bit Of Everything.

"God is great, beer is good, people are crazy," sets the tone for a song that appealed to the singer who once lived on an island off the Georgian coast.

Currington, now 37, has scored four #1 hits in a career begun by Walk A Little Straighter - a passionate parable he wrote at 12 about his alcoholic stepfather who abused him.

His latest smash single That's How Country Boys Roll was his first #1 hit as a songwriter.

Billy's co-writers were Brett Jones and Dallas Davidson.
It was a better break for him than a recent music festival near Edmunton in Canada.

Currington was on the last song of his set when the wind blew the staging down on top of him and his band - a pole hit him in the head.
He was taken to hospital with minor concussion but bassist Alex Stevens was pinned under wreckage of the stage for an hour.

Stevens underwent surgery to repair a severed artery and nerves in his left arm.

Click here for a Currington feature in the Diary on May 12, 2004.

STEPHANIE BROWNLEE CATCHES CYRUS VIRUS
Tamworth born Stephanie Brownlee has copped flack being a Taylor Swift clone.

She was a soft target as she chose songs penned by Taylor's veteran hit writing collaborator Liz Rose.

This time around Stephanie, just 17, will be accused of borrowing from Miley Cyrus.

The reason - Brownlee's new single Good Friends/Girlfriend was penned by singing actress Cyrus.

The singer, who now calls Sunshine Beach at Noosa home, may have the last laugh.

She recorded her debut album in Nashville with country and pop mixes of her songs.

We feature the country video version of the new single whose pop mix scored exposure on pop shows including Video Hits.

It's a far cry from when she earned $1000 busking in Tamworth at 14 after playing Gympie Muster.
The envy has already kicked in against Brownlee - she has been slagged by city critics for being commercial.

That's a sure sign of success.

Further info - www.stephaniebrownlee.com.au
JAMES BLUNDELL - RIDING INTO TOWN
Queensland star James Blundell prefers making love to war but honours our diggers on his video clip for Riding Into Town.

The Queensland Heritage Awards winner, a tribute to Australian troops in Dunkirk, is from the former stockman's 10th album Portrait Of A Man.

James' poignant portrait comes at a large personal cost - it was on one of his self-financed albums blamed for his recent bankruptcy.

The singer-songwriter, 45 and twice divorced, returned to his family's 1900-hectare sheep and cattle farm at Stanthorpe near the famed tiny Queensland border town Texas.

Ironically, the latest album title track is a tribute to his father Peter.

Blundell also wrote Moving On with Mick Thomas and Bound to Freeze with Felicity - a recent collaborator with the Weddings, Parties, Anything founder.
James has sold more than 400,000 albums in a 25-year career that earned him nine Tamworth Golden Guitars.

But poor sales of recent discs reportedly caused him to file for voluntary bankruptcy in April.

James first marriage to former manager Louise lasted 10 years.

He has two children, Travis, eight, and Briar, 12, with second wife Lydia.

James has been touring with his partner of three years - former Australian Idol contestant Jesse Curran.

Blundell made headlines in 2007 when he left Belgrade born Lydia for Jesse who he met when she was singing at the Broken Hill races.

CLICK HERE for a Blundell feature from the Diary on February 1, 2005.
STEVEN JAYMES - PEACE PROPHET
Expatriate New Zealand singer and pianist Steven Jaymes also expresses strident social comment in his music.

Jaymes, a seasoned world traveller like Blundell, performs the video for his evocative song A Little Love from fifth album Things Get Better.

It supports the lauded Michael Douglas documentary Soldiers For Peace.

Jaymes, also a guitarist, lives in Brisbane but writes about his travels to Spain, Japan, Mexico, Cuba and way beyond.

He recently played Urban Country Music fest at Caboolture, Queensland, in April and May.

Jaymes, son of a rural builder and shearer, started his career as a drummer in the family band in New Zealand.

That was in an era when he also toiled as a barn and fence builder and tractor driver.

Although Jaymes is on the road most of the year he has a faithful black dog at home named Levon.
It's not clear if he is named after The Band drummer Levon Helm who also played Loretta Lynn's dad in Coalminer's Daughter and Confederate General John Bell Hood in James Lee Burke movie In The Electric Mist.

More info - www.stevenjaymes.com
IAN MUIR
Tatura born balladeer Ian Muir was known as a benevolent benefactor of Nu Country FM as the congenial mine host of the Parkville Motel.
Muir not only tuned guests' radios to Nu Country - he also offered to sing them to sleep.

That was exhausting work so the Goulburn Valley refugee headed north to Queensland.

Now, the youngest of seven siblings relives his colourful youth through an evocative video for his song When You Cross My Mind.
Muir reveals secrets from under his black Akubra and weeping willows of a lazy river with stolen kisses as a tot.

When You Cross My Mind is on Ian's fifth album - Authorised Bootleg.

Further info - www.ianmuir.com.au
WIN ROSANNE CASH CD
We also have Rosanne Cash's acclaimed new EMI CD The List - new versions of classics from a list given to her by late father Johnny when she was 18 in 1973.

Guests on the Cash collection include Bruce Springsteen, Elvis Costello, Jeff Tweedy and Rufus Wainwright.

Cash's second husband John Leventhal produced the CD for Manhattan Records.

It features songs dating back to the Carter Family, the Hanks - Williams, Snow and Cochran - Harlan Howard, Merle Haggard and Bob Dylan.

We'll reward your new membership or membership renewal with a copy of the CD - please send us a cheque or money order for $20.

Please email us first at music@nucountry.com.au as stocks are limited.
WIN DIERKS BENTLEY CD

EMI Records has provided Nu Country TV with Arizona born Dierks Bentley's fifth chart topping CD Feel The Fire.

Bentley won an enthusiastic following on his debut Australian tour in May with superstars Brooks & Dunn.

Dierks, 33, has scored seven #1 hits since leaving Phoenix for Nashville as a teenager.

The singer has broadened his music by including bluegrass - featuring the famed McCoury family - on albums dating back to his indie debut Danglin' Rope.

He has also recorded duets with prolific Grammy winner Alison Krauss and Texan chanteuse Patty Griffin.

Win Feel The Fire by becoming a member of Nu Country or renewing membership.

It only costs $20 including postage.

Please email us first at music@nucountry.com.au

We will then send you the CD on receipt of your cheque or money order made out to Nu Country Music.
WIN SLIM DUSTY CLASSIC BOX SET
We have more good news for viewers - EMI Records has given us an invaluable collectors' item - a brace of the 4 Box sets by late Australian country legend Slim Dusty.

Sittin' On 80 features a lost, classic track discovered by Slim's widow Joy McKean.

Joy found Give Me Room from a 1997 recording at their home studio Columbia Lane.

It was written by one of Slim's favourite writers John Dohling - outback station hand and good mate who passed away in November last year.

Sadly he never heard the final version of Slim's recording of his classic trucking song.

It has now been released as a single and included on Sittin' On 80.

Slim's legendary Travelling Country Band played on the song that has been digitally re-mastered by Australia's mastering guru Don Bartley.

All you have to do to win Slim's 4 CD Box set is become a member of Nu Country TV or renew your membership.

It only costs $20 and includes postage.

Please email us first at music@nucountry.com.au

We will then send you the CD on receipt of your cheque or money order made out to Nu Country Music.

TAYLOR SWIFT FEARLESS CD OFFER
Universal Music has donated copies of teen sensation Taylor Swift's huge selling second album Fearless to Nu Country TV.

Viewers who become members or renew their membership for just $20 can win the Fearless CD.

Swift, 19, played capacity audiences on her Australian tour in March and returns here in February.

Please email us at music@nucountry.com.au with your pledge.

Important note - please email us first.

Don't send membership cheque until you have been confirmed as the winner.
WIN FELICITY CD
Multiple Golden Guitarist winner Felicity Urquhart returned to Nu Country TV as hosts during Series #12, beginning in June.

You can win autographed copies of Felicity's sixth album Landing Lights, available here in shops on Shock.

All you have to do is become a member of Nu Country TV or renew membership.

It only costs $20 including postage.

Please email us first at music@nucountry.com.au and let us know which CD you would like.

We will then send you the CD on receipt of your cheque or money order made out to Nu Country Music.
WIN CATHERINE BRITT CDS
MIKE BRADY TOO
We have Catherine Britt's third CD Little Wildflower for viewers who wish to become members or renew membership.

Catherine, Adam Brand and Mike Brady were among artists who donated their talent to the Whittlesea Bushfire benefit on Saturday April 4.

Brady donated autographed copies of his Country To Country CD to viewers who become members or current members who renew their membership.

Mike was also a VIP guest host of Nu Country TV during our eighth series.

So for your $20 membership you can win Mike's CD Country To Country or Catherine Britt's Little Wildflower CD.
WIN JASMINE RAE & STEVE FORDE CDS
We also have the following CDS for viewers who email our web page and pledge $20 membership at music@nucountry.com.au

Telstra Road To Tamworth winner Jasmine Rae's debut CD Look It Up.

We also have Steve Forde's fifth album Guns & Guitars.