DAVE'S DIARY - 29/12/09 - PREVIEW OF EPISODE 3 -SERIES 13
GEORGE STRAIT HEADLINES NU COUNTRY TV
Texan troubadour George Strait celebrates his longevity and stardom by headlining Nu Country TV this Saturday January 2 - at 9.30 p m - on C 31.

The seasoned star performs in a video to promote big selling 38th album Twang.

Illinois born family quartet Jypsi debut on the New Years Day show hosted by Heather Rutherford.

Another family group - Grafton trio The McClymonts - return with a video from its second album Wrapped Up Good.

North Carolina chanteuse Kellie Pickler also returns after touring with Taylor Swift.

And Starmaker winner Liam Brew debuts with his new video - one of his prizes.

Also on board this week is Mornington Peninsula band President Roots.

TEXANS LIVING FOR THE NIGHT
South Texas rancher George Strait has utilised his degree in Agricultural economics while making music.

Strait, 57, has had 58 No 1 hits in his post university career that spans four decades.

The singer starred in 1992 movie Pure Country.

It now has a celluloid sequel and Broadway stage show starring Joe Nichols and Lorrie Morgan.

Singer Katrina Elam stars with Strait in A Pure Country Gift, written by Christopher Cain and his son, actor Dean Cain.

Christopher Cain is best known for 1988 movie Young Guns, starring Charlie Sheen.
Dean Cain was engaged to Florida country singer Mindy McCready in 1997 after he was cast as Superman in 1993 in Lois and Clark - The New Adventures of Superman.

Strait's cinematic career also includes cameos in 1982's The Soldier and 2002's Grand Champion.
He began recording songs penned by Dean Dillon in the seventies.

So it's no surprise he collaborated with Dillon and Bubba Strait - George Strait Jr - on three songs on his 38th album Twang.

Strait performs in the video for Living For The Night - one of the new collaborations - penned at his ranch.

He also cut Where Have I Been All My Life, penned by expatriate Australian singer Sherrie Austin.

The singer made Twang at Jimmy Buffett's Shrimpboat Sound studio in Key West, Florida.

Fellow superstar Alan Jackson and Buffett had a big hit in 2003 with It's 5 O'Clock Somewhere.

CLICK HERE for a George Strait CD review from The Diary.

KELLIE PICKLER
Kellie Pickler won't join Taylor Swift on her second Australian tour in February.

The duo wrote Best Days of Your Life recorded by Kellie and have toured together in the U.S.

But local fans will settle for Pickler performing a video for her song Didn't You Know How Much I Loved You?

The song is on Pickler's second album - a self-titled disc.

North Carolina born Kellie, 23, also cut Lucky Girl, penned by Newcastle born singer Catherine Britt, who plays Whittlesea festival in February.

Britt also recorded it on her third album Little Wildflower.
Pickler, an American Idol finalist, penned I Wonder about her mother who left when Kellie, born in a small town Albemarle, was two.

Pickler's grandmother raised her in a trailer park - Kellie's dad Bo also spent time in prison for a stabbing offence.

More info - www.kelliepickler.com
JYPSI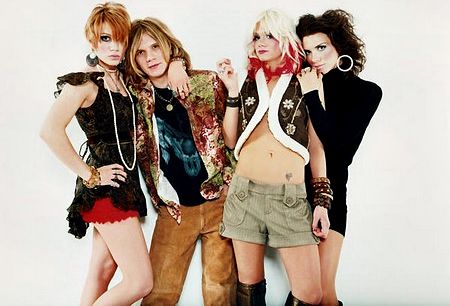 Illinois bluegrass family quartet Jypsi had its Nashville start on Lower Broadway after touring trailer parks and Branson.

Cowboy Jack Clement discovered the vivacious Rische siblings - fiddlers Lillie Mae, 18, and Amber-Dawn, 26, mandolinist Scarlett, 24, and acoustic guitarist brother, Frank, 21.

Joe Galante, chairman of Sony BMG Nashville, offered a recording contract after seeing the group perform for all of 30 minutes.

They impacted with the video for their Mr Officer - a spoof of how to talk a cop out of a speeding ticket.

So far Jypsi has not released an album - just a digital CD produced by Dixie Chicks session ace Blake Chancey.

Their first single I Don't Love You Like That peaked at #38 on charts.

The Rische family migrated from town to town through the South after forming in Galena, Illinois, in 1994.

They lived in country tourism hot-spot Branson, Missouri, live circuit in Myrtle Beach, South Carolina and cruised from one end of Rio Grande Valley in south-eastern Texas to the other looking for work.

"Our parents didn't have regular jobs," said Amber-Dawn, so the family band, led by their bassist father, travelled from campsite to campsite for shows where admission typically was $1. The family's idea of hitting the big time was playing upscale trailer parks where the cover charge was $5.

"That taught us so much playing for people mostly 55 and older," Scarlett said.

"We'd go to jam sessions three times a week."

Jypsi, renowned for three part harmonies, have been writing with famed singer-songwriter Jim Lauderdale who has toured Australia twice.

More info - www.jypsi.net

THE MCCLYMONTS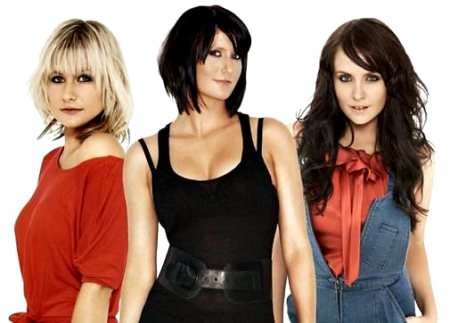 Grafton born sisters The McClymonts upstaged rock acts on the Hey, Hey It's Saturday reunion.

Now the trio, all prolific writers, is on the road to promote second album Wrapped Up Good, recorded in Nashville.

Its included four tracks produced by Taylor Swift's studio boss Nathan Chapman and eight by Adam Anders who helmed their debut CD Chaos & Bright Lights.

They spent a month in Nashville this year writing with Trey Bruce, Erin Sherlock, Tommy Lee James and their producers.

The multi-instrumentalist singers frocked up for the talent quest in their video for Kick It Up this week on Nu Country.

They play the all-star line-up at the Whittlesea Country Music festival in February to promote their CD - sequel to debut disc Chaos And Bright Lights now released in the U.S.

Brooke, 27, Samantha, 23, and Mollie, 21, all had solo careers before joining forces and touring with Lee and Tania Kernaghan.

The sisters' debut EP won the first two of three Golden Guitar awards in Tamworth.

More info - www.themcclymonts.com.au

LIAM BREW DEBUT
Caloundra singer Liam Brew has made the most of his Starmaker win.

Brew, 19, recorded his energised debut album Wild Heart for Compass Brothers Records.

The singer defied teachers at Caloundra High when they laughed at his dream at 16 to win Starmaker after leaving school.

Brew, who won Starmaker at 18, had a good fellow Sunshine Coast role model - former Caboolture student and latter day superstar Keith Urban.

The singer is a graduate of the Tamworth Country Music College.

Compass Brothers label boss Graham Thompson produced his debut disc featuring songs penned by major Nashville writers and leading Music Row pedal steel guitarist Dan Dugmore.

Expatriate Australian singer-songwriter-guitarist Jedd Hughes wrote Brew's album title track with Sam Hawksley.
And fellow Starmaker winner Travis Collins joined Brew for a duet on A Woman Can Do That to a Man.

It's no surprise a bevy of young women surrounded him in the video for his single Girls With Girlfriends.

More Info - www.myspace.com/liambrewmusic

PRESIDENT ROOTS
Mornington Peninsula band President Roots debuts on Nu Country with a cinematic video for its single She Lights Up.

The clip, replete with diverse rural icons and landscapes, is off their 12-track debut Vitamin Records album Migration, written over two years.

Julian Mendlesohn and Mark Frith produced the disc, launched in June this year.

The band formed in 2005 for the PBS-FM festival of song.

Members moved from the city to the peninsula and hired a new bassist Peter Dawson to flesh out its sound, adorned with mandolin and lap steel.

They scored a residency at Main Hotel, Mornington, and supported Bill Chambers and touring Canadian singer-songwriter Fred Eaglesmith on tours.

President Roots won a battle of the bands at the Tamworth country music festival and featured in Exit Films documentary Road Stories.

They play festivals in Frankston and Rosebud in January and March.

Further Info - http://www.presidentroots.com/

WIN ROSANNE CASH CD
We also have Rosanne Cash's acclaimed new EMI CD The List - new versions of classics from a list given to her by late father Johnny when she was 18 in 1973.

Guests on the Cash collection include Bruce Springsteen, Elvis Costello, Jeff Tweedy and Rufus Wainwright.

Cash's second husband John Leventhal produced the CD for Manhattan Records.

It features songs dating back to the Carter Family, the Hanks - Williams, Snow and Cochran - Harlan Howard, Merle Haggard and Bob Dylan.

We'll reward your new membership or membership renewal with a copy of the CD - please send us a cheque or money order for $20.

Please email us first at music@nucountry.com.au as stocks are limited.
WIN DIERKS BENTLEY CD

EMI Records has provided Nu Country TV with Arizona born Dierks Bentley's fifth chart topping CD Feel The Fire.

Bentley won an enthusiastic following on his debut Australian tour in May with superstars Brooks & Dunn.

Dierks, 33, has scored seven #1 hits since leaving Phoenix for Nashville as a teenager.

The singer has broadened his music by including bluegrass - featuring the famed McCoury family - on albums dating back to his indie debut Danglin' Rope.

He has also recorded duets with prolific Grammy winner Alison Krauss and Texan chanteuse Patty Griffin.

Win Feel The Fire by becoming a member of Nu Country or renewing membership.

It only costs $20 including postage.

Please email us first at music@nucountry.com.au

We will then send you the CD on receipt of your cheque or money order made out to Nu Country Music.
WIN SLIM DUSTY CLASSIC BOX SET
We have more good news for viewers - EMI Records has given us an invaluable collectors' item - a brace of the 4 Box sets by late Australian country legend Slim Dusty.

Sittin' On 80 features a lost, classic track discovered by Slim's widow Joy McKean.

Joy found Give Me Room from a 1997 recording at their home studio Columbia Lane.

It was written by one of Slim's favourite writers John Dohling - outback station hand and good mate who passed away in November last year.

Sadly he never heard the final version of Slim's recording of his classic trucking song.

It has now been released as a single and included on Sittin' On 80.

Slim's legendary Travelling Country Band played on the song that has been digitally re-mastered by Australia's mastering guru Don Bartley.

All you have to do to win Slim's 4 CD Box set is become a member of Nu Country TV or renew your membership.

It only costs $20 and includes postage.

Please email us first at music@nucountry.com.au

We will then send you the CD on receipt of your cheque or money order made out to Nu Country Music.

TAYLOR SWIFT FEARLESS CD OFFER
Universal Music has donated copies of teen sensation Taylor Swift's huge selling second album Fearless to Nu Country TV.

Viewers who become members or renew their membership for just $20 can win the Fearless CD.

Swift, 19, played capacity audiences on her Australian tour in March and returns here in February.

Please email us at music@nucountry.com.au with your pledge.

Important note - please email us first.

Don't send membership cheque until you have been confirmed as the winner.
WIN FELICITY CD
Multiple Golden Guitarist winner Felicity Urquhart returned to Nu Country TV as hosts during Series #12, beginning in June.

You can win autographed copies of Felicity's sixth album Landing Lights, available here in shops on Shock.

All you have to do is become a member of Nu Country TV or renew membership.

It only costs $20 including postage.

Please email us first at music@nucountry.com.au and let us know which CD you would like.

We will then send you the CD on receipt of your cheque or money order made out to Nu Country Music.
WIN CATHERINE BRITT CDS
MIKE BRADY TOO
We have Catherine Britt's third CD Little Wildflower for viewers who wish to become members or renew membership.

Catherine, Adam Brand and Mike Brady were among artists who donated their talent to the Whittlesea Bushfire benefit on Saturday April 4.

Brady donated autographed copies of his Country To Country CD to viewers who become members or current members who renew their membership.

Mike was also a VIP guest host of Nu Country TV during our eighth series.

So for your $20 membership you can win Mike's CD Country To Country or Catherine Britt's Little Wildflower CD.
WIN JASMINE RAE & STEVE FORDE CDS
We also have the following CDS for viewers who email our web page and pledge $20 membership at music@nucountry.com.au

Telstra Road To Tamworth winner Jasmine Rae's debut CD Look It Up.

We also have Steve Forde's fifth album Guns & Guitars.