DAVE'S DIARY - 30/1/12 - PREVIEW OF EPISODE 9 - SERIES 17
NU COUNTRY WEATHERS THE STORMS OF LIFE
Expatriate Australasian superstar Keith Urban headlines Nu Country TV this Wednesday February 1 - at 10 pm on C 31 - with a prophetic weather forecast.

Urban, 44, and recovering from throat surgery performs the video for his seasonal hit Long Hot Summer.

Kinglake bushfire survivors Carter & Carter also return with a joyous rain dance.

And Missouri chart topper David Nail debuts a video for his precipitation plea.

Queensland flood victim Troy Cassar-Daley breaks the weather pattern in the video for his first single from his eighth album - cut in Nashville.

March tourist Jim Lauderdale showcases his humour in a show hosted by Mid Pacific Bob Olson and edited by fellow academic Ashley Hall.

Bob ventured to the Sapphire Coast home of previous editor Peter Staubli to share culinary skills with his double cooked pork belly dish.

Our Beer Can Hill delta denizen and porkbassador upstaged former North Melbourne star-ambassador Sam Kekovich in a show repeated Friday at 1.30 a m for early birds dining out on worms.
LONG HOT URBAN SUMMER
Keith Urban celebrates his recovery from throat surgery with his Long Hot Summer video from ninth album Get Closer.

Urban, 44 and father of two daughters, has other good tidings.

He wrote and recorded new song For You specifically for the movie, Act of Valor.

Urban recorded his collaboration with prolific co-writer Monty Powell in Nashville with co-producer Dann Huff.

The track is available digitally on February 21 and will be played during the film's end credits when it opens on February 24.

Act of Valor is a thriller about active-duty Navy SEALS who fight global terrorism.

Directed by Mike McCoy and Scott Waugh, active duty Navy SEALS and Roselyn Sanchez, Jason Cottle and Nestor Serrano feature in the fictional screenplay.

"I loved the challenge of writing for a film," said Urban.
"I've never done that before. After seeing Act of Valor, my co-writer and I wanted to capture the essence of not only what these men and women do so extraordinarily, but how that relates to all of us. Valor shows us what they are willing to give their all for, which made me wonder, 'What am I willing to give my life for?' For You is intended to allow the listener to define who that is for them."

Urban's acting links date back well before wedding Nicole Kidman.

"I was actually in a theatre group when I was a kid for about three years. We did quite a few stage productions, which was really my starting board for learning how to perform on stage. So, I'd love to do some of that down the track. I wouldn't want it to interfere with my music."

CLICK HERE for an Urban CD review in the Diary on December 13, 2010.
TROY PROVES WHAT COUNTRY IS
Grafton raised Troy Cassar-Daley has often joined Urban for cameos on his American visits.

But the singer didn't need Keith's support when he produced his eighth album Home in Nashville last year.

Troy performs the video for first single Country Is on this week's show. He produced the disc featuring the cream of Nashville A-team session pickers at Reba McEntire's Starstruck Studio.

Troy launched it at the 40th Tamworth festival last week on the eve of a national tour with Melbourne born Baptist preacher's daughter Harmony James.
Cassar-Daley, wife - 4KQ breakfast disc jockey Laurel Edwards - and their two sons lost invaluable memorabilia when the basement of their farm home was flooded last summer.

Troy, like Urban, proved his natural talent when he performed live on the Nine Network on the anniversary.

"It's always been a risk living on the river and we had water coming up pretty bad," Troy, now 43, said at the time.

"We were ringing the neighbour every hour, and by the fourth call he said he was over the bank and it's gone, but he saved our horses.

"We lost a lot, but not as much as people down the road - people down the road are burying family and horses.

The singer performed in Victoria late last year with Geelong born fellow star Adam Harvey.

Troy returns in a more extensive tour with Harmony after an indigenous concert at Federation Square on February 10.

CLICK HERE for a Troy feature in the Diary on May 7, 2009.
CARTER & CARTER DANCE IN THE RAIN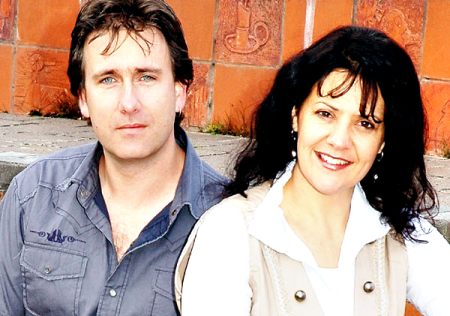 When David and Merelyn Carter moved from Lilydale to Kinglake they soon suffered the perils of the bush.

Although the duo was spared in the Black Saturday fires in 2009 many of their peers and neighbours suffered loss of life and property.

Now, three year later, they proved that dancing in the rain is solace for folks of all ages in their new video clip that we feature.

The song Dance In The Rain, featuring family and friends, is on their seventh album To The Moon And Back.

It made the 40th Australian Country Music Awards finals in Tamworth last week.

The sequel of sorts to Surviving Black Saturday is a song of celebration, of letting go and embracing the joy of living.

"This is really a song about the little girl inside me - she's always been there, wanting to burst out, but now I have grandchildren, she's got a new excuse to appear more often," Merelyn said.

The album evolved quickly.

"When we began writing, it all just flowed out. We wrote 13 songs, and 11 of them have ended up on the album," David said.

"It's strange that such positive music has come out of such a bad place. We've realised that we write the best songs once we've emerged on the other side - and this time we've written from very personal perspective, even more than on our previous albums."

Merelyn reassessed the role music played in their lives.

"I wasn't sure what direction to take. I was focused on writing my book, and I felt that there were other things I wanted to explore. I need to know what I was meant to do," she said.

"When I started the book, all the negative things came to the fore, and I needed to get beyond those. I was forced to re-evaluate a lot of my values and beliefs, and the reasons why I do things. In the end, there was a sense that something had been unlocked, and it all came very freely."

David and Merelyn watched their community go through major changes.

"It's pretty much a new community. The population's gone from 7000 to 3000, so many people have left, there have been so many relationship break-ups - nothing is the same and it will take years to rebuild," David said.

"So I think we value our community, and particularly our own little piece of it, so much more."

Carter & Carter launched their album in Tamworth with Kaylee Bell, did a gospel concert and presented a young talent showcase.

They also play Whittlesea Country Music Festival on Sunday February 12.

Further info - www.carter-carter.com

DAVID NAIL LETS IT RAIN
Missouri born balladeer David Nail performs the video for fifth single Let It Rain.

It was Nail's first No 1 hit from second album The Sound Of A Million Dreams that debuted in Billboard at No. 8.

Nail's hit features vocalist Sarah Buxton - songwriting and performing partner of expat Adelaide guitarist Jedd Hughes.

Buxton, who also wrote Keith Urban hit Stupid Girl, performed with Jedd at the CMC Rocks The Hunter festival last year.

Nail, son of a high school band director, wrote Let It Rain with Jonathan Singleton.

It hit #1 49 weeks after its release - second longest climb to the top in the chart's 68-year history.

Chris Young's Voices was on charts 51 weeks before it reached #1 in February 2011.
Frank Liddell, Chuck Ainlay and Glenn Worf co-produced the album. Scooter Carusoe and Phil Vassar, who performed at the 2010 CMC Rocks The Snowys festival at Thredbo, wrote the title track.

Former Arkansas State university student Nail co-wrote I Thought You Knew and was sole composer of Catherine - a tribute to his wife whom he wed in 2009.

Grit of songwriting is depicted in the title track and Songs for Sale.

The latter features harmonies by Texan songstress Lee Ann Womack - also Liddell's wife.

Nail, now 32, was in his early 20s when he signed to Mercury Records.

In 2002, he recorded an album for the label and released self penned first single, Memphis.

It peaked at No. 52 but Mercury decided not to release the Keith Stegall-John Kelton produced album.

From 2002 until 2007, when he signed with MCA Records, Nail was virtually wandering in an emotional wilderness.

"I was lost," he admits.

"I had moved to town and gotten a record deal so quickly and lost it. It took probably a good two or three years to figure out what the hell had just happened. I went through the usual, 'Is it something I want to do? Do I have the courage and the strength to go through this situation again?'

During that period between labels, he supported himself by writing songs for his music publisher.

"I spent a lot of time on my front porch with a six-pack of beer and staring at the road," he recalled.

In 2009, Liddell and Mike Wrucke co-produced Nail's first album for MCA - prophetically titled I'm About to Come Alive.

That yielded Nail's first Top 10 hit, Red Light, and Top 20 song Turning Home.

So will Mercury ever release his first album?

"I sure hope not," he says.

"It's not that I didn't like it. I liked it for a record for a 20-year-old kid. But it's definitely a far cry from what I do now."

Further info - www.davidnail.com
JIM LAUDERDALE - HUNTER BOUND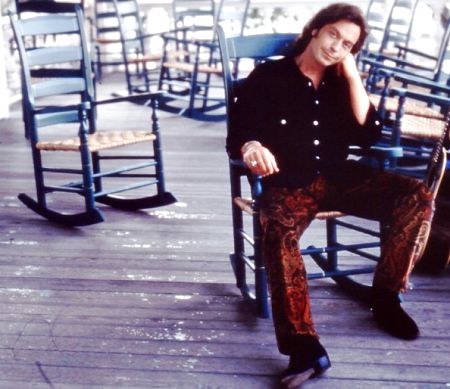 Jim Lauderdale returns to Nu Country with the video for his song Who's Leaving Who?

It's on Bluegrass - the 14th of Jim's 20 albums.

Lauderdale, who debuted here in 2002, is one of many stars of the second CMC Rocks The Hunter festival in March.

At 54 the North Carolina Presbyterian minister's son has God on his side and his disciples in his band.

The multi-instrumentalist also played in the house band in the recent Tim McGraw movie Country Strong.

Jim increased career longevity, writing hits for artists diverse as Texans George Strait, Dixie Chicks, Bruce Robson, Kelly Willis, Jon Randall, Mark Chesnutt, Deryl Dodd, Rick Trevino and Doug Supernaw, Vince Gill and Patty Loveless.

Lauderdale played George Jones in Stand By Your Man - the stage version of the Tammy Wynette story in Nashville.

Jim also performed the 2007 CMC Rocks The Snowys festival at Thredbo with another of his happy song recipients - California born chart topper and surfing cowboy Gary Allan.

Australian artists Melinda Schneider and Felicity have also recorded Jim's songs.

CLICK HERE for a Lauderdale interview in the Diary on December 14, 2006.

MIRANDA LAMBERT PRIZES
Grammy award winning Texan star Miranda Lambert cancelled her 2010 tour at the 11th hour - because of a respiratory ailment.

But we have good news for fans of Lambert - we have her award winning fourth album Revolution as a prize for viewers who renew Nu Country TV memberships or become members.

Sony-BMG promotions chief Emma Smith has also given us multiple CMA Award winner Miranda's DVD - Revolution: Live By Candlelight.

The DVD features rare acoustic performances of six songs White Liar, The House That Built Me, Love Song, Heart Like Mine, Love Is Looking At You and Rolling Stones country classic Dead Flowers.

All you have to do is either become a member of Nu Country TV or renew your membership.

It costs just $20.

Please send a cheque or money order made out to Nu Country Music to us at P O Box 625 - Northcote - 3070.

We also now have electronic banking for membership payment and renewal.
WIN KEITH URBAN CDS
Expatriate Australasian superstar Keith Urban is recovering from throat surgery.

To celebrate Keith's record company EMI-Capitol has great news for Nu Country TV viewers.

Promotions ace Bianca O'Neill donated autographed copies of his huge selling ninth album Get Closer.

She also donated new compilation Very Best Of Slim Dusty.

All you have to do to win Lambert, Urban and Dusty CDS or the Lambert DVD is become a member of Nu Country or renew membership.

But email us first at music@nucountry.com.au as stocks are limited.
Other prizes on offer include -
Eric Church - Chief
Luke Bryan - Tailgates & Tanlines.
Taylor Swift - 2ND CD Fearless.
Tim McGraw Southern Voice Tour CD with 11-bonus video clips.
Felicity - Landing Lights
Air Supply singer Russell Hitchcock - Tennessee - The Nashville Sessions CD and DVD
Slim Dusty Sittin' On 80 Boxed Set
The Very Best Of Slim Dusty
Catherine Britt - Little Wildflowers.
Compilation CDS.