DAVE'S DIARY - 12/1/09 - PREVIEW OF EPISODE 6 - SERIES 11
STARS SHINE FOR NU COUNTRY TV
David Frizzell enlisted a star-studded cast for the video for the debut single from his Frizzell & Friends concert that we feature on this week's show.

Nu Country TV host Mid Pacific Bob Olson listed many of them in his hosting of this Saturday's episode at 8 p m on Saturday January 17 on C 31.

Equally historic is the debut on Nu Country of seventies country rock superstars The Eagles.

Shelby Lynne, elder sister of Allison Moorer, also honours the late soul singer Dusty Springfield.

Touring teenage superstar Taylor Swift - the biggest success story of 2008 - returns to the show with one of her breakthrough hits.

Swift, 19, has broken nearly every sales record in her short career that enabled her to headline Saturday Night Live in the U.S.

Louisiana legend - singing actor Trace Adkins - and Hunter Valley chanteuse Melissa Barjic - also provide links to the present with their new video clips.
FRIZZELL FINDS FIST FULL OF JOHNNYS
Texan legend David Frizzell enlisted elder brother Allan and fellow Texans Johnny Rodriguez, Johnny Lee and Gene Watson to embroider historic tribute - This Is Our Time.

Also putting shoulders and voices to the wheel are Lacy J Dalton and Merle Haggard - celebrating his successful operation for lung cancer.

Haggard, 71, says he has quit smoking dope and cigarettes - a staple diet on his 1996 Australian tour - to ensure longevity in his 2009 national tour that embraces prisons, hospitals and churches.

Merle, who kicked off the tour in hometown Bakersfield, is no stranger to singing in and serving behind bars.

The Hag spent his 21st birthday at San Quentin State Prison, where he served nearly three years for burglary.
In 1959, as prisoner 45200 he watched Johnny Cash perform there.

Meanwhile the Frizzell clan are celebrating the rebirth of the stone country music that the late Lefty pioneered to leave a vibrant vocal legacy to Merle and equally enduring Floridian born John Anderson.

CLICK HERE for a David Frizzell feature from the Diary on December 30, 2008.

TRACE ADKINS MOVIES - ART IMITATES LIFE
Thrice wed Trace Adkins is rapidly proving his capacity to ensure art imitates life hasn't gone unnoticed by Hollyweird power brokers.

Trace, 47 and father of five daughters, is a walking theatre.

His second wife shot him in the lung and heart on the final day of their marriage in 1994.

"That's what my hunting buddies would call a 'kill shot," joked Adkins.

Now, after starring in Donald Trump American NBC series The Celebrity Apprentice, Trace headed to Los Angeles.

The Grand Ole Opry inductee and DUI victim filmed a role in David Zucker movie An American Carol - a spoof on the Charles Dickens classic A Christmas Carol.
Akins, a former petroleum engineer and oilfield roughneck, also featured in the horror picture Trailer Park Of Terror - it screened twice during the recent Nashville Film Festival.

The movie finds six kids and a pastor stranded in an abandoned trailer park when their bus crashes in a rainstorm.

Trace has a satanic role in the film's first five minutes as an arcane drifter who tells the female lead she can find "salvation in violence."

As a result, Trace - hailed as a classic good guy in the final episodes of The Celebrity Apprentice - plays a bad guy in a bizarre film that features cannibalism and shotgun massacre.

Steven Goldmann directed the movie and also Adkins next video for Muddy Waters featuring actor Stephen Baldwin - from his 10th album, yes, titled X.

The director also made videos for Faith Hill's This Kiss, Alan Jackson's Drive (For Daddy Gene) and Kathy Mattea's 455 Rocket.

If you are wondering where you last read about Nashville Film Festival - well, Nick Brenner's ABC-TV documentary on Nu Country FM was also featured at the 35th film festival in 2004.

That was the same year as Grand Theft Parsons - the film in which Johnny Knoxville played the late Gram Parsons' body snatcher Phil Kaufman.

And, of course, also sharing the bill was Billy Joe Shaver documentary Portrait Of Billy Joe, directed by Luciana Pedraza - spouse of actor-director Robert Duvall.

This week Adkins appears on Nu Country TV in the video for previous hit I Got My Game On from his ninth album American Man - Greatest Hits Volume 11.

And back to chump Trump.

Well, Kacey Jones and Becky Hobbs - stars of our live Noise Bar concert special on February 1, 2008 - have just written a new comedy album Donald Trump's Hair, with Benita Hill.

CLICK HERE for an Adkins CD review from the Diary on August 2, 2006.

TAYLOR SWIFT'S TEARDOPS ON HER GUITAR
Taylor Swift celebrated her fifth non-consecutive week at #1 on all genre Billboard 200 with Fearless on indie label Big Machine last week.

The album has now sold more than two million units, pushing total sales beyond five million.

We reach back to her debut disc for the video of one of her embryonic hits Teardrops On My Guitar.

Swift recently shot her Trey Fanjoy-directed video for new single White Horse in the Nashville suburb of Germantown.

It also features One Tree Hill's Stephen Colletti.

Swift will tour Europe and Australia in autumn.

She is one of the headliners at the second CMC Rocks The Snowy festival on March 6 and 7 with Deana Carter, Joe Nichols, Old Crow Medicine Show and former Canadian rodeo rider Corb Lund.
Taylor also plays the Billboard Club in the Melbourne CBD on March 10.

CLICK HERE for a Swift CD review from the Diary on January 5, 2009.
CLICK HERE for a chance to win Taylor's CD Fearless at our membership page.
SHELBY LYNNE DUSTY DAMSEL
Singing actress Shelby Lynne returns to Nu Country with the video clip for Anyone Who Had A Heart from her tribute disc to the late Dusty Springfield.

Just A Little Loving is the 10th album by Shelby, now 40, who made her acting debut with Shotgun Willie Nelson and Kris Kristofferson in 1991 movie Another Pair Of Aces.

Shelby is the older sister of Alison Moorer who appeared in Robert Redford film The Horse Whisperer and recently toured here as support artist-harmony partner as sixth wife of Steve Earle.
Alabama born Shelby was 17 and Alison, 14, when their ex-Marine dad Vernon shot their mother Laura and himself in a murder suicide at their Franklinville home, north of Mobile, Alabama, in 1986.

Shelby played Johnny Cash's mum in Walk The Line movie that also featured Joaquin Phoenix and Reese Witherspoon in the lead roles.

Shooter Jennings portrayed his late dad Waylon in the film.

And Waylon Payne - son of Shotgun Willie Nelson's guitarist Jody Payne and his late singing spouse Sammi Smith - played Jerry Lee Lewis.

Payne also performs as a harmony singer in Shelby's band on several tours.

Waylon, named after his godfather Jennings, also won the lead role in Crazy - the acclaimed 2007 movie about the late Sugarfoot Rag creator Hank Garland - that sprinted into Aussie DVD stores over summer with no theatre pit stop.

Also in the movie were Mandy Barnett, Shawn Colvin and Steve Earle's sister Stacey as Patsy Cline, Kitty Wells and Goldie Hill - late wife of Carl Smith who was the first husband of June Carter Cash and father of Carlene Carter.

Ali Larter played Hank's wife Evelyn and John Fleck was cast as Cowboy Copas in a movie where Beau Baxter played the lead villain - a record producer named Jerry with no surname for legal reasons.

The dramatised movie depicts Nashville heavies trying to kill Garland in a road wreck after he and Bobby Helms were originally refused the publishing royalties for writing Jingle Bell Rock.

Baxter, a popular thespian, also appeared in the movies Idio in 2005 and Sol Goode - 2001.

Meanwhile back to Shelby Lynne.

Click Here for a Lynne feature from the Diary on April 28, 2004.
THE EAGLES FLY IN AGAIN
Pioneer Californian country rock superstars The Eagles debut on Nu Country with the video for Busy Being Fabulous from their 2007 CD Long Road Out Of Eden.

The much-maligned band proves its vocal vibrance has not been diminished over its three-decade plus career that began in 1972.

Box office success here proves that seventies rooted hits and memories radio has not faded from the suburban and rural psyche.

Further info - www.eaglesband.com

MELISSA BARJIC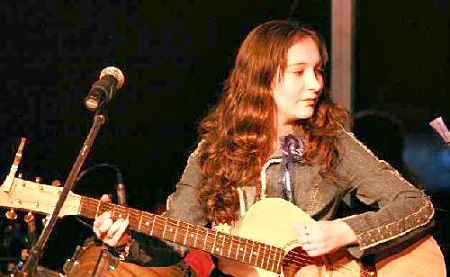 Hunter Valley chanteuse Melissa Bajric returns to Nu Country with the video for her song Too Long Between Drinks from her second album Small Town Girl.

Melissa, born in 1984, was raised in a small village near the vineyard regions of the Hunter Valley in NSW.

Her love for country music was ignited at five when she sang old time country songs at school talent quests while the rest of the bill was nursery rhymes.

Melissa honed her craft at country music festivals at Poley's Place on the Barrington, performing alongside her dad playing the guitar.

She performs at Poley's at most Easter and October long weekend hoedowns and cut her debut album Believe In Me in 2001.

In 2003 Melissa, Bob Easter and Graham Rodger released duets album Drovin' All Over.

Tamworth veteran Lindsay Butler had produced all of Melissa's albums.

During 2007 Melissa released first video clip, Luckiest Girl, directed by multi award winning video producer Ross Wood.

Melissa shares her NSW wine belt and coal mining roots with fellow singer Kirsty Lee Akers who released second CD Better Days at Tamworth in January.

Further info - www.melissabajric.com

WIN NEW CDS BY BEING A NU COUNTRY MEMBER
TAYLOR SWIFT, JASMINE RAE & STEVE FORDE
Nu Country TV celebrates its 11th series with a brace of prizes to celebrate the CMC Rocks The Snowy festival and the national tours by superstars Brooks & Dunn, Dierks Bentley and Taylor Swift.

We have the following CDS for viewers who email our web page and pledge their $22 membership at music@nucountry.com.au

Taylor Swift - huge selling second album Fearless.

Jasmine Rae - debut CD Look It Up by the Telstra Road To Tamworth winner and touring partner of Brooks & Dunn and Bentley.

Steve Forde - fifth album Guns & Guitars by the tour mate of Brooks & Dunn and chart topper Gary Allan.

ADAM BRAND CD-DVD PRIZES
We have more good tidings for viewers wanting to join Nu Country TV and keep us on air in Victoria, Queensland, South Australia and New Zealand.

Major independent label Compass Brothers has donated autographed copies of Adam Brand's seventh disc Blame It On Eve for viewers who become Nu Country members or renew their membership.

The CD has a bonus DVD of the making of the album and the video clip of Get On Down The Road that we aired on our show.

Adam also did an exclusive interview with Nu Country TV that we broke up into two episodes during Series #10.

We have limited supplies of Adam's big selling CD-DVD so please email us first at music@nucountry.com.au so we can allocate your reward.

CLICK HERE for the Adam Brand interview from the Diary on March 3, 2008.
KACEY JONES CD, DVD, POSTER AND TEE SHIRT PRIZES
Internationally renowned country comedienne, singer-songwriter and producer Kacey Jones has given us a box of autographed merchandise for viewers and members who renew their membership.

A highlight is her acclaimed tribute disc Kacey Jones Sings Mickey Newbury that is scheduled for Australian release in July.

We have autographed collectors' copies of the CD for viewers who want to become members of Nu Country TV.

She also autographed tee shirts and posters for Nu Country members.

For your $22 membership and postage you can take your pick of Kacey memorabilia. We have limited supplies so please email us at music@nucountry.com.au first.

WILLIE NELSON EXCLUSIVE BOOK
We also celebrate Shotgun Willie Nelson's 75th birthday on April 30 with a special giveaway of his collectors' book.

We have limited stock of Willie Nelson - The Collected Writings Of A Living Legend - The Facts Of Life And Other Dirty Jokes.

The book, featuring yarns, jokes and Willie Nelson song lyrics, is the latest addition to out prize treasure trove.

It's available for viewers wanting to become members or current members wishing to renew their membership.

Please email us at music@nucountry.com.au for a chance to win a copy of this book with your membership.

MIKE BRADY MUSIC FOR YOUR MEMBERSHIP
Internationally acclaimed singer-songwriter Mike Brady volunteered to become a VIP guest host of Nu Country TV during our eighth series.

Brady hosted an episode that also featured an exclusive interview about recording the album in Nashville with expatriate Australian producer Mark Moffatt.

Mike has also donated autographed copies of his brand new CD Country To Country to viewers who become members or current members who renew their membership.

The generous singer donated his autographed CDS to attract your membership to ensure our survival.

So for your $22 membership including postage you can win Mike's CD Country To Country.

We have limited supplies so please email us first at music@nucountry.com.au so we can allocate your reward.
TANIA KERNAGHAN AUTOGRAPHED CDS
Tania Kernaghan has offered autographed copies of her fourth album Higher Ground to viewers who either become new members or renew their membership.

The album was produced in Santa Monica, Franklin, Nashville and the Gold Coast with Daniel Kresco.

Tania recorded 11 songs written by younger sister Fiona and producer Kresco on the acclaimed disc.

If you wish to be rewarded for your membership with Tania's new CD please email us at music@nucountry.com.au.

We also have other CDS in our library as rewards for your valued membership - we rely on membership for our survival.