DAVE'S DIARY - 5/1/09 - PREVIEW OF EPISODE 5 - SERIES 11
TEENS AND TONKERS TUNE NU COUNTRY TV
Teenage star Taylor Swift shares top billing with stone country singer-songwriter Elizabeth Cook and prolific hit writer Jim Lauderdale on Nu Country TV this week.

The trio strut their stuff on the show hosted by Mid Pacific Bob Olson at 8 p m on C 31 in Victoria.

Swift, just 19, has good reason to be gifted - she grew up on a Christmas tree farm in Pennsylvania with her mother and stockbroker father.

Lauderdale, 51, enjoyed the good book - his Presbyterian minister father raised him in North Carolina.

And Cook's octogenarian father Tom learned double bass during 11 years in prison as a moonshiner in Florida.

The Australian artists Talia Wittman, Davidson Brothers and Chuck Stokes had a less exotic launch pad.

Talia hails from Adelaide, Hamish and Lachlan Davidson honed their musical chops at Yinnar in Gippsland and Chucks Wagon leader Chuck Stokes fled Sydney's wild west to Texas to broaden his musical appreciation.
TAYLOR SWIFT BREAKS ALL RECORDS
Pennsylvania princess Taylor Swift, just 19, proves why she is the coolest conduit to the thriving teen tonking cyberspace market.

She has unleashed more than five million album sales and a dynamic deluge of digital downloads in three short years.

The singer, making her first Australian tour in March, was just 13 when she escaped from her folks Christmas tree farm to invade the Nashville music forest.

She impressed Music Row moguls by knocking on doors before returning home to hone her craft and study.
Big Machine Records executive Scott Borchetta discovered Swift at famed Nashville songwriting temple the Bluebird Cafe singing a song she'd written when she was 14.

The venue was the subject of the 1991 Peter Bogdanovich directed Hollywood movie The Thing Called Love - starring the late River Phoenix, Samantha Mathis, Sandra Bullock and Dermot Mulroney.

It featured cameos by Kevin Welch, Trisha Yearwood, Pam Tillis. K.T. Oslin, Katy Moffatt, Webb Wilder, Deborah Allen, Earl Poole Ball, Jimmie Dale Gilmore and Jo-El Sonnier.

Swift, raised in Wyomissing, has long been a prolific and precocious writer.

She harvested hay from the hell of heartbreak of ruptured romance with Joe Jonas of the Jonas Brothers and fascination with Nashville singer Stephen Barker Liles to fuel songs Forever & Always and The Way I Loved You and Hey Stephen.

"The song, Picture to Burn, which was a Top 5 single for us, I wrote that when I was 14 and played it at that Bluebird Cafe showcase," Swift says.

Most writers are born as well as made, and Swift proves it.

"For me, I started out writing when I was 12. I learned three chords on a guitar and wrote my first song that night," she remembers.

"I would write songs until my fingers bled, until my mother would make me leave my little computer room and come to dinner. I found something at that point that I absolutely couldn't put down."

Swift performs the video of recent chart-topper Love Story off second album Fearless on Nu Country this week.

Swift wrote all her songs and plays The Billboard in Melbourne on March 10 after headlining the 2009 CMC Rocks The Snowy Festival at Thredbo on March 6 and 7.

But she won't be driving her silver Lexus SC 430 hardtop convertible down under.

"It's a tank in wrecks," she says.

"I know that because I've gotten in three wrecks already - all other people's fault, by the way."

CLICK HERE for our membership page and learn how you can win Taylor's CDS.
CLICK HERE for a Taylor Swift feature from the Diary.
ELIZABETH COOK SUNDAY MORNING
Elizabeth Cook debuts on Nu Country TV with the Lou Reed-John Cale song Sunday Morning from their Velvet Underground era.

Cook is the youngest of 11 children of an octogenarian musician and singing spouse of Nashville singer-songwriter Tim Carroll.

Elizabeth and Australian country music queen Melinda Schneider made the finals of the 2007 Americana awards with Sometimes It Takes Balls To Be A Woman - one of three songs they recorded after a whirlwind session at the Cook-Carroll homestead.

Cook chose the song as the title track of her fourth album and Schneider include it on her fourth album Stronger.
Both artists recorded Rest Your Weary Mind on their discs and Schneider cut their collaboration I Like Men ln Trucks.

Cook's dad Tom, 84, and mum Joyce sang as The Medicare Duo until Joyce went to God at 77 in July last year.

Tom learned to play double bass in prison where he served 11 years for moonshining as a much younger man.

Cook and Carroll plan to tour Australia this year with their Australian bassist Bones Hillman - of Midnight Oil fame - who now lives in Nashville.

CLICK HERE for a Cook feature from the Diary on November 9, 2008.
JIM LAUDERDALE - BLUEGRASS DIARIES
Singer-songwriter Jim Lauderdale has won an avid following on his Australian tours that date back to a gig at the Corner Hotel, Richmond, on January 30, 2002.

The son of a late Presbyterian minister increased career longevity with a brace of hits for artists diverse as Texans George Strait, Dixie Chicks, Bruce Robson, Kelly Willis, Jon Randall, Mark Chesnutt, Deryl Dodd, Rick Trevino and Doug Supernaw, Vince Gill and Kentucky roots country veteran Patty Loveless.

Lauderdale, now 51, performs the humorous video clip for this song This Is The Last Time from 16th album The Bluegrass Diaries.

Eagle eyed viewers will notice the William Faulkner novel The Sound And The Fury in the video.

Lauderdale played George Jones in the stage version Stand By Your Man - the stage version of the Tammy Wynette story in Nashville.
Jim also played the 2007 CMC Rocks The Snowy festival with another of his happy song recipients - California born chart topper and surfing cowboy Gary Allan.

Australian artists Melinda Schneider and Felicity have also recorded Jim's songs on recent albums.

Click Here for a Lauderdale interview from the Diary on December 14, 2006.
CHUCK'S WAGON - FROM BADLANDS TO TEXAS
Sydney band Chuck's Wagon is no stranger to honky tonks and their forbidden fruit after touring and recording in Texas.

Bandleader Chuck Stokes grew up in Sydney's wild west - the badlands beyond the urban sprawl of Cabramatta.

It was there he learned guitar from a cricket teacher, wrote songs while working as a boilermaker, went to hell and back on booze and dope and indulged his love of roots music as a writer for street magazine On The Street.

For a decade Stokes served time in suburban beer and wine mines with blues outfit Warning, and later with other combos and punkers Deadwood 66.
But it was ascension to the mountain air of Wyoming that spiked Chuck's wagon.

"I fell in love with a cowgirl from Wyoming," Stokes revealed.

"I went and lived there for a few months, and that got me into country rock - bands such as Outlaws, Pure Prairie League, Marshall Tucker Band, Flying Burrito Brothers. I have loved country rock ever since."

So Chuck rolled salient spokes of his wagon over to Texas where they performed and recorded Live In Austin, Texas, at Roadhouse Rags in 2008 as Chuck's Wagon Duo.

Stoke and guitarist Kinnon Holt did the recording as they played 25 dates in 28 days. It was a vastly different journey to his Chicago sojourns as music writer where he was on the other end of the microphone.

"When I perform I like to say I grew up out west, Cabramatta West," quips Chuck.

"I was the eldest in a family that was not really into music, but my mum says I use to stand in front of the TV, and rock back and forth to Gene Autry. She was in Maroubra women's banjo club, and they recorded one record, so maybe I get the country from there."

But it was a sporting link that inspired Stokes muse.

"A cricket teacher I looked up to inspired me to play guitar, and I got lessons, but never really showed much promise," Stokes recalled.

"When I left school for a boilermaker apprenticeship, I was writing songs, and had heaps of lyrics I wrote, while manning a mechanical steel saw. It had this rhythm and I wrote heaps of bad teenage tunes, still have those in a book, and cut my teeth writing all that stuff out of my system."

With refreshing honesty, peculiar to country songwriters, Stokes reveals his biggest hurdle.
"I tried to learn more guitars but to be honest lost my way with alcohol and drugs and saw heaps of shows but ended up in hospital, at 22 from addiction," Stokes recalled.

"And a miracle happened, I got clean, and have remained so!"

Chuck's Wagon performs the video for its song Black Road this week on Nu Country TV - the tune is from second album Lipstick & Sin.

The Chuck Wagon boys, formed in 2006, did a whirlwind Victorian tour in spring of 2008 and returned last week.

Further info - www.chuckswagon.com.au
TALIA WITTMAN - RECKLESS SIDE
Talia Wittman, the 2008 Tamworth Starmaker winner, debuts on Nu Country TV with the title track of her debut album The Reckless Side Of Me.

The 24-year-old Adelaide born singer wrote six songs on her Compass Brothers CD, produced by label boss Graham Thompson.
Wittman chose The Reckless Side Of Me by Dead Reckoners singer-guitarist Mike Henderson and Chris Stapleton as her first single.

She also covered Lay A Little Love On Me - a song recorded by stone country singer Lacy J Dalton who appeared on Nu Country last week with David Frizzell.

Expatriate Australasian publisher Barry Coburn - former manager of Lacy - is also the publisher of Angaleena Presley who wrote Ladylike and Ain't No Man - highlights of the Wittman album.

Talia began vocal and guitar lessons and competed in South Australian talent quests during primary school.
In 2003 she completed Certificate III in music at TAFE and studied a Bachelor of Music by correspondence for 12 months through Mackay Conservatorium of Music.

She then moved to Mackay for a further semester of study on campus.

The singer, now living on the NSW Central Coast, is also a graduate of the 2007 Australian College of Country Music in Tamworth.

Further info - www.taliawittmann.com
DAVIDSON BROTHERS - LONG DISTANCE LOVE AFFAIR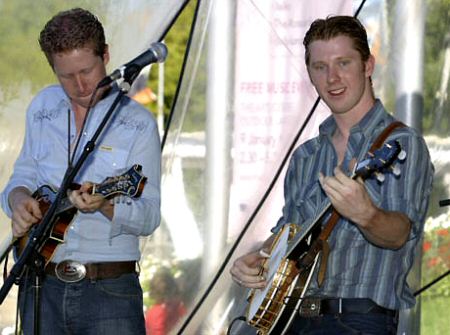 Photo by Andrew Wuttke
The Davidson Brothers return to Nu Country TV with the second single from their fourth self-titled album.

Hamish and Lachlan Davidson wrote Long Distance Love Affair about trying to hold a relationship on while travelling on the road.

Mark Thornton produced the album in Madison, Tennessee.

And previous single I Still Miss The Sound Of Rain was released in the U.S. last year to 1.000 bluegrass radio shows.

Guests on the disc include Nashville guitarist Bryan Sutton, bassist Dennis Crouch, Rob Ickes on dobro with harmonies by Trev Warner, Cia Cherryholmes and Larry Marrs.

The brothers hail from Gippsland town Yinnar - population 531 - and the Aboriginal word for Woman.

It was first settled in 1874.

Hamish and Lachlan showcase their CD on the local summer festival circuit including Tamworth, Cobargo and Brunswick.

They then return to the U.S. for a tour in September to build on a fan base on previous visits including famed annual Bill Monroe festival.

Dates this time include the Tri-State Bluegrass Festival in Kendallville, Indiana, on September 5 and 6 and the Starvy Creek Bluegrass Festival in Conway, Missouri, on September 18 and 19.

CLICK HERE for a Davidson Brothers feature from the Diary on January 12, 2005.

WIN NEW CDS BY BEING A NU COUNTRY MEMBER
TAYLOR SWIFT, JASMINE RAE & STEVE FORDE
Nu Country TV celebrates its 11th series with a brace of prizes to celebrate the CMC Rocks The Snowy festival and the national tours by superstars Brooks & Dunn, Dierks Bentley and Taylor Swift.

We have the following CDS for viewers who email our web page and pledge their $22 membership at music@nucountry.com.au

Taylor Swift - huge selling second album Fearless.

Jasmine Rae - debut CD Look It Up by the Telstra Road To Tamworth winner and touring partner of Brooks & Dunn and Bentley.

Steve Forde - fifth album Guns & Guitars by the tour mate of Brooks & Dunn and chart topper Gary Allan.

ADAM BRAND CD-DVD PRIZES
We have more good tidings for viewers wanting to join Nu Country TV and keep us on air in Victoria, Queensland, South Australia and New Zealand.

Major independent label Compass Brothers has donated autographed copies of Adam Brand's seventh disc Blame It On Eve for viewers who become Nu Country members or renew their membership.

The CD has a bonus DVD of the making of the album and the video clip of Get On Down The Road that we aired on our show.

Adam also did an exclusive interview with Nu Country TV that we broke up into two episodes during Series #10.

We have limited supplies of Adam's big selling CD-DVD so please email us first at music@nucountry.com.au so we can allocate your reward.

CLICK HERE for the Adam Brand interview from the Diary on March 3, 2008.
KACEY JONES CD, DVD, POSTER AND TEE SHIRT PRIZES
Internationally renowned country comedienne, singer-songwriter and producer Kacey Jones has given us a box of autographed merchandise for viewers and members who renew their membership.

A highlight is her acclaimed tribute disc Kacey Jones Sings Mickey Newbury that is scheduled for Australian release in July.

We have autographed collectors' copies of the CD for viewers who want to become members of Nu Country TV.

She also autographed tee shirts and posters for Nu Country members.

For your $22 membership and postage you can take your pick of Kacey memorabilia. We have limited supplies so please email us at music@nucountry.com.au first.

WILLIE NELSON EXCLUSIVE BOOK
We also celebrate Shotgun Willie Nelson's 75th birthday on April 30 with a special giveaway of his collectors' book.

We have limited stock of Willie Nelson - The Collected Writings Of A Living Legend - The Facts Of Life And Other Dirty Jokes.

The book, featuring yarns, jokes and Willie Nelson song lyrics, is the latest addition to out prize treasure trove.

It's available for viewers wanting to become members or current members wishing to renew their membership.

Please email us at music@nucountry.com.au for a chance to win a copy of this book with your membership.

MIKE BRADY MUSIC FOR YOUR MEMBERSHIP
Internationally acclaimed singer-songwriter Mike Brady volunteered to become a VIP guest host of Nu Country TV during our eighth series.

Brady hosted an episode that also featured an exclusive interview about recording the album in Nashville with expatriate Australian producer Mark Moffatt.

Mike has also donated autographed copies of his brand new CD Country To Country to viewers who become members or current members who renew their membership.

The generous singer donated his autographed CDS to attract your membership to ensure our survival.

So for your $22 membership including postage you can win Mike's CD Country To Country.

We have limited supplies so please email us first at music@nucountry.com.au so we can allocate your reward.
TANIA KERNAGHAN AUTOGRAPHED CDS
Tania Kernaghan has offered autographed copies of her fourth album Higher Ground to viewers who either become new members or renew their membership.

The album was produced in Santa Monica, Franklin, Nashville and the Gold Coast with Daniel Kresco.

Tania recorded 11 songs written by younger sister Fiona and producer Kresco on the acclaimed disc.

If you wish to be rewarded for your membership with Tania's new CD please email us at music@nucountry.com.au.

We also have other CDS in our library as rewards for your valued membership - we rely on membership for our survival.