DAVE'S DIARY - 30/12/08 - PREVIEW OF EPISODE 4 - SERIES 11
FROM TEXAS TO RED HILL AND THE GRAMPIANS
We take a magical, mystery tour from Texas to the majestic Grampians and Red Hill to Atherton Tablelands in Far North Queensland on Nu Country TV in our first show for the New Year.

Texan singers Jessica Simpson and Leann Rimes, Sunny Cowgirls, Blue Mountains minstrel Jayne Denham and 8 Ball Aitken all appear in the Heather Rutherford hosted show at 8 p m on C 31.

We also feature David Frizzell - brother of the late legend Lefty - and Pennsylvania born stone country singer Lacy J Dalton in exclusive live concert footage.

Frizzell enlisted the cream of traditional country for his TV special with cameos by T Graham Brown, Merle Haggard, the Johnnys - Lee and Rodriguez - Gene Watson, Joe Stampley and many more.

It's an appetiser for a later special featuring David and Jett Williams - daughter of the father of the genre, the late Hank.

DAVID FRIZZELL AND LACY J DALTON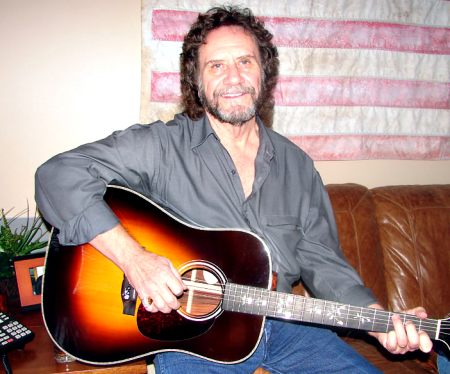 Texan David Frizzell has long been renowned for fertilising the roots of the genre.

The singer recorded Larry Cordle-Larry Shell parody Murder On Music Row in 1999 before fellow Texan George Strait and Georgian superstar Alan Jackson.

Frizzell, 67, a younger brother of late legend and Golden Gloves boxing champ Lefty - had a huge 1982 hit I'm Gonna Hire A Wino To Decorate Our Home before another smash duet with Shelly West on You're The Reason God Made Oklahoma.

Famed actor-director Clint Eastwood used You're The Reason God Made Oklahoma in his movie Any Which Way You Can and another in Honky-Tonk Man.

That was long after Frizzell left home at 12 to perform and tour with Lefty.

By his 18th birthday, Frizzell began recording country and rockabilly albums for Columbia Records.

Although a four-year hitch in the military slowed his career, Columbia immediately re-signed Frizzell after his discharge.

On Nu Country TV his duet partner on Kevin Welch song Something About You is Lacy J Dalton - wife of David Allan Coe in the Take This Job & Shove It movie.

Dalton, now 52 and born Jill Byrem, is a major artist with soulful country - her 1982 version of Thom Schuyler song 16TH Avenue was a precursor of sorts for Frizzell's cut of Murder On Music Row.
The singer, who cut her debut disc as Jill Croston, has made 16 albums in a career that featured a CMA best new female vocalist of the year award in 1979.

Something About You is from his self produced 20 song Frizzell & Friends DVD-CD on his own Nashville America Records label.

The disc contains Frizzell duets with Crystal Gayle, Helen Cornelius, Amy Clawson, Jeannie Seely, Dalton and Amy Clawson.

Three of the duet songs are Frizzell originals.

They are Crystal Gayle on Wedding Dress For Sale, Helen Cornelius on Could It Be We Fell In Love Tonight and Amy Clawson on Why Wasn't It Me.

He also joined Jeannie Seely - ex-wife of Hank Cochran - on late centenarian Jimmie Davis song Nobody's Darlin' But Mine.

CLICK HERE for a Frizzell feature from the Diary.
LEANN RIMES BOTTLE OF WINE
Texan child star LeAnn Rimes also recorded a version of Yearwood's Grammy award wining hit How Do I Live from the Con-Air movie.

This week she performs a video clip of A Good Friend And A Bottle Of Wine from her 13th album Family.

Leann, now 26, has been writing songs with actor husband Dean Sheremet - she has sold 26 million albums since having her #1 hit Blue at 13.

Rimes co-wrote all of Family's 12 new tracks - longtime producer Dan Huff helmed the disc.

Two bonus duets, featured on recent albums by Reba McEntire and Jon Bon Jovi, are also included.
She appeared in the Coyote Ugly movie and wrote two illustrated books about a jaguar named Jag; an animated TV series.

Rimes was also in Good Intentions - a film that also stars Luke Perry who played rodeo champ Lane Frost in the 1994 movie 8 Seconds.
She also had a public falling out with her father Wilbur - the key for her early career.

The new disc features a song What I Cannot Change that may cover that topic.

"Yeah I don't know my father," she sings.

"Or my mother well enough/it seems like every time we talk/we can't get passed the little stuff/the pain is self-inflicted/I know it's not good for my health/but it's easier to please the world/than it is to please myself."

So does the title track.

"We're best of friends and worst enemies/we're all to blame, we're all the same," she sings.

CLICK HERE for a Leann Rimes feature from the Diary on October 25, 2003.
JESSICA SIMPSON - NEVER THE TWAIN SHAL MEET
Fellow Texan Jessica Simpson is best known here for her reality TV pop career.

But the singer proves she can also cut it as a country chanteuse in her video for big hit Come On Over - not the same song as the Shania Twain hit.

Dallas born Jessica, 28, dumped her pop past for pedal steel, a pick-up truck and a barn in the video from her fifth album Do You Know (Epic-Columbia).

That man in the video was not her new squeeze - Dallas Cowboys quarterback Tony Romo.

And, it was certainly not her Dukes Of Hazzard movie stable mate - Shotgun Willie Nelson.

Simpson flirted with country when she butchered Dolly Parton's hit 9 To 5 in a TV special - Parton played good Samaritan by writing and then singing on the title track of Simpson's disc.
Simpson, unlike most country peers, has built a profile here in the mainstream media because of speculation about her romance and other pop pap.
But since staying in Civil War town Franklin, south of Nashville while recording, she has reduced the pressures.

"In the four months I was living out there, I never had cameras flashing in my face, you know?, Simpson says.

"Living in L.A. or travelling to New York you have these vultures coming at you all the time, and just trying to get in on your personal life and trying to get in, you know, on things that really don't matter at the end of the day. And when you have cameras in your face, it affects your perception of life, it affects your comfort zone, with who you are and where you're going, and it makes you make different decisions. I find that in Nashville, I feel I can definitely be more myself and make the choices I would make from the beginning. I'm definitely going to make all my records there. I think it's so beautiful. I'd love to have a house in Franklin. But right now I'm spending most of my time in Texas."

Further info - www.jessicasimpson.com
JAYNE DENHAM
Jayne Denham - one of the stars of Red Hill country festival next Sunday - January 11 - returns to Nu Country this week with her all-girl band.

Denham won a vast new army of fans when she dismounted last year at the Gippsland gateway - the famed Bunyip Country music festival.

But this time around Jayne struts her stuff at equally historic Red Hill festival.

As a preview the Ute Chick performs her video for Country Girl With A Rock'n Roll Heart from her first CD Sudden Change In Weather, produced by John Kane and Mark Walmsley.

It was filmed at Hawkesbury Agricultural Show.

Her previous video for Cousin Jude video was shot at Somerton - 35 kilometres west of Tamworth - at the Moo Cow Inn.
Denham's career began with Boy From Blackhill - a song inspired by a poem penned by her father Don Carter.

Further info - WWW.JAYNEDENHAM.COM
WWW.MYSPACE.COM/JAYNEDENHAM

8 BALL AITKEN
8 Ball Aitken returns to Nu Country with Hands On Top Of The Wheel from third CD Rebel With A Cause.

The multi-instrumentalist singer wrote the song about his dad, known as Cue Ball.

8 Ball performed on a whirlwind Victorian tour in October before making the finals of the 2009 Tamworth Starmaker quest at the ripe young age of 26.

Other finalists include Briana Lee Brassil from Shepparton and Queenslander Kaylah Anne who has a video scheduled for Nu Country airplay.
Cue Ball, who keeps the home fires burning at Mareeba on Atherton Tablelands in far north Queensland, may make the trip south to Tamworth in January.
8 Ball previously appeared on our TV show with the video for his song Cyclone.

Aitken wrote the song about a cyclone that wreaked havoc in far north cane-fields and banana plantations.

"It captures the energy and danger of the place, and I hope also reflects how much I love it," 8 Ball revealed.

The singer is unique - one of 12 children from a family on the Atherton Tablelands.

And he plays slide, lap and pedal steel, dobro, banjo and mandolin on Rebel With A Cause.

With flaming red hair cascading down his shoulders, the singer looks like a latter day incarnation of country comic Rev Billy C Wirtz - a staple on Nu Country FM.

But the singer, who recently toured Europe, has vastly different ancestral roots.

His family came out from Scotland several generations ago, and Aitkenvale near Townsville, is named after them.

8 Ball has lived an exciting 26 years as latest in a long line of farmers from Mareeba in Far North Queensland.

"My music comes from deep within who I am and where I'm from," says the singer who is a finalist in the Tamworth Star Maker Quest for the second consecutive year.

"There's more to country music than a kind of broad view of the outback. Regional
Australia is a vital part of who we are as a nation, that's what my music represents. It comes from the unique landscape of the Mareeba delta - steamy, bouncing off the remnants of extinct volcanoes and booming through the cane-fields."

8 Ball's autobiographical favourites include The Party, Guitar Man, The Other Side, Yellow Moon and Cowboy Movie.

His first two albums 8 Ball (2004) and Odd Ball In (2006) are available through MGM which also has Rebel With A Cause, produced by Garth Porter.

Aitken says his stage name dates back to a night in a Cairns pub when a snooker ball (an 8 ball,) landed on the stage very close to him.

It was no accident that after the fracas that followed, 8 Ball had a new name.

Aitken is a well-travelled troubadour, performing three times in Fiji for Department of Foreign Affairs and Trade, and in Japan.

"The Japanese audiences love their country music. I originally went over as a cultural ambassador for the Queensland government and kept getting invited back. For many of my fans there, my music is Australia," 8 Ball said.

He toured the United States last year and then Singapore.

This year he performed The Cavern Club in Liverpool - launch pad for the Beatles - during a 2008 European tour that included BBC exposure before concerts in Finland, Poland and Japan.

Further info - www.8ballaitken.com
SUNNY COWGIRLS
The Sunny Cowgirls return to Nu Country with the video for their song Acting Stupid from their third Compass Brothers album Dust Will Settle.

The cowgirls - sisters Sophie and Celeste Clabburn - were raised on their family farm near Dunkeld in western Victoria.

Their first two albums have already sold 32,000 copies.

The girls have penned all 14 tracks on the new album, released on August 2 - there are nine from Sophie and five from Celeste.

Ten Bucks In The Glove Box was co-written with fellow Victorian born singer and fiddler Peter Denahy.
There's also a bonus track, sixties song Someday, which they perform with Adam Brand.

The duo was discovered by Compass Bros head Graham Thompson and Adam Brand at CMAA College of Country Music in Tamworth in 2005 and signed to the label that week.

The Sunny Cowgirls detail their history in a documentary made to promote their third album, Dust Will Settle.

The documentary includes interviews, footage of the girls as children, excerpts from some of their video clips, and chats with their manager and Graham Thompson.

They began performing as small children, forming a band Big Dick and the Strokers (their father's name is Richard), and jamming for friends and family.

The docco has been aired on CMC and may be released later this year.

Further info - www.sunnycowgirls.com
WIN NEW CDS BY BEING A NU COUNTRY MEMBER
TAYLOR SWIFT, JASMINE RAE & STEVE FORDE
Nu Country TV celebrates its 11th series with a brace of prizes to celebrate the CMC Rocks The Snowy festival and the national tours by superstars Brooks & Dunn, Dierks Bentley and Taylor Swift.

We have the following CDS for viewers who email our web page and pledge their $22 membership at music@nucountry.com.au

Taylor Swift - huge selling second album Fearless.

Jasmine Rae - debut CD Look It Up by the Telstra Road To Tamworth winner and touring partner of Brooks & Dunn and Bentley.

Steve Forde - fifth album Guns & Guitars by the tour mate of Brooks & Dunn and chart topper Gary Allan.

ADAM BRAND CD-DVD PRIZES
We have more good tidings for viewers wanting to join Nu Country TV and keep us on air in Victoria, Queensland, South Australia and New Zealand.

Major independent label Compass Brothers has donated autographed copies of Adam Brand's seventh disc Blame It On Eve for viewers who become Nu Country members or renew their membership.

The CD has a bonus DVD of the making of the album and the video clip of Get On Down The Road that we aired on our show.

Adam also did an exclusive interview with Nu Country TV that we broke up into two episodes during Series #10.

We have limited supplies of Adam's big selling CD-DVD so please email us first at music@nucountry.com.au so we can allocate your reward.

CLICK HERE for the Adam Brand interview from the Diary on March 3, 2008.
KACEY JONES CD, DVD, POSTER AND TEE SHIRT PRIZES
Internationally renowned country comedienne, singer-songwriter and producer Kacey Jones has given us a box of autographed merchandise for viewers and members who renew their membership.

A highlight is her acclaimed tribute disc Kacey Jones Sings Mickey Newbury that is scheduled for Australian release in July.

We have autographed collectors' copies of the CD for viewers who want to become members of Nu Country TV.

She also autographed tee shirts and posters for Nu Country members.

For your $22 membership and postage you can take your pick of Kacey memorabilia. We have limited supplies so please email us at music@nucountry.com.au first.

WILLIE NELSON EXCLUSIVE BOOK
We also celebrate Shotgun Willie Nelson's 75th birthday on April 30 with a special giveaway of his collectors' book.

We have limited stock of Willie Nelson - The Collected Writings Of A Living Legend - The Facts Of Life And Other Dirty Jokes.

The book, featuring yarns, jokes and Willie Nelson song lyrics, is the latest addition to out prize treasure trove.

It's available for viewers wanting to become members or current members wishing to renew their membership.

Please email us at music@nucountry.com.au for a chance to win a copy of this book with your membership.

MIKE BRADY MUSIC FOR YOUR MEMBERSHIP
Internationally acclaimed singer-songwriter Mike Brady volunteered to become a VIP guest host of Nu Country TV during our eighth series.

Brady hosted an episode that also featured an exclusive interview about recording the album in Nashville with expatriate Australian producer Mark Moffatt.

Mike has also donated autographed copies of his brand new CD Country To Country to viewers who become members or current members who renew their membership.

The generous singer donated his autographed CDS to attract your membership to ensure our survival.

So for your $22 membership including postage you can win Mike's CD Country To Country.

We have limited supplies so please email us first at music@nucountry.com.au so we can allocate your reward.
TANIA KERNAGHAN AUTOGRAPHED CDS
Tania Kernaghan has offered autographed copies of her fourth album Higher Ground to viewers who either become new members or renew their membership.

The album was produced in Santa Monica, Franklin, Nashville and the Gold Coast with Daniel Kresco.

Tania recorded 11 songs written by younger sister Fiona and producer Kresco on the acclaimed disc.

If you wish to be rewarded for your membership with Tania's new CD please email us at music@nucountry.com.au.

We also have other CDS in our library as rewards for your valued membership - we rely on membership for our survival.