DAVE'S DIARY - 11 /7/07 - PREVIEW OF EPISODE 6 - SERIES 8
PORTER WAGONER HEADLINES NU COUNTRY TV
Legendary Nashville star and TV host Porter Wagoner is scoring more exposure here on the eve of his 80th birthday than in his prime in the sixties.

So we're delighted Porter headlines Nu Country TV - hosted by our TV show founder Peter Hosking - this Saturday - July 14 - at 8 p m on C 31.

Wagoner's video for his revival of the late Johnny Cash's vintage song Committed To Parkview also features on Nu Country repeats on Monday July 16 at 6.30 am and Thursday July 19 at 2 am.

Veteran actor Hosking reveals that Wagoner, 79, filmed the video at the long defunct Tennessee State Prison - same locale as Robert Redford-James Gandolfino movie The Last Castle that featured Dean Miller in a cameo.

Missouri born Wagoner's producer and multi-instrumentalist Marty Stuart and his band Fabulous Superlatives also appear in the video.
Stuart, 48, produced Wagoner's new album Wagonmaster and is fourth husband of Connie Smith, 65, who auditioned with Dolly Parton for the starring role in Porter's TV show that ran for 21 years.

Dolly won the role that ignited a chart topping recording career with Porter.

But it was during an earlier marriage to Cyndi Cash - one of the late man-in-black's four daughters - that Marty obtained the demo tape of Committed To Parkview.

Both Cash and Wagoner were inmates at Parkview - Johnny for substance abuse and Porter for exhaustion in 1965.

Cash originally recorded the song with The Highwaymen in 1985.

CLICK HERE for the full Wagoner story in the Diary on June 27, 2007.

TIME JUMPERS DEBUT
Nashville super session group The Time Jumpers,
a popular fixture in Music City, also debut on Nu Country TV this week.

Our co-producer and editor Kerry Richardson sourced rare footage of the 11-piece western swing band, formed in 1998, on his recent Tennessee trip.

The band performs its own take of Roly Poly - a song made famous by Bob Wills & The Texas Playboys - and featured on their DVD Jumping Time.
The DVD releases follow the CDS On The Air and Live At The Station Inn, recorded during Monday night sessions at the famed Nashville bluegrass HQ - The Station Inn.

Dixie Chicks singer Natalie Maines revived the song on the recent all star Tribute To Tradition CD.

But we have this revered group, featuring Ranger Doug of famed trio Riders In The Sky and stone country singers Carolyn Martin and Dawn Sears, giving it a special treatment.

It also features three fiddlers Joe Spivey, Kenny Sears and Aubrey Haynie, bassist Dennis Crouch, pedal steel guitarist John Hughey, guitarist Andy Reiss, drummer Rick Vanaugh and Rick Taylor on accordion.

More info - http://www.thetimejumpers.com/
MADVIOLET
Canadian duo Madviolet named second CD Caravan after its rustic retreat at Byron Bay after its 2005 Australian tour.

The Toronto troubadours Brenley MacEachern and Lisa MacIsaac are both Libras - born on Wednesdays in October.

They wrote most of their album near Byron Bay beach and recorded it in London with producer John Reynolds.

Brenley and Lisa had an idyllic locale for writing - a vintage silver with maroon stripe 1965 Morton caravan named Greta - and crashing of waves.

Writing session matinees were sandwiched between morning bike riding and surfing and soirees of wine and fresh fish on the BBQ.

This week they act out the sentiments of their video clip I'm Your Lady from Caravan - sequel to 2004 debut disc Worry The Jury created in the New Mexico desert.
Further Info - http://www.madviolet.com/

JETTY ROAD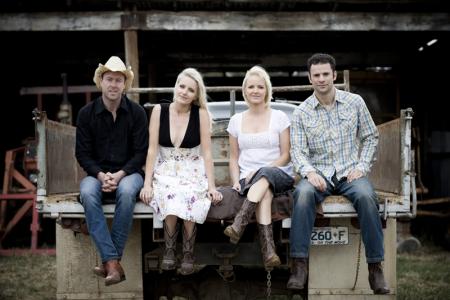 Popular Melbourne band Jetty Road returns to Nu Country with a video clip for Real Smooth Cowboy - a song penned about band member Simon Ross.

"It's definitely got a lot of him in it," says Gippsland born singer Lee Bowman who shares vocals with her twin sister Paula.

"He absolutely loves the song, and is very proud of the image!"

The quartet wrote all 11 songs on the second album Dirt Road-City Lights - sequel to 2005 debut disc Full Circle.

Real Smooth Cowboy is a stark contrast to the true-life double homicide tragedy that inspired another new song Brother Sister.

It was written after Lee learned of the background of the murders.

The band based the song on the story of a brother and sister forced by their parents to bury their siblings in the backyard after the parents had murdered them.

"The song doesn't spell out all the circumstances, it just refers to 'things of pure evil'" Lee revealed in a recent interview.

"But the story really disturbed me when I heard it. The girl involved, Luz Ricardo, is now a woman, and managed to transcend her past and is studying for a law degree. She's a real inspiration, and her courage is really what made us write the song."

Jetty Road has performed in Tasmania, Queensland, Victoria, NSW, South Australia and Western Australia this year.

The group also played the Bay Of Islands country music fest in New Zealand last year and tour from August with James Blundell, Diana Corcoran and Travis Collins and plan a Japanese tour to promote the disc.

The quartet has released three videos - Run To You and Be With You were on Full Circle.

The Bowman twins share the stage and studio with multi-instrumentalists Ross and Julian Sammut.

Further info - http://www.jettyroad.com/
SHEA FISHER
Teenager Shea Fisher's career began as a rodeo rider in South-West Victorian coastal city Portland that Dead Livers singer Marty Atchison now calls home.

Shea Fisher, now 19, is the daughter of Australian bull riding and bareback champion Eddie Fisher and barrel racing champ Joanne Fisher.

Shea competed in her first barrel race at just 3 and won many events before changing horses to music.

In March, 1998, she moved to the U.S. with her parents when Eddie was ranked in the Top 45 bull riders in the world.

They used a ranch near Roswell in New Mexico as their rodeo base before moving to Bellville, Texas, where Shea spread her wings and won Junior Barrel Racing and Goat Tying championships.
It was there, after learning to drive a pick-up truck at nine, she began to soak up the country music that inspired her latter day career.
But in 1999 tragedy struck when her dad suffered a badly broken arm and returned to Australia and settled on the Sunshine Coast of Queensland.

She combined her rodeo with singing and graduated from the CMAA Country Music College in Tamworth in 2004 and performed in Gympie and beyond.

She toured with fellow rural reared co-writer Steve Forde in 2006 before cutting her ABC-Warner Music debut album Everyday Girl in Nashville.

Fisher co-wrote six songs on her album and performs the video clip of her Forde and Matt Scullion penned single Just The Excuse on Nu Country.

It's the same week her album is released.

Further info - www.fegentertainment.com
HARMONY JAMES

Young Northern Territory singer Harmony James performs in the video clip of the title track of her CD Tailwind.

It's a triumph for the Tennant Creek chanteuse who became a jillaroo after reading Louis L'Amour western novels.

She later earned an animal science degree that landed her jobs with Department of Primary Industry where she advises graziers on feeding and breeding programs and husbandry practices
Harmony's singing and agriculture careers are much safer than close encounters with bovines in life as a jillaroo.
"I got bucked off a horse and broke my collarbone," she said.

"Just after I went back to work I got charged by two cows. That re-opened the break. It stayed broken for the next 2 years. I ended up having an operation with a bone graft, a steel plate and 7 screws to fix it."

Further info - http://www.harmonyjames.com/