DAVE'S DIARY - 4/7/07 - PREVIEW OF EPISODE 5 - SERIES 8
TEXAN TODD HEADLINES NU COUNTRY TV
Texan honky tonker Todd Fritsch chose value for money when he included 17 songs on his second album Sawdust.

So it's no surprise he provided a video for his single What's Wrong With Me for Nu Country TV - this Saturday July 7 - at 8 pm on C 31.

Veteran Louisiana country singer Eddy Raven and Roger Clemens also appear in the clip that will also be featured on the show repeats at 6.30 am on Monday and 2 am on Thursday.

Another guest artist on Todd's album is former Lost Gonzo Band co-founder and long time honky tonk solo artist Gary P Nunn - famed for his Sons Of The Bunkhouse.

Fritsch hails from tiny rural town Willow Springs and his distinctive baritone powers an album that embraces western swing, stone country two steppers and shuffles.
His other lethal weapons are strident social comment tunes If You Don't Like Country (Time To Leave) and Every Honk Tonkin' Hero (Has His Day) with Nunn.

At just 26 he has notched up more than 200,000 miles on the lost highway in just over two years of recording.

CLICK HERE for a Fritsch feature in the Diary.
DANIELLE PECK
North Carolina starlet Danielle Peck has made four video clips to promote her debut disc for indie label Big Machine.

Peck, now 28, previously released several singles on DreamWorks Nashville but an album was shelved.

But Danielle rebounded and wrote eight of 11 songs on her debut album and we chose I Don't - her debut single - to illustrate her rebirth.

Peck, daughter of a U.S. Marine, exploited a religious theme in breakup song I Don't - just like singing Texan actor Lyle Lovett has done.

I Don't speaks from a woman's view talking to her ex-lover who wants forgiveness.

"The difference is Jesus loves you, I don't," she asserts.

Danielle was born in Jacksonville, North Carolina, but grew up in Coshocton, Ohio, where the family had strong musical roots.
Her mother's side of the family travelled and sang in churches and her father's parents and grandparents were steeped in country music, playing dances in the area.

At age 16, she joined the Neon Moon Band, and played bars in Coshocton.

"I wasn't supposed to be in bars because I was underage," she recalled.

"So I had to dress older, act older, sneak in through the back door, do my show, and then slip out the back again before anyone could figure out I was underage."

Peck later left home for Nashville where she worked as a waitress at night and wrote songs during the day.

She met publisher Clay Myers, who secured her a songwriting deal with Still Working Music - a company operated by the late star Roy Orbison's widow Barbara.

Peck also made videos for chart songs Finding a Good Man and Isn't That Everything - both scheduled for Nu Country TV.

Her latest clip is for new single Bad For Me - a song penned by expatriate Australian singer Sherrie Austin.

Further info - http://www.daniellepeck.com/
DIAMOND RIO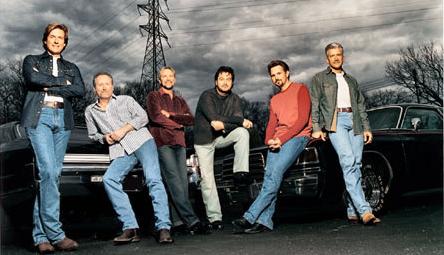 Veteran country band Diamond Rio, now celebrating 23 years on the road, continues in a religious vein with its poignant hit God Only Cries.

The song, penned by Tim Johnson, features the lyric - "God only cries for the living/ cause it's the living that are left to carry on."

The song is a highlight of Diamond Rio's Greatest Hits Vol 2 - it's ninth album in a 16-year recording career.

The sextet, one of many artists managed by expatriate Australasian Barry Coburn, has scored nine #1 hits, six CMA and Academy Of Country Music vocal group of the year awards and 10 million album sales.

The sextet began in 1984 at Opryland as the Tennessee River Boys.

Lead singer Marty Roe, now 46, was born in Lebanon, Ohio, and named after the late star Marty Robbins.

He was part of the original line-up with pianist Dan Truman, now 40, guitarist Jimmy Olander, 45, and drummer Brian Prout, 41, - husband of singer-songwriter Stephanie Bentley - and former spouse of Wild Rose singer Nancy.

The Tennessee River Boys left Opryland to tour in 1987 and hired mandolin player Gene Johnson, now 37.

And in 1989 Dana Williams, 46, joined as bassist and vocalist and the band changed its name to Diamond Rio.

The sextet had a brace of hits including Meet In The Middle, Norma Jean Riley, In A Week Or Two, Walk Away, Unbelievable and post September 11 healing ballad One More Day in 2001.

Diamond Rio scored more #1 hits Beautiful Mess in 2002 and I Believe in 2003.

But long time label Arista dumped the band shortly after releasing its second Greatest Hits disc.

Further info - http://www.diamondrio.com/
RUCKUS RISE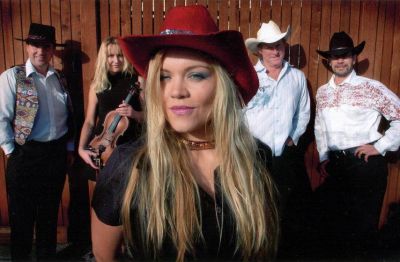 Popular Melbourne country band Ruckus, a favourite act at Nu Country TV Christmas parties and showcases, travelled to Lilydale in the Yarra Valley to make a video for its poignant song A Trucker's Wife.

The song, penned by guitarist Michael Abrey and singer Sandie Himbury, is one of seven originals on the band's second album The Other Side.

The quintet used a four-month old Century Class Freightliner semi and trailer owned by Malcolm and Dorothy Gardner, for the video.

The couple, now in their seventies, hail from Milawa in the deep north of Victoria and cover 1000 km plus each day as family truckers - a journey they have shared over 50 years.

They own another truck with a driver and have a granddaughter who is following in the family tradition on the highways and their family farm.

Australian truck builders Freightliner sponsor Ruckus and helped the band release its special-edition original CD in the February/March edition of Truckin' Life magazine.

The band, formed in 2003, features guitarist Abrey who previously played in bands with singer Himbury, Marsela Taylor, nee Koldova, on violin, bassist Kevin Lumsden and drummer Andy Costello.

Further info - http://www.ruckus.net.au/ruckusaboutus.htm
NELLIE DONOVAN
Another Nu Country TV showcase guest artist Jason Kemp also wrote Cruisin' - the song that gave birth to Nellie Donovan's new video clip.

Nellie, who shares her previous career of hairdressing with Gina Jeffreys, released the Kemp song as a single from her debut album Stepping Out.

Kemp also penned Steal My Heart Away and collaborated with Nellie and producer Michael Flanders's wife Chaise on finale song Smooth.

Her first single Sing Me An Angel, penned with Michael and Chaise, gained exposure with a Ross Wood directed video clip in August of 2005.

Donovan was raised on a Conondale dairy farm.

She is one of several Queensland artists to record songs by Kemp whose albums have sourced five video clips for Nu Country.

Jason appeared at our showcases with Arizona singer Billy Wyatt and Silver String Outlaws.

Other co-writers included Col Finley, who duets with her on Those Telephone Calls, and Robert Parde who penned Email To Heaven.

Nellie collaborated with Chaise Flanders on evocative eulogy Earth Angel to Dianne Braden who died tragically aged just 27.

Nellie's mentor Michael Flanders has also produced Josh Arnold, Tony Eales, Tanya Self, Michael Bryers, Gemma Doyle and Finley.

Further info - http://www.nelliedonovan.com/

MARKUS MEIER
Northern Territory troubadour Markus Meier is one of the first signings on Shock Records new country label.

He filmed a video for Matilda Road - title track of his EP created by prolific producer Garth Porter.

Meier, son of an outback prospector, was born at Halls Creek in the Kimberleys.

At the age of 5 Markus learned chords on his guitar from tapes in the outback before entering talent quests with brother Paul at 12.

The brothers, working as The Territory Boys, won wide exposure opening shows for artists diverse as Lee Kernaghan and The Black Sorrows.
They worked Melbourne in 2004 before guitarist Markus went home to the Northern Territory and added harmonica, banjo and mandolin to his repertoire.

His solo career was launched at Adelaide River talent quest - also a creative font for Sara Storer, Karen O'Shea and Tom Curtain.

Markus graduated from the CMAA College of Country Music in Tamworth and made the finals of the Telstra Road To Tamworth in January, 2006.

Further info - www.markusmeiermusic.com