DAVE'S DIARY - 4 MARCH 2006 - PREVIEW EPISODE 8 - SERIES 5
TROY HEADLINES PORT FAIRY FESTIVAL PREVIEW
Multi award winning Australian country music star Troy Cassar-Daley headlines Nu Country TV - Tuesday March 7 - on C 31 for our preview of the 30th Port Fairy Folk festival.

Cassar-Daley, 36, was one of the stars of last year's festival when Shane Howard and Sara Storer joined him on stage.

Lost In Suburbia bassist Peter Bird filmed the gregarious Grafton reared country star as he wowed an eclectic audience.
Cassar-Daley, who won wide acclaim for sixth album Brighter Day, performs Fred Carter Jr tune River Boy on Nu Country - 9 p m - Tuesday - and Friday 3.30 p m.

We also have an exclusive interview with famed Tennessee fiddler Andrea Zonn who performed with Grammy Award winning, Harvard educated MBA-banjo ace Alison Brown at the 2004 Port Fairy Festival.

Brown was one of the international country stars of the festival that celebrates it's 30th anniversary from Friday March 10-Monday March 13.

This year international country artists include Sarah Lee Guthrie and Johnny Irion and Canadian chanteuses The Wailin' Jennys.

Nu Country producer Sofie B beefs up her camera crew to film famed English folk guitarist Richard Thompson.

Thompson is joined on the bill by Irish singer Mary Black who has recorded seven Shane Howard songs.

Among other headliners are Howard, Queensland born country star Graeme Connors, Bill Chambers, Paul Kelly, Jane Saunders, Karl Broadie, Bushwackers, Mick Thomas, Sarah Carroll and The Audreys.

CLICK HERE for a feature on Troy, who headlined the Whittlesea Country Festival, from the Diary on January 30, 2006.
ANDREA ZONN
We feature an exclusive interview with revered Tennessee fiddler Andrea Zonn - one of the stars of the 2004 Port Fairy folk festival.

Andrea, now 38, was touring with Nashville bluegrass veteran Alison Brown - also head of her record company Compass.

Zonn co-produced the acclaimed 2005 CD Hands Across The Water - a benefit for the children of the Tsunami Disaster.
The 16 track Compass Records CD featured artists diverse as Jim Lauderdale, Darrell Scott, Jon Randall, The Duhks, Tim O'Brien, Rodney Crowell, John Prine, Lunasa, Vince Gill, Beth Nielsen Chapman, Maura O'Connell, Mindy Smith, Bonnie Raitt, Paul Brady, John Cowan and Jackson Browne.

The album also featured label boss Brown with music recorded by 100 musicians in studios as far flung as Sydney and Nashville.

Zonn was born in Champaign-Urbana - the same Illinois town as child prodigy and latter day bluegrass superstar Allison Krauss.

Her father was a celebrated professor, pianist and composer and her mother was a renowned oboist and piano teacher.

So it was natural she started playing violin at five.

"I starting asking for one when I was two," Zonn told Nu Country TV.

"I was five when my dad finally said, 'All right, I think she's serious.'

Zonn is also an in demand harmony singer and multi-instrumentalist on albums by artists diverse as Lyle Lovett, Vince Gill, and James Taylor.

CLICK HERE for a Zonn review from the Diary on April 24, 2004.
GILLIAN WELCH AND DAVID RAWLINGS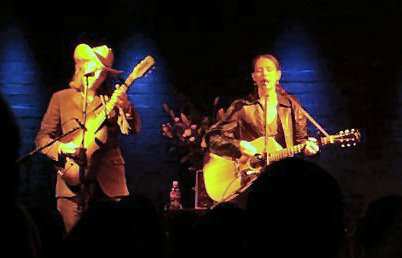 Gillian Welch and David Rawlings performed to capacity crowds on their debut tour of Australia in 2004.

The duo toured to promote their CDS Revival (1996), Hell Among The Yearlings (1998), Time The Revelator (2001) and Soul Journey (2003).

They postponed their 2005 Australian tour to record their fifth album scheduled for 2006 release.

Welch, like latter day country folkie Mindy Smith, is a New York born orphan raised by creative, caring adoptive parents.

Gillian was born in New York in 1967.

Her mother was a college student in New York, and her father was a musician. By the time she was delivered, her adoption had been arranged.

No One Knows My Name is about her birth parents.

Welch and Rawlings first won exposure here on community radio - specifically Nu Country - when artists diverse as Kathy Mattea, Emmylou Harris, Trisha Yearwood, Cyndi Boste and Tim & Mollie O'Brien covered their songs.

Those artists spoke of their discovery of their music when Welch drove around Guitar Town in a pick-up truck, loaded with their demo tapes.

"It was a 1966 F-100 with a 352 motor, three on the tree, and an eight-foot bed," Welch recalled, "you could put a whole sheet of plywood in it."

The duo perform the title track of their 2001 CD - Time The Revelator.

CLICK HERE for a Welch-Rawlings feature from the Diary on October 10, 2004.


REBECCA BARNARD HOST
Melbourne roots singer Rebecca Barnard, scheduled to release her debut solo disc Fortified for Shock on March 12, is this week's Nu Country TV host.

The singer previously released albums Way
Of All Things and Welcome with her band Rebecca's Empire.

Way Of All Things was also included on the soundtrack of Australian film Blackrock and featured on TV series, Good Guys Bad Guys.

She also performed She's Rare on The Women At The Well - a tribute album to Port Fairy festival headliner Paul Kelly.

Rebecca's Empire recorded Always Something There To Remind Me on To Hal & Bacharach - a compilation of Hal David & Burt Bacharach songs.

Barnard and guitarist husband Shane O'Mara front Rebecca's Empire with drummer Peter Luscombe and bassist Bill McDonald.
They have also toured internationally and nationally with Kelly and play Apollo Bay Music Festival from April 21-23.

Further info - www.rebeccabarnard.com
GIT RETURN
Now defunct Melbourne band Git, fronted by latter day Bellarine Peninsula singer and Port Fairy fest performer Sarah Carroll, returns to Nu Country this week.

The quartet performs Car Outside The Bar live at the Corner Hotel in Richmond with Mick Thomas's band.

Carroll, recent Nu Country host, now fronts the Junes who played Queenscliff Music Festival in November.
The Junes feature Suzannah Espie on vocals, guitar & mandolin and Glenyss Rae on vocals, fiddle and accordion.

Git won international acclaim at famed South By West Festival in Austin, Texas, and also performed in Nashville.

Sarah is the daughter of famed writer Des Carroll and singing spouse of blues singer and harp player Chris Wilson.

Further info - www.gitgals.com

THE RIDE ONS
Sydney rock band The Ride Ons also dips its toe into the most popular music genre of the new millenium.

The band, described as rock with a cowpunk edge, performs a video of Feels Alright from its Waterfront Records EP The First Cut.