PREVIEW OF EPISODE 7 - 2004 SERIES
KATHY MATTEA HEADLINES NU COUNTRY TV
West Virginia born country star Kathy Mattea headlines the seventh episode of the second serries of Nu Country TV.

Mattea, 44, shot the video in Rome for her song The Trouble With Angels from her 12th album The Innocent Years.

The dual Grammy award-winning singer wrote the title track with husband Jon Vezner whom she wed on Valentines Day in 1988.

CLICK HERE for a feature on Mattea in the Diary.
CLAY WALKER SURVIVES MS
Texan singer Clay Walker, 34, has fought a spirited battled with Multiple Sclerosis to record seven studio albums and a Greatest Hits.

The singer performs the video for his #17 hit I Can't Sleep from his big selling latest album, A Few Questions.

Walker was diagnosed with MS in 1996 after emerging from Beaumont - the same Texas launch pad as George Jones, Tracy Byrd and Mark Chesnutt.
The singer has landed 11 #1 hits - including his first two singles - since emerging on Giant Records in 1993.

Giant folded in 2001 and Walker released a Christmas album before his debut disc for current label RCA in 2003.

Walker kicked off his MS Road tour on Dallas on April 1 and will visit 15 cities before concluding in Charlotte, North Carolina, on Jun 24.

The tour raises awareness of multiple sclerosis, as well as money to find a cure.
Walker's charitable foundation, Band Against MS, recently donated $150,000 to the University of Texas in Houston for research.

More info http://www.claywalker.com/
HEATHER MYLES AND GURU
California born former jockey and latter day stone country honky tonker Heather Myles is featured in the Guru segment this week.

Myles, 36 and a five-album veteran, plans to tour here later this year.
The singer packs a 38 special and shoots straight when she sings about hurting, honky tonks and heretics.

Heather's song You've Taken Me Places I've Never Been landed in Disney movie Snow Dogs before she recorded her satirical tune Nashville's Gone Hollywood.

< Heather Myles
CLICK HERE for a story on Heather from the DIARY on February 5.

TROY CASSAR-DALEY
When Grafton born singer-songwriter Troy Cassar-Daley left Sony after winning a brace of awards he signed with Nash Chambers indie label Essence.

The singer performs the Chambers produced title track of his fourth album Born To Survive for us.

Troy, 35, has since released a fifth album Borrowed & Blue on (Essence-EMI) and plans a Victorian return tour later this year.

CLICK HERE for a Cassar-Daley story from the Diary on April 28.

Further info - www.troycassardaley.com.au

DEAD LIVERS DEBUT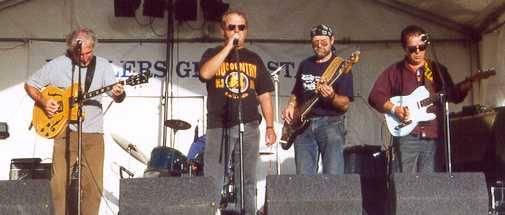 Veteran outlaw country band The Dead Livers, celebrating 26 years on the Lost Highway, perform the Marty Atchison song Lucky Tonight live from the wine tent at the 28th Port Fairy folk festival.

Nu Country video camera operators Carol Taylor and Heather Rutherford dodged Guinness toting fans to film the legendary local lads in the fading twilight.

The song is from the Dead Livers second disc Reaching To The Western Sky, recorded at Lost In Suburbia bassist Peter Bird's Yelp Studios in Warrnambool, on the Shipwreck Coast.

The band is likely to perform a Nu Country showcase at the Clifton Hill Hotel in August.

CLICK HERE for a story on the Dead Livers from the Diary on October 25.

Further info - www.geocities.com/Nashville/6385
LEE KERNAGHAN RETURNS
Corowa born Australian country music king Lee Kernaghan performs his song Something In The Water from his big selling eighth album Electric Rodeo.

Kernaghan, 40, is captured live at the Gympie Muster - without U.S. touring mate David Lee Murphy who has belatedly released his fourth album, Tryin' to Get There for Audium.

CLICK HERE for a Kernaghan story from the DIARY on March 30.

Further info - www.leekernaghan.com.au
GIT
Melbourne trio GIT perform their Suzannah Espie song Car Outside The Bar from their latest album Flowers.

The band performs live at the Corner Hotel, Richmond, when they were a quartet.

Ironically Cyndi Boste recorded the song on her acclaimed third album Scrambled Eggs - The Rose St Sessions.