DAVE'S DIARY - 27/10/2021 - ROSS NICHOLSON OBITUARY
SALTBUSH PIONEER COUNTRY OUTLAW ROSS NICHOLSON RIP AT 73
"My daddy was a timber cutter/ that's how he earned his bread and butter/ home was nothin' but a weather beaten timber shack/ the tin roof leaked a little and the chimney leaned a lot/ but it kept out the snow and the rain up at Sassafras Gap/ my mother was a great big lady/ with a heart just as big as a tree/ Daddy Jack cut down the forest by the timber track/ but she taught us all our lessons/ taught us how to read and write/ and she'd tuck us into bed every night up at Sassafras Gap." - Sassafras Gap - Bernie O'Brien – Saltbush.

Revered Melbourne outlaw country music pioneer Ross Nicholson died at 73 on October 21 after a battle with lung cancer.
Nicholson had been living at his St Kilda home with his partner Pat.
He is survived by Pat, his three daughters and several grandchildren.
Nicholson died shortly after former band mate Les Gough who passed away at 75 on September 29.
Ross and Les played in a diverse cast of country bands including stints with the Dead Livers after Nicholson toured overseas with Saltbush.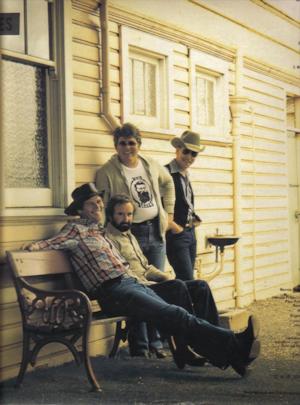 Nicholson formed Saltbush in 1971 with Bernie O'Brien, Harold Frith and Paul Pyle.
They played on Kevin Shegog's 1973 Rodeo Man album as session musicians before landing two tracks - Brown Bottle Blues and Redneck Mother on the legendary Live At The Station Hotel album on Lamington Records.
Saltbush released their first album At Twin Rivers on the Rainbird label in 1976 and won 1977 Tamworth Golden Guitar Awards for New Talent of the Year with their song Sassafras Gap.
Saltbush were opening band on Marty Robbins 1978 Australian tour and toured with Slim Dusty.
They released second album - self-titled Saltbush on EMI.
It was produced by Mark Moffatt, who played pedal steel and mandolin on the album before moving to Nashville.
Saltbush represented Australia at the second Tulsa International Music Festival with artists from Jim Halsey Corporation roster including Tammy Wynette, Don Williams, Rick Nelson, Roy Clark and Reba McEntire.
The band won another Tamworth Golden Guitar Awards for Best Vocal Harmony with their song Stranger.
Saltbush played the pub band in Tim Burstall film The Last of the Knucklemen . By 1980 Noel Watson had joined Saltbush but in 1981 they split and Ross led other bands.
WHERE IT ALL BEGAN
"Ever had that feeling, that you're gone before your time/ ever had that sense, one step over the line/ ever thought to yourself, man ain't love unkind/ ever feel too punished, for way too little crime/ draggin' myself, over coals for you baby/ shootin' myself, in the foot for no reason/ pickin' myself, up off the floor for Jesus/ and I'm way too tired, too tired to sleep." - Dragging Myself - Ross Nicholson.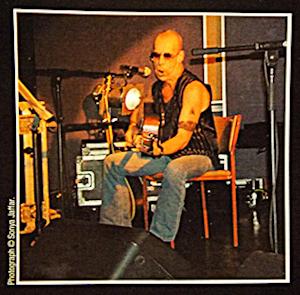 Ross was born in Riverina city Wagga Wagga in 1948 and moved with his family in 1952 to Moonee Ponds and then Essendon.
In 1956 he received a mandolin for Christmas and in 1957 saved up and bought a plywood box guitar with strings for nine guineas from Allens Music.
Next he learned classical guitar with Merle Omen in Prahran before attending Caulfield High School in 1962.
Ross and life-long school mate Michael Gay bought Yamaha six string guitars and had them converted to 12 strings by the Victorian banjo club.
They won a high school talent quest before he was expelled from school at 14 and hitch hiked around Australia.
In 1965 he worked in an advertising agency for nine months before joining record stores Discurio, Thomas Music, Archie & Jugheads and The Record Collector.
Ross also branched out on harmonica and began playing folk clubs in Melbourne and Geelong.
In 1969 he met Bobby Bright and joined Paul Pyle in a band on the 1970 Del Shannon tour before joining Pyle, Bernie O'Brien and Harold Frith in Saltbush in 1971.
They played Tamworth in 1975 and in 1976 had two tracks Brown Bottle Blues and Redneck Mother on Live At The Station Hotel album on Lamington Records.
Saltbush released debut album At Twin Rivers in 1976 and won 1977 Tamworth best new talent golden guitar for their song Sassafras Gap .
They toured as opening act on Marty Robbins 1978 Australian tour and released second album - the self-titled disc produced by Mark Moffatt who guested on pedal steel and mandolin.
After representing Australia at the 1978 Tulsa International Music Festival they won 1979 best vocal harmony Tamworth Golden Guitar for their song Stranger.
They played a pub band in Tim Burstall film The Last of the Knucklemen before splitting in 1981.
THUNDERBOX AND OLD MANY MORE
"That psycho, that psychologist/ asked me about my drinking ways/ every question that he asked me/ all related back on to my childhood days/ but if the truth was known/ I never took the drinking long, long as she was mine/ but when she left me I went to hell/ heaven was a drink of wine." - Heaven Was A Drink Of Wine - Ross Nicholson.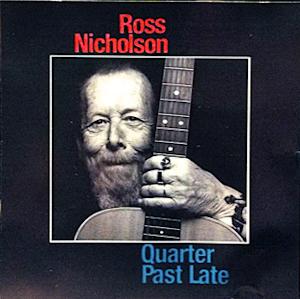 In 1982 Ross formed new band Thunderbox with Ed Bates, George Butrumilis, Paul Pyle, Harold Frith, Paul Neuendorf and Mick Holden and recorded original songs with John Coco that were not released.
He then met expat Kiwi Glenn Crosse (aka Tex Nobody ) and Craig Reeves and in 1983 formed the Road Dogs with Reeves, Dougie McDonald, Les Gough and Phil Para.
In 1985 Ross began a 12-year residency at The Esplanade Hotel in St Kilda with Spot The Aussie .
His original band included Reeves, McDonald, Gough and Simon Glozier and the second version added Phil Para, Mick O'Connor, Gavan Anderson and Steve Williams.
Others in the band included Ross Hannaford, Sam See, Chris Stockley, Dave "Chicken" Stewart, Martin Hope, Mike Brady, Steve Donald, Steve Hoy, Peter Caulton, Tex Nobody, Louis McManus, Richard O'Keefe, Andrew Clermont, Rodger Delfos, Richard O'Keefe, Brolga, A.P. Johnson & Brenda Joy, Peter Martin, Tony Fitzgibbon, Marcia Howard, Peter Linden, Lou Sholtz, Garrett Costigan, Victor O'Neil, Andrew Forrer and Peter Laffy.
In 1989 Spot The Aussie recorded Live At The Esplanade out on cassette and in 1990 cut an EP of five originals at Metropolis Studios, South Melbourne that was not released.
Ross left the band in 1993 and in 1998 aged 50 began seeing a psychiatrist who diagnosed a couple of mental disorders before writing songs again in 2002 after a 10-year block.
"The following decade was the biggest learning curve of my life," Ross revealed.
In 2008 he recorded new songs with Andy Burns - his first recording on computer and in 2010 left Psychotherapy after nearly 13 years.
After 53 years of playing solo, duo, trio and several bands he had written over eighty new and re-written songs during his semi-retirement.
Ross began recording again with co-producer Joe Hiltz in his studio with acoustic guitar and rough vocal.
"Two days later I walked into the studio to find Mark Kennedy putting drum tracks on my songs. Within an hour Quarter Past Late was born. In 2012 the tracks recorded on a shoestring and a lot of help from my friends."
He released his album Quarter Past Late in late 2014.
Ross wrote 10 of the 12 tracks.
His band featured drummer Mark Kennedy, Joe Hiltz Electric Bass, Paul Pyle - Double Bass, Gavan Anderson - Guitars and banjo, Les Stacpool Guitar, Mick Connor - Hammond and Piano, Brendan Mason Mandolin and kulele, Nicholas Lyon Violin and Viola, Genevieve Chadwick and James Gillard backing vocals and Ross on Acoustic guitars and Vocals.
The album entrée was Charlotte's Song dedicated to his youngest grand-daughter and Seamus Shuffle was named and dedicated to Ross's oldest grandson.