DAVE'S DIARY - 5 NOVEMBER 2009 - LYNYRD SKYNYRD
LYNYRD SKYNYRD
WHERE DIXIE ROCK MEETS COUNTRY
"Yes I've lost everything I've had/ but I'm not dead, at least not yet/ still alone/ still alive, still unbroken." - Still Unbroken - Gary Rossington- Johnny Van Zant-Rickey Medlocke-Hughie Thomassen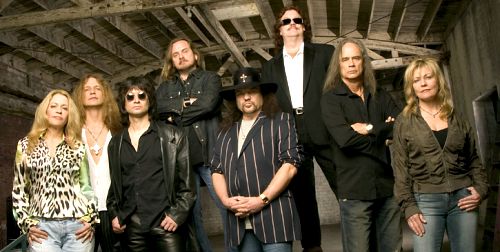 Lynyrd Skynyrd guitarist-songwriter Rickey Medlocke had God on his side during a 26-year hiatus from the band.

He joined the iconic Dixie Rock band briefly in 1970 as the drummer and was set to rejoin in 1977 when fate and his band Blackfoot saved him.

"I got invited by Ronnie (Van Zant) to travel with them for a week while they did the Street Survivors tour," Medlocke told Nu Country TV in a call from his river retreat near Fort Myers in Florida.

"I got bookings with my own band so I was not with them when their plane fell from the sky. I was doing another gig right down the road in Columbia, South Carolina. Now I'm back with the guys and I believe everything happens for a reason - I'm back where I'm supposed to be."

Van Zant, 29, fellow band members Steve & Cassie Gaines and three others died when their jet crashed on October 20, 1977 in thicket near Gillsburg, Mississippi.

It killed them and the dreams of Australian country rockers The Dingoes who were about to join them on a Rolling Stones tour.

Crash survivors Gary Rossington and Allen Collins filled the breech as the Rossington Collins Band but reformed Skynyrd in 1987 with Ronnie's brother Johnny as lead singer.

But the death toll has since more than doubled for the band that took its name from Jacksonville High School gym teacher Leonard Skinner who tried to enforce bans on long hair in the sixties.

First, Collins and Rossington flirted with death when they crashed their cars in 1976.

Collins was paralysed in 1986 in yet another crash in which his girlfriend died.

He died on January 23, 1990.

Bassist Leon Wilkeson perished at 49 on July 27, 2001 of emphysema & liver disease.

Outlaws member Ean Evans replaced him but was taken by cancer on May 6 this year.

That was just five months after co-founder-pianist Billy Powell died of a heart attack at 56.

So should Medlocke, who rejoined in 1996, feel lucky or jinxed or write a song of survival after the chain of tragedies?

The multi-instrumentalist singing actor chose the latter - Still Unbroken - for Lynyrd Skynyrd's 13th studio album God & Guns - despite another band fatality.
STILL UNBROKEN
"It was written after Leon passed away in 2001 but Hughie Thomassen, who helped write it, passed away two or three years ago too," Medlocke revealed.

"Gary found a cassette tape with the song on it. We had forgotten about it so we took it to producer Bob Marlette and he loved it so we recorded it. On New Years day we found out Ean Evans had inoperable cancer. So we sent him to Nashville to undergo treatment but a week and half later Billy Powell passed away from a heart attack. So we started the record with them last year - next thing we know we have to finish the record without these guys. We had to finish this record - not only for the fans but those two guys. I believe they would have been upset if we had not finished and put it out."

Although there have been 61 Lynyrd Skynyrd albums on the market this is only their 13th original album - the first since Vicious Cycle in 2003.
GOD & GUNS
"God and guns keep us strong/ that's what this country was founded on/ well we might as well give up and run/ if we let em take our God and guns." - God & Guns - Mark Stephen Jones-Travis Meadows-Bud Tower
So is Lynyrd Skynyrd's latest disc God & Guns (Roadrunner) a morose memento?

Hell, no - this healthy hybrid of Dixie Rock and cool country looms as the catalyst for a belated Australian tour in 2010.

"We have had great response to the record in Australia," Medlocke said.

"We have wanted to come there for so long - it's way overdue, time we come down there."

Kid Rock's sampling of Sweet Home Alabama and late Warren Zevon's Werewolves Of London in All Summer Long and Keith Urban's guest role with the band on the 2005 Grammies fanned the flames.

"Keith played with us on the Grammies," Medlocke recalled.

< Rickey Medlocke
"I jammed with him three or four nights before that in one of the arenas in my home town Fort Myers in Florida. He's quite an incredible guitar player - it's a pleasure to be on stage with him."
Time and artists such as Hank Williams Jr, Charlie Daniels and Marshall Tucker have long blurred the lines between Dixie rock and country.
VAN ZANT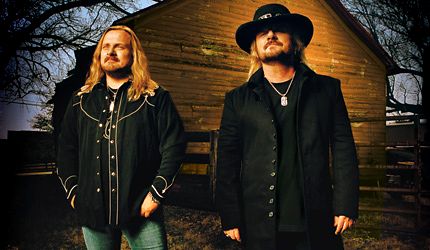 Johnny Van Zant and another brother Donny - lead singer of 38 Special - formed country band Van Zant.

The brothers, surviving sons of a Jacksonville truck driver, released Dixie rocks albums in 1998 and 2001.

They later released a country album Get Right With The Man on May 10, 2005 with the single Help Somebody.

The band went off the road when Johnny had surgery to remove a throat polyp but released another album My Kind Of Country in 2007.

New age Dixie Rock band Drive-By Truckers ignited the flames further with Southern Rock Opera - an acclaimed two-CD concept album about Lynyrd Skynyrd.

The Nashville-Florida fertilisation was cemented on Gods & Guns - the new Skynyrd disc title track.

"Nashville writers Travis Meadows and Mark Stephen Jones wrote it and turned it into our management company. They played it for Hank Jr. He decided he didn't want to do the tune so they gave it to Skynyrd. It fit us perfectly. The original sounded like an old delta blues tune. It felt natural to us. It was the only tune on album we didn't have anything to do with writing. That's cool for us - we're playing it live in America into Still Unbroken."
THAT AIN'T MY AMERICA
"Now there's kids that can't pray in school/ hundred dollar tanks of gas/ I can tell you right now this country ain't/ ain't supposed to be like that." - That Ain't My America - Gary Rossington-Johnny Van Zant-Rickey Medlocke-Brad Warren-Brett Warren.
The band teamed with Floridian born Warren Brothers, who toured here as a country duo, for sibling song That Ain't My America.

"We had written stuff with The Warren Brothers on our Vicious Cycle record - the song Red, White & Blue in 2003," Medlocke recalled.

"This is about the political correctness running rampant in our country. You can't say anything without someone correcting you. The way it is right now the country is very divided in the direction we're going in. We're not satisfied, not very happy with it. All I can do is write about it in song and let the music stand say what it is."

They also teamed with former Boy Howdy singer Jeffrey Steele for the jukebox lament Unwrite That Song.

"Jeffrey Steele has been a friend of ours for quite some time," Rickey revealed.

"We've written half a dozen or more songs with Jeffrey, On the Vicious Cycle tour he was opening shows for us with just an acoustic guitar. He played a lot of songs he had written for other artists in the past - he has written for virtually everyone. We have so many songs left over now that we wrote with a lot of people - him in particular. He's a very talented individual - we love Jeffrey. So far they're in our library but we might pitch them to others."

SKYNYRD NATION
"People out there in the parking lot/ smokin' that stuff, it's a rebel flag rock." - Skynyrd Nation - Johnny Van Zant-Rickey Medlocke-John 5-Bob Marlette.
On the disc Southern Ways - a sibling of Sweet Home Alabama - segues into Skynyrd Nation.

"Southern Ways came to us in about 15 minutes, that's the way a lot of great songs come," the guitarist added.

"We wrote Skynyrd Nation after Billy passed. We got a lot of email from a lot of people. One comment on the band web site said we hope Skynyrd Nation doesn't stop - long live Skynyrd Nation. Johnny called Gary and me and read the comment out and we said what a good idea to do a song - Skynyrd Nation. Johnny and I wanted to do sing together trading off and on - it was the perfect one to do."
MOONSHINER FLOYD
"Floyd was a trapper way back in the holler/ made moonshine so he could make a dollar/ six feet tall, dressed in overalls/ and wore himself a long gray beard." - Floyd - Gary Rossington-Johnny Van Zant-Rickey Medlocke-John 5
The band also wrote the moonshining murder narrative Floyd with rock guitarist John 5.


The story tells how G-men and deputies perish in the swamps during the hunt for Floyd.

"Floyd doesn't get taken by the gator, Floyd's too smart for that," Rickey says.

"They went to try to get him but it didn't quite work for them. It was the first tune we wrote with John 5. We knew he had played with Marilyn Manson and is with Rob Zomby now. He walked into our writing room - he has spiked hair and black fingernails. Johnny said to him - 'man you look like a freak'. He said 'you guys do too.' His folks raised him on the TV show Hee Haw. He pulled out his Telecaster and played Roy Clark better than Roy Clark played him. He showed us his idea - one riff - the opening line to Floyd and it fell together like that. We all collaborated on the lyrics."
Original members Rossington, Van Zant and Collins began in 1965 as My Backyard before a succession of bands and names morphed into Lynyrd Skynyrd in 1970.

Members left and rejoined the band and its offshoots down the years - especially after the tragic plane crash.

The current band features Damn Yankee's drummer Michael Cartellone and guitarist Mark "Sparky" Matejka - one time Hot Apple Pie member.

MOVIES AND SHATNER
So, apart from making 12 albums with Blackfoot in Medlocke's 26-year hiatus from Skynyrd what else did he do?

"In the down time with Skynyrd I wanted to do something with acting," Medlocke added.

"I got an agent in L A. doing a movie Groom Lake with William Shatner and 5 others, mainly independent films. It was good experience. I enjoyed it. I played the part of a real derelict desert rancher who believed in the whole space ship thing. It's what Shatner has always done - UFOS and space ships. It was in the desert near Area 54 in New Mexico and Arizona - it was said to house a lot of space ships that crashed. We actually filmed in Douglas, Arizona, next to Mexican border. Shatner directed and starred in it. I also did part of the soundtrack at my studio here in Florida - it was really cool. He's an interesting guy to work with, put it that way."

And so are the Lynyrd Skynyrd survivors whose air ship crashed just 32 years ago.
SHORTY MEDLOCKE
Delta blues singer Shorty Medlocke raised the Skynyrd guitarist.

"He was my grandfather who I call my dad," Medlocke said.

"They adopted and raised me - they were actually my parents. Shorty was my main inspiration. He was an old delta blues player - he went on the road with Roy Acuff. The funny thing about it is, country and blues were hammered into us."

Medlocke lists George Jones and late Johnny Cash & Waylon Jennings as his original musical rebel mentors and Vince Gill and Marty Stuart as two of his favourite modern country guitarists.

Johnny Van Zant praises Brad Paisley and Keith Urban and has affinity with former convict outlaw country singer-songwriter and actor David Allan Coe.

"David Allan Coe actually went to jail one time," Van Zant revealed recently.

"Some fan cursed Lynyrd Skynyrd, and David Allan Coe kicked his teeth in. He ran and kicked a guy's teeth in for saying something about Lynyrd Skynyrd. He actually pulled me on his bus one night to tell me this. And I go, 'Thanks, man!' Believe me, he'd do it again, I'm sure!"

But these days it's love not war that keeps Skynyrd home fires burning.

"I've been here 18 years, it's a beautiful place in south west Florida," Medlocke confided.

"We spend so much time on road that this is a real retreat. I live with my lady Stacey Michelle - a backing vocalist for Kid Rock. We have a home here right on the river."

Sweet Home Florida.