DAVE'S DIARY - 22 NOVEMBER 2007 - BONA FIDE TRAVELLERS
BONA FIDE TRAVELLERS PULL INTO HOTEL KEW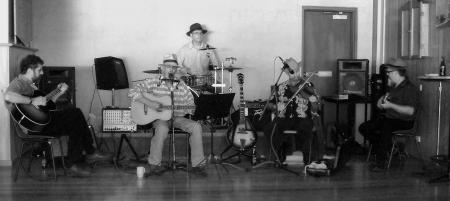 When Snowy Townsend's Bona Fide Travellers pull into clubs on the Lost Highway they don't need to flash driving licences or CVS for the guest book.

They are genuine horsemen with the notches on their guns, guitars, drums, fiddles and holsters.

So it's appropriate they ride into Hotel Kew on Sunday December 16 for the 13th Nu Country Christmas party.

Townsend's Bona Fide Travellers are a riveting roots band whose members were in the vanguard of the progressive country scene of the seventies.

The members rode in the same posse as The Dingoes, Greg Quill's Country Radio, Saltbush, Hit & Run, Dead Livers, Bluestone and many more.

Cyber chappies and chappettes might have called them alt-country if they emerged in the new millennia.

But back then the Station Hotel in Prahran and nearby Reefer Cabaret vied with T F Much Ballroom and other north of the Yarra venues in a hipper country era.

Their exploits were chronicled in magazines diverse as Juke and Ram and bi-weekly Truth before the mainstream dailies discovered the sub genre.

The Wild Beaver Band featured on Live At The Station Hotel 1976 vinyl album with The Dingoes, Myriad and Saltbush.

They performed three songs - What Am I Don' Here, How Come All You Dudes Look Like Cowboys? and Messin'Around The Town.

Townsend wrote the first song with guitarist Mick Elliott and the second with Elliott and second guitarist John Brunell.

The album was released on Lamington in 1976 and reissued by Missing Link in 1981 - another of the highlights was Dingoes song Marijuana Hell.

I fondly recall writing about Snowy - front person for One Armed Bandit and Wild Beaver Band, for counter culture bible Digger as J.J. McRoach booked country artists as a soundtrack for his historic 1977 run for the Senate as the honourable candidate for the Australian Marijuana Party.

McRoach, maiden name Peter Olszewski, gave exposure to the genre as editor of street magazines such Australasian Seed, Weed, Greed and Need, Flash and Ram before he graduated to Truth, Playboy and People where country was his music of choice.

McRoach, David Pepperell (aka Dr Pepper) and Colin Talbot embellished support of the genre with books on subjects ranging from dope, politics, yabbies, Phil Ochs, road trauma, Far East dictatorships and love.

Unlike today where the joys of the Internet ensures freedom of speech is a given this was an era where Draconian droogs hunted and hated alternative magazines.

Meanwhile back to the other party - Nu Country.
BONA FIDE TRAVELLERS - THE PLAYERS
SNOWY TOWNSEND
Graham "Snowy" Townsend, known as Snowy Cutmore by some such as Station Hotel pint-sized promoter Mark Barnes, has played in a vast galaxy of bands.

The Wild Beaver Band and One Armed Bandit reigned from the seventies and new recording act The Operators made their mark in the new millennia.

The Operators released an album and The Bona Fide Travellers have a CD featuring songs such as Willis Allan Ramsey classic North East Texas Women, It's A Long Way To Nashville and The Ballad Of Honest Sam.

Snowy was also the creative font for a seventies Bacchus Marsh country festival where his line-up was truly alternative to the matching shirt mainstream acts of the day.
Chad Morgan and Saltbush headlined the December 30 show at Bacchus Marsh Race Course where other acts included One Armed Bandit, Dead Livers, Country Ltd, Hit & Run and Country Grass.

Nu Country technician Rodger Delfos is a member of the Dead Livers and One Armed Bandit and might have a cameo - by popular demand - with Snowy at our party.

Admission was a mere $4 at Bacchus Marsh and The Age broke ground with generous feature story by Alan Attwood - latter day Editor of The Big Issue.
KEN HATTON

Ken Hatton: all things guitar and mandolin, also One Armed Bandit and The Operators, along with stints with Cash Backman, among many others, and more recently almost a decade with Dutch Tilders' Bluesicians.

Ken also did his time with Chicken De Ville - a band fronted by acclaimed artist and music poster trail blazer Ian McCausland - and famed for their Town Bike song.

Ian, who designed posters and album covers for artists diverse as The Rolling Stones, Spectrum, Aztecs, Daddy Cool, Skyhooks and Little River Band performed at a recent Nu Country Christmas party at the Bush Inn, West Toorak.
RAY CHABER
Ray Chaber: fiddle & guitar, came from New Zealand with Mike Parker (bass) with The Slippery Sam Blues Band having previously played in many top line homeland outfits.
Ray has played with Headbelly Buzzard and along with Mike were part of one of Kenny Joe Blake's line-ups.

Ray, ever the traditionalist, participates in many of the bluegrass festivals and just loves "sitting in" on ad hoc performances.

Mike also graced Melbourne stages with The Operators.

SHANE FITCHET
Shane Fitchet swung from the ropes with Detroit garage and Surf influenced indie outfits dating back to the late seventies - they included The Remains, The Fermented Heads, Total Strangers.

"The monikers say it all!", says Shane.

"I've come out of 15 years of drumming retirement to play with Snowy but my last bands were The Swing Club, an indie pop/rock/surf band fronted by two female guitarist/vocalists that consistently gained singles of the week status in Juke, Ram, Beat, and InPress in the mid to late 80's, and a brief stint in The Badarts (indie pop) both live and recording before Musicland went bust. The Swing Club's debut album ended up in some tip in N.S.W! I think that's plenty at this stage!"
YES, IT'S A FREE PARTY
Admission to our party, as always, is free to members, friends, Nu Country TV viewers and all country music lovers.

The Hotel Kew, replete with new beer garden, is located at 99 High Street, Kew Junction.
Table and meal bookings are available - Phone 98538960 - Fax 98531528

Email bookings - hotelkew@bigpond.net.au

We have special prizes including an Akubra hat and autographed CDS by Kacey Jones, Mike Brady, Lee and Tania Kernaghan, Troy Cassar-Daley, Adam Brand, Adam Harvey, Melinda Schneider, Catherine Britt and Arizona singer Billy Wyatt.

We also have CDS by Texan singer-songwriter Robert Earl Keen, Gretchen Peters and many others.

Guests can renew their membership or become new members at the lavish party.

Memberships help finance our return to C 31 for Series #9 of Nu Country TV early in December.