DAVE'S DIARY - 21 NOVEMBER 2007 - HANK THOMPSON OBITUARY
HANK THOMPSON RIP @ 82
WITH A SIX PACK TO GO AT BILLY BOB'S
BORN - HENRY WILLIAM THOMPSON - WACO, TEXAS - September 3, 1925
DIED - KELLER - TEXAS - NOVEMBER 9, 2007

HANK JOINS HONKY TONK ANGELS
"I didn't know God made honky-tonk angels / I might have known you'd never make a wife / You gave up the only one who ever loved you / And went back to the wild side of life." - Wild Side Of Life - Arlie Carter-William Warren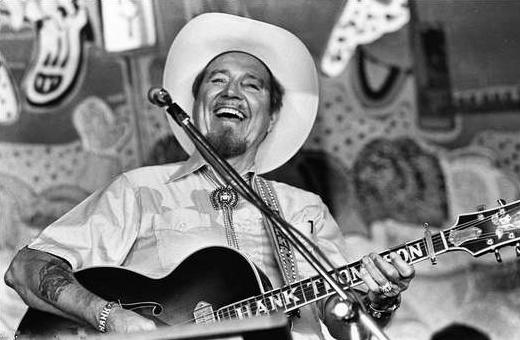 When Texan honky tonker and western swing wizard Hank Thompson died at 82 of lung cancer on November 9 it was the end of a long innings by a true trailblazer.

He was the first country star to cut a live album back in the forties and use a tour bus for transport.

Thompson was also the first artist to tour with a sound and lighting system, to receive corporate sponsorship (Falstaff Beer) on tour and record in high-fidelity stereo.

And his 1950s television show in Oklahoma City was the first variety show broadcast in colour.

Here in Australia he became known for a hit that blasted the airwaves - a honky tonk double shot.

Thompson recorded Arlie Carter and William Warren classic Wild Side Of Life that topped charts for 15 weeks in 1951 and prompted the Kitty Wells answer hit It Wasn't God Who Created Honky Tonk Angels.

The Joe Miller song featured Wells, now 88, retorting "It wasn't God who made honky-tonk angels/As you said in the words of your song/ Too many times married men think they're still single/ That has caused many a good girl to go wrong."

Her hit shot to #1 where it stayed for six weeks, and became the first million-selling country record by a female artist.

Kitty and husband Johnnie Wright, now 93, visited Australia in the previous millennia for a memorable concert with Jean Stafford at small Queensland town Comet, due west of Rockhampton.

Tasmanian born Jean and Kitty recorded a duet of It Wasn't God Who Made Honky Tonk Angels on their 1998 CD The Queens Of Country.
BILLY BOB'S AND BILLY JOE
Hank won't be the last to order a posthumous celebration of life - instead of a funeral - at his favourite cowboy bar.

Thompson, second Octogenarian country icon to succumb to lung cancer in less than a fortnight, chose Billy Bob's - the Fort Worth (Cowtown) landmark, also the biggest honky tonk in the western world.

And, like recently deceased predecessor Porter Wagoner, the singer bid adieu to two wives.
The singer, who sold more than 60 million albums, played his last concert on October 8 in his native Waco - long time home of Billy Joe Shaver.

That was the momentous occasion when Hank Thompson Day was declared by Texas Governor Rick Perry who beat Shaver sidekick Kinky Friedman in the Gubernatorial battle of 2006 - and Waco Mayor Virginia DuPuy.

Thompson, a Naval serviceman, may not have been the first to choose a career as a radio DJ in Waco as an entrée to music.

But he created more history when he wed first wife Dorothy Jean Ray on Pappy Hal Horton's radio show on Horton's KRLD radio show on April 14, 1948.

By this time, Horton's show was on an 18-station Texas network out of Dallas, where he and his new wife made their home.

Thompson made his singing debut on radio at 17 while still at high school and hosted his own shows during and after his Navy discharge as Hank The Hired Hand.

His career spanned more than six decades and he charted 79 hits in five decades, from his first, Humpty Dumpty Heart in 1948, to his last, Once in a Blue Moon in 1983.

He scored 29 Top 10 country hits from 1948 to 1975, and had 19 more in the Top 20
Hank scored widespread airplay on Nu Country FM in Australia during our radio era from 1994-2001- often on Long In The Saddle hosted by country archivists Barbara Dowling and late Lawrie Weir and Peter O'Keefe's Lubbock Or Leave It Texas music show.

In 1997, Curb Records released Hank Thompson and Friends, a star-studded duets disc on which Thompson teams with artists such as Vince Gill, Tanya Tucker, Brooks & Dunn, David Ball, Lyle Lovett, Junior Brown and Marty Stuart.

"Hank couldn't have been nicer to Ronnie (Dunn) and me," said Kix Brooks of Brooks & Dunn who make their first Australian tour in March, 2008.

"He was one of those iconic guys. He was his own man, he did things his own way, and he sure left a mark on our business."

The legacy is evident from afar.

"Hank was able to flourish with unbelievable technical production, unseen and unheard of in Nashville at that time," says Dallas-based Bill Millet, who produced Hank Thompson and Friends.

"He made a huge difference in the quality of songs and production, of actual recorded music that came out to that generation of fans. Even though he had hits with novelty songs, Humpty Dumpty Heart and A Six Pack to Go, they were songs that fit the mood of the country at the time."
JUNIOR BROWN
The most requested song here was Gotta Sell Them Chickens - his duet with fellow Texan troubadour and guit-steel slinger Junior Brown who has made two Australian tours.

And, of course, his cover of Dick Feller's epic The Night Miss Nancy Ann's Hotel For Single Girls Burned Down from the Lloyd Maines produced 2000 disc Seven Decades on Hightone and released here by Shock.

His final studio album was 2006's My Personal Favourites.

Thompson drove the country train that roared through the juke joints frequented by oil-field roughnecks and roustabouts in the 1940s.

It mixed big bands and theatrical vocalists with fiddles and steel guitars - it was meant for dancing.
The towering troubadour, replete with Stetson, silver-toed boots and rhinestone suits - and a gravelly, booming baritone voice - symbolised a brash new musical synthesis. Unlike Bob Wills and his Texas Playboys, who swung in the slipstream of Ellington or Basie, Thompson wanted his voice to drive the train.

"I want Hank Thompson up front and the Western swing sound behind me," he told The Dallas Morning News in 1997.

Thompson, like many peers, slipped from radio in the new millennia but remained in strong demand as a performer - his influence is evident in stars like George Strait and Lyle Lovett who sang Total Stranger with Thompson on the Friends album.

"Hank Thompson was a true gentleman," said Lovett in an e-mail statement.

"I feel honoured to have known him and to have gotten to sing with him. As a performer, anytime you get the chance to work with a legend is a real privilege."

But he was disillusioned with corporate country radio and its penchant for positive love songs instead of reality rooted narratives.

"I think that's the thing that made country music appealing, because it was realistic," Thompson said in 2001.

"People could identify with that. Everybody has heartbreaks. If you take that out of there, you've just sterilized it and taken out the whole heart and meat of what it's all about."
Bob Dylan told Newsweek he had never felt all that at home with the New York folk-music crowd because one of his own major influences had been Hank Thompson.
FUNERAL DETAILS
Thompson died in his home at Keller near Fort Worth.

"He was battling aggressive lung cancer," Tracy Pitcox of Heart Of Texas Country record label revealed.

"He remained conscious until the last couple of hours and passed away peacefully surrounded by his friends and family."

Thompson is survived by his wife - the former Ann Williams.

In 1970 he and his first wife, Dorothy Jean Ray, divorced.

Thompson requested a Celebration of Life ceremony rather than a traditional funeral service, and that celebration took place at 2 p.m. on Wednesday at Billy Bob's Texas, 2520 Rodeo Plaza, Fort Worth.

In lieu of flowers, Mr. Thompson's wife, Ann, asked that donations be made in Hank Thompson's name to the Heart of Texas Country Music Museum, 1701 S. Bridge St., Brady, Texas 76825.
HOW IT ALL BEGAN
CMT country archivist Ronnie Pugh reported that Henry William Thompson was born on September 3, 1925.

His parents were Jule Thomas Thompson and Zexia Ida Wells Thompson - paternal grandparents were German Czechs named Kocek who anglicised the name to Thompson.

Though the family lived on a farm outside of town, Jule Thompson was a mechanic, and his son had an interest in radio electronics.
He earned part-time money doing radio shop work in Waco during his high school days, then studied radio communications and electronics while serving in the Navy and at college extension courses from Princeton University and University of Texas which helped him earn credits toward his post-war discharge.
Neither of his parents even dabbled at music, and Thompson told writer Rich Kienzle that growing up, country was the only music he listened to and only music anybody he knew listened to.

Radio from Dallas and the Mexican border stations featured such diverse groups and artists as the Light Crust Doughboys, the Carter Family and Cowboy Slim Rhinehart. The records he preferred were country's more traditional early stars - Carson Robison, Vernon Dalhart and Jimmie Rodgers.

Then movies brought him the thrill of a cowboy who sang like Jimmie Rodgers - the great Gene Autry.

As a boy he won a case of Pepsi by playing the harmonica in a contest.

Like his hero Autry, he wanted to sing at the same time he played, so he switched to guitar.

His parents bought him a second-hand one for $4 at the age of 10 and he then began aping musical favourites such as Peg Moreland and Ernest Tubb during his years at Waco High School in the early 1940s.

Known within his family as Henry William (to distinguish him from an Uncle Hank), Thompson became Hank when he began regularly winning a Saturday morning talent contest from the Waco theatre, broadcast on station WACO as the Kiddies Matinee.
HANK THE HIRED HAND
From this, he got his own before-school 7:15 a.m. radio show on WACO as Hank the Hired Hand, singing the songs of childhood and current country favourites.

As a youth he landed gigs playing for audiences during Saturday matinees at the local movie theatre and got a flour company to sponsor his radio show.

Just out of high school, Thompson enlisted in the U.S. Navy in January 1943 at 17 (his parents had to sign for him), then he was off to Dallas for induction and to San Diego for basic training.

In the Navy, Thompson studied to be a radio operator and technician, expecting that to be his post-war career.

Discharged in March 1946, he enrolled under G.I. benefits for electrical training at Southern Methodist University in Dallas.

When he finished that course, he went home to Waco, hoping to get his old job back on station WACO.

Instead, he was rejected so he signed instead with a brand new station, KWTX, which gave him a prime 12:15 p.m. daily quarter-hour show.

For KWTX, Hank the Hired Hand became Hank Thompson - a solo singer with a guitar.

At schoolhouse dates around the Waco area, he built a band and used for their name that of a defunct area band, the Brazos Valley Boys.

Brazos Valley Rancho was his theme song at the time.

He once penned an autograph to himself on a publicity photo.

It read, "To Hank Thompson, very best of luck. Hope you get somewhere, kid!"
BRAZOS VALLEY BOYS
A local record store boss hooked him up with Los Angeles independent label, Globe Records, and for them he cut his first four songs at Dallas' Sellars Studio in August 1946.

All were songs he had written and would later reprise for Capitol Records - Swing Wide Your Gate of Love, Whoa Sailor, What Are We Gonna Do About the Moonlight and California Women.

Pappy Hal Horton's late night disc jockey show on Dallas' KRLD, The Hillbilly Hit Parade, made Thompson's Globe recordings at least regional favourites, as basketsful of fan mail and requests poured in to Horton in Dallas and to Thompson at KWTX.

Before long, Thompson was under Horton's career supervision.
For Dallas-based Blue Bonnet label in 1947, Thompson made four more recordings - two from his Globe catalogue and two new ones, A Lonely Heart Knows (later cut by his friend and booster Ernest Tubb) and My Starry-Eyed Texas Gal.

Horton lobbied the touring movie and recording star Tex Ritter to get Thompson onto Ritter's own label, Capitol.

When Hank came through Texas on a theatre tour and guested on Thompson's radio show, Ritter and Thompson hit it off immediately.

Already, an acetate demo of Thompson singing a new song, Humpty Dumpty Heart, was big on Horton's radio show, so Capitol's Lee Gillette and Cliffie Stone flew to Waco to meet Thompson, then took him to WFAA in Dallas to cut Humpty Dumpty Heart on a magnetic tape recorder.

When the new record became a national hit, Gillette encouraged Thompson to write more love songs around nursery rhymes.

They even brought him the second one, Mary Had a Little Lamb, cut along with The Green Light at Thompson's first California sessions in December 1947.

Rub-a-Dub-Dub from late 1952 was the biggest later hit of this type then A Fooler, a Faker in 1953 and Simple Simon late the next year.

Even The Blackboard of My Heart - a big Thompson hit in 1955, used childhood school days as the background for another love-gone-wrong hit.
NUPTIALS ON AIR IN DALLAS
Before the ailing Horton passed away, he arranged country music's first broadcast nuptials when Thompson married girlfriend Dorothy Jean Ray on Horton's KRLD radio show April 14, 1948.

By this time, Thompson's program was on an 18-station Texas network out of Dallas, where he and his new wife made their home.

Horton next used connections with Eddy Arnold and the Brown Brothers in Nashville to link Thompson with Nashville's Grand Ole Opry, a positive move as he was still searching for musical direction and lucrative venues.

"You couldn't come along and do the same thing somebody else was doing," he said. "You had to be original. I had a problem starting out, because I sounded too much like Ernest Tubb."

He first tried a Brown Brothers radio production, Smoky Mountain Hayride, which first aired in September 1948, and then came a short-lived early morning radio show on WLAC in Nashville.

With hits already to his credit, it wasn't hard to land a gig with the Opry on WSM radio, a move Ernest Tubb strongly encouraged and facilitated.

However, the low pay (his first appearance paid $9) and stifling musical conservatism led Thompson to leave in disgust about the same time another Hank - Hank Williams - was joining.

Whoa Sailor and Soft Lips became a double-sided Top 10 hit for Thompson in 1949, and by the fall of that year, hillbilly fans voted the young Texan as the fifth most popular hillbilly artist (after Eddy Arnold, Red Foley, Hank Williams and Jimmy Wakely).

Back in Dallas but bereft of Horton, who died in November 1948, Thompson began building his new Brazos Valley Boys with Billy Gray, a guitarist-singer from Paris, Texas.

Gray joined him in 1950 and stayed for most of the following decade.

Thompson soon found he made the bulk of his road money in dance halls, with their larger crowds and bigger gate percentages to the artists.

So in 1950-1951, the Brazos Valley Boys (for the first time) became a Western swing unit, built to play this South Western and Western circuit.
OKLAHOMA CITY
Dallas audiences were not as receptive to the new sound as he had hoped but he found a warm welcome and a new career base in Oklahoma City's Trianon Ballroom, where a young college grad from Kansas named Jim Halsey came down to manage him.

Halsey would later manage Roy Clark, the Oak Ridge Boys and others.

At the Trianon and on Oklahoma City's WKY-TV (1954-1957), Thompson and Gray honed their brand of Western swing - less jazzy than Bob Wills (who had just left Oklahoma for Dallas and later California), less orchestral than Spade Cooley and different and distinctive from popular Oklahoma bandleaders Leon McAuliffe and Merl Lindsay.

Still, he had to move beyond the raw honky-tonk of a Hank Williams or Lefty Frizzell - and even the spare sound of Thompson's own earliest recordings - if he was to keep the dance hall circuit happy. He found the sound he wanted with the help of Gray's arrangements and a procession of great musicians.

Thompson never thought of himself as a bandleader in the sense of Lawrence Welk or Bob Wills sense.

Instead, he was a featured singer with his band, and he loved to meet and greet fans at dances while the band kept playing - a habit that infuriated a lot of Texas club owners, used to the non-stop, no frills Bob Wills approach.

The multi-award-winning Brazos Valley Boys developed an identity and a repertory of its own.

Capitol cut numerous instrumentals and often marketed the recordings separately.
BILLY WALKER
Hank Thompson with Minnie Pearl

Singer Billy Walker, a young Dallas and KRLD hopeful, opened Thompson's road shows for a while and even made his first Capitol Records on tape in Thompson's Dallas living room early in 1950.

Walker was not the last major artist boosted by Thompson, who'd been helped by Tex Ritter.

Thompson was instrumental in the careers of two early female stars - Jean Shepard and Wanda Jackson who recently toured Australia.
It became a smash hit, though Thompson himself was never that impressed with the song. Kitty Wells' answer hit, It Wasn't God Who Made Honky Tonk Angels, even gave Thompson's hit a second life.

Thompson's big hit on The Wild Side of Life spawned an answer song so he tried an answer song with 1953's Wake Up Irene, the response to Leadbelly's Good Night Irene - a country hit for Red Foley and Ernest Tubb - featuring Merle Travis on lead guitar.

Travis's guitar work is evident on most Thompson sessions and he helped Thompson and Gray with suggestions for musical arrangements.

Travis eventually married Thompson's divorced first wife, Dorothy, in the 1970s, but all parties remained on friendly terms.

Thompson called himself and Travis "husbands-in-law" in stage banter thereafter.

Thompson meantime was happily married to second wife Ann from about 1970 until his death.

He had no children by either marriage.
HANGOVER TAVERN
Hank's 79 chart hits had a dominant theme - writer Rich Kienzle described it as Thompson's "rollicking, beery honky-tonk norm."

This is even more evident in his 1960s hits A Six Pack to Go, Hangover Tavern, On Tap, In the Can, or In The Bottle and Smoky the Bar.

A prolific album artist in his Capitol era, Hank cut several groundbreaking concept albums in the 1950s, and he pioneered the live country music concert album with Live at the Golden Nugget from Las Vegas (1961).

He then followed this up with other on location albums from Cheyenne Frontier Days Rodeo (July 1962) and back in his home country at the State Fair of Texas (October 1962), where he and his Brazos Valley Boys were regularly featured each autumn for years.

Thompson was also one of the first to transport his band in a bus, though he normally flew his own private plane.

Along with Leon McAuliffe, he was one of the first in country music to do so.

Thompson cut his last sides for Capitol in 1964.

He then moved on to moderately successful affiliations with Warner Brothers (1965-1966) and Dot/MCA (1967-1979), where, minus Brazos Valley Boys and dependent upon studio pickers, the emphasis shifted away from Western swing and toward the reigning Nashville Sound.
BEAR FAMILY
In the early 1980s, Thompson resurfaced on manager Jim Halsey's label out of Tulsa - Churchill Records.

About this time, Thompson moved back to Texas (first Waco, then the Dallas-Fort Worth).

And for years after Jim Halsey's retirement he handled his own more limited bookings through Thompson Enterprises.

Thompson even returned to the recording studios for Curb in the early 1990s and was honoured by one of the better multi-artist tribute albums, Hank Thompson & Friends (1997).

Germany's Bear Family Records in 1996 reissued Hank's complete early catalogue (1946-1964) - all of the Globe, Blue Bonnet and Capitol cuts (including a few never previously issued) - as Hank Thompson and His Brazos Valley Boys.

In August 2007, Capitol Records released 18 of Thompson's classic albums as digital downloads.
Having performed on seven continents, Thompson continued to record and tour into the 21st century, earning him the distinction of a seven-decade career.

Hank recently completed work on his autobiography, My Side of Life, with writer and long time lawyer friend Warren Kice who met him in 1954 in Seminole, Oklahoma.

"He was incredibly nice to his fans, including me," says Kice.

"He would literally go out of his way to meet them. At the intermission of his dances he would go table to table, seek them out and learn their names pretty quickly and call them by their names the next time. He had such an engaging personality that people were overwhelmed when they met him."

According to Thompson's Web site, the book - collated in taping sessions over the last two years - is scheduled for release in November 2007.

"Warren also captured the humour and frivolity of the humorous events mentioned above, including many colourful adventures of The Brazos Valley Boys," Thompson revealed on his web page.

"I should add that, in those days, most of The Brazos Valley Boys were good-looking, young, single and/or between steady girlfriends and marriages. It was natural for them to pursue friendships with the opposite sex, and vice versa. And it's a good thing that it was this way - otherwise our human race would fade into obscurity, like the age of the dinosaurs."