DAVE'S DIARY - 29 NOVEMBER 2003 - DOROTHY RITTER RIP
DOROTHY DOES DAILY TELE
BORN DOROTHY ALICE FAY SOUTHWORTH
PRESCOTT, ARIZONA, APRIL 4, 1915.
DIED DOROTH FAY RITTER LOS ANGELES - NOVEMBER 5, 2003 AT 88
When Dorothy Ritter died on November 5 it was the second time her death was reported in the London Daily Telegraph.

In August 2001 her celebrity was refreshed by the premature appearance of her obituary in The Telegraph.

The mistake arose after a member of staff at the Motion Picture and Television Hospital at Woodland Hills, California, arrived in Dorothy Ritter's room after a holiday to be told that she had "gone" as she had, but only to another wing.

The nurse promptly phoned one of Mrs Ritter's friends, who happened to be a regular contributor to the Telegraph obituaries desk.

Both Dorothy Ritter and her younger son John, the actor who died earlier this year, took the blunder in very good party.

Dorothy eventually died of natural causes at the Motion Picture and Television Fund retirement home in the Woodland Hills section of Los Angeles.

She had a stroke in 1987 and moved to the retirement home two years later.
DOROTHY THE ACTRESS
Dorothy Fay Ritter was an actress best known for riding the range with Buck Jones, Tex Ritter, William "Wild Bill" Elliott and other B grade western actors in the 1930s.

The daughter of an Arizona doctor ascended from waiting rooms to saddle in her home state before going to Hollywood.

She attended the University of Southern California in Los Angeles and studied acting at the Royal Academy Of Dramatic Art in London.

But it was in Hollywood she made four westerns with one of her leading men, the singing cowboy Tex Ritter in 1938, and then wed him on June 14, 1941.

She was best known as the heroine of two serials, The Green Archer (1940) and White Eagle (1941)
Her films included Trigger Pals, Song of the Buckaroo and The Philadelphia Story.
Tex and Dorothy made four films together: Song Of The Buckaroo (Monogram, 1938), Sundown On The Prairie (Monogram, 1939), Rollin' Westward (Monogram, 1939) and Rainbow Over The Range (Monogram, 1940).

Dorothy gave up acting after she married Tex, real name Woodward Maurice Ritter, and moved to Nashville.

Tex was born on January 12, 1905 in Panola County, Texas, and was one of six children
TEX THE SINGER
The actor signed to a 5-year movie deal in 1936 after attending the University of Texas for about five years, but never obtained his law degree.

Fascinated with music, Ritter did stage plays in New York and elsewhere including a lengthy run in Green Grow The Lilacs (basis for the later musical, Oklahoma).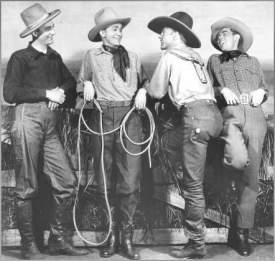 Tex is second from the left in the movie Green Grow the Lilacs
There were radio shows in Texas and in New York. Ritter was even a member of the Bobby Benson and the B-Bar-B Riders radio program.

He was doing records for the American Record Corporation in the early 1930s, and signed with the newly formed Decca Records in 1934.
TEX THE ACTOR
The collaboration of director Ed Finney and Ritter lasted the five years, and resulted in 32 B-westerns that varied in quality, content and production enthusiasm.

Ritter's first, Song Of The Gringo (1936), featured Joan Woodbury, Fuzzy Knight, Monte Blue, William Desmond and Warner Richmond. J. P. McCarthy directed.

Among these early entries was Trouble In Texas (1937), with the female lead being Rita Hayworth, then billed as Rita Cansino.

Other moves included Arizona Days (1937), Mystery Of The Hooded Horseman (1937), about a group of caped and masked raiders, with Ray Whitley and his Range Ramblers.


Also Rollin' Plains (1938) with Tex and his trail pards smack dab in the middle of a range war; and Riders Of The Rockies (1937), a tale of undercover work by the Arizona Rangers, with Ritter battling Yakima Canutt, and a rip roarin' brawl between Tex and frequent nemesis Charlie King.

Charlie King is on the left
Monogram had a singin' cowboy named Jack Randall but they needed someone with better credentials and more fan appeal.

Ritter fit the bill. The Monogram series consisted of twenty films, released 1938-1941.
At the top of the list were Westbound Stage (1939), and Take Me Back To Oklahoma (1940).

At the bottom end was Tex's finale at Monogram The Pioneers (1941) supposedly chock-full of stock footage due to California rain storms spoiling the shooting schedule.
TEX RIP IN 1974
Tex died in 1974 and Dorothy returned to California in 1981.

Dorothy is survived by her elder son Tom and four grand children.

"She was very outgoing, very charming - the sort of person who walks into a room and the energy is driven to her," Tom Ritter revealed.

"My brother was very much his mom's son," he added.

John Ritter, who starred in "Three's Company" and other sitcoms, died Sept. 11 at age 54 of a previously undetected heart problem.

John was a lookalike of Boggy Creek born Brownlow Medallist Paul Couch - a country music fan and former Geelong footballer and Seven Network commentator.

Other acting roles included 8 Simple Rules For Dating My Teenage Daughter.

He died suddenly on September, aged 54.