DAVE'S DIARY - 18 NOVEMBER 2003 - XMAS PARTY FEATURE
BARNLAID DEAD LIVERS FOR CHRISTMAS PARTY
3 COURSE MEAL - BUSH INN, WEST TOORAK
DATE - SATURDAY NOVEMBER 29, 2003.
TIME - 8 PM UNTIL LATE
ADDRESS: CR MALVERN & WILLIAMS ROAD, WEST TOORAK.
MID PACIFIC BOB MUSICAL RECIPE OF WEEK
It's a success recipe our resident Nu Country TV chef, Mid-Pacific Bob Olson, would whip up in a Californian minute - Barnlaid Dead Livers for Christmas dinner.

We're serving them much earlier - at our lavish Christmas party at the Bush Inn, West Toorak, from 8 p m on Saturday November 29.

Boroondara bluegrass band Barnlaid has been added to the highly potent potpourri as an edible entree with extra seasoning and spice.

They join veteran outlaw country band The Dead Livers, belatedly celebrating their 25th anniversary.
DEAD LIVERS - MUSIC BY 3 DEGREES

Barnlaid, entrée act at the famed Jackson St festival in St Kilda on Sunday November 16, is more than a perfect side dish for the Dead Livers.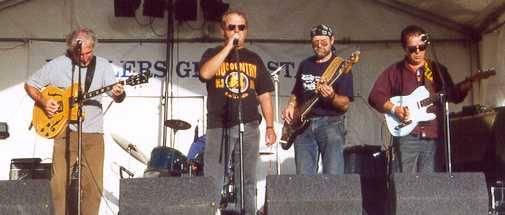 Dead Livers
The Dead Livers boast three university graduates.

Dead Livers major songwriters - singer Marty Atchison and bassist Mick Schack -earned Bachelors of Art degrees at Melbourne universities after escaping Monivae College in Western district wheat belt HQ, Hamilton, in the sixties.

And drumming raconteur Richard O'Keefe - a chamber magistrate and clerk of courts in a previous life - is a lawyer at VCAT.

O'Keefe, son of a retired Chief Inspector of Police, is celebrating his 50th birthday with guitarist Roger Delfos - Nu Country TV technician and sound mixer.

BARNLAID - MUSIC BY 5 DEGREES PLUS
Barnlaid trump the headlining Dead Livers with an impeccable pedigree of degrees and post-graduate studies.

After a thorough investigation, at our instigation and not that of the band, here are the facts.

Barnlaid members have a collective five degrees with diverse honours.

The well-read quintet's pedigree includes -
Wah-Wah Wayne - Certificate in Applied Social Science, Library Technician, Certificate in Massage Therapy
D-Kill Nelson - Bachelor of Applied Science. Major Physical Education. Bachelor of Economics.
Cath C-Bo - Bachelor of Arts.
Sue Fait-Do - Bachelor of Music (honours in Performance) Post-Graduate -Marketing.
Andrew Drum-Riser Gaynor - curator of the Town Hall Art Gallery in Burwood Rd, Hawthorn, has a Diploma in Fine Arts and Design and Bachelor of Fine Arts
BARNLAID DOCUMENTARY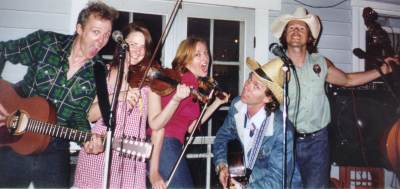 Barnlaid
Barnlaid also feature in a colourful documentary being filmed for a DVD or video.

"A friend shot rehearsal and early gig footage about two years ago," Gaynor revealed. "We have only recently accessed this footage. The performance at Jackson Street was also filmed and an interview conducted. This is planned to be edited together with a running narrative and (hopefully) will be finalised in time for us to send it to all our families as belated Christmas presents."
MUSIC CV

BARNLAID describes itself as a five piece musical scrum featuring twin fiddles, double bass, guitar, mandolin and ukulele - and, of course, pure vocal harmonies.

It has been together for almost three years.

The two girls and three guys' combined performance history encompasses decades playing in bands across Australia. Personal influences - including punk, country, rockabilly, classical, swamp, indie pop and folk - combine to give Barnlaid a distinct and unmatched sound.
PERSONNEL
Cath C-Bo Boerema (violin, mandolin, ukulele, vocals)
The possum glue what holds us togither as my toothless Pop used to say.
C-Bo was the instigator for getting a frustrated group of music exiles back together for 'one last gig, man' and (drum roll) thus was BARNLAID born. A violin virtuoso, C-Bo also sings up a storm and is a survivor of the indie-pop and folk/country circuits. She deserves mention for that alone..
Wah-Wah Wayne Drury (guitar, keyboards, vocals)
An aspirational player from Melbourne's Deep South Delta, Wah-Wah has been a core member of such infamous outfits as 'Teen Beat', 'I'll be a Bastard like my Father', 'Elvis Minogue', 'Barry Plankton' and 'The Afro Merkin All Stars'. No other words are necessary.
David D-Kill Nelson (double bass, vocals)
The handsome man in the band, D-Kill brings the necessary touch of axle grease to the group. His band list is extensive and includes two current projects besides BARNLAID, namely 'The Killjoys' and 'The Dukes of Debonair'. In his own words, D-Kill 'learnt how to slap bass and learnt how it felt to be slapped in the face by fiery women.' Handsome, handsome Dave.
Andrew Drum Riser Gaynor (guitar, ukulele, mandolin, vocals)
This boy's journey to BARNLAID runs from his amphetamine-fuelled youth punk exorcisms through to Vegas-style cabaret on showboat tours full of drunken, shameless pensioners. The scars are deep and the catch in his voice brings many a tear, not least to himself.
Sue-Fait Do Gallagher (violin, mandolin, vocals)
Don't let the ample, dimpled charms of this teenage heartbreaker fool you. There's always a line-up of starry-eyed youth down the front when Ms Fait Do summonses up the furies in her keening violin, or stares imploringly into space, singing of love gone wrong, redemption and the joys of love gone right.

For further information or promotional material, please contact Andrew on 0405 835 306, 03 9534 1814 or e-mail artandrew2002@yahoo.com.au