DAVE'S DIARY 9 NOVEMBER 2003 - KEVIN WELCH & THE FLOOD
KEVIN WELCH & THE FLOOD - CORNER HOTEL, RICHMOND

Double billing Kevin Welch with the Sydney band who accompanied him on a live disc was smart marketing.

Especially when Welch and The Flood gelled with suffice magic to prompt recording of a DVD on their Sydney reunion.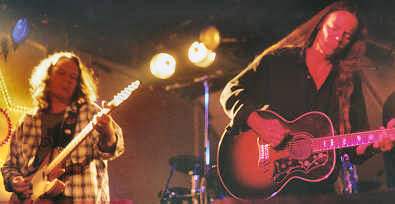 They predictably performed many tunes from Live Down Here On Earth including Welch album title track Life Down Here On Earth - the original source, with Tim Weddie on piano.

Welch & The Flood opened with anthemic Beneath My Wheels, While I Was Loving You, murder strewn Glorious Bounties (written with son Dustin) and Van Morrison's Queen Of The Slipstream.

When Welch decamped the other Kevin (Bennett) took over with Flood tunes It Felt Like Mine, Nobody On My Side, It's a Beautiful Thing and the memorable Paul Kelly's Blues.

Weddie accompanied Welch on accordion on his historic Something About You and Long Cold Train.

They delivered their tunes Always Good For Nothing, Up Above My Head, Rivers Run Deep and Mean Old World before Welch gave the audience a bonus.

The artist, on his fifth Australian tour, road tested new originals from his 500 song-plus catalogue.

Two were drawn from embryonic performances in the "knife and gun joints" of the south of Oklahoma where he played with a country band for seasonal workers from south of the border.

"It was like the main street in The Last Picture Show," Welch revealed as he recalled his days with Flat Catcher Jack - leader of that historic band.

Welch performed solo when he debuted the song with memorable hook "if I had wings" but no title, and Plenty Of Time from the same locale and era.

Weddie rejoined Welch on accordion for Anna Lise Please before The Flood returned to join Welch on John Hiatt's Train To Birmingham.

They also backed Welch on another new song The Jersey Devil.

"I thought I saw the Jersey Devil/ up the road and around the bend/ I thought I saw him dancing in his moccasins/ pissing at my back door."

Weddie moved onto organ for the joyous title track of previous Welch album Millionaire before the headliner rocked out on his riveting Kicking Back In Amsterdam.

But the climax was Welch's evocative reading of lost Woody Guthrie song, Peace Call, learned in San Francisco from Eliza Gilkyson.

The Flood proved a perfect pairing with Welch on an energetic show that belied the late nights and gruelling road miles of their east coast foray.

It was a credit that both acts remained energised - especially at later gigs after Welch learned from son Dustin of the death of his bar room buddy and song writing peer Ron Davies at 57 in Nashville of a heart attack.

See DIARY for the full details of the Welch-Davies links feature.

The Welch-Flood double bill was good in theory but an imbalance in practice with Welch having less stage time than The Flood.

But that's a cold hard fact of life when The Flood are not just bill sharers but the backing band for Welch on most of his music.

The Flood superbly complimented Welch but there was audible yearning by Welch fans for more Welch and less Flood.

And, of course, some Flood fans wanted more Flood and less Welch.

Promoter Rob Hall tried to cater for both audiences despite suffering smaller crowds than shows deserved at some venues after an amazing high profile publicity campaign for an indie promoter.

Hopefully, the public will rally to his support when he brings Welch and Dead Reckoning Records partner and live and studio cohort Kieran Kane back in March for the Port Fairy folk festival and other east coast concerts.