DAVE'S DIARY - 30/5/2023- JOY MCKEAN OBITUARY
JOY MCKEAN FROM POLIO TO IGNITE LIGHTS ON THE HILL
"It's a long straight road and the engine is deep/ I can't help thinking of a good night's sleep/ and the long-long roads of my life were a calling me/ these rough old hands are a-glued to the wheel/ my eyes full of sand from the way they feel/ and the lights coming over the hill are a-blinding me/ it's a long tough haul from a-way down south/ a man's gotta find a little bread for his mouth/ and a home for a girl as sweet as my honey can be." - Lights On The Hill - Joy McKean
The long colourful life of late singer-songwriter, yodeller and bush music pioneer Joy McKean OAM who died at 93 beside her loving family on May 25 after a long battle with cancer reads like a country hit song.
Joy suffered polio as a child, debuted on Sydney radio station 2GB at the tender age of 9 and wrote her first song at 12.
She also hosted weekly commercial country music radio shows on major Sydney AM station 2KY at the age of 18 with younger sister Heather, then 16.
The McKean Sisters were born at Singleton in the Hunter Valley and raised on a dairy farm as daughters of a pedal steel guitar playing schoolteacher and country music loving mother.
Joy learned accordion, piano and steel guitar and Heather played ukulele as they became renowned for their yodelling.
Famed Australian bush nurse Sister Elizabeth Kenny treated Joy for her polio and was honoured in a 1946 American biographical movie that eulogised her altruism despite opposition from the then medical establishment.
Sister Kenny's benevolence helped the McKean Sisters become country icons mid-way through the 20th century across the nation.
It was en era long before country was cool to a new young generation.
Joy married late country music icon Slim Dusty in 1951 and they blazed a trail as they toured the outback 10 months a year in the rain and the heat.
Their car towed a caravan and they played agricultural shows and town halls where they often sold their own tickets and cleaned the venues before and after concerts.
Sister Heather, now 91, married late country singer and TV host Reg Lindsay and toured with both national stars.
But Joy's life is not just a country song - she wrote some of the best that became huge hits for Slim and many other peers.
"I have done a lot of songwriting and I began writing when I was a child of about 12," Joy revealed to Nu Country on the eve of the all-star 2020 Concert For Joy in Tamworth.
"As all of you songwriters out there can tell me it's a hard road, really, to put into one short song all that you want to say."

It worked for the McKean Sisters in an era when late male stars diverse as Slim, Smoky Dawson and expat Kiwi Tex Morton reigned in the cities, suburbs and way beyond in remote red dirt towns, indigenous communities and arid farmlands.
ANGEL OF GOULBURN HILL
"Well, I picked up my load, hit the road on the southbound highway/ for once in my life I got the feeling that luck was all my way/ I got a clear run ahead of me still, and a load that will pay me some bills/ And I know my angel is waiting on Goulburn Hill." - Angel Of Goulburn Hill - Joy McKean.
Joy's song recipients have embraced seven decades to the new millennium where major artists including Keith Urban, Adam Harvey, Don Walker, Paul Kelly, Troy Cassar-Daley, Kasey Chambers and Beccy Cole earned the soulful singer lucrative publishing royalties.
"I am absolutely so pleased with the progress of country music in Australia and the way that women are taking such a large part in it these days," Joy revealed.
"Because in the first place women and their writing in country music was being held back in a very stilted way. Now I think that women in country music are writing what they want to write and they're singing it loud and clear."
The living proof is McKean's songs connected because they reflected reality rooted tales from Joy's journey on pot-holed and muddy backroads and humane homages.
They have long been illustrated in movies, DVDs, books, TV and radio shows, driven by the release of more than 100 vinyl and CD albums by Slim and Joy.
Joy and Slim produced over 100 albums, sold more than eight million albums and earned 45 Golden Guitars.
The McKean Sisters were inducted into the Australian Roll Of Renown in 1983 and Joy was inducted solo in 2020.
So it's no surprise that Joy won many APRA Awards for her songwriting.
Her major songs included Lights On The Hill, Indian Pacific, Angel Of Goulburn Hill, Walk A Country Mile, Biggest Disappointment, Beat Of The Government Stroke, Lady is A Truckie, Peppimenarti Cradle and Kelly's Offsider.
Joy, who also manager of Slim, expanded on her story in her 300-page 2014 memoir Riding This Road, other autobiographies with Slim and the 2020 documentary Slim And I .
But the journey doesn't end there - Joy was one of the Slim Dusty Foundation concert benefactors who bought a parcel of freehold land near his hometown of Kempsey in northern NSW to establish the Slim Dusty Centre in 2015.
Slim, AO and MBE, purchased the Nulla-Nulla Creek farm where he was raised shortly before he died after a protracted battle with lung and kidney cancer on September 19, 2003, at the age of 76.
Slim and Joy, both children of NSW dairy farmers, also raised two University educated children Dr David Kirkpatrick and singer Anne Kirkpatrick who followed in their musical footsteps as singers and songwriters.
That was long after going on the road as infants and watching shows from bush and town concert hall stage wings in cradles.
Their extended inter-generational music family began annual national Australia tours in 1964 - encompassing 30,000-mile 10-month journeys.
INDIAN PACIFIC
"From coast to coast by night and day, hear the clicking of the wheels/ the humming of the diesel on her ribbons of steel/ carrying the memories of a nation built by hand/ see the Indian Pacific span the land/ she's the pride of all the railway men 'cross country where she flies/ from the blue Pacific waters to where the mountains rise/ by lakes and wide brown rivers, through desert country dry/ see the Indian Pacific passing by." - Indian Pacific - Joy McKean
They were the subject of the Rob Stewart directed 1984 feature film, The Slim Dusty Movie, filmed in Alice Springs in 1983.
During a filming break Joy, Slim and band attended fellow bush balladeer and latter-day Northern Territory administrator Ted Egan's unfinished Alice home with its underground drink cellar dubbed Sink-A-Tinny Downs.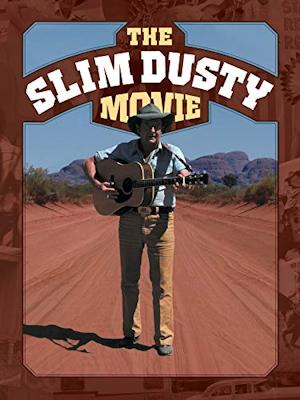 It was indicative of the couple's wry sense of humour.
Joy and Slim evoked that when they attended a Lone Star Café concert in Sydney by Melbourne outlaw country band The Dead Livers who recorded I'd Love To Have A Joint With Willie - a parody of Slim's huge hit ( I'd Love To Have A Drink With Duncan.)
Slim and Willie were photographed together on the front page of the Adelaide Advertiser after Willie, who turned 90 on April 29, adopted the song as his 1981 tour theme.
The 2020 Australian documentary film Slim and I, directed by Kriv Stenders of Red Dog fame, told their story with covers of her songs by artists including Missy Higgins, Paul Kelly, Troy Cassar-Daley and Keith Urban.
That film's soundtrack included a new McKean composition I Don't Believe You, co-written with grandson James Arneman, and his wife Flora Smith who perform in Melbourne and beyond as Small Town Romance.
WILLIE NELSON 90th ANNIVERSARY CONCERT IN VICTORIAN THEATRES
Long Story Short: Willie Nelson 90th Birthday Concert Event of the Year will be screened in 11 Victorian Theatres from June 10-16 this year.
The film was recorded live on April 29 and 30, 2023 before a sold-out crowd at the legendary Hollywood Bowl in Los Angeles.
Willie was joined by Keith Richards, Allison Russell, Billy Strings, Bobby Weir, Booker T. Jones, Buddy Cannon, Charley Crockett, Charlie Sexton, Chris Stapleton, Daniel Lanois, Dave Matthews, Dwight Yoakam, Edie Brickell, Emmylou Harris, Gary Clark Jr., George Strait, Jack Johnson, Kris Kristofferson, Leon Bridges, Lily Meola, Lukas Nelson, Lyle Lovett, Margo Price, Miranda Lambert, Nathaniel Rateliff, Neil Young, Orville Peck, Particle Kid, Rodney Crowell, Rosanne Cash, Sheryl Crow, Shooter Jennings, Snoop Dogg, Stephen Stills, Sturgill Simpson, Avett Brothers, Lumineers, Tom Jones, Tyler Childers, Warren Haynes, Waylon Payne, and Ziggy Marley.
The celebration also featured special tributes and presentations by Chelsea Handler, Ethan Hawke, Helen Mirren, Jennifer Garner, Owen Wilson and Woody Harrelson.
The house band was led by Grammy Award-winning Music Director Don Was and featured Audley Freed, Benmont Tench, Gabe Witcher, Greg Leisz, Mickey Raphael, Terence Higgins, Tom Bukovac, Alfreda McCrary, Ann McCrary and Regina McCrary.
The concert film highlights from across two nights of shows with full performances and special guest presentations.
The theatres are listed below.
Please contact them for screening times and dates.
Palace - Astor Cinema - St Kilda
Palace Balwyn
Palace Brighton Bay
Palace Como South Yarra
Palace Kino Melbourne
Palace Pentridge Coburg
Palace Westgarth Northcote
Regent Cinemas Ballarat
Sale Cinema Sale
Thornbury Picture House
Wangaratta Cinema Centre