DAVE'S DIARY - 3 MAY 2009 - KARL BROADIE
KARL BROADIE - NOT LOST IN AUSTIN
"You're the one good thing in my life/ my reason in the mornings to rise/ I'll fall down at your door and apologise/
You're a sight for sore eyes." - Sight For Sore Eyes - Karl Broadie-Craig Ross
When Karl Broadie toured Australia with Patty Griffin in 2007 it was the catalyst for a U.S. songwriting sojourn.

The expat Scottish singer-songwriter shared the Austin home of the multiple Grammy nominee during his Texas trip.
There were several extra bonuses - Griffin introduced him to her former producer Craig Ross.

Ross produced Broadie's fourth album Branches and also wrote two new tunes with the Edinburgh born balladeer.

Griffin's house hosting roles included introducing him to other Texan writers, taking him to historic gigs and famed East Austin Mexican breakfast eateries.
Broadie's trip also including writing with artists including recent Australian touring partner Kim Richey.
Ohio born Richey performed with Broadie, Felicity and Flood singer Kevin Bennett on her second Australian tour in April.

Griffin, 45 and an eight-album veteran, was generous with her hospitality during Broadie's two-month songwriting mission in Austin and Nashville.

She began cutting her new disc in Nashville at the Downtown Presbyterian church with touring partner Buddy Miller shortly before he had a triple heart by-pass operation in Baltimore on February 20.

Griffin, Emmylou Harris and Shawn Colvin were on tour with Miller, 56, as 3 Girls And Their Buddy when he had a massive heart attack.

That was several months after Broadie stayed at the home of Griffin who earns a healthy living from other artists' covers of her songs and use in movies and TV series.

"I stayed in her music room where she set up a bed for me," Broadie, 39, told Nu Country TV.

"She then took me to meet her friend Craig. When I met him I put two and two together that he was her producer. We got on really well and he became my producer."

Broadie wrote two songs with Ross but none with Griffin.

"But we did jam together in Craig's studio," Broadie said.

"She also took me to the famous Broken Spoke in South Austin to see a great western swing band and these Mexican cafes for breakfast."
CRAIG ROSS
"Scattered on black plains, scattered on wind/ after the venom comes out, the fever begins." - This Lullabye Is Mine - Karl Broadie-Craig Ross.
Equally importantly she encouraged Broadie to write two songs with Ross.

"I came up with the idea for Sight For Sore Eyes and he helped put it together. He made them what they are."

Broadie said the song about a woman who steered a man in the right direction, was inspired by his partner.

"It's very personal," Broadie confessed.

"It's about the same person who has done all my art work, my partner Simone."

Broadie, reluctant to reveal sources, conceded This Lullabye Is Mine - his second collaboration with Ross - was more historic.
"That stretches back to my time in Edinburgh," says Broadie who arrived in Australia in 1997 after living with his mother in London for 14 years.
Broadie's father Barry, an Oxford refugee and well-known artist -teacher, split with Karl's mother when he was six.

"A lot more information arrives eventually. I have never spoken to anyone about that. Yes, it's a type of therapy."
BETRAYAL

"Angela said her last goodbyes in a letter/ wounds can heal they say/ but there are no miracles today." - Angela - Karl Broadie
Broadie's album features songs that date back to his childhood and cover diverse shades of love from betrayal in Wish to the melancholia of Angela and Tattoo and the metaphoric sting of Thorn.

"Angela dates back about 10 years," Broadie revealed of one of the six solo compositions on his disc.

"I found it hard to write. People who listen to an album and don't know you might expect you to be a dark person. But generally when you catch me on the street I'm happy. I like to leave songs open to interpretation. Tattoo is a mixture of bunch of people. In Thorn I was writing about a situation I was unhappy with. It was personified in the relationship."

So was Wish a cheating song - one of the staples of country?

"It was about living a lie and not being proud if it," Broadie conceded.

"It could be betrayal or a number of things."
DEL CASTILLO
"You said everything would be rosy/ but it took me a while to realise/ what you meant by that/ you'd be a thorn, thorn in my side, thorn in my side." - Thorn - Karl Broadie.
The singer also has a vast catalogue of songs written in Austin and Nashville.

Broadie also wrote with Mark and Rick Del Castillo from Texan band Del Castillo.

Del Castillo, a Latin American band from Kris Kristofferson's Gulf of Mexico hometown Brownsville, recorded four albums - one has a duet with Shotgun Willie Nelson on I Never Cared For You.
"When I wrote with them I had no idea who they were," Broadie confessed.

"They were really cool guys. I walked in the front door and they had this drum kit miked up in a beautiful studio in their home in South Austin."
KIM RICHEY
"Hills are rolling the sun is high/ the grass is greener on the other side/ come on what do you say?/ we could leave today/ grab your coat, you're coming with me/ the apple only grows if you plant the seed/ let the branches sway, it's nature's way." - Once In Your Life - Karl Broadie-Kim Richey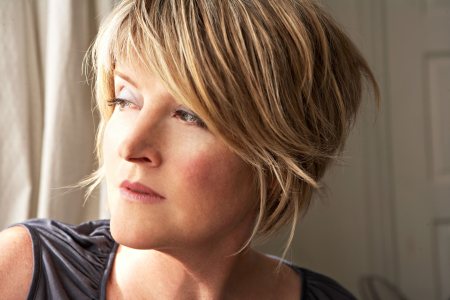 Another month of writing in Nashville spawned two songs with Richey, 53, who has released six albums and landed her songs in a brace of movies and TV shows.

So will the writing with Richey complement Broadie's movie and TV show CV that includes a song in TV series Smallville and Australian movie Love In The First Degree?

"My publisher Chrysalis organised for me to write every day for four weeks," Broadie explained.

"On day one the guy cancelled because he was out of town and they contacted Kim Richey. I thought are you kidding me? One of the songs I wrote with Kim - Once In Your Life - she has also recorded for her new album Wreck Your Wheels. It's a stunning version."

Broadie's version is on the market first.

"I was singing the title before I went away," Broadie added.

"It was embryonic, what have I got to lose, maybe we only pass this way but once. So we took that idea and added a chorus. Kim jumped on it straight away. You have to be cautious jumping into adventure but then you get up and dance."
UNCLE BILLY
"Take your shadow with you, and close the door/ turn up your radio, and leave me alone." - Drink The Whole Bottle Down - Karl Broadie-Kim Richey

The session was so successful Broadie and Richey wrote Drink The Bottle Down.

"She came and picked me up and went to her house in Nashville and we wrote it. A few weeks ago she was in Australia, stayed with me and we wrote another one - Oh Proud Heart. I reckon I'll cut on my next record."

Broadie said Drink The Bottle Down reached back to an uncle. "Kim and I both had stuff going on - not just personal," Broadie recalled.

"Just a few stories thrown into the one song - we were able to help each other with that.

It's a very heavy song, inspired by bad situation. I tried to save it but didn't work. It dates to childhood in Edinburgh. It was also about Uncle Billy - a great man who taught me so much about life. But he was a chronic alcoholic, tragically gone now."
NASHVILLE
"You told me i was special/ cause you were shy/ as you printed a black love heart on your thigh/ only soul ever gonna look at this is you/ take away my blues." - Tattoo - Karl Broadie
Broadie's Nashville writing stint was a solid month of writing each day - mostly in the Chrysalis publishing office.

"It was alien to me, writing every day," Broadie recalled.

"There are four to eight rooms of writers co-writing. So there are hundreds of songs written each month there. They pick the best and then record demos of them. I went to the kitchen and spoke to a guy from Marilyn Manson who was writing with a guy from Lynyrd Skynyrd.

They cover all genres."

Broadie wrote with a vast cast including Kacey Bowles, King Billy, Chris Jansen (husband of Hank Williams granddaughter Holly Williams) and Trent Dabbs.

Dabbs, a singing actor from Jackson, Mississippi, recorded with late bluegrass king Bill Monroe's granddaughter Ashley in the duo Monroe-Dabbs and was in bands Always Sunday and Kelly Wingate.
"I wrote with Trent in the day time and then went to his CD launch party a few nights later," Broadie revealed of the singer who appeared in the movie Communication Breakdown.

"He was really charismatic live."
EXPATRIATE TRIUMPH AND TRAGEDY
"Some days my reflection's like glass/ some days the mountain's shaking/ I'm in two minds about one heart breaking." - One Heart Breaking - Karl Broadie.
But Broadie's triumphs were tempered by tragedy - death of his Nashville host, expatriate Australian singer-songwriter Bruce Holloway.

"I stayed with Bruce the entire time I was in Nashville," Broadie revealed of the singer from Buderim who performed in Australia in duo Holloway Street.

"I wrote some beautiful songs with him. He made my whole Nashville trip what it was. But a few weeks ago he was killed tragically."

Holloway died on April 17 in Nashville when an alleged drunk driver's car struck him as he was riding his motorbike into his driveway.

Tasmanian born Holloway, 49, and duo partner Colin Street, known as Holloway Street, were living in Nashville, chasing their dream.

It was two decades after the singer's Tasmanian band Reckless Hearts cut an EP for Victorian promoter Glenn Wheatley's Emerald City Records label.

That was during an era when they opened for artists diverse as The Black Sorrows and John Farnham.
The singer arose from the ashes of Reckless Hearts to form the duo Holloway Street and release a self titled album in 2005 and the singles One Lightning Flash, This Morning and Zoe's Song.

HOLLOWAY CAPITAL NEWS OBITUARY
National magazine Country Music Capital News detailed the progress of Holloway and Street in its May issue.

Here is an excerpt of editor Mike Smith's obituary.

"Holloway and Street moved to Nashville in 2006 - they signed to White Zone Music Publishing in 2007.

They had written and submitted over 100 songs to White Zone by December 2008.

Bruce had regular writing sessions with emerging artists each week, and a number of songs recorded.

He was writing with Australians as they came to Nashville to write for their new records.

Aussie Kane Harrison cut Bruce's song The Moments that hit radio in Australia in November 2008.

He also had several original songs on hold with major U.S. artists including Gary Allan.

Bruce was already in love with Mary Loving whom he had met on a trip to Nashville some months before and who had travelled to Australia to holiday with him.

They were to be married in June 2009.

According to his publisher - well-known expat Australian producer Mike Flanders - Bruce was close to breaking into Nashville as a major songwriter.

At 6pm on Friday 17 April, Bruce called Flanders and said 'Mate, I have just written the best song of my life.'

One hour later he was killed by a drunken driver as he was entering his home driveway on his motorcycle.

The last song Bruce Holloway wrote was eerily titled The Last One.

And in another terribly sad footnote, Mike Flanders recorded Bruce on the Thursday before his death with his new song Spin - a song Bruce had written for his fiancé Mary that he was to play at their wedding in June."