DAVE'S DIARY - 17 MAY 2004 - JOLIE HOLLAND
"I used to be an angel, now I'm just like everybody else/ I left my wings in the gutter and my halo's lost, dusty on a shelf" - Poor Girl's Blues - Jolie Holland.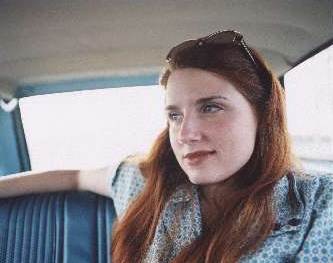 Jolie Holland
When Houston born country-blues singer Jolie Holland celebrated her 28th birthday in San Francisco she had three musical saw players honouring her big day.

Holland was so impressed she hired Enzo Garcia to play on her second album Escondida (Anti-Shock.)

"At my birthday party I had three musical saw players playing Happy Birthday in unison," Holland told Nu Country in a call from San Francisco.

"I didn't ask them to play or bring their musical saws. There are a gazillion saw players in my scene, live right in middle of San Francisco."
BANJO CIRCA 1867
Holland also hired a rural musician with an 1867 banjo.

"Keith Cary is an amazing musician, an instrument restorer," Holland revealed.

"He played his grandfather's banjo made in 1867. It has a low plunky sound, really cool.
He also played mandolin and upright bass. Keith's a guy I know out in the country, from this little bitty town up north - Winters, California. He's fantastic. He has a band called the Joy Brothers - a hokum band. He also played in a band with Robert Crum called the Cheap Suit Serenaders. My boyfriend lived in Robert Crum's house so Keith played with Robert Crum as well."

Holland plays guitar, piano an ukulele, Dave Mihaly drums and bells, Brian Miller is on electric guitar, Asa Anderson is on trumpet and Paul Scriver is on soprano saxophone.

She founded Canadian folk band, Be Good Tanyas after often travelling from Texas to New Orleans as a teenager before settling in Vancouver.

But after writing and singing on their debut disc she left Vancouver for San Francisco when she fell in love.
SAN FRANCISCO - LOVE IN HER HAIR
"Yeah, I guess I did fall in love, I guess it's my job as a love song writer," Holland joked, "I have to fall in love all the time.'

And that was one of the reasons she left the Be Good Tanyas midstream.

Despite that Be Good Tanyas singer Samantha Parton shot the esoteric front slick photo for Escondida.

"She actually took that last summer in Canada," Holland recalled, "we see each other all the time.
I was the original songwriter and I named the band. There was Trish and me. I wrote half the songs."

One of those songs Littlest Bird was reprised on Holland's debut solo disc Catalpa and was used in the Malcolm McDowell movie The Butcher.

"It's also in a Hilary Duff movie," Holland revealed, "the filmmakers were familiar with the song and wanted to use it. It's coming out in about a year."

Holland captures the wanderlust of Dylan and peers in her oft-covered song.

"Well, I feel like an old hobo - I'm sad, lonesome and blue," she sings "I was fair as a summer's day/ Now the summer days are through/ You pass through places/ And places pass through you/ But you carry them with you on the soles of your travelling shoes."

The prolific writer also included an instrumental she wrote at the age of six on her toy piano on Escondida.

"I was 15 when I started writing songs with words, pop songs," she said of a career that found much song inspiration from her time working in bars.
BAR SONGS
"I was working as a waitress in Howards Diner when I wrote Old Fashioned Morphine," Holland recalled, "I also came up with arrangement for Mad Tom on a waitress shift. I just kept it in my head. Most of Catalpa was recorded right after a waitress shift."

Catalpa was compiled by a filmmaker friend and originally only intended for sale at gigs and on her web page.

"I was offered $25,000 for the rights but I declined the offer," Holland said, "I'm glad I kept the rights."

But it was another bar where she sang and played piano that produced her second album entree Sascha and other tunes.

< Jolie Holland at age 14
"I work in bars, that's a good part of being a musician," she added, "there's a great bar in San Francisco that I really love, The Rites Spot. It's like a home to me. I had a steady gig there for four years straight. I had a band Little Boris & The Shoes and played in a lot of different groups there and also as a solo artist."

It was where she gained inspiration for songs diverse as Goodbye California and Black Stars.

"I used California as a metaphor for everywhere in that song," Holland says, "I can't imagine wanting to live anywhere else. It's a song about my life and seeing something outside of it."
But it was a mentor - not a bar that inspired Poor Girl's Blues.

"I was out on the road on my own for the first time, I was into Bob Dylan at the time," she said, "I can really hear Bob Dylan in there. I was 20 when I left the south for good."

Holland plans an Australian tour in January after three tours of Europe and the U.S. in 2004.

"I'm always writing, I've got a lot of songs, enough for a couple of new albums," Holland says.
HOUSTON WESTERN SWING
It's a long journey for Holland whose two great uncles Bud & Bud - The Hooper Twins - ran a Houston western swing club from the fifties that hosted gigs by acts diverse as Bob Wills & The Texas Playboys, Cliff Bruner, Johnny Bush and Willie Nelson.

"My great uncles had this western swing club," Holland recalled, "my uncles played with Bob Wills. They weren't in his Playboys. They played the club. I have seen photographs of them all on stage. Now they're in their eighties and only play benefits for the volunteer fire department and other worthy causes. Last time they had a 92 year-old piano player who played with Bob and a 94-year old who gets up and sings."

That's roots music longevity - Texan style.