DAVE'S DIARY - 12 MAY 2004 - ALISON KRAUSS REVIEW

ALISON KRAUSS & UNION STATION
LIVE (ROUNDER-SHOCK)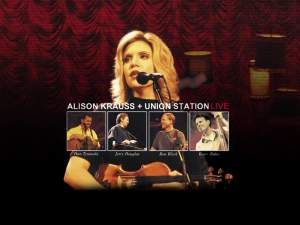 Alison Krauss & Union Station Live - CD/DVD Cover
When Alison Krauss was divorced from musician Patrick Bergeson in 2001 after a four-year marriage she had two families to return to.

There's son Sam, 6, whom she takes on the road when not sharing her Bavarian style Franklin stone mansion bought from the ex wife of a fiddler.

And her band Union Station, with whom she shares swags of awards, including 18 Grammies - making her the leader in her gender.


The Illinois born child prodigy and singer was a huge star before O Brother swept Union Station beyond their siding.

Guitarist Dan Tyminksi, the voice of Man Of Constant Sorrow, did his time in the Lonesome River Band, until he joined Alison in 1994.

And, with Barry Bales and Ron Block on banjo and guitar for Alison for more than a decade, Dan also fronts his own band.

< Alison Krauss
This 25 track double CD and DVD, recorded on April 29-30 at the Louisville Palace, is a sweet snapshot of her career dating back to her recording debut at 16.

It also enables new kid on the station - dobro veteran Jerry Douglas - to add his stamp.

For Krauss, now 33, it's fitting that her 10th album is also best value for old fans and those who discovered her through O Brother.

She saves her cut of Don Schlitz-Paul Overstreet tune When You Say Nothing At All - a hit for the late Keith Whitley - till late in the concert where she also revives Bad Company classic Oh Atlanta.

But she kicks off with Robert Lee Castleman tune Let Me Touch You For A While, segues into an instrumental cut of Douglas's Chocktaw Hayride and returns to the second of three Castleman tunes The Lucky One.

This enhances Castleman royalties and also showcases the singing of Tyminski on the Louvin Brothers Tiny Broken Heart and Bright Sunny South.

Three part harmonies by Alison, Dan and Ron Block on the Cox Family's Broadway and The Boy Who Wouldn't Hoe Corn are joyous.


A stark contrast to the vocal collaboration of Krauss, Tyminski and Bales on haunting Hugh Prestwood tune Ghost In The House and Alison, Dan and Ron on Mike Settle's But You Know How I Love You.

A new tune for Krauss but once cut by Bill Anderson and Dolly Parton.

< Alison Krauss and Union Station
Krauss leads four part harmonies on Down To The River To Pray, cut live on Austin City Limits, but plays second fiddle while Dan sings on career song Man Of Constant Sorrow.

An ideal present for city folks afraid of climbing too high in the mountains.