DAVE'S DIARY - 29 MARCH 2021 - BILL JACKSON CD FEATURE
CD FEATURE 2021
BILL JACKSON
The Wayside Ballads Volume 3 (Laughing Outlaw Records)
BILL AND ROSS JACKSON HONOUR SHEARERS
"The unionising shearers came down on all the scabs/ held siege at Brookong Shearing Shed till it all turned to bad/ the fighting and the riots lasted all day long/ the coppers led away ten martyrs from Brookong/ two years of time in Goulburn gaol hard labour to his like/ befell poor William Jackson and his brothers of the strife/ you can whip us you can jail us but it won't be lasting long/ a change is surely coming you can hear it in the songs." - The Shed - Bill and Ross Jackson.
Melbourne singer-songwriter Bill Jackson explored his family roots to source the first single and video from his seventh album.
Bill and Vietnam veteran brother Ross wrote The Shed about great grandfather William's jailing for his role in the 1888 Brookong Station shearer's strike near Lockhart in NSW.
"The shearers strike at Brookong was one of the first," Albury born Bill told Nu Country TV.
"Our paternal Great Grand Father William Jackson was an active participant and became a founding member of the Australian Union Movement."
The Jackson brothers honoured William in their song and video promoting their album produced by Dingoes and Country Radio graduate Kerryn Tolhurst.
William is featured in the 9 Martyrs sculpture in Walter Day Park commissioned by Spirit of the Land Lockhart Festival, Lockhart Shire Council and funded by Festivals Australia.
The 9 Martyrs was installed in October 2008, commemorating 1888 Brookong Station Shearers' Strike and confrontation between shearers and pastoralists, known as the Wool Kings .
The discs represent the nine shearers imprisoned with hard labour for being "riot" organisers.
Alexander Armstrong, William Blair, James Casey, Alfred Collins, William Jackson, Bryan Lee, John Parker, William Tyson and John James Woodcock were known as martyrs to the union cause.
Vertical bars joined to the discs represent "time behind bars". Hot punched holes, handmade bolts and tenor joins depict the construction techniques of the era.
Three vertical poles symbolise pastoralists, known as the Wool Kings .
The tallest represents William Halliday, owner of Brookong Station at the time. Two rings encircling the martyrs and supporting the Wool Kings represent money and wages the issues of the strike.
Incomplete rings symbolise unresolved outcomes.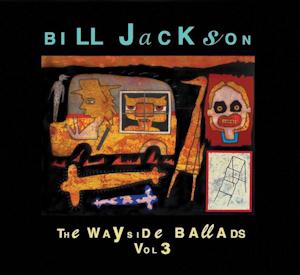 The effect of the Brookong riot spread throughout the country culminating in the 1891 strike in Barcaldine, Queensland, and the formation of the Labour Electoral League, now the NSW Labour Party.
OK that's a little history.
What about the rest of the album promoted by The Shed video on Nu Country TV on Saturday April 3 at 9.30 pm on Channel 31/Digital 44.
The Wayside Ballads Volume 3 on Laughing Outlaw Records is released on April 19 and launched at Brunswick Ballroom on June 3.
SONS OF GIPPSLAND AT WAR
"They rode in from the stations and down the haunted hills/ from the mines and dairy farms rural towns and timber mills/ from Neerim South and Thorpdale, Bairnsdale and Bullumwaal/ Sale, Maffra and Stratford, Ruby, Outrim and Warragul/ horsemen young and daring skilled bushmen one and all/ on mounts hardy bred and rangy bound for the Transvaal War/ they sat the saddle proudly as only horsemen can/ who rode before they walked and as children worked the land." - The Sons Of Gippsland - Bill and Ross Jackson.
The Jackson brothers expand on the nation's historic prisoner roots in their entrée Convict Blood that details the denial of some migrant pioneers of their reason for landing here.
It's a salient segue into the sins of a couple of centuries time travel in That's Why I'm Here that precedes The Shed.
"My country has good form going a long way back around neglecting human rights," Jackson explains.
"The politics of fear is an old and proven card to play and there are no winners - just more suffering."
The singer's family journey from Albury to Sale in Gippsland enabled him to extol virtues of more pioneers in Sons Of Gippsland .
"The Boer War 1899-1902 saw many young men from cities, towns and rural districts join the war against the Boer Republics ," Jackson recalled.
"This was a mounted war over vast tracts of land against a wily enemy. Gippslanders featured heavily."
Jackson punctuates his war songs with a songwriter's battle with the bottle to finish whiskey fuelled tune - Cut And Run .
Then it's back to historic overseas conflicts for Summer On The Somme that reaches into Jackson's latter day home in Macleod.
"Bringing the futility of war into sharp focus, the Great War devastated Australia and robbed her of the fittest and brightest," Jackson explained.
"The song focuses on the Cenotaph of a Melbourne suburb."
Eltham is name checked in the song as the cenotaph locale.
THE BALLAD OF BILLY AND ROSIE
"When Rosie met Billy this ballad got born/ young and restless in a country at war/ and their love gave birth to a chain of events/ Rosie a farm girl and a beauty they say/ Billy drove trucks till the war came of age/ and their lives got entwined to the bitter and the worse/ I'm sure there were happy times four babies got born/ but times were hard and Billy got torn/ so he drank his way through a life of self destruction." - The Ballad Of Billy And Rosie - Ross and Bill Jackson.
The singer personalises his family history again in The Ballad Of Billy And Rosie with credible clout.
"Children of the Great Depression whose love was forged in the cauldron that was WW11. You do not choose your parents and you cannot change the events you inherit through them. I don't think I would because it's my story."
Jackson lightens the mood with I Take My Whiskey Neat - not a direct ode to the late A P Johnson and many peers - but a thinking as well as drinking song.
He also gets Biblical in Jesus Take The Wheel that punctuates two Ned Kelly clan parables.
"The story of a person who gives a down and out beggar on the street some small change to make himself feel guilt free," Jackson explains.
"The line 'Oh Jesus Take The Wheel' was hijacked from a movie."
That solace enables Jackson to dig deeper in his song about bushranger Ned Kelly's mother Ellen - She Rode Like The Wind - and the gallows thoughts of mother and son in the fitting finale Worth Our Due.
It always helps to have sources provided by seasoned songwriters so listeners and readers are not led down the wrong path to Eden or beyond.
And it enables this writer to list the lockdown session serfs headed by Tolhurst on mandolin, lap steel, keyboards, percussion and guitars.
Jackson adds acoustic guitar and harp to the disc dedicated to late peer and Rhode Island born tourist David Olney who recorded Bill's song Something In Blue.
Olney, who released more than 22 albums, died of an apparent heart attack during a performance onstage at 30A Songwriter Festival in Santa Rosa Beach, Florida, on January 18, 2020, at the age of 71.
He was in the middle of his third song when he stopped, apologised and shut his eyes, according to fellow musician Scott Miller, who was accompanying Olney.
Other album guests include fiddler Greg Field, upright bassist Stephen Hadley, guitarist Shannon Bourne, Mischa Herman on pennywhistle and Jackson's partner Ruth Hazelton on clawhammer banjo.
Jackson said it was a chance meeting with ARIA hall of famer Tolhurst during lockdown led to recording of this disc and another album yet to be named.
It follows two other Wayside Ballads collaborations with the Jackson brothers dating back to 2014.
CLICK HERE for those features in the Diary on July 17, 2016.