DAVE'S DIARY - 22 MARCH 2021 - BEN RANSOM INTERVIEW
BEN RANSOM MINES MELANCHOLIA IN BRAVE NEW WORLD
"Do you feel a little different/ now you're socially conditioned/ just one shot won't make or break the change/ while your ego's taken centre stage/ I see Aldous Huxley turning in his grave/ and all in all it remains the same/ so I'll still keep your photograph/ and now I feel like I'm living in a brave new world." - Brave New World - Ben Ransom.
When Randwick singer-songwriter Ben Ransom first toured Europe in 1999 he worked as an Anaesthesia nurse while singing for his supper.
It enabled him to keep dingoes from his door as he used the Walkabout Hotel as his music mecca and exposed his music to expatriate Australians and other fans on the Continent and way beyond.
Ransom's popularity expanded from his Shepherd's Bush Covent Garden launch pads before he boomeranged home to our bush on tours and festivals to promote original songs from four albums.
Ben's benevolence to patients enabled him to use his songs as therapy for family tragedies including premature deaths of his mother at 62 and brother at 48 from brain cancer and another young relative from a stroke.
His mother inspired maternal wisdom song Mamma Said and family tragedies sourced Never Can Tell and Coming Down In Spades from his fourth album Brave New World on the Country Rocks label.
"A young relative died of a stroke," Ben told Nu Country TV.
"He was young, fit and healthy but had a stroke and passed away. Then my brother was diagnosed with brain cancer and passed away. A few years after my mum was diagnosed with brain cancer and passed away. My brother was 48 and my mother was 62."
Ransom's songs were a therapeutic release that covered all emotions.
"I look at it in a positive light," Ben explained.
"I'm not one to sit down and be melancholy and gloomy about it. I'm putting things into perspective and looking on the good times and moving forward. Keeping those memories with you and keeping those memories alive and celebrating life. Realising we're only here for a short time and absolutely make the most of it. I'm paying for it. I've been living each day like it's my last day for the past couple of years."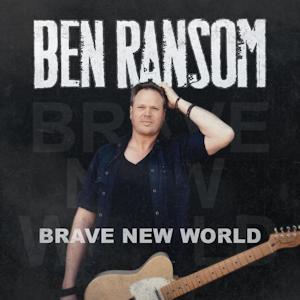 Aldous Huxley's 1932 dystopian social science fiction novel inspired his Brave New World title track.
Ben mined angst and anxiety caused by new millennia pandemic, poverty, wars and personal pain to ignite diverse mood swings in his 11 new original songs.
"I haven't read his novel Brave New World , it came out in thirties. I wonder what Aldous would think about the world in its current state," Ransom confessed.
"Science fiction stories make you think. I'm the protagonist in that song, a lot of questioning and coming out of a relationship and waking up to this new world around you and how you fit into that world and what's going to become of you."
Ben, 46, and father of two, won three 2021 Tamworth Songwriting Association awards for songs including Mamma Said from his Matt Fell produced album.
NIGHT AFTER NIGHT
"We met by the beach with your yellow hibiscus in Rome/ yeah there's some bad loud mariachi band playing our song/ the six margaritas were saying that I got it right/ while we kept the stars company/ dancing on into the night." - Night After Night - Ben Ransom
His music career began at 15 in Toongabbie before Anaesthesia nursing studies at the Western Sydney University.
"Being a casual job I could do it on the side," Ransom says of nursing and music.
"The music industry is so fickle it's something to fall back on and pretty handy.
It keeps you grounded, it's also interesting work. You don't lose you head in the crowd so much. That can happen at times in the entertainment industry."
Ransom is also indebted to wife Renai for many positive love songs.
"We got married 12 years ago," Ben confessed.
"She's a loveable woman and source of inspiration for many songs. About four or five songs on the album directly relate to her. If I wasn't for her it probably would have been an EP."
They include Come Back For More, Night After Night, I Won't Be Here In The Morning and One Of A Kind.
" One Of A Kind is a road tripping song," Ben explained.
"Renai's family is from Dubbo and we were out there visiting and drove to Byron Bay. She works in the corporate world, we're worlds apart in our careers. I'm into the music and creative side of things. Renai struggles with that. She was working from home in the pandemic. 2021 will return to normal and she will get back into the office, maybe not, could be new way."
It's a far cry from his Walkabout Hotel launch pads in 1999.
"The Walkabout Hotel was like a B & S Ball every night of the week once I got my foot in the door. It was an Australian franchise. You could go to all different pubs, 20 different venues and earn a healthy living - in the hospitals and around the pubs."
It was also start of a lucrative song writing career.
"While travelling around I focussed on the song writing," Ben explained.
"I got plenty of material, always new experiences, stories you pick up along the way are easy to turn into songs and tunes. A lot of inspiration came from travel and more when I returned home. I received pearls of wisdom from my parents - especially mum. She did secretarial work while raising three children. She said it was dodging the wooden spoon. She was full time raising kids - sometimes go to work to get a break. I was one of three. I was the middle child - the classic middle child. My wife is one of three, also the middle child. I was a late bloomer. We have always travelled around. We have two children. They are always there but are not too excited about coming to shows. They once loved to see dad up there."
Ransom is back on the road again promoting Brave New World.