DAVE'S DIARY - 1 MARCH 2021 - SUNSET STRANGER CD REVIEW
CD FEATURE 2021
SUNSET STRANGER
YOUR HOMETOWN (ENDLESS RAILWAY RECORDS)
SUNSET STRANGER SEARCHES FOR GOLD
"O, following the western rail/ to where the leaves on Ferny Creek are gleaming/ promising a new life beneath the sacred soil/ troves of mud and dusty clouds/ cover young men browned by sun/ stories unalike unite for a future of gold/ they were searching for gold." - Searching For Gold - Helen Plazza-Steph Brett-Stephen Stanisic.
f you are looking for a Sunset Stranger try the lost highway far from his roots in outer eastern Melbourne suburb Ringwood.
That was where the singer-songwriter-teacher, nee Stephen Stanisic, enjoyed his childhood and adolescence.
Sunset Stranger now plans to escape a year-long lockdown to go on the road again to promote his eclectic new album Your Home Town.
That is when he is not inspiring students as an arts teacher at St Kilda Park Primary School fuelled by his Bachelor of Music Composition and Master of Teaching degrees.
The Thornbury alt-country troubadour evokes a Dylanesque persona as he creates fictional characters from hometown memories augmented by autobiographical imagery.
Subjects in his 10 originals range from a psychiatric hospital inmate suffering amnesia in entrée Quicksand to a traumatised soldier in Verses Of Dirt.
"I grew up around Ringwood on the lands of the Wurundjeri people in the leafy eastern suburbs of Melbourne," the singer told Nu Country TV.
"I could see the lights from the grand opening of the mid 90's Eastland from the window of my childhood bedroom. Now I live in inner-city Melbourne but occasionally still pass through Ringwood."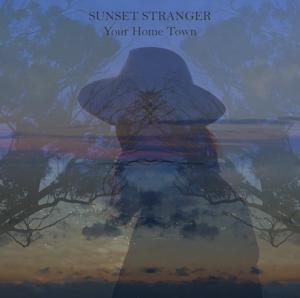 The denizens of former gold mining town Fiery Creek near Lake Bolac in western Victoria in Searching For Gold and The Shadow are siblings of sorts of Ireland inspired strangers and wanderers in 60 Mile Yonder.
"The lyrics and majority of Searching For Gold was written by Helena Plazza - she wrote it after we visited the small town of Buangor near Ballarat in regional Victoria on Djab Wurrung Country to record an album for our other band Honeymoon Bridge . Fiery Creek is a place near there which inspired her story about the elusive search for gold."
Honeymoon Bridge has released two albums and features singers Steph Brett and Helena, Stanisic on mandolin and double bassist David Bramble.
Sunset released three videos including What Your Loving Means To Me that debuts on Nu Country TV on Saturday March 3.
It was filmed during Melbourne's first lockdown and followed by Verses Of Dirt and acoustic version of Sweet Wine & Cigarettes with Pete Fidler during the second lockdown.
COUNTY MONAGHAN IRELAND MEMORIES
"Standing at the station shivering in the cold/ looking at a face that hasn't yet been sold/ listen to the trains as they whistle and groan/ heading for the mines where they'll bury my bones." - 60 Mile Yonder - Stephen Stanisic.
So, what inspired 60 Mile Yonder ?
" 60 Mile Yonder is the oldest song on the album, written in 2007 when I was staying on my uncle's farm in County Monaghan, Ireland - the same old farmhouse my mother grew up in before emigrating to Australia in the 1980's." Sunset explained.
"I spent about three months there and did a lot of long walks in the surrounding countryside by day, and recorded songs and instrumental music on a portable cassette machine by night. The lyrics come from that feeling of being a traveller or stranger in new surroundings."
Sunset described Verses of Dirt as a country noir narrative about a traumatised soldier recalling a forgotten town in a nameless war.
"It's built on open-tuned acoustic guitar picking, bowed double bass and pulsing drums, the layered harmonies and tropical nightmare slide add to the track's haunted atmosphere," Sunset revealed.
So was the character in Verses Of Dirt part of a war metaphors for the love of a soldier fuelled by opium and pethidine in an old gas mask?
"I met that character in a dream and that song was the closest I came to recalling them," Sunset recalled.
So, was the traumatised soldier recalling any specific town in that war?
"Maybe somewhere with a submarine and good pies," quipped Sunset who also released music under the name Eddie Nuardo and written and recorded music for short films and theatre productions.
SUNSET LAST RODEO
"Last Christmas I thought I'd die when they told me all about your lies/ I know there's no way around the things we did when I was your clown/ she comes in her hands all clean/ asks me about a man she's seen/ a drifter with a name unknown/ who was once a rider in her rodeo - this is my last rodeo." - My Last Rodeo - Stephen Stanisic.
Sunset creates surrealistic sagas in his romantic flashbacks in Anything You Gave Me, Sweet Wine And Cigarettes and What Your Loving Means To Me.
He exploits floral romance metaphors in Clover Lady on this thought-provoking disc that ends with the vitriolic ruptured romance requiem My Last Rodeo.
"So in My Last Rodeo was the character fictional or was it based on your own experiences?" I asked.
"I would say that most of those lyrics are a fictionalised autobiography that draw from elements of my own experiences," Sunset deadpanned.
What town was the source of Quicksand ?
"That song was inspired by a book I was reading at the time which took place in an unnamed country where the population suffered from widespread amnesia," Sunset replied.
Have you ever been tied to a chair and fed truth serum?
"Only in my nightmares."
"I called the album Your Home Town because that was a phrase that kept turning up in this collection of songs," the singer explained.
"In most of the cases where I used that line I wasn't always thinking of a specific place. I like the line because I'm interested in how humans connect to particular places through memory, stories and history.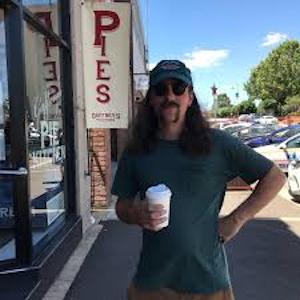 It's a deliberately vague phrase, because people make their own connections to lyrics, and that was part of the reason I was less specific with place names on this album than I was on my first album The Good Whiskey Never Lasts.
"A song like The Shadow - where a town full of dust and gold is mentioned - might bring a range of places to mind for a diverse range of people."
Sunset performs electric and acoustic guitars, keyboards and banjo on Your Home Town that was recorded by Myles Mumford at Rolling Stock Recording Rooms in Collingwood.
It also features Pete Fidler (electric guitar, lap steel), Luke Richardson (electric and double bass), Helena Plazza (harmony vocals), drummer Nathan Power, pianist David Bramble and fiddler Craig Woodward.
His previous album, recorded under the name Eddie Nuardo, featuring 11 original songs, and was recorded by Mumford on February 3 and 4, 2018 at Rolling Stock and released on December 6, 2018.
It opened with Lost Inside Of Eastland and featured hometown inspired Red River Song and Brunswick Street Blues.
Further info - https://sunsetstranger.com/