DAVES DIARY - 25 MARCH 2011 - PORT FAIRY OVERVIEW/REVIEW
FEAR AND LOATHING IN PORT FAIRY
The moon was rising over the mighty Moyne mouth as we were drawn to the famed Star of The West on the mean streets of picturesque Port Fairy.

Yes, this was the wild-west end of the Shipwreck Coast and the pub, once the domain of ex-Collingwood and Terang footy star-mine host Ronnie Wearmouth and teammates, was pumping the good oil on the eve of the 35th folk festival.

There was a light at the inn and who should be playing bass in the band of local barista and bon vivant Louise Clancey?

Well, golly it was Michael Schack B.A. and writer of the Dead Livers hit Star Of The West - the saga of 5 am sessions in the Wearmouth era.

There was no sign of Ronnie but former teammate and latter day Sydney Swans recruiter Ricky Barham was en route from his oceanfront digs due east in Barwon Heads.

Clancey and her merry men brewed a potent pop country cocktail as local lads and lasses shared their crowded racing memorabilia bar - yes it was horseshoe shaped - with folkie forward scouts and the jaded Judy Moran lookalike.

Schack, replete with the latest Charlie Sheen jokes, confessed he only had seven gigs for the weekend.

Michael Schack & David O'Brien
And he was about to give up bass to play second fiddle, guitar-dobro and lap steel, in Russ Goodear's Warrnambool tribute band to septuagenarian Canadian icon Gordon Lightfoot.

So why would a laconic country librarian surrender instrument of choice - well, maybe it has something to do with his replacement.

Yes, the Honorable David O'Brien - freshly minted National Party MLC for the Victorian state parliament.

But we'll return to that later as we examine the musings of the bassist MP who shares rooms with country singing former AFL coach and VFL footy star Damian Drum.

This was my first and last alcoholic drink for the festival as my true love and guardian angel returned to the big smoke.

With Highway One saturated by gendarmes and the wild ocean the killing field for unwary seafarers I drove the wagon and stayed on it.
JORDIE LANE - FRIDAY ON HIS MIND
Dawn broke our Friday as your humble diarist bid adieu to a healthy herd of Friesians on the banks of the recently flooded Hopkins River between Allansford and Warrnambool to soak up the culture.

First colt out of the stalls was young Melbournian Jordie Lane fronting a trio who did justice to his pristine vocals akin to his solo gigs on ABC TV with comedienne mother Denise Scott.

Lane had a fine line in anecdotes for Hollywood's Got A Hold On Me - saga of dark nights in an even darker subterranean retreat in that city of angels and gate crashing an A.A. meeting to maintain his cover.

Then there was the stormy night the singer almost got beaten up when a soldier demanded a Robbie Williams song in the Townsville tropics - it was the genesis of I Could Die Looking At You.

Luckily, the audience in this Folk Circus tent as dark as a Merle Travis dungeon, settled for looking at Lane and his sidekicks on double bass, mandolin, piano and double bass.

Double bass was also the instrument of choice across the alley from the Shebeen tent for rockabilly artist Abbie Cardwell and her Leading Men in Stage One who kicked the dew off the glass for Texan Rose Flores and bluegrass combo Crooked Still.

Those with a strong stomach for ghosts retuned to the Folk Circus for the revered humorists Graveyard Train.

Graveyard Train
They didn't need a séance to reach the other side - just hammer and chain to accompany banjo, washboard and dobro in their foot stomping dance of death and despair with songs from macabre new album The Drink, The Devil And The Dance.

That seemed a nice segue to the steamy Saturday sweeping in from the Great Southern Ocean.

GORDON LIGHTFOOT TRIBUTARY
It was somewhat fitting that Canadian legend Gordon Lightfoot, 72 and holding, enjoyed a resurrection at home in 2010 and abroad in Port Fairy in the autumn of 2011.

Lightfoot suffered a ruptured abdominal aortic aneurysm eight years ago and was comatose for several days.

But last year, while in a dentist's chair, he awoke to learn of his death on a local radio station accompanied by aptly titled historic hit If You Could Read My Mind.

Well, this time Gordon was celebrated by Warrnambool multi-media ace Russ Goodear who recovered from a brush with death in October, 2008, to celebrate his 60th birthday party in February 2009 with Gold Coast band The Bostocks.

Goodear fronts local country combos Rusty Buckets and Rusty Bucks and hired a stellar cast for the occasion.

The cameos included Lost In Suburbia and Nevada pedal steel guitarist Murray McDowall - a local milk tanker driver - Ricky Holmes on banjo and Brett Holbrook on fiddle.

Then there was lead guitarist Robbie and drummer brother Brendan from Gold Coast band The Bostocks who also performed on other stages with sisters Rachel on violin and bassist Sara.

The Bostocks have enjoyed video exposure on Nu Country but this day they shared stage with Dead Livers bassist Schack who tripled up on dobro, lap steel and acoustic guitar.

And then there was the honorable David O'Brien MLC, an upper house debutante, meeting his Western Victorian constituents in the best way possible - on stage with no microphone.

The mike was wielded by well-travelled radio-TV veteran Goodear who revealed another Bostock- Joey - introduced him to the Canadian icon a mere 40 years ago.

This was not the normal fodder for Generation X or Y, the singer said, but music to be heard and understood.

Goodear plucked 17 tunes from Lightfoot's 250 strong-catalogue with intros for Big Blue - the "best anti-whaling song" - and Steel Rail Blues about the singer yearning to be home with one of his three wives.

The hits flowed - six-minute epic Edmund Fitzgerald that defied radio of the day - to become a hit, Early Morning Rain and 16 Miles featuring Holmes banjo.

"Why do they make banjoes heavy," Goodear pondered, "so they can sink quicker."

Alberta Bound, Carefree Highway, Pony Man, Miner's Child, That's Worth Believing, Ireland Goodbye, Baby Step Back and finale Cotton Jenny were punctuated with a cover of Kristofferson's Me And Bobby McGee.

Goodear preceded the latter with a question about the only cover that Lightfoot recorded - an audience member trumped him by naming a second cover from his 20-album collection.

The humble host deferred to the fan and his all-star band with its multi-instrumental prowess.

And, of course, it was an aural pleasure to hear a country band doing a folk tribute - not endless stream of rock acts feeding off the Cash legacy.

Now, bass players are not normally a focal point but O'Brien's off stage patter was revelatory.

Yes, he did share a Parliament House room with his mentor - former Fremantle coach and Geelong tough man and Congupna bred Damian Drum whose Cats' career was enlivened by his country singing.

This was the era when Geelong players travelled to and from games on the team bus - it was there that Drum upstaged superstar Gary Ablett's renditions of Kenny Rogers hits by his own vocal prowess.

< Damian Drum
So what was Drum's calling card - hell, The Beat Farmers satirical gem Gun Sale At The Church.

And, in the interest of research, I drove Drum to Doo Das cowboy bar in Fort Lauderdale in October 1988 when his ankle injury deprived him of playing in Geelong captain Michael Turner's VFL finale game against Collingwood at the Joe Robbie Stadium in North Miami.
Maybe a new post-parliamentary career looms for the National Party duo - not Brooks & Dunn but O'Brien & Drum.

But I digress.

CASH AND CARRY
Tribute bands - especially to the deceased - have become as big a growth industry as climate change.

So it was no surprise to see the local Trevor Keilar Band hosting a Johnny Cash tribute show or two.

Keilar confessed in his bio he became a Cash crooner at 57 after seeing the Walk The Line movie.

These were classics drawn from the fifties and sixties before the man in black became flavour of the twilight years with Rick Rubin's protégées.

It was a womb to the tomb audience on stage five in a cavernous room adorned with curtains of Cash's favourite colour.

Prams vied with walking sticks and frames as Keilar's fashion neutral combo, replete with a lady of mature years adopting the June persona in a frock destined to be a Vinnie's accessory.

Nothing here to frighten mares and geldings as Trevor's team wore I Still Miss Someone, Jackson, "a real spooky song" - Danny Dill-Marijohn Wilkin murder ballad Long Black Veil, I Got Stripes, Big River, Ways Of A Woman In Love and more - like a comfy cardigan.

Keilar worked the audience like a Lyndoch retirement village tea and scones matinee with jokes that had seen better days with better punch lines.

No cussing like that naughty Justin Townes Earle as Trevor introduced guitarist son Ethan with a question of whether the humble burghers of Colac had the "power on yet."

Maybe the estate of former Louisiana Governor and centenarian Jimmie Davis would be delighted with the APRA cheque for his classic You Are My Sunshine and June Carter Cash and Merle Kilgore for Ring Of Fire royalties.

How long is it since you heard Give My Love To Rose before sunset near the beach?

For good measure songs were short and sharp - Cry, Cry, Cry, Frankie & Johnny, Folsom Prison Blues, Walk The Line, Cowboy Jack Clement's Guess Things Happen That Way and Hey Good Lookin' and Boy Named Sue from long deceased heroes Hank Williams and Shel Silverstein.

The audience was indeed captive but like the Aussie refugee camps there was no-one stopping them leaving.

Which was why I over slept and almost missed the leap from the fifties to the seventies in the Shebeen, nee Guinness, tent with the Dingoes debut.
DINGOES DOUBLE

Despite a 27-year plus break between culls the iconic Dingoes obviously needed no introduction.

Well the new honorary members may have - guitarist Kevin Bennett back at Port Fairy after Flood stints, drummer Ash Davies midst cameos with Texan Rose Flores and Chadstone chanteuse Lisa Miller, Procul Harum organist Chris Copping and bassist Rory Boast.

Broderick Smith, sporting a Noel Watson beard and hefty doses of self deprecation, led his charges through new tunes and classics from fourth solo disc Tracks and the new double album Live At Last.

Try Anyway, No Rain, No River, Rolling Around The Sun, Driving Home and Not Worth Fighting For enabled guitarist Chris Stockley and prolific multi-instrumentalist Kerryn Tolhurst to lead the new kids on the block to the outer extremities of the beer and wine mine.

So did the oldies Smooth Sailing, Boy On The Run, Shine A Light, Come On Down, Singing Your Song and Going Down.

Smith introduced oft recorded Way Out West as the band's renovation song before the spotlight zoomed in on Tolhurst's shades as the band closed with his barn burning finale Damascus Road.

But it was not until the Sabbath on Stage One that Smith's satirical streak spiked the stratosphere with oblique references to mystery delta bluesman Mississippi Andrew Bolt.

It wasn't until after performing Waiting For The Tide To Turn and Try Anyway the plot thickened.

Smith bemoaned replacement of the bright socialist future of the Whitlam years with a desire for real estate.

But, with a nest egg hatched by Way Out West royalties, the singer did a Carl Williams and said he had $30,000 in the bank available for a small task.

He revealed his day started with a viewing of Chiltern raised scribe Barrie Cassidy's ABC Sabbath show The Insiders with major cameo by Herald Sun columnist Andrew Bolt.

"I have $30,000 in the bank if anyone out there is a professional assassin and can kill Andrew Bolt, or is that Andrew Dolt,?" the singer joked.

There were no immediate takers but local IGA supermarket owner Colin Cleary may have found $30,000 handy - that was close to the amount of the takings stolen from his business after a recent folk festival.

But, with former Collingwood champion Ricky Barham riding shotgun on this visit, there was little danger of a repeat robbery - especially with one of the bandits recently deceased and the other in the slammer.

But I digress again.
JOE PUG
It was time to catch up with a young man raised in the windy city - not Warrnambool but Chicago.

Joe Pugliese, like Chadwick Morgan, snipped wicks from a family name to perform and record as Joe Pug.

That was much to chagrin of a proud paternal grandfather back in North Carolina - not a Capone.

But this agile artisan was the real deal with credible songs delivered in an accessible vein akin to a young Darden Smith.

Now 27, he soaked up soulful swagger of touring partner Justin Townes Earle and literary licence from John Prine and Bob Dylan, with a deft dab of harmonica.

This was a former carpenter and singer-songwriter with a repertoire of poetic paeans delivered to much acclaim.

Pug showcased tunes from his debut solo disc The Messenger and bonus disc.

There were plenty of anecdotes including his aborted Nashville journey where a song plugger received his demo tape and suggested he write "five really funny songs."
He then performed his brand of comedy - the evocative Unsophisticated Heart.

Pug proved the master of mixed metaphors and surrealistic imagery in harmonica fuelled How You Are.

"I was born into a circus, but I ran off to join a home/oh, they said that I was worthless, that my family died unknown."

So maybe it's a sibling song of his anti-war narrative Bury Me Far From My Uniform.

Pug revealed that on his first Australian tour he visited Circular Quay in Sydney to soak up the scene of the rhyme for sibling song - Eric Bogle's And The Band Played Waltzing Matilda.

"Do not bother with Congress, with the rich or with the rest/ I fought their battles in this world, but I'll not fight for them in the next."

Imagery is Pug's strong suit - especially in fantasy fuelled Not So Sure.

"I bummed expensive cigarettes, I wrote John Steinbeck's books/ I undressed someone's daughter/ and then complained about her looks."

He reveled in The Door Is Always Open, The First Time I Saw You and Sharpest Crown.

A highlight was his subterfuge song Disguised As Someone Else.

Pug, a true solo acoustic ace, was living proof this was a festival where loud bands were baggage and an inessential accessory.

The singer, like peers Shane Nicholson and Kasey Chambers, enjoyed luxury of sound mixers and sound systems made in audiophile heaven.
JUSTIN TOWNES EARLE
It was a shame that Justin Townes Earle didn't have the same love affair with his audience.

Earle, unencumbered by a band - just lone fiddler Josh Hedley - followed Pug onto the user-friendly stage 3.

It should have been a triumphant entrée to his fifth Australian tour - with engaging repartee and anecdotes.

The singer praised grandfather Jack for raising him before performing They Killed John Henry and Woody Guthrie standard Do Re Mi.

Earle, now 29, also tore limbs of the family tree with vitriolic, amusing anecdotes about his mother Carol-Anne - the third of poppa Steve's six wives - in his intro to Mama's Eyes.

Mama appears to be a striking woman - "my mother stands about 6 foot one - I get hit by women a lot."

Maybe the long tall Tennessean had not mastered the art of ducking and weaving in rehab.

Then there was a critique of the singer's sire.

He recounted Steve's homespun homilies about him - "he's a hard dog to keep under the porch" before his retort "look who's talking - he doesn't have the best track record."

Earle's strength is his repartee - sadly the resultant song delivery was a victim of vocal reverb that polarised the capacity crowd.

And the repetitive "ladies and gentlemen" prelude to each tune.

Let's stay positive and praise the singer for revealing he moved from the murder capital of Brooklyn to Manhattan in his intro to One More Night In Brooklyn from fourth album Harlem River Blues.

"I get into a lot of trouble with women and fried chicken" was a succinct prelude to Christchurch Woman and maybe comment on the Earle family male gene.

We seem to have neglected grandma - well, not really as the singer set up new tune Wanderin'.

"My grandmother said 'one day I would get there' but she didn't say where," Townes recalled.

Then it was time for some opiate quality and price analysis - not the Dow Index.
"Your cocaine sucks and it's too expensive," Earle proffered.

Maybe he should switch to milk - it's price seems to have dropped on the Shipwreck Coast and way beyond.

"I have problems with chemical dependency and incarceration," the artist added as he ripped into Slippin' And Slidin'.

There was no danger of Earle being boring despite dirge like resurrection of a standard by long deceased Texan Lightning Hopkins.

Earle transported listeners to Waycross, Georgia - a town featured in late Texan Mickey Newbury's San Francisco Mabel Joy, popularised by former convict country star David Allan Coe.

But this was Earle's South Georgia Sugar Babe as another "terrible very expensive girlfriend" was thanked for it's successor.

"Take what you want, leave the keys in the door," Earle sang before he introduced second album title track Midnight At The Movies.

Then it was an all-star cast - Tim O'Brien, Rosie Flores, Pug, Kasey and Bill Chambers and Shane Nicholson - for an inspired gospel gallop.

It was a hard act to follow but Earle and fiddler cruised into their finale - Bruce Springsteen's Racing In The Street.

THE WAIFS
It was no surprise that the tent filled further for another take on gospel with the belated return of The Waifs to showcase sixth album Temptation and a deep back catalogue.

They began with Lighthouse before Albany raised, latter day Minneapolis minstrel Donna Simpson revealed that Earle's nocturnal revelation about substance abuse freed her to follow suit as she introduced her song on the same subject - Just Like Me.

It wasn't clear how many times divorcee and single mother Donna fell off the wagon who made the most of a stint in a Minnesota rehab clinic once frequented by the late Johnny Cash.

Although her instrumental dexterity hasn't suffered she let her pregnant sister Vikki Thorn, now a Utah denizen, to do most singing.

It was an inspired performance making full use of excellent sound mixes and natural camaraderie despite geographical disparity of the quintet.

They blended long-time favourites How Many Miles, Highway One and The River with newer tunes I Learn The Hard Way, Just Like Me, Some Days and Falling.

But the magic of family memories in biographical Fisherman's Daughter, Flesh And Blood and the singalong Bridal Train - true story of their war bride grandma leaving Fremantle by train to Sydney before flying to the U.S. to marry her World War 11 beau - hit the heart.

So did latter day Californian and recent husband Josh Cunningham tune Feeling Sentimental and 1993 tune Take It In.

Cunningham also showcased newfound religious beliefs in joyous new gospel song Moses.
It was fitting the quintet finished with maternal tribute Gillian - "if you weren't my mother I would make you my wife."
DICK AND CHRISTA HUGHES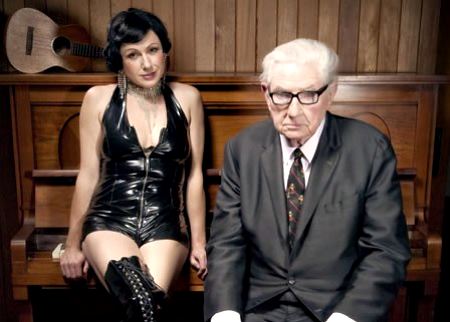 It was time travel for this diarist as he caught veteran Sydney blues and jazz pianist Dick Hughes and daughter Christa - fresh from an ABC-TV Australian Story docco.

I last saw Hughes during my five-year stint at now defunct Sydney Daily Mirror from 1980-5 when he brandished a metaphorical blue pencil on young and old reporters' copy alike on the famed subs desk.

Dick, who played bars until the early hours, hit the desk at dairy farmer's time - 6 am - and stayed until he put the fourth edition to bed.

He also wrote the jazz column with ease while I toiled on country and rock columns, features and news stories.

There was no way hapless reporters would escape if stupid enough to submit copy with cliches like "at this point in time" instead of now.

Dick also had a disdain for alliteration so luckily he's not subbing this diary.

I suspect he had less use of his blue pencil on the copy of my true love who hit the office - even earlier - at 5 am.

But that was then and this was now and Dick's leather-clad daughter Christa, acclaimed for her stint in Sydney band Machine Gun Fellatio, waited until he was seated at his grand piano at stage right under soft lights before introducing him - not to her - but the audience.

Hughes, a mere strap of a lad at 79, gave lucid and expansive historical anecdotes about the duo's repertoire.

It was only when he detailed the history of The Weed Smoker's Dream circa 1936 that this diarist realised his 1980 hit I'd Love To Have A Joint With Willie for the Dead Livers had a sire of sorts.

Although that country classic had its roots in Daily Mirror watering hole The Evening Star in Surry Hills the pianist reached back to the hiatus between World Wars.

Hughes recalled the Harlem Hamfats first recorded The Weed Smoker's Dream in Chicago in 1936 - perhaps testing the water, so to speak, after prohibition.

That was just two years before the infamous 1938 U.S. Government anti-dope movie Reefer Madness that had a rebirth at The Reefer Cabaret at Moubray Hall in Prahran.

It was also the locale for a bizarre Vice Squad raid when the honourable Marijuana Party candidate J.J McRoach - now tied to a news desk in Phnom Penn - ran for The Senate.

But this time it wasn't Mississippi born Papa Charlie McCoy and brother Joe but a much younger Christa Hughes and her loud hailer.

It certainly wasn't Wodonga born former Victorian Drug Squad Inspector John Victor McCoy whose sister Vicky was a pop singer in my Albury Border Morning Mail stint in 1969.

But we digress again.

Dick recalled that on April 23, 1943, Benny Goodman and Peggy Lee recorded the same song as Why Don't You Do Right?

It was revived many times including Jessica Rabbit, featuring the voice of Amy Irving, in the 1988 movie Who Framed Roger Rabbit?

For trivia buffs Amy Irving celebrated duets with Shotgun Willie Nelson on You Show Me Yours in 1980 movie Honeysuckle Rose with an on set affair that helped end Willie's marriage to third wife Connie.

Dick Hughes, pondering if he was a "living or dying legend," revealed that boogie-woogie pianist Jimmy Yancey inspired his original Blowing Yancey's Bugle.

By now Christa was bemoaning the closing of Sydney live music venues dating back to the speakeasy era.

And Christa, like Willie, was developing a thirst she quenched with a pot of beer skulled in one hit, aka Bessie Smith, during Memphis Slim tune Beer Drinking Woman.

Grant Gutbucket Arthur providing instrumental support - especially on Smith's moonshine fuelled Young Woman's Blues and Good Times Flat Blues.

Christa introduced swine fever sourced Pig Flu Blues with a true story about her own illness.
"I got very sick last year - I thought I was going to die."

The trio punctuated St James Infirmary Blues with Gershwin standard Summertime circa 1935 and Night And Day - also title track of Willie's 40th studio album in 1999.

By now we were hitting hard stuff - You Go To My Head, made famous by the late Billie Holiday, but updated for Port Fairy.

"You go to my head like a line of cocaine/spinning around in my brain."

It was fitting that the finale was Nobody But Me - it enable Christa to sing "everybody loves my daddy but daddy don't love nobody but me."

It was a hard act to follow but Bushwackers singer and MC Dobe Newton had the ideal punchline.

"Next time they'll swap outfits," Dobe joked as the skin hugging leather costume of Christa and Dick's sober suit disappeared into the wings.
SHANE NICHOLSON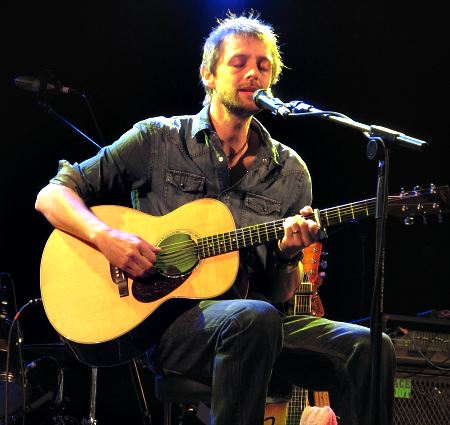 Shane Nicholson needed no introductions to fans but with his own gigs and those of singing spouse Kasey Chambers he received plenty.

Nicholson's trio featured father-in-law Bill Chambers on dobro, lap steel and acoustic guitar and bassist Jeff McCormack.

Superior sound enabled every lyric, nuance and instrument to reach deep into the psyche.

And, for those who needed song source explanation Shane, a soundalike of Texan Slaid Cleaves, was generous in his preludes.

He kicked off with a solo vocal on Broken Things - the recorded version featured Kasey after Sheryl Crow failed to return his duet offer.

Then it was an accessible amble through tunes from fourth solo album Bad Machines with curios from past discs.

Although the singer cut one cover of his new disc - John Prine tune Fish And Whistle - he chose another at Port Fairy.

Nicholson performed Prine social comment parable Unwed Fathers - also recorded by the late Tammy Wynette.

Where The Water Goes, God & Elvis and mortality tale Famous Last Words were a joy to hear.

He had a nice line in self-deprecation with his ape tunes such as Monkey On A Wire inspired by his dad's fascination with Clint Eastwood movies including Every Which Way But Loose.

Jimmie Rogers Was A Vampire preceded Short Fuse Part 4 before he announced he was fascinated by murder ballads by Springsteen, Tom Waits and Neil Young.

"But Summer Dress is more a missing persons ballad," Shane revealed, and then segued from it into Once In A While.

After Chambers joined Nicholson for a duet on One More Year , "I told him it was the best song he had ever written," Kasey revealed, "the only thing that will make it better is if I sing it."

Nicholson then announced his spouse was deserting him for the Joe Pug concert in the bigger, neighbouring tent.

"I have one hour of freedom," he joked, "I get to do what I like."

So the singer took a bite of his Blueberry Pie homily and then the title track of Bad Machines.

He introduced The House That Never Was as his sole bluegrass song before finishing with Not You Again and Trick Knee Blues.

Shane also joined wife Kasey in bigger tents in the absence of ill fiddler Ashley Dallas - granddaughter of Tamworth veteran Rex.

He played banjo on retro romp Sweet Georgia Brown before she moaned "I had another song that Shane bloody did," before resurrecting Woody Guthrie's Do Re Mi.

But it was Flood guitarist Kevin Bennett, in between Dingoes gigs, who joined her for a duet on Love Like A Hurricane from her fifth solo album Little Bird.

Chambers, like many peers, enjoyed guest cameos - Andrew Clermont on mandolin found time to join a stellar line-up for bluegrass medley - Not Pretty Enough followed by pop relics Staying Alive and Beat It.

It was that sort of gig with the fiery finale - Rattlin' Bones and We're All Gonna Die Some Day.
CROOKED STILL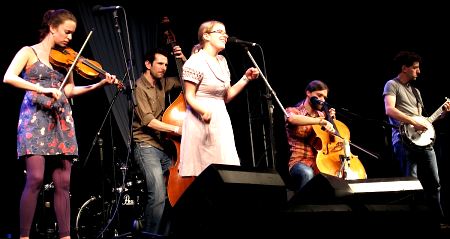 Bluegrass was also the forte of Boston band Crooked Still whose ethereal music was enriched by melancholic mood swings.

The quintet, who began life as a quartet in 2001, showcased songs from fourth album Some Strange Country and way beyond.

That meant fiddler Brittany Haas, cellist Tristan Claridge, double bassist Corey DiMario and Dr Greg Liszt on banjo showcased their originals and traditional tunes.

There was an eclectic energy from Sometimes In This Country to staple finale Shady Grove that left bespectacled singer Aiofe O'Donovan with one final request.

"An ice cream and a fellow," Aiofe pleaded, "that's all I ask for from this festival."

It's not clear if she received either but she had poignant patter and a cool alternative in Cold Mountains, Distress, You Were Gone, Half Of What We Know and Henry Lee - also from the new disc.

And, of course, death fuelled Wind And Rain.

"This is another tale of murder," O'Donovan warned listeners in her entrée to I'm Troubled.

"It's about two sisters who love the same man. It's a cautionary tale - especially if he loves your sister more than he loves you."

The singer also deferred to fiddler Haas for her original Locust In The Willow - luckily it was butterflies not locusts that found a new home on the coast.

Multi-instrumentalist Tim O'Brien guests on the album so it was fitting he did the same on some of their concerts.
TIM O'BRIEN AND TWO OCEANS TRIO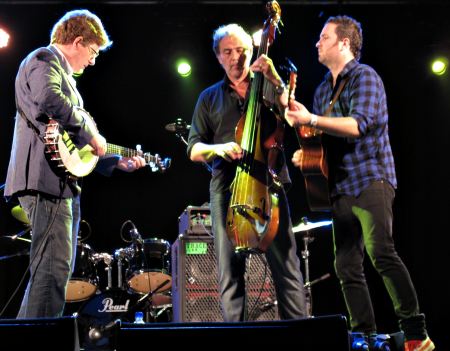 It was no surprise to learn veteran hit writer and bluegrass virtuoso Tim exhibited timing in his patter equal to his musicality.

"It's my first visit to Australia in 24 years," O'Brien, now 57, reminded fans who may have seen him at an historic Mittagong bluegrass festival organised by Chris Duffy.

On that visit he fronted Hot Rize that he formed in 1978 and alter ego Red Knuckles & The Trail Blazers.

"Some of you may have children," he reminded fans with a paternal nod, "but all of you have parents."

O'Brien, writer of hits for artists diverse as Kathy Mattea, Dixie Chicks, Garth Brooks and Dierks Bentley then introduced Hal Cannon's Suzanna - "ahead of schedule another banjo song."

It was a laugh a line as the prolific composer delved into sin in You Ate The Apple and honoured Bob Dylan with Senor - from his Dylan tribute disc Red On Blonde.

But this was also a showcase for Two Oceans Trio featuring long tall Irish double bassist Trevor Hutchinson who has toured here with Lunasa and Gerry Paul who was born in Ireland but raised in Wellington in New Zealand before returning to Galway and joining folk group Grada.

The bandleader also honoured his recently deceased dad who lived to the age of 94 with Not Afraid Of Dyin' and Letter In The Mail.

"He really loved my mum," O'Brien confided, "but after she died he took up driving widows around for dinner. Towards the end he said 'I thought by now you would have been a teacher."

The trio also exuded joy on fiddle tune The High Road, re-visited his own mining roots in the mountains of Wheeling, West Virginia and others in Adirondack Mountains in My Girl Is Waiting For Me.

At one stage the singer's duo left the stage.

"They're not mad," he revealed, "they're just taking a break."

This enabled him to honour the late Bill Monroe with his rendition of Working On A Building.

"He was born almost 100 years ago," O'Brien recalled, "he started bluegrass and played this song every time I saw him play."

The band may have left the stage but not the bugs.

"The people in Australia are friendly," he quipped, "but the bugs are even friendlier."

It was time for 13TH album title track Chicken And Egg, "not sure which came first" and cemetery song Old Joe.

O'Brien also paid tribute to Dock Bogs - "in a sporting way he could play the banjo but chose not to."
ROSIE FLORES TRIO
Texan rockabilly filly Rosie Flores spared no expense on her costume and hired a local duo to back her on her third Australian tour.

It was no ordinary combo - double bassist Rick Plant had worked with a vast galaxy of acts including David Ball, Buddy Miller and Pure Prairie League.

That was before finding true love with Johland refugee and singer Sherry Rich who also harmonised for Flores.

The drummer was Ash Davies - between stints with The Dingoes and Lisa Miller.

Flores kicked off with This Little Girl's Gone Rockin' and Two Bells.

"This used to be an Everly Brothers song until I got hold of it," Rosie revealed before revving up You're The One.

Flores material was as familiar and user friendly as her frock - Lonesome Boxcar, Ain't Got You and Wanda Jackson's Funnel Of Love, also cut here by Shanley Del.

She again honoured with septuagenarian Wanda with Rock Your Baby All Night Long - not a lullaby - and the late Johnny Cash with Country Boy.

The crowd may have dissipated but not the singer's spirit as she finished an inspired set with You Tear Me Up.

This may seem like a long rambling overview but it's rare that so much quality and diverse music can be presented in such an idyllic oceanfront locale.

The longevity of the festival, that celebrated it's 35th year, is a testament to the creativity, wisdom and blood, sweat and tears of the organisers and volunteers who rebound each year.

Far from pollution and traffic of the big smoke this is how music should be enjoyed - au naturel - with the waves crashing beyond the greenery.

And we also salute the girls and boys who make the noise with pristine aural joy - the sound systems and mixers are a vast contrast to cloth eared city slicker clowns in crowded dance clubs and jungles.