DAVE'S DIARY - 22 MARCH 2009 - HOT CLUB OF COWTOWN
LETTERS FROM IRAQ
HOT CLUB OF COWTOWN SONG SEQUEL
"Hey beautiful well we were on blackout again/ we lost yet some more soldiers/ I cant wait to get out of this place and return to you where I belong/ I don't know how much more of this place I can take/ I try to be hard and brave for my guys." -
Hey Beautiful - Elana James-Juan Campos.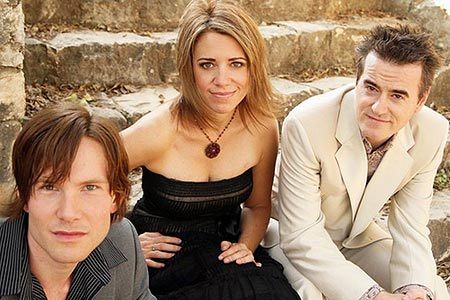 Texas fiddler Elana James was at her kitchen table searching for inspiration one spring day - it came in a New York minute.

Well, it actually took her more than a few minutes to read her manna from heaven - the New York Times.

There, in vivid black and white were letters from a slain Texan soldier to his widow on the eve of his death in Iraq.

It was an email from Iraq one Tuesday morning in December 2006 from Staff Sgt. Juan Campos to wife, Jamie, back home in McAllen in the Rio Grande Valley.

Campos' words were published in New York Times - March 25, 2008, under the headline Six of the Fallen, in Words They Sent Home.

"I was trying to write songs for our record," James told Beat on the eve of her second Australian tour - this time with western swing band Hot Club Of Cowtown.

"You become very porous and open. I was feeling as open to things as possible and started reading that New York Times article with the letters. It was fascinating the more I read.

There were more passages and entries. There were six different people and their email letters. It was incredible to read - amazing how articulate these people are and the ways they reported about their lives. It was so personal and so vivid - we were petrified about how vivid it is. The fact he wrote such a great letter to his wife. The family made his writings public for this article that ran in the Times. It was a little less than a year after he died - they took the writings of people who had been killed in Iraq and underscored the humanity of these people."

James wrote Hey Beautiful in her Austin kitchen and contacted Jamie Campos to obtain permission to record the song, now on the Hot Club Of Cowtown web page.
TEARS FLOW IN RIO GRANDE VALLEY
Campos was just four when his father died.

His single mother raised him, his three brothers and two sisters.

In 2000 when Juan was at McAllen nightclub A.K.'s he met bartender/waitress Jamie Drury.

They began dating, married in 2003, and Juan adopted Jamie's young son, Andre.
Campos enlisted for a year hitch after graduating Nikki Rowe High School in McAllen in 1998.
He worked for U.S. Customs & Border Protection before re-enlisting in 2003.

In 2007, Campos, three years in Iraq under his belt, was in First Battalion, 26th Infantry, Charlie Company.
They patrolled the volatile Adhamiya neighborhood in north Baghdad - a place where soldiers knew that when away from their barracks, they could be killed at any time.

In April 2007, Campos enjoyed a two-week break back home visiting family members and taking Jamie, Andre and her mum Birdie McVaney on a trip to San Antonio.

But as the vacation drew to a close, a sense of foreboding hung over the couple.

On May 3 he headed back to Iraq.

Eleven days later, on May 14, 2007, a roadside bomb blew up a Humvee in which Campos was riding.

He suffered burns over 80 percent of his body; despite multiple skin grafts at a San Antonio Army hospital, he died two weeks later.

He was 27. A few days before he died, Jamie had told him she was one month pregnant with their child, conceived during his last leave.

She later miscarried.

Juan Campos is buried in a military cemetery in McAllen.

As is usual in such places, his tombstone is a simple marker inscribed with a cross, his name, rank and dates of birth and death.

The final words on the stone, however, are not military issue:
"We'll meet in our dreams"
FAMILY TOUCH
"I have kept in touch with his family," Kansas City born James explained.

"I wanted to get their permission to use song in that way. It was a very personal thing even if they made that letter public. It's not on the next Hot Club album but it's going to be on mine. I love that song and I love the letters. We were honoured we got to do that. I hope the song continues to live on. It will sprout wings and keep on. We put it out digitally on our web page. I haven't performed it often in concerts because it's hard to sing. It has so many words. It's so sad it's also hard to sing it. We don't plan to do it in Australia, but you never know if we have special requests."

James admires the courage of the Campos family but is unsure how much a tragedy impacts on general society.

"His was a large family raised by a single mother," James, now 38 added.

"There are songs coming out of Nashville about letters but this is a real song about a letter coming home, what he said. The choice of things he said and the way he said it. It was just unbelievably moving in the style and honesty and love, so strong. That's what captured my attention - I can't even imagine what that family has gone through. I know in America in the people I'm among it's not in the forefront of their minds, not like families with members in the military service. I know the community I'm in Austin are not particularly focussed on that. It's something we shouldn't forget - these are people whose lives are of much more immediate importance with the issues they deal with for us."
WISHFUL THINKING
The trio, touring to promote a compilation of first five albums, has finished its sixth CD Wishful Thinking.

"It's mainly original material, a couple of standards and couple of public domain songs we re-arranged," James added.

"I really think it's cool and we're proud of it.

People see the band as happy. We are happy and we love to play but I think it's interesting this new record has a lot of more ruminative darker kind of things to it but it still sounds happy. But if you listen to the words it's darker and deeper. The songs Whit (Smith) and I wrote are the best we've done. The time away from each other has really helped that."

The trio, formed in 1998, but split in 2005 and reformed shortly after James toured here in 2008.

James was touring to promote her self-titled 2007 debut solo disc on Shock Records.
"It was such a great time we had there last year," James added.
"We had couple of days off in St Kilda. We were able to relax and enjoy it before tour. One song on our new record, Heart Of Romain, we started rehearsing that down in Australia.

Several songs started in Australia but it's the only one we finished that got on the record.

It's very happy beautiful song - instrumental. It captures the feel of visit - irrepressible buoyant melody, spirit. I feel a country settled by convicts had a much different freer way of being than ours that was settled by Puritans. I could feel sea air and the Sangria - it was just spectacular."
IN SEARCH OF A MIDNIGHT KISS
So spectacular James returns within a year after the trio landed its Smith-Dave Stuckey penned song Paradise With You in the 2008 movie In Search of a Midnight Kiss.

"We haven't been home for more than a couple of weeks since then," James joked.

"I was speaking with our publishing company today. The song ends up in a movie and you finish up with something like $1.79, it should be at least $2.79. But it's really exciting - that movie's really cool. They used that song in whole opening movie scene - it was so cool. I was thinking about that today. I don't even have some of our records. It's a good thing.

You have enough material out there you can't keep track of it."
ROCKY MOUNTAINS WRANGLING
But James keeps track of a career begun as a horse wrangler and elk-hunting guide in the Rocky Mountains of Colorado.

That was after graduating Missouri University with a degree in comparative religion and studying in India.

"I worked as a horse wrangler in Colorado," James said.

"It was the last job I had before I went into music full time. You have that down there too.

I wrangled at a dude ranch then craved for something more rugged and authentic so I worked for an elk-hunting outfit in the Rockies in Colorado - I worked as a packer and guide. I didn't really like it as a guide. Whatever they were hunting I said it had left - it didn't deserve to die. It was near Dennison and Steamboat.

"The guy I worked for was very eccentric and true cowboy. We were packing hunters all night. We would make several trips to the trail houses. I had a string of five or six horses.

It would be 3 in the morning and 20 degrees out with full moon. I would be out singing to them, singing to the packhorses. I also used to love singing cowboy songs in a cowboy band. But even up in that spectacular beauty I knew if I didn't pursue my music it would pass me by - music is a jealous mistress."
DYLAN AND WILLIE
James formed Hot Club of Cowtown in 1998 after meting singer and guitarist Whit Smith in 1994 in New York City.

Smith, then working at Tower Records, was born in Connecticut and raised in Cape Cod, Massachusetts.

White answered an advertisement in the Village Voice placed by Elana James (then known as Elana Fremerman), a classically trained violinist from Kansas City who was looking to get into a working band.

Smith was an aspiring musician who played in a few rock bands in New York before getting turned on to Bob Wills & The Texas Playboys and other Western swing pioneers.

The band's name is a nod to Quintette of the Hot Club of France, the famed thirties European jazz group that included Stefan Grappeli and Django Reinhardt.

Hot Club of Cowtown, featuring upright bassist Jake Erwin, cut five records after settling in Austin, Texas.

But, by 2005, the gruelling road had impacted and the band quit performing.

James joined Dylan's band in 2005 shortly after being recruited to play on Shotgun Willie Nelson's tribute disc to octogenarian Texan songwriter Cindy Walker.

She was the first female member of Dylan's band in 30 years - Hot Club Of Cowtown had opened for Dylan and Willie on their joint 2004 tour.

Nelson, 75, released Fred Foster produced You Don't Know Me - The Songs of Cindy Walker (Lost Highway) just nine days before Walker's death at 85 on March 23, 2006.

Walker had an amazing career that started almost a century ago on a farm near Mart, Texas.

She wrote country songs that became hits in every decade since the forties after her first song written at the age of 12.
RAY PRICE AND MERLE HAGGARD
"I missed out on playing on Songs Of Cindy Walker because I went on the road with Bob Dylan, that was excruciating," James quipped.

"I played on one song on Dylan's North Country soundtrack.

But I did play on Last Of The Breed with Ray Price, Willie and Merle Haggard. I was very proud of Johnny Gimble and me playing twin fiddles on that. It was great. I first heard him in New York - I had never heard anything like it. I never heard any person who had that feel and approach to violin playing in a non-classical style. I had no idea it was out there. I was sheltered. I thought if that man can play like that it's good enough for me. I should be so lucky to play close to that ever in a lifetime. He is one of many but is the definitive twin fiddle player - an absolute monster."

Price, 83, former Cherokees bassist Willie and Merle released their epic Last Of The Breed (Lost Highway-Universal) in 2007.
MAMA'S VIOLIN
It was an extension of the maternal influence as a teenager in Kansas City.

"My mother passed down a great wonderful tradition and thing to me in music," James added.

"She made me practise - I wish I had practiced more with that. I would never have stuck with it without her pushing me.

It was a miracle. I was born in Missouri in Kansas City, near the state line in the metro area sitting in the middle of the state line. Five houses down the block you could be over the state line. It's kind of confusing. She was a psychiatric nurse - she still plays in Michigan where she lives now. Dad was in advertising industry and loves entertaining. He would like to be a stand-up comic."

James followed her sister to India after high school.
"The new record is the first one that incorporated what I learned in India - gypsy music," James says.

Hot Club Of Cowtown plays Thornbury Theatre on April 3 and Oakleigh Bowling Club
on April 4.