DAVE'S DIARY - 22 MARCH 2009 - DOUG MANSFIELD OBITUARY
DOUG MANSFIELD RIP @ 54
"Did a little flirting with the record company/ told me I would be a star as soon as I signed the deal/ when the crap hit the fan it landed right on me/ I don't follow trouble, trouble follows me." - Trouble Follows Me - Doug Mansfield.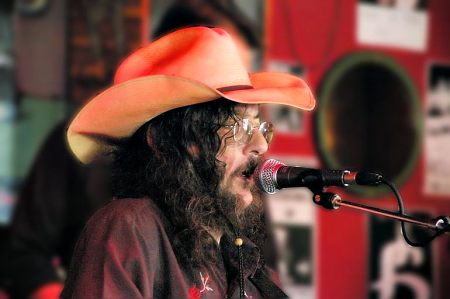 Photo by Tim Chuma
When Carnegie Doug Mansfield finally met his maker in early autumn at 54 it was the end of a long silent struggle.

The suburban honky tonk hero, who walked with aid of a stick at the peak of his career in the nineties, died of pneumonia.

But for a year the singer, often bed-ridden, battled with chronic illness.

It was a sad end for a spirited soul who achieved so much in a career way beyond the metropolitan mainstream.

Way beyond the music meccas maybe but equally revered by his peers and movie and TV crime series directors.

Mansfield & quintet The Dust Devils appeared in top rating Nine Network TV series Stingers and Good Guys, Bad Guys.

They also featured in former stripper Leigh Redhead's raunchy crime book Peepshow and played at its Melbourne launch.

And, with supreme irony, they played the finale concert in 1997 at B division in the notorious Pentridge prison in Coburg.

Now, don't get any funny ideas there was a nexus between the life of Doug and the underworld.

Unlike, long deceased soul-mate A.P. Johnson, the singer never robbed a Fitzroy bar with a water pistol or copulated with the bucolic buckle bunnies of his songs live on stage.

Mansfield merely had an innate talent to touch the underbelly of suburban and rural life with original songs that long ago adorned two indie-albums.
STICKY WICKET - NOT CRICKET
"Well, I came home late again last night/ you were standing by the door/ a rolling pin in your right hand, my dinner on the floor/ and you're looking at me homicidally, I don't know what to do/ I know that I can't pick it, gonna grab my butt and kick it/ 'cos I'm on a sticky wicket with you." - Sticky Wicket - Doug Mansfield.

There was never any real danger the genial Gardenvale gaucho would flirt with the fame flame.

Sure, he was nominated for three gongs in the 2000 Victorian country music awards at Kyneton and also strutted his stuff in music HQ Tamworth at venues diverse as the tiny Tudor hotel and sprawling West Leagues Club in 1998.

But Mansfield's music was not minted for golden guitars or tinsel tiaras.

Song titles such as White Collar Redneck, Dustburger Boogie, Stickey Wicket and One More Beer were a dead giveaway.

It didn't stop him launching debut disc - 12 track You Can Never Go Home on W. Minc. - at a Chinese restaurant.

His 1999 sequel Trouble Follows Me came out on Niche label.

The video for One More Beer adorned Pay TV show, CMT, now CMC, and the song opened the inaugural ABC Radio Saturday Night Country Favourites CD.

Others such as The Girl Who Cleans The Ashtrays were drawn from the same well that produced Ronnie Milsap hit The Girl Who Waits On Tables, Waits At Home For Me.

That was Mansfield's magic - working the beer and wine mines and writing about them.

And, yes, there was a tender side - check out the duet with Lisa Miller on Messin' Around - and Git fuelled tunes such as City Station.
WHITE COLLAR REDNECK
"Went to England for fame and fortune/ bit the bullet, took his chance/ become a London fashion victim/ wore floral shirt with rubber pants." - The Ballad Of Steve Miller - Doug Mansfield.
There was also a humorous bent in The Ballad Of Steve Miller (Handsome Dude) - a spoof of the Mt Gambier born record label boss, former Fitzroy Standard Hotel publican and long suffering Geelong fan.

Doug eulogised one of the few remaining Melbourne watering holes with a beer garden in Standard and also outer suburbia in Tullamarine.

He also dissected cheating in The Doulton Bar - a song using the quaint St Kilda pub, the Village Belle, as its backdrop.

And it was liquid lava that fuelled One More Drinking Song, Little Details and Half Price Margarita Night.

Mansfield, survived by wife Lucy, son Jesse, 11, and brother Garry, was a bon vivant in song.

But while he silently suffered from chronic health problems he also had a heart of gold.

The singer, born in Elwood, endured a blood disorder during a childhood that culminated in secondary education further south in Cheltenham.

It was closer to Doug's religion of choice - football at St Kilda's one time home ground at Moorabbin - where he and Garry met at half time in home games on the stand steps.

After leaving school the singer worked at The Age in display advertising before meeting his wife Lucy at RMIT where they both studied the famed journalism course.

That not only sowed the seeds of love but a humorous narrative style of song writing that amused fans but took out the middle stumps of some city critics.
DUST DEVILS
"Well, my best friend took the wind out of may sails/ got herself a boy from New South Wales/ now they're off together playing happy trails/ while I'm stuck here alone." - My House Is Leaving Home - Doug Mansfield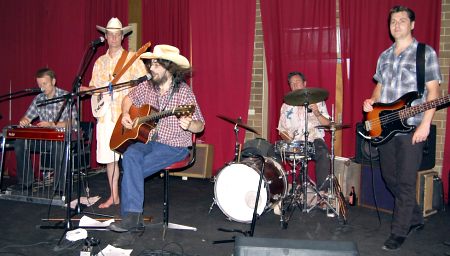 Photo by Tim Chuma
Doug and his Dust Devils - pedal steel guitarist Gerard Rohan, producer Graeme Lee, fiddler Adam Gare, guitarist Nick Grant, bassist Jack Coleman and drummer Bruce Kane - were first cab off the rank for many music benefits.

When Nu Country FM Beer Can Hill Northcote studios burned down at 9.49 p m on June 26, 2000, they joined the resurrection benefit gig with singing Texan crime novelist Kinky Friedman at the famed Espie Hotel in St Kilda.

They also performed the A P Johnson tribute gig at the Railway Hotel in Fitzroy and fundraisers for many worthy causes.

But mainly they were a fixture at hotels such as The Standard in Fitzroy, Espie and Greyhound in St Kilda and other suburban venues with an aversion to ferns, marble and disco décor.

There they were keepers of the traditional honky tonk flame far from it source in the deep south of the U.S. and the dance halls Of Texas and Oklahoma.

It was fitting the singer's life was celebrated by a huge audience of friends and fans at the overflowing St Kilda Le Pine funeral chapel.

Suzannah Espie performed Doug's song City Station - a tune she recently recorded - Marco C Halstead revived One More Beer.

And Doug's band, reformed for the funeral, was fleshed out by Jen Anderson on violin.

Doug was cremated but his spirit and soul were resurrected at a marathon wake at St Kilda Bowling Club - latter day music venue and locale of a movie or two.

It was there peers and friends relived and celebrated a colourful young life that ended far too soon.

Obituary by David Dawson.

Extra research David Heard - host of Acid Country - 3PBS - 106.7 FM - Thursday 3-5 p m.