DAVE'S DIARY - 22 MARCH 2005 - BR5-49
CD REVIEW
BR549 - TANGLED IN THE TRACKS
"Trying hard not to fall through the cracks and grease up that machine/ but I'm payin' the bills and movin' the country in Nashville, Tennessee." - Movin' The Country - Chuck Mead-A Murphy
When BR5-49 made a whirlwind trip to Sydney in 1998 to launch the Western Pacific version of CMT it enticed music industry moths with retro ear candy.

The quixotic quintet charmed the mobile phone and briefcase-toting tsars who supped from their deep well and rapidly decamped.

Sure, they lapped up the joyous music of a band, managed by expatriate Australasian Barry Coburn, but none of them took a punt on their music on radio or tours.
Like the innovative cable TV show, later doomed with refried rock and bucolic blues, their interest withered on the sales vine.

The short shelf life Sydney shakers returned to the mainstream and the band had an internal revolution in 2002 before morphing into a vastly superior outfit.

It's that new unit with hyphen surgically removed that emerged with one of the finest roots country albums of the young millennium.

Chuck Mead, co-founder in 1993, drummer Shaw Wilson and multi-instrumentalist Don Herron, enlisted guitarist Chris Scruggs and bassist Geoff Firebaugh.

Scruggs is the son of singer-songwriters Gary Scruggs and Gail Davies and grandson of Country Music Hall of Fame member Earl Scruggs.

Firebaugh previously played in Seattle and Nashville punk and rockabilly bands.

After Gary Bennett and Jay McDowell fled they returned to Lower Broadway where they first won acclaim at Roberts Western Wear with a live disc.

"We didn't know what was going to happen," Mead revealed, "We were at a loss as to what to really do. The best thing we knew to do was to go back to Lower Broadway."
MAVERICKS MALO


They're the real deal on 12-track sixth album Tangled In The Pines (Dualtone-Shock.) "It's like putting a new engine in a really great old car you love and don't want to give up," Mead says. "They bring a different dynamic to the band. It's not any better or any worse. It's just different and, to me, it's great. I really love it. They had to pass tests with older fans. But they passed, and everyone loves them."

They entrée with Mead's co-write with Raoul Malo on That's What I Get and segue into Mead's sardonic I'm All Right For The Shape I'm In that borrows melody from the Haggard song book.

Loans from that great country music library in the sky are not uncommon but they're tasty - Mead-Scruggs tune Ain't Got Time purloins an image from Shel Silverstein's Cover Of The Rolling Stone to nail a hedonistic message.

Equally derivative - Mead gems She's Talking To Someone (She's Not Talking To Me), No Train To Memphis and Scruggs Honky Tonkin' Lifestyle.

They temper their modern musical mayhem with retro rhythms without suffering the fate of so many peers - drowning in quicksand as prisoners of the past.

Devastatingly accurate are vitriolic Movin' The Country and the Mead-Scruggs tune No Friend Of Mine.

The former is a music business parody - not as nihilistic as the work of Robbie Fulks, recently lampooned by Todd Snider, and Dale Watson.

"I think Nashville gets a bad rap about music," Mead explains.

"It's all like, 'Austin has the integrity.' Well, maybe they do, but Nashville does, too.

"Everybody has to make a little bit of money, right? You can't hold it against those people."

Despite such altruism the band suffered theft in Seattle and Nashville, losing Herron's 1952 Fender triple-neck steel guitar, Wilson's 1949 Gretsch kit and Firebaugh's four-string Danelectro Rumor Bass.
BR549 INTERVIEW FROM 1998
CALL BR5-49 FOR SUICIDE, PATHOS, ANYTHING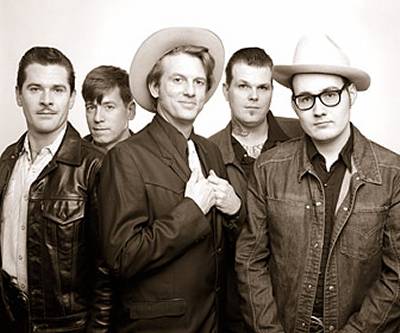 When revered retro country band BR5-49 cut third album Big Backyard Beat Show they weren't fazed by the Nashville fad for positive love songs.

Singer-guitarist Chuck Mead drew from the Appalachian murder ballad tradition for Goodbye Maria - one of their creative peaks on the Arista disc.

The disc, ignored by commercial radio but featuring heavily on discerning community and regional radio shows and ABC, is an eclectic island in the mainstream.

"It's a true story about a friend of my girlfriend's sister who she went to school with," Chuck told Nu Country.

"She had been around a little bit and he thought he could change her. He was head over heels in love so they got married. She plays house for a while and comes home one night and says 'I don't want to play house any more and here is a list of the people I have slept with since we've been married.' He goes back to this hotel in Wichita, where they spent their honeymoon, and writes this letter to her and proceeds to put the barrel of a gun in his mouth and do himself in. I thought that was a pretty good country song - it was real life and did happen. We didn't want to bum everyone out so we set it to a Mexican polka."

The quirky quintet, who played at the launch of the revamped Western Pacific Rim edition of CMT in Sydney on May, 26, 1998, proved they were a dynamic live act with a celebrity studded audience including actor Jack Thompson who discovered them at Roberts Western World on Lower Broadway in Nashville.
JACK THOMPSON

Thompson sauntered into the downtown Music City honky tonk when he was making the movie Last Dance with Sharon Stone - the belle who rang for fellow actor Dwight Yoakam.

That was in the early nineties when the band played for tips before lured uptown by expatriate Australasian manager-publisher Barry Coburn who guided Alan Jackson to superstardom.

The band played an earthy mix of tunes dating back to the moonshining days of the Dixie desperadoes who lived outside Yankee city laws.

It was also an expensive time for Kentucky chart topper John Michael Montgomery who offered them $25 for each Hank Williams tune they could play.
The band graciously quit when Montgomery, a man with a penchant for the evils of hard liquor, had run up a Hank tab of $600.

BR5-49 signed with Arista in September 1995 and cut a vinyl EP, Live At Roberts Western World, in January-February, 1996 - it was re-released on CD with an extra track, Bettie Bettie.

By the time the band released its self titled studio album it was touring with a diverse mix of peers - from stone country acts George Jones and Johnny Paycheck to rockers Sheryl Crow, Black Crowes, Wallflowers, Dylan, Ani De Franco, Prodigy and Beck.
BLUEBIRD CAFÉ

But that was preceded by a chance meeting between the band's major writers Mead and Gary Bennett at audition night in 1993 at the famed Bluebird Café - subject of River Phoenix's last movie The Thing Called Love.

Mead, born in Missouri and raised in Lawrence, Kansas, and Vegas born Bennett who was reared in Cougar, Washington, retreated to Lower Broadway where roots country reigned.

It was just down the street from Tootsies Orchid Lounge where Loretta Lynn's twins Peggy & Patsy later worked incognito as the Honk-A-Billies before signing to Reprise as The Lynns.

BR5-49 took its name from a used car salesman's phone number in an episode of TV show, Hee Haw, starring Junior Samples.

Another canned laughter concoction, the Andy Griffith Show spawned breakthrough "hit" Me 'N Opie (Down By The Duck Pond).

The song, a salacious satire of characters getting stoned in a missing episode of the former top rating TV show, earned the band infamy in the bible belt country music capital and launched them beyond cult status.

"I've never heard back from Andy but I know Ron Howard acquired a copy of the song," says Chuck, "it's all in good spirit. The Dillards (a veteran bluegrass band) played the Darlings in the show. And we just had fun taking the mickey out of the characters such as Ernest T and Opie."

"They even sang along with Me 'N Opie (Down By The Duck Pond) in Holland where the show had never been screened. In countries where radio didn't play our music we were well known because of our videos on CMT and even MTV."

The band reprised its original tune, 18 Wheels And A Crowbar, from the live disc for the new album that features nine original tunes.

They also reach back to late heroes Hank Williams, Johnny Horton, Webb Pierce, Gram Parsons, Moon Mullican and still living Ray Price, Buck Owens and Billy Joe Shaver for material and mine the motherlode of their small home towns for My Name Is Mudd, You Flew The Coop, Out Of Habit, Pain, Pain, Go Away, Change The Way I Look and You Are Never Nice To Me.
JOHNNY O'KEEFE RESURRECTED
Ironically, the band learned Wild One - not from the original version by late Sydney writer Johnny O'Keefe - but the Jerry Lee Lewis cover version.

And it wasn't the Moon Mullican version of the Buck Trail-Louis Innis tune Seven Nights To Rock that inspired the quintet.

"It's got a real Bill Haley feel to it but we actually copied our version from the Nick Lowe version," Chuck revealed, "he did it on Rose Of England. Gary sings his butt off."

It was a similar story to their cut of Cherokee Boogie from the second album.

"Again we did the Johnny Horton version - not the Moon Mullican," Mead chuckled, "we didn't even know Moon Mullican had done it till we got publishing information."
An offer for movie Hope Floats spawned Bennett song Storybook Endings.
"I got the offer to write in L.A. but by the time I got done they had locked in to something else," Gary explained, "at least we got a song out of it. I wrote most of it on a bus going down the road - it took a while to write. I had a specific thing to write for in the movie where a little girl's mum and dad were getting divorced and her mum had a new boyfriend and the little girl hated that - she was 7 or 8 years old. She was jealous of the guy and tried to get them to split. He tried to explain he and her mum were in love. Life, as she knew it, was going to end but she could get something positive out of it."

Although that song hit the cutting room floor two other BR5-49 tunes - Even If It's Wrong and Your Brown Eyes - have surfaced in movies.

Drummer Hawk Shaw Wilson penned 18 Wheels And A Crow Bar with Mead while bassist Smiling Jay McDowell and Don Herron (fiddle, mandolin, steel, dobro and banjo) are renowned for their hot picking and visual dynamics.

The band also features revamps of Buck Owens tune There Goes My Love, Ricky Skaggs lead guitarist Keith Sewell's Hurting Song and Billy Joe Shaver's historic Georgia On A Fast Train, also cut by Georgian gaucho Randy Howard.

BR5-49 surpassed the creativity of most peers - because of a gregarious genre cross fertilisation catalysed by their healthy hybrid of rockabilly, swing, Tex-Mex, Cajun, retro and cutting edge country laced with a dose of nineties cool.
LITTLE RAMONA
"She ain't ashamed of the way she was/ she hears old Hank, she can't get enough/ her punk records are gathering dust/ Little Ramona's gone hillbilly nuts." - Chuck Mead.
Mead's tune, Little Ramona's Gone Hillbilly Nuts, is the saga of a precious punkette who discovers real music - country.

It was one of several songs spawned by embryonic years playing in the family band in Lawrence, Kansas.

"A lot of my friends discovered the same edge that existed in Hank Williams was in The Ramones," Mead recalled, "there's a real kindred spirit there in all sorts of music that dates back to the mountain people who played for people, then for money and travelled around the region with a show wandering up and down the region. On the street - you just play because you play. That's the whole spirit behind the music - bands like The Ramones were playing music the way they heard it. So was Hank, so was Albert King - it's all the same spirit."

Mead traces his band's music back to pioneers like Emmet Miller.

"He was a black faced minstrel guy who did the original Lovesick Blues that Hank Williams did and the original Right Or Wrong," Mead revealed.

"All the guys were copying Emmet Miller. They all talked about him but no-one knew who he was. They came out last year with a CD of his music - he has the Dorsey Bros playing on it when they were really young back in the 20's. Even Al Jolson was a contemporary of Emmet Miller."

Mead also wrote Lifetime To Prove and Chains Of This Town about his escape from his hometown but it was BR5-49's fertile font in Nashville that sparked One Long Saturday Night.

"When you're an entertainer you have to be the life of the party all the time," Mead chuckled, "you have to make everybody feel this is it - this is the party every Saturday night. To us it's one just long Saturday night."

The band's eclectic music and fan base has long been a plus.

"We opened a whole bunch of shows for the Black Crowes," explains Mead, "we come out in hillbilly outfits and the crowd likes us just as much. Pretty soon the Crowes are coming out and singing with us on the stage. We're showing there are no real lines in music - they're all drawn by the people in the business, just marketing. The same happened when we were toured with Dylan - he really knows all that old hillbilly music - he was playing Rock Island Line and Knoxville Girl (from the BR5-49 live disc) 30 years ago and Stanley Brothers songs.

Of course there would be real chaos in record stores if there wasn't cataloguing."
COBURN CONNECTION
So how did BR5-49 hook up with Barry Coburn - one time CEO of Atlantic Records, Nashville, and founder of Spurs cowboy bars in Melbourne, Geelong and Canberra.

He was also promoter of Australasian tours by acts diverse as Boomtown Rats, Roxy Music, Gillan, Eagles, Emmylou Harris and Burrito Bros.

"Barry had actually been coming down to Robert's Western World the longest," Mead recalled.

"He wanted to talk to Gary Bennett (the band's other major songwriter) and me about publishing. We never knocked on one door on Music Row because we were just down there playing - we shied away from business. We had no aspirations but we knew Barry had done good things for Alan Jackson and had a broader understanding of what we do than any of the other managers. By the time we were getting a manager we already had a record deal.

We had the record deal before we even had a demo out. But we gave the demos to our mums."

Coburn previously punted on other U.S. artists - Mark Germino, Lacy J Dalton, Bell & Shore, Wayne "The Train" Hancock, Emmylou Harris, Keith Sewell, Holly Dunn, Suzy Bogguss, Diamond Rio, Billy Yates and George Ducas.

He was also financier of the late larrikin A.P. Johnson's Greatest Hits & Ex-Misses and guru for some of the Dead Livers Greatest Misses - first two releases on the Nu Country label.