DAVE'S DIARY - 18 MARCH 2005 - MARCIA HOWARD REVIEW

LIVE CONCERT REVIEW - 2004
MARCIA HOWARD
CORNISH ARMS HOTEL, BRUNSWICK.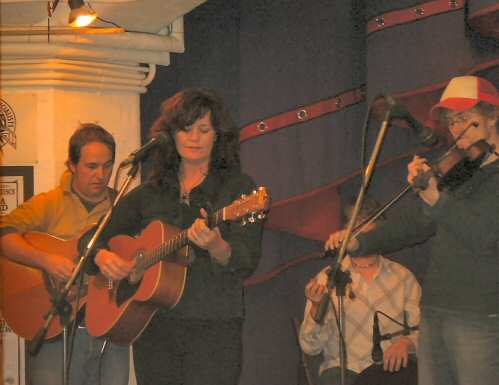 Marcia Howard & Band - Basement Discs 2004

When Marcia Howard launched her second solo CD she had moral support from 774 AM host Derek Guille.

MC Guille had more pleasant news than when he told Texan troubadour Billy Joe Shaver on February 13, 2002, that mentor Waylon Jennings died suddenly at 64.

So it was easy for the Warrnambool minstrel to kick-start a triumphant Melbourne return with I Don't Mind - a revamp of traditional Irish song The Morning Star.

Howard's pristine vocals were a vibrant vehicle for Stonewall and haunting Angel Full Of Grace.

She introduced Wild And Free, penned by brother Shane, by announcing another brother Damian was en route from sporting duties.

And on cue the Ploughboys singer joined up mid-song on piano and vocals and stayed for Love Will Always Lead You Home - a tune he penned with siblings Shane and Marcia.

They performed a version of William Blake poem Poison Tree that Marcia cut with Irish singer Mary Black, before gum leaves lit up for album title track Burning In The Rain.

The leaves, scooped in Parkville, stayed ablaze as Howard bared her heart and soul in the Butterfly Song and I Was Only Talking To Myself.

By now the band - drummer Archie Cuthbertson, fiddler Adrian Barker, bassist Glenn Board and guitarist John Hudson - was wired and inspired.

Marcia's version of Donovan tune Catch The Wind slowed the tempo revving up a notch for original songs Holding On and Lonely For Love.

This was a healthy hybrid of country, folk and Irish love songs with spirituality honed in the family's chart topping Goanna era.

Unlike the album there was no didgeridoo, uilleann pipes, flutes, harps or whistles but a choir, including Dixie playwright Marie Lourey, for the climax.

That's Dixie - near Terang - and well south of the Mason Dixon line.

And every country girl needs an encore - this time it was a spirited version of Dylan song Forever Young and reconciliation song Sorry.

Howard, 44 and fifth of seven siblings, burned in the rain but this was not Death In Brunswick.

CD REVIEW - 2004
MARCIA HOWARD
BURNING IN THE RAIN (www.marciahoward.com.au)

When Shipwreck Coast singer Marcia Howard cut her second solo album long after a six-year sojourn with Goanna she enjoyed the luck of the Irish.

Marcia was touring Ireland with Mary Black when Nashville bluegrass aces Tim O'Brien and Jeff White fronted in Dublin.

Producer Steve Cooney enlisted the duo to play fiddle and mandolin and sing on a disc that also boasted Black and a brace of Irish musicians.

The expatriate Australian also played guitar, bass, percussion and didgeridoo as Howard returned to her ancestral roots in song.

And it's that beatific hybrid of folk, country and Irish music that makes this one of those joyous sleepers of the year.

< Marcia Howard
Howard, like the best writers, bares her heart and soul on a disc whose therapeutic theme may or may not be recovery from divorce and white-hot ashes of love.

She exorcises faded love in the entrée title track and provides shelter in spiritual healing of Stonewall.

They segue into Howard-Black collaboration on William Blake poem Poison Tree, reprised from compilation disc A Woman's Heart.

The haunting leaving song Angel Full Of Grace is a sibling of sorts of the highly personal Lonely For Love.

Brother Shane's tune Your Love is a perfect segue to Like A Girl Again - a post divorce freedom gem - and the optimism of healing in Holding On.

A revamp of The Morning Star as I Don't Mind is a sardonic stab at a departed lover.

Whether the interpretations are right or wrong matters little - this is one of the best female albums of the decade.

Howard breathes life into Donovan classic Catch The Wind and finishes with Sorry - personalised comment on stolen generations from outback teaching and Warrnambool childhood - and Cooney instrumental Caoineadh Chotmcillle.

Howard deserves airplay and exposure on a much broader tableau than the unlucky radio country can offer - a genuine diamond in the rough.