DAVE'S DIARY - 18 MARCH 2005 - GRAEME CONNORS
INTERVIEW - 2003

GRAEME CONNORS FINDS EDGY ENERGISED LOVE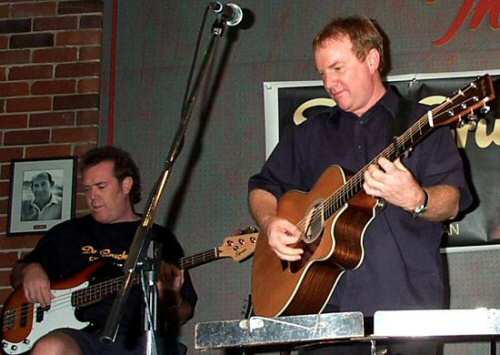 When Graeme Connors toured Australia at 19 in 1974 with Kris Kristofferson he was way ahead of his time.

He was just a raw teenager from Mackay in North Queensland - not exactly a music mecca then or now - but fertile font for his writing.

Kristofferson - former singing spouse of Rita Coolidge and musical director Billy Swan - nurtured Connors' recording debut And When Morning Comes.

Swan, one time member of Kinky Friedman's Texas Jewboys, was re-united with The Kinkster when he toured here with singing actor Harry Dean Stanton.

Connors debut was credible - because his mature songs such as She'll Wake Up On Her Own shared vinyl with tunes penned by writers diverse as Kristofferson, Donnie Fritts, Linda Hargrove, Larry Gatlin, Larry Murray and Dave Loggins.

When the album made it to CD, just 25 years later, it featured six more of the singer's original singles and an archival track that was never released.

The career of the father of five boys was punctuated by a lengthy stint in Sydney as a songwriter and latter day writing and performing icon for the Paralympics.

Despite being perceived as mainstream country the prolific writer's songs were cut by rock and pop artists as well as bush balladeer Slim Dusty.

Connors won spirited battles with Tamworth Tsars who once denigrated local artists who dared to seek international stardom.

Or had the temerity to record in Nashville or use Music City musicians or producers on their albums.

THE RETURN
Connors copped flak when he cut his punchy 1993 album, The Return, in Nashville with Bruce Bouton as producer.

Now, after winning multiple prestige awards for eclectic tunes embracing Australiana and childrens' music, he has made the trip back to Music City for his 12th disc This Is Life.

Bouton and co-writer Mark McDuff produced the album released by ABC Music - not ABC Country.
Connors, like many peers, is fighting the commercial radio and TV boycott of country music with an album and videos aimed at a broader market.
So will this disc work for Connors who has long commanded a healthy loyal audience - mainly beyond the concrete corrals of the capital cities?

"There's a slightly harder edge country wise," Connors revealed.

"We used a lot of dobros and banjos to give that feel."

Wanda Vick, one time member of all girl band Wild Rose, played banjo, fiddle and mandolin and Bouton added pedal and lap steel.

The edgy love songs also break the mould - the title track and Every Time You Fall In Love have enough clout to invade the psyche of discerning listeners.

The reality check in the latter where the country girl finds flaws in her hero transcends that gap between good and great song with gritty message about love's complexities. "Don't mention that word forever/ just talk about time together/ treasure every moment you can/ every time you fall in love."
DON WALKER
The salient soul-mate connection is nailed in You're Getting To Me while the regret of a ruptured romance is captured with delicious dexterity in Good On You.

Connors uses escapist entrée, Big Country and The Simple Truth, to examine bigger priorities in life.

And he lampoons the fools gold of materialism - ahead of real happiness - in We Are What We Do and Ain't That The Way It Goes.
Connors examines the population drift from bush to coast in Sea Horses and a bitter bar war between former lovers in All Hell Broke Loose.

Graeme wrote five songs with McDuff and included Don Walker's nostalgic Could You Still Be Here.

"For me, the focus has shifted from Australian stories to a more classic song form - the exploration of relationships, emotions, connections between people," Connors said.

"I've touched on those things before, but this time I've looked right into the heart of who we are. I've found new emotions and ways of expressing myself through music."

Connors may not leap the radio moat but is likely to win exposure on CMC on PAY TV and Nu Country TV.
CD REVIEW - 2004
GRAEME CONNORS - THE MOMENT (ABC)

Mackay minstrel Graeme Connors shares literary licence with Sydney crime writer Bob Barrett.

But the father of five, now 49, hasn't given infamous Kings Cross identity Perce Galea a thinly veiled alias in On A Roll - his 14th album in a 30-year recording career
Connors sets his hedonistic tale in locales inhabited by Barrett's character Les Norton - Bourbon & Beefsteak and Bondi.

"Cards and drinks at Roslyn Gardens/ boy I am on fire/ I bet even Perce Galea would fold/ a full house or a routine flush."
But the message is universal on a disc cut in Nashville with A team pickers - guitarist Bryan Sutton, pianist John Barlow Jarvis, double bassist Byron House and drummer Steve Brewster.

There's deft doses of fiddle and mandolin from Andy Leftwich, Rob Ickes on dobro and accordion by Jeff Taylor.

Graeme returned to the scene of the rhyme long after scoring flak from precious power brokers for recording The Return in Music City in 1993 with producer Bruce Bouton.

Bouton again produces a disc exposing Connors diverse songs - heavy on philosophy and light on fashion.

He entrees with Life Ain't Perfect - maximising second chances - and segues into positive parables Hard Decisions and On a Roll.

Connors wry humour name checks Randy Newman and John Prine in What If and recent tourist Andrea Zonn harmonises on a trio of love songs.

Connors's sequencing works - he punctuates cerebral I'm In The Middle Of This and Go On with love lava in You Are Everything, Only One You, Before I Went Crazy On You and You Remind Me Of Someone.

The fitting finale, aimed at our shrinking radio market, is a duet with Felicity on Hoyt Axton-Renee Armand tune I Dream Of Highways, also cut by local lass Corrina Steel.
It's a tribute to Connors spirit he continues touring to promote music rarely heard inside the city limits - his solace is royalties from others cutting his songs.