DAVE'S DIARY - 5 FEBRUARY 2005 - PORT FAIRY FOLK FESTIVAL
COUNTRY FANS GET FOLKED
Willie Nelson

The Age fuelled bonfire over the menu of the recent Melbourne International Music Festival has been a bonus for organisers of the 29th Port Fairy Folk Festival.

Age writers Patrick Donovan and Jo Roberts suggested that perhaps the faded, jaded rockers booked for the festival had lost pulling power.

And they reported that Shotgun Willie Nelson, who had cancelled at the 11th hour, was not selling many tickets.

They also added that Roachford, Marie Gabriel and Gretchen Wilson "meant little to the Australian audience."

And, on top of that, there was a revelation that $435,000 of our taxpayers' money was used to underwrite the concert.

This enabled the festival promoters to defend their musical menu with an explanation on some other acts that hit the cutting room floor in the heat of booking battles.
Co-director Daryl Herbert named Crosby, Stills & Nash, Reverend Al Green, Dave Mathews, Supertramp and Mark Knopfler among the Coodabeens.

"It's very tough in the city," Herbert said.

"If you put the Port Fairy Folk Festival on in Melbourne I don't think anyone would go.

People generally commit to festivals with a destination. Mentally they want to completely tune out of their entire life and think I'm going away."

I'll return to that debate later.

But let's dissect the country artists first.
SHOTGUN WILLIE
Without wishing to be pedantic Willie, 71, had a year added to his age in The Age.

But that's splitting braids as he turns 72 on April 30.

From my meagre 39 years experience writing on music, crime, sport and other matters of state in the unlucky radio country there are constant factors in outdoor festivals.

Country fans, perhaps more tuned to the vagaries of weather than city peers, tend to make decisions much closer to the date.

They flocked to see Willie and band on his debut 1981 Aussie tour at outdoor venues in Melbourne and Sydney.

But on those occasions Willie was sharing the bill with country artists - not rockers.

They knew they would hear at least two hours of Willie without having to sit through pop, rock etc.

But not even a bright sunny summer day could lure more than about 4,000 fans to see the legendary Merle Haggard in 1994.

And the veteran outlaw had a full cast of popular country artists as supports.

The triumphant return of expatriate Australasian country superstar Keith Urban was a key factor this year.

Tickets for Urban's concert at the comfortable Palais went on sale long before those of the festival.

And, when country fans learned of Willie's cancellation, many chose to see Geelong born country star Adam Harvey headline the 16th Bunyip Festival.

The Myer Music Bowl promoters, perhaps wisely, opted for a Daddy Cool reunion as a Tsunami benefit to prime the sales pump.

Ross Wilson's quartet, a genuine talent not over exposed by Melba comebacks, had a lot more clout than Cold Chisel, Billy Thorpe or Johnny Farnham.
But the real litmus test is timing - all the refried rock artists had more appeal to their demographic when I saw them at Sunbury, Mulwala and Myponga festivals in the seventies.

GRETCHEN WILSON
I wouldn't argue with the suggestion that Redneck Woman Gretchen Wilson "meant little to the audience."

That audience was rock, pop and blues fans raised on hits and memories radio.

But, with four million albums sold in less than a year and best female country singer gong at 47th Grammy Awards on the eve of the gig, she was eminently marketable.

And certainly the most relevant and contemporary artist on the entire two-day show.

As the last days of summer rolled by Wilson, 31, was moved down the billing - not up as she was entitled to be - and received very little mainstream publicity.
She scored a small Canadian sourced feature in the Sunday Herald Sun and an 11th hour feature in The Age EG magazine.

Gretchen's only metropolitan electronic media exposure was a high profile Today show cameo on the Nine Network, a video clip and interview on Nu Country TV and exposure on the rapidly growing Pay TV network CMC.

She deserved much more.

In fairness to the Tsunami promoters Gretchen had a prime spot on the show after the popular roots artist Michael Franti who also won an enthusiastic response.

And, as mine host Michael Chugg, told the audience she planned a return tour in 12 months.

For Chugg she was a work in progress.

And he was rewarded by a dynamic performance by Wilson and her seven-piece band replete with pedal steel, fiddle, dobro and lap steel.

Once sound mixers beefed up her vocals the audience responded wildly to her but it's debatable whether many would have known a cheating from a drinking song.

But for the hard core of country fans who didn't opt out for Bunyip she was the breath of fresh air so desperately needed.
PORT FAIRY - THE REAL COUNTRY ALTERNATIVE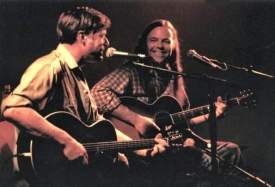 Kieran Kane & Kevin Welch
Photo by Kevin Rafferty
Now we reach the pinnacle of this saga whose embryo emerged in this computer so many moons ago.

Melbourne International Music Festival Promoter Herbert had more than an element of truth in his views on Port Fairy - but for vastly different reasons as you're probably already aware.

Port Fairy preceded all of the mushrooming suburban and rural festivals - with the exception of the reborn Wandong fest this weekend - and grew at its own pace.

Yes, of course, music lovers prefer the bush to the city and suburbs to soak up their music of choice.

But that's only if they can find suitable transport and accommodation.

And it's a helluva lot more user friendly listening to country, folk, blues and world music on the Shipwreck Coast than the traffic choked cities.

Just don't head east back to Melbourne on Highway One - try the Hamilton Highway through Mortlake or take a longer weekend.

But apart from the hard reality that there has long been far more musical choice at Port Fairy than city festivals there's also the ease of movement.

Most artists - especially headliners such as Janis Ian, Kevin Welch, Kieran Kane & Fats Kaplin - don't just perform once for maybe 40 minutes.

Many perform more than once a day, often in different configurations and venues, and you can pre-plan your aural pleasure by consulting the lavish programmes.

This means that the customer can hear up to 20 or 30 artists a day - depending on their stamina, not necessarily that of the artist.

And country and folk artists, unlike rock peers, are keen to prime their sales pump by signing their wares.

Michael Franti was the gregarious autograph giver at the Bowl and a beacon to many elitist and precious pop ponies who gallop away at the approach of a fan.

Mind you country and folk fans have good reason to be prolific meters and greeters - they receive no mainstream airplay and on site CD stalls are their best fan conduit.
INTERNATIONAL COUNTRY ARTISTS
Port Fairy has long blended major country artists - international and local - into its stellar line-up as the years progressed.

Texan troubadours Guy Clark, Butch Hancock and Jimmie Dale Gilmore, Mississippi born Kate Campbell, banjo playing MBA Alison Brown, fiddler Andrea Zoon, Eric Bibb and Ramblin Jack Elliott are among the past vast cast of international artists.

So is Kevin Welch, now on his seventh Australian tour, and partners Kieran Kane and Fats Kaplin.

Janis Ian might be best known as a folkie and Harlem classmate of Bibb but she has been writing and recording country for more than a decade with her songs covered by a brace of mainstream and Americana artists and also in movies such as Falling From Grace that featured former singing postie John Prine.

Other international country tinged acts include Ben Weaver, Serena Ryder (a support for Steve Earle on his 2004 tour), and Canadian artists The Laws and Kim Barlow.
< Serena Ryder
And expatriate Australian singer-songwriter Anne McCue, making a return tour, is also performing to promote her solo disc Roll on Shock.


HOME GROWN TALENT
The Waifs, back this year, were booked at Port Fairy long before they became a major international export on Brown's record label Compass, now housed in the Nashville building that was a recording font for the country outlaw movement of the seventies.

So is Shipwreck Coast born and bred singer-songwriter Shane Howard whose seventh solo album Another Country is a pure country disc.

Sister Marcia Howard and fellow Goanna singer and pianist Rose Bygrave often join the band's co-founder on the bill.

Award winning Grafton country star Troy Cassar-Daley who cut Shane's Goanna hit Factory Man as the first single off his fifth album Borrowed & Blue, is also on the bill.

Shane also duets live with Troy on River Boy - a Cassar Daley song whose video has been shown on Nu Country TV.
Multi Golden Guitar award winning Sunraysia born singer Sara Storer also debuts at Port Fairy this year with debutant Golden Guitar winning trio Bella who debuted at Bunyip in 2004.

The Davidson Brothers, fresh from Kentucky, Tamworth and the Nu Country Arts Centre concert, also play concerts and workshops this year.

Others returning to Port Fairy include expatriate Glaswegian Alex Legg, Perth band Sensitive New Age Cowpersons, Darwin damsels the Toe Sucking Cowgirls, Marissa Yeaman, Flaming Locos, Dirty Lucy, Prayer Babies and Greg Champion.

Other artists such as Dead Livers and Paul Hicks and High Kings work the pub circuit in the historic Shipwreck Coast village.

And Dan Robinson - singer for the Wild Cherries, Virgil Bros and pioneer Australian outlaw country band Hit & Run fronts the festival in his latter day role as a luthier.

Robinson, son of a late Warrnambool dentist, also performed in country bands with singing chef and Nu Country FM DJ Julieann Vila.

Further info and full artist details - www.portfairyfolkfestival.com