DAVE'S DIARY - 7 JUNE 2021 - ALAN JACKSON CD FEATURE
ALAN JACKSON
WHERE HAVE YOU GONE CD FEATURE
JUNE 2021
ALAN JACKSON YORTA HAWK FAVOURITE
"It's been way too long since you slipped away/ I just can't forget, I can't pretend it's OK/ no other one could ever replace you/ so I'll keep on believing and dreaming of you/ soft steel guitar oh how I've missed you/ words from the heart let me hear you again/ sounds from the soul fiddle I need you/ sweet country music where have you gone/ sweet country music please come back home/ the songs from your memory I cling to today/ I won't let them leave me, I won't let them fade/ I don't care what they do, you're still the one/ and I'll be here in Nashville 'til you return." - Where Have You Gone - Alan Jackson.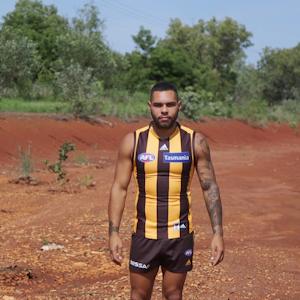 Georgian superstar singer-songwriter Alan Jackson developed his strong sports star fan base down under long after expat Kiwi Barry Coburn was his embryonic manager in Nashville in 1988.
Hawthorn football star Jarman Impey - a proud Yorta Yorta man raised around Echuca and Swan Hill - named Jackson, 62, and the late Charley Pride among his heroes in an interview to promote the recent AFL Sir Doug Nicholls Indigenous Round .
Impey revealed he played guitar around Murray River campfires and learned to play didgeridoo listening to his country favourites.
And, like peers diverse as former St Kilda captain Nick Riewoldt, Carlton stars Andrew Walker and David Ellard and Melbourne Storm icons Billy Slater and Cooper Cronk, he attended local concerts by Jackson, the Zac Brown Band and Dierks Bentley.
Impey's Herald Sun interview was impeccable timing - it was two weeks after Jackson's 25th album Where Have You Been topped international charts on debut on May 14.
Jackson's former manager Coburn, a long time Melbourne based publisher and promoter, is no stranger to the country music-football nexus.
Former Geelong captain Michael Turner and team-mates including Andrew Bews and late Brownlow Medallist Paul Couch, attended Coburn's launch of his Corio Spurs bar at the peak of their footy careers.
And it was Coburn who organised my pre-fame 1988 interview with Jackson on a bus trip from Nashville to a concert by the late Vern Gosdin at a car dealership in the Civil War town Franklin.
My next interview with Alan was from his tour bus in 2011 on the eve of his debut Australian tour.
It was five decades after my brief teenage pre-journalism door to door selling of the Doug Nicholls Aborigines Advancement League fund raising magazine on the mean streets of Melbourne and Geelong.
That's enough football-country music nuptials what about the 21 tracks on Jackson's album?
Read on below.
JACKSON TURNS TRAGEDY INTO TRIUMPH
"The morning light was soft and low, the clouds had left an early snow/ a peaceful sound was calling low/ "It's time to go"/ then God reached out His tender hand/ and gently pulled her home with Him/ and brushed away the sorrow from her soul within/ and I could hear the roses sing/ a bluebird softly claps its wings/ the sun seemed brighter than it's ever been/ and now she's dancing in the wind/ with her true love again." - Where Her Heart Has Always Been - Alan Jackson.
Jackson emulated late heroes George Jones, Merle Haggard and Hank Williams by refuelling his writing during his recent six-year hiatus.
"I didn't really feel like making music for a couple of years," Jackson confessed of his recording retreat after releasing previous album Angels and Alcohols in 2015.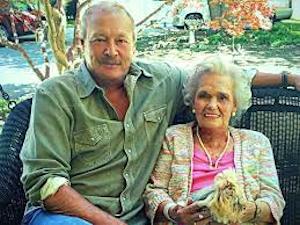 Instead, he turned family fatalities and joyous weddings into powerful paeans on 15 of his original songs on Where Have You Gone.
They included Where Her Heart Has Always Been and A Man Who Never Cries he wrote about his mother Ruth, who died aged 86 at home on January 7, 2017.
It was the house where Ruth lived for 70 years after she and her late husband Gene converted it from Alan's grandfather's old tool shed and raised Alan.
Alan included Ruth reading from the Bible in the song written for her funeral.
His family inspired many songs including some of his 15 originals on his 21-track album.
The Jacksons also endured another death during his hiatus. Alan's son-in-law Ben Selecman - Assistant District Attorney for Davidson County, Tennessee - died at 28 on September 12, 2018 after suffering severe injuries during a boating accident.
Ben married Alan's oldest daughter Mattie Denise, who took her second Christian name from her mother Denise, in 2017.
Alan married high school sweetheart Denise at 21 in 1979 - they lived in Newnan for six years before moving to Nashville where he worked in the mailroom of The Nashville Network's offices and met his expat Kiwi manager Barry Coburn and publisher - the late Glen Campbell.
SONGS FOR DAUGHTERS' WEDDINGS
"First steps, first words, seems like yesterday you were just a girl/ skinned knees, climbing trees, all those memories so close to me/ now you're a woman on your own/ all in love and nearly gone/ but you'll always be my baby/ no matter where you are, you'll always be my baby/ forever in my heart/ 16, first car 21 and there's a broken heart." - You'll Always Be My Baby - Alan Jackson.
Jackson tempered torment with two celebratory songs - You'll Always Be My Baby and I Do - written for weddings of two of his three daughters - Mattie Denise, Alexandra Ali Jane, and Dani Grace.
Equally influential for the singer, who was inducted into the Country Music Hall Of Fame in 2017, was the source of his album title track.
"Merle and George and Hank," revealed Jackson of his late heroes whom he also eulogised when he toured here in 2011.
"A lot of young people liked that music when I was growing up but it felt like nobody was making it. Somebody had to go to Nashville to make that kind of country. Randy Travis did and was great. But real country music is gone. It feels like 1985 again and somebody has to bring it back. Because it's not just 50-year-old people, it's 20 and 25-year-olds. They have a real ear for country music because it is real and genuine. They know the difference and you can't fake those things. I love real country music and those instruments and the melodies and what the songs are about. That's what it's always been for me, and I still love that. I felt like writing some songs to honour the music."
Jackson's album resonated with country heroine Loretta Lynn, now 89, and still recording.
"Just when I thought country music was near gone, Alan Jackson brings it back to life!" Lynn commented.
"What an album, he's given us. Y'all go listen to it right now. Alan, thank you honey for keeping it country!"
Jackson is grateful for the support of Loretta and other icons.
"This kind of music on Where Have You Gone runs the gamut of what embodies true country music," Jackson explained of the album recorded with his long-time producer and fellow singer-songwriter Keith Stegall.
"When I write, I visualize back home and growing up. It's a little harder country than even I've done in the past. And it's funny I was driving and listening to the final mixes Keith Stegall sent me and I started to tear up. I was surprised to get so overly emotional, but I just love this kind of music.
"Real country songs are life and love and heartache, drinking and Mama and having a good time but it's the sounds of the instruments, too. The steel and acoustic guitar, the fiddle - those things have a sound and a tone and getting that right, the way those things make you feel, that's country, too."
LIQUID LAVA AND LOVE
"Most of the day I keep her far away/ then some little something will start that ole replay/ and I don't pull out her best pictures, I don't ever say her name/ but I can't stop it when the bottle's low, late at night, all alone/ when I'm way down in my whiskey/ and my mind is all unwound/ when I'm way down in my whiskey/ that's when she comes around." - Way Down In My Whiskey - Alan Jackson.
Jackson reaches back to his roots for liquid country staples in originals - Wishful Drinkin', Way Down In My Whiskey, I Was Tequila, Beer: 10 and Living On Empty.
He credits Justin Timberlake hit I'm Bringing Sexy Back for rollicking tune Back.
"My kids, a few years ago, they said something about that old Justin Timberlake song I'm Bringing Sexy Back ," Jackson revealed.
"I teased 'em one day and said, 'Yeah, alright. I'm bringing country back.' I wrote it as a joke for them and everybody liked it."
They lyrics include - "I'm bringing country back/ back where it belongs, back on track/ I think 'ole Hank would like it like that."
Equally accessible are I Can Be Something, Where The Cottonwood Grows, Livin' On Empty, Write It In Red, A Man Who Never Cries and Chain.
A rare revamp on this disc is his tribute to Merle Haggard - That's The Way Love Goes, recorded by The Hag in 1983 as his album title track.
"I've been wanting to do something for Merle ever since he died," Jackson explained.
"I think it'd been cut by a bunch of people but I always heard Merle did Love Goes as a tribute to Lefty. I did it kind of the same way, as a tribute to Merle."
The song was written by Lefty Frizzell and Sanger Whitey Shafer and also a #1 hit for Texan country singer Johnny Rodriguez, now 69.
Connie Smith, whose singing spouse Marty Stuart is her fourth husband, also recorded it.
She releases her 54th album, The Cry of the Heart , on August 20 - six days after her 80 th birthday - on Fat Possum Records .
This album's fitting finale is The Older I Get that Jackson recorded and released in 2017 ahead of his Country Music Hall of Fame induction .
Hailey Whitters, Adam Wright, and Sarah Allison Turner are the writers.
"This song reflects a lot of how I feel these days," said Jackson who performs a Where I Come From tornado benefit concert for hometown Newnan on June 26.
On March 26 an EF-4 tornado ripped across Newnan, the city where Alan and his wife Denise were born, raised, met and married.
At least 70 homes were destroyed, many others suffered major damage, and over 1,700 structures were impacted and compromised.
"After the tornadoes came through Newnan I knew that I wanted to do what I could to help my hometown," Jackson explained.
"I started working on an idea to do some kind of benefit in Nashville to help those affected in Newnan, but then heard from a group of leaders in Newnan. I'm glad we came up with a way to bring this show to my hometown and I'm happy to be helping the people who need it most."
Jackson is joined at the tornado benefit show is at Newnan's Coweta County Fairgrounds by fellow Newnan native song-writers Adam and Brian Wright, Tennessean Chris Young and Georgian Caylee Hammack.
Proceeds benefit Coweta Community Foundation, which is managing charitable efforts to help the people of Newnan in the wake of the storm.
Where Have You Gone is released by Capitol-EMI.