DAVE'S DIARY - 30 JUNE 2013 - RECKLESS KELLY CD REVIEW
RECKLESS KELLY CD REVIEW - 2005.
WICKED TWISTED ROAD (SUGAR HILL-SHOCK).
RECKLESS KELLY AMORE UP WITH KEVIN WELCH
"Sadie got a six gun, she ain't afraid to use it/ the banker took us straight down to the safe and I blew it/ Sheriff heard a big bang in the broad daylight/ by the time the smoke cleared we were nowhere in sight." - Six Gun - Willy Braun.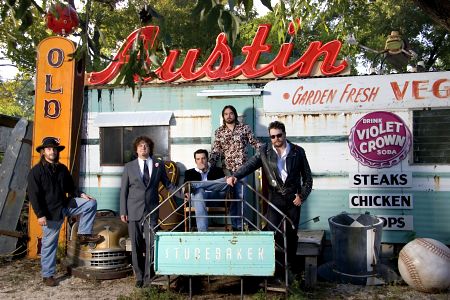 Idaho refugees Reckless Kelly are smart operators.

The Austin based quintet borrowed its name from the Aussie bushranger who inspired a movie or two.

It also hired seven-time Australian tourist and hit writer Kevin Welch for riveting fifth album Wicked Twisted Road (Sugar Hill-Shock.)

Welch, 50, sings a refrain from his oft-recorded tune True, True Love on Willy Braun penned tune Six Gun.

Braun's saga - an armed robbery narrative in Robert Earl Keen-Tom Pacheco vein - is a focus of a disc accompanied by board game and dice.

The senorita double-crosses her partner in crime and generates a hostage drama with a sting in the tail of the tale.

Welch, son Dustin and daughter Savannah recently played an Austin benefit.

Other artists included Jimmie Dale Gilmore and son Colin, Ray Wylie Hubbard and son Luke, then aged 10 and Eliza Gilkyson and two of her kids.

Reckless Kelly - headed by multi-instrumentalist writer Willy and brother Cody on fiddle, mandolin and harmonica - moved to Austin in the late nineties with drummer Jay Nazz.

Another two Braun brothers play in Austin band Mickey & the Motorcars.

Reckless Kelly honed its hard edge country with the aid of some-time singer-writer Ray Kennedy of Twang Trust fame.

Kennedy cut two fine solo albums in the nineties and gives the lads a sound soaked up more by Americana than mainstream radio.

The melodic title track - using the road as a surrogate lover - segues into equally radio friendly Dogtown.

And, if there's a listener who can't discern Willy's vocal similarities with Kennedy's sidekick Steve Earle just check out third tune 7 Nights In Eire.

Braun two steps with the memory of Earle's Galway Girl to fuel the fears of a Texan who ponders whether his belle will still ring for him after he spends a week drinking and dipping in Ireland.

Co-writers are the Braun brothers' patriarch Muzzie and Pinto Bennett whose band is the source of equally memorable Motel Cowboy Show - one of two songs adorned by The Fish on pedal steel.
Willy says his love affair is with his career - not women - but unsheathes his heart in A Lot To Ask, Heart, Wretched Heart. Broken Heart and These Tears.

Other love songs Stick Around and Nobody Haunts Me Like You earned videos for the brothers, raised at the end of a six-mile drive in the Sawtooth Range where they were home-schooled, potty-trained in an outhouse and played music with their parents.
DISCOGRAPHY
Millican - Cold Spring Records - July 7, 1998
The Day - Valley Records - October 31, 2000
Under the Table and Above the Sun - Sugar Hill - May 13, 2003
Wicked Twisted Road - Sugar Hill - February 8, 2005
Bulletproof - Yep Roc - June 24, 2008
Somewhere in Time - Yep Roc - February 9, 2010
Good Luck & True Love - No Big Deal - September 13, 2011
Live albums
Acoustic: Live at Stubbs - Valley Records - June 6, 2000
Reckless Kelly Was Here - Sugar Hill - August 8, 2006
Compilation - Best of the Sugar Hill Years - July 10, 2007